MWC 2013 Nokia press conference - the Devices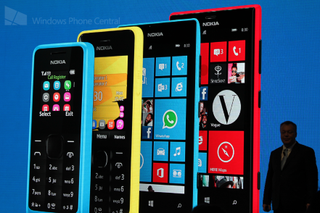 This morning Nokia announced 4 new devices to their handset line-up, 2 Asha devices, and 2 Windows Phone devices.
Nokia's sights did not seem set on the US market though, where the carriers heavily subsidize even higher end devices to bring them into consumer's hands. Instead we saw indications that Nokia is continuing to drive into markets where upfront cost is everything. Stephen Elop was also clear that Nokia are pushing aggressively into the enterprise market, highlighting Windows Phone's integration with Microsoft Office services as well as the full device encryption available on every handset.
There's no arguing against the fact that the two Asha phones, selling at less than the price of your average video game or dinner for two, will sell in their target markets. So we'll focus on the Lumia 720 and the Lumia 520.
Nokia Lumia 520
We have the lowest ever priced Nokia Lumia smartphone, it looks fantastic and rocking that 4" super sensitive touch display at 480x800 Nokia wouldn't be ill advised to call this the "most affordable phone you can use with gloves". Maybe not that catchy but there's a marketing campaign there somewhere.
With a 1GHZ dual core processor, 8GB on-board storage and a micro SD slot, you'd be forgiven for mistaking it for the Lumia 620. In fact at first glance we're basically seeing a larger screen version of the 620, a phone which Dan will tell you, he loves. The bonus is that Nokia offers wireless charging cases for the 520, a killer feature you don't want to live without once you've tried it.
Nokia Lumia 720
The Lumia 720 reminds us of a curvier HTC 8X although it shares more in common with the 520 (the two are really hard to tell apart unless you're holding them side by side) and it's a beautiful device. Featuring a unibody design, wireless charging and a remarkably impressive camera boasting an f1.9 aperture lens, Nokia has finally brought its camera know-how down to the affordability price bracket.
Showing off some beautiful sample photos, the audience in attendance elicited slight gasps when viewing this particular shot, which Nokia claim has been taken with auto settings and no post processing applied.
The Lumia 720 also represents the first time one of Nokia's unibody devices has allowed for micro SD expansion. We're digging that and can't wait to see if they bring it to their higher end offerings.
The screen on the 720 is a 4.3" clearblack at 480x800. Nokia touted a new kind of lamination to improve the angle of view, and yes it's also a super-sensitive display ideal for use in the cold winter months.
A strong part of Nokia's message this morning was that they were "going bolder" and providing a distinctly Nokia identity by bringing better experiences to more people. It's safe to say that by bringing the hardware innovations we saw with the Lumia 920 to more affordable handsets, suitable both for the budget conscious and the bulk-buying enterprises, they have done just that.
We're still wandering the exhibits of MWC, so be sure to stay tuned to Windows Phone Central for more over the next few days.
Windows Central Newsletter
Get the best of Windows Central in in your inbox, every day!
Both Gorgeous devices, but I can help being excited about the wireless car charger.

Was waiting for the brodit one announced.. at least its unique fit

Jay, you forgot EOS and Win8 tablet.

What press conference did you watch?

Extremely disappointing, where are the high end devices? They need something big, with the HTC One and Samsung Galaxy S IV coming out soon. I love my Lumia 920 on AT&T, but that's not going to be enough to take on Samsung.

is your lumia 920 not big enough .. what features do they have to be better? higher resolution? more Cores?

Moar cores, moar gee bee's!!!

why would Nokia announce a new flagship that will topple their current 5 month old 920. They need to give 920 some time to penetrate. I guess an announcement on June would be better. (after Samsung announces theirs - to steal the spotlight)

Well, they did announce the 920 and it toppled their 5 month old 900. It wasn't out of the realm of possibility.

They can run the risk of stealing their own spotlight and profit either way or lose out to HTC or Samsung stealing it.

I think windows phone needs more high end apps before a higher end phone makes sense. What's the point of a quad core processer for web browsing, facebooking, texting, and ebaying, ECT.

With benrp on that one: definitely eager to get the wireless car charger. Based on the announce to release gap of other Nokia accessories of late I imagine it'll hit the shelves sometime in November.

The lack of qHD resolution support is going to hurt mid-range devices. There's no place for a WVGA screen other than the absolute low end device.

Please, people that buy devices from this price range don't more often even know what their screen resolution is. WP8 looks great in WVGA.

I'm not going to +1000 you like it's a trend here to settle for low standards. WVGA is terrible on a 4.3-inch in 2013. This is the same resolution was in style way back in 2010. For an OS that's so heavily biased towards typography, you need as much resolution as you can get.
And what do you mean 'in this price range'? Devices like 820 and 720 are NOT low end devices

The 720 is pushing real close to the 820.

Great for your average phone consumer, but completely lame otherwise. Why are they waiting to announce their new flagship?! These people have no clue how to build excitement for their brand.

As others have said, it was the wrong time to announce a new flagship, the 920 is but 4 months old, not even available in all markets yet. This was the right thing to do, fill in the gaps in their lineup. These phones may not be the most exciting, but there's now something at every price point. Indeed it's hard to choose now, such confusion is always a good thing for carriers if annoying for consummers. They can now compete and beat Android at all price levels.
The next flagship will be announced at Nokia World in September, just like the 920 was last year. By then MS will have Blue, or 8.1 or Apollo Plus or whatever it'll be called allowing Nokia to have HD screens and other innovations over the 920. Though personally I don't care about HD, think the screen on the 920 is great and really all I want is a 920 on a slight diet.

As long as they are continuing to announce the 920 coming to new countries, we won't see an upgrade to the device. Its sad because their really aren't any other WP flag ship devices being announced, which may be a good time for the Surface Phone to show up.

That's fine that you and others think that, but I think it's completely wrong, and has gotten us to a whopping 2 or 3 % share...A 960 (or whatever) announced now using one of the new Snapdragons, higher resolution, etc would get the name back in the news and back in front of people more likely to buy higher end phones. Microsoft/Nokia aren't Apple, they can't follow the same model of releasing a single higher-end phone once a year with a slight refresh 6 months later.

Sadly you are probably right. I wish all companies would follow a one year cycle, but the Android OEM's certainly dont. So out of the companies that do, only Apple is able to get away with it.

samsung and htc also have a one year release cycle

you don't get market share with high end devices,you do it with mid range and low end devices. and here nokia was getting it's ass kicked by samsung and chinese oems. these devices were badly needed.more than any high end or EOS device

I think this device looks much better than the L810. Nokia is doing here, getting the product out to the masses. which means they are pushing the OS so that is good.

Disappointing. The cheapest Nokia and a mid tier. Hard to tell one Nokia model from the next anymore if you're the average consumer.

Too many mid-range phones from Nokia. 3 phones is fine.

They should have 4 phones. 3 tiers for the carriers (high/920, mid/820, low/720) and one super cheap for the prepaid masses (520).

I moved from Verizon to at&t to get my Lumia 920.

What happened to an announcement about a 920 variant for Verizon? I am sooo pissed.. If they don't announce soon, I am sorry to say that I will be going to the S IV.

thats what im waiting on as well the device supposedly is getting ready to be released it just passed through the fcc

You must be new here. VZW is always behind the curve when it comes to flagship phones, (unless it's the shitty locked-down Motorola crap) so the fact they haven't anounced the 922 yet is not surprising. My guess is it will be anounced sometime early this summer.

i thoought they were getting rid of Asha devices?


quite the opposite!. the Asha line was released when the Lumia line was released.
Nokia understands that there is a market outside the USA and it needs those phones that are under $100.
These two new Asha phones (and all the S40 phones) are being pushed hard by Asha. After all. Microsoft doesn't own Nokia YET!

PLEASE WPCENTRAL HELP HERE ,, WITH THESE LOW END PHONES
IT HAVE BEEN BETTER IF NOKIA AND MICROSOFT HAS UPGRADED 40 MILLION LUMIA 800,900 AND HTC TITAN AND RADAR PHONES TO WINDOWS 8 PHONE AND CALLED THEM LOW END
THIS WILL ALLSO MAKE SHURE THAT NO ONE IN THE ECOSYSTEM WAS LEFT BIHEIND
THE PHONES FROM ABOVE IN MY TEXT ARE MORE THAN CAPLE OF RUNNING WINDOWS PHONE 8
REMEMBER THERE ARE ONLY SOLD AT THIS POINT AROUND 4 TO 5 MILLION WINDOWS PHONE 8 WORLDWIDE ALL BANDS



Dude, you got the shift and caps lock button confused.

JUST LIKE ANDROID IS DOING ,, WE LEVE NO ONE BEHEIND,, THAY UPGRADE ALL THERE DEVICES TO THE LATEST OS ,, APPLE 2 DOES DO IT , BUT MICROSOFT NO WAY,,HOW COME IS THAT

PLEASE HELP WPCENTRAL START THE POINT HERE... WE WHANT AN ECOSYSTEM THAT WORKS


Do you know about spell check?

I want more cores :'( But that 720 will appeal to businesses which is good.

So, no high end WP8, no EOS, no PureView, no new innovation... pretty disappointed today with Nokia's presentation. Some will say that in order for WP8 to gain traction targeting the low/mid level segment is needed, but not all of us are really exited to see how WP is now the "basement" option available for smartphones, while android is pushing the high end hardware and innovation with lots of OEM on board... Forget about the 920 or the elusive Ativ S to be called high end (not even the 8X with only 16GB), just the price they are charged with (as I live outside the US) no WP8, but lots of Android and Apple phones are sold with subsidy plans, and some last gen WP7 that really can't compete with newer, faster hardware. I'm in the market now for a flagship, hero phone, hope Nokia or another WP OEM announce something better than the current offerings, is it to much to ask for a 5" screen with 32/64 GB, 2 GB RAM, 4 Cores, with a good camera, removable battery and SD support???

Send your grieveances to Microsoft not Nokia!! Nokia cant do anything unless MS updates the OS to support newer, more powerful Quallcomm SOC's, Full HD resolution screens, more ram and some extra OS featues

well, I was thinking exactly the same, but I realize Nokia wants cheaper Lumia devices to reach everybody... but this MWC was a wasted opportunity for Microsoft also, to showcase anything that stirs the waters...

Thats true, but I am happy they focused on the lower end models aswell. Enabled me to get a Lumia 620 yesterday :) I find it hard to hangle screens sized above 4" Now just waiting for some decent apps like viber etc to come on properly..

I hope the next phone after the 920 (lumia 999 1000 whatever is going to be called) would have a 16:9 aspect ratio. 15:9 is nice too. But we don't know yet.

It could be that Nokia is working on building a strong entry-to-midlevel user base. Once they have a broad user base they can then introduce some top-of-the line devices that people can upgrade to. Having a broad user base is good for WP8 developers.

Wheres the notification center? UGH!

This is question for Microsoft. Nokia isn't Microsoft.

I'm not disappointed about the phones. The Lumia 920 haven't reached the whole world yet. Why would people buy a L920 if Nokia is releasing a high end phone within a couple of months. I was more disappointed about no tablet announcement. I've been holding about buying the Lenovo Thinkpad Tablet 2 just to see what Nokia would bring to the table. Now I'm going Lenovo :)

Wheather these phones atleast will be available in india ? ??

This phones is going to Asia first. We need to wait in Europe.

lyk that only they told for L620 also.., till now we have'nt got in INDIA ... really frustating ..


Total yawnfest IMO for both Nokia and Windows Phone. No high end devices, just a low end device for the U.S. on the smallest carrier, and no WP software or app announcements, other than the lamely titled HERE, which is really only a re-branding anyway.


On the plus side, at least they didn't announce products that won't be available until 2d6 months in the future. If they have learned from the past, they won't announce anything newsworthy until product is imminently available.
Windows Central Newsletter
Thank you for signing up to Windows Central. You will receive a verification email shortly.
There was a problem. Please refresh the page and try again.