MWC 2013 Nokia press conference - the Devices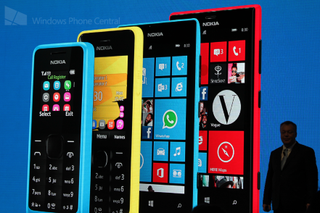 This morning Nokia announced 4 new devices to their handset line-up, 2 Asha devices, and 2 Windows Phone devices.
Nokia's sights did not seem set on the US market though, where the carriers heavily subsidize even higher end devices to bring them into consumer's hands. Instead we saw indications that Nokia is continuing to drive into markets where upfront cost is everything. Stephen Elop was also clear that Nokia are pushing aggressively into the enterprise market, highlighting Windows Phone's integration with Microsoft Office services as well as the full device encryption available on every handset.
There's no arguing against the fact that the two Asha phones, selling at less than the price of your average video game or dinner for two, will sell in their target markets. So we'll focus on the Lumia 720 and the Lumia 520.
Nokia Lumia 520
We have the lowest ever priced Nokia Lumia smartphone, it looks fantastic and rocking that 4" super sensitive touch display at 480x800 Nokia wouldn't be ill advised to call this the "most affordable phone you can use with gloves". Maybe not that catchy but there's a marketing campaign there somewhere.
With a 1GHZ dual core processor, 8GB on-board storage and a micro SD slot, you'd be forgiven for mistaking it for the Lumia 620. In fact at first glance we're basically seeing a larger screen version of the 620, a phone which Dan will tell you, he loves. The bonus is that Nokia offers wireless charging cases for the 520, a killer feature you don't want to live without once you've tried it.
Nokia Lumia 720
The Lumia 720 reminds us of a curvier HTC 8X although it shares more in common with the 520 (the two are really hard to tell apart unless you're holding them side by side) and it's a beautiful device. Featuring a unibody design, wireless charging and a remarkably impressive camera boasting an f1.9 aperture lens, Nokia has finally brought its camera know-how down to the affordability price bracket.
Showing off some beautiful sample photos, the audience in attendance elicited slight gasps when viewing this particular shot, which Nokia claim has been taken with auto settings and no post processing applied.
The Lumia 720 also represents the first time one of Nokia's unibody devices has allowed for micro SD expansion. We're digging that and can't wait to see if they bring it to their higher end offerings.
The screen on the 720 is a 4.3" clearblack at 480x800. Nokia touted a new kind of lamination to improve the angle of view, and yes it's also a super-sensitive display ideal for use in the cold winter months.
A strong part of Nokia's message this morning was that they were "going bolder" and providing a distinctly Nokia identity by bringing better experiences to more people. It's safe to say that by bringing the hardware innovations we saw with the Lumia 920 to more affordable handsets, suitable both for the budget conscious and the bulk-buying enterprises, they have done just that.
We're still wandering the exhibits of MWC, so be sure to stay tuned to Windows Phone Central for more over the next few days.
Get the Windows Central Newsletter
All the latest news, reviews, and guides for Windows and Xbox diehards.