myTube will be getting a big update soon with a new design and more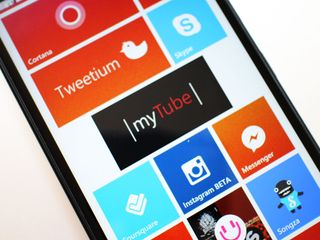 The creator of one of our favorite apps, myTube, has just sent out a message to its users that promises a major update is coming in just a few weeks to the Windows Phone 8.1 and Windows 8.1 third-party YouTube app.
Christopher Blackman, the creator of myTube, stated in the in-app message (which we have independently confirmed) that myTube will get a revamped design in the next update, along with new features such as the ability to download a YouTube video to an SD card, along with a way to just download the audio portion of a YouTube clip.
These changes will be made to both the Windows Phone and Windows 8.1 apps, the latter of which is still in beta testing. All of these changes and improvements sound cool and we can't wait to try them out ourselves. Do you use the myTube app? Thanks to Diki for the tip!
Windows Central Newsletter
Get the best of Windows Central in in your inbox, every day!
Oh goodie! My favorite app!

The beta is missing a lot of the style and features of the regular version so no.

Goid to see that now we can save video's to SD card

I didn't know a BETA existed.

I was too late to sign up...

I somehow feel bad that this is better than MetroTube because I loved it.

haha same here. I love MetroTube's interface and for some reason videos load really fast on it. But I really want background audio playback or ability to save video/audio to the SD card. Guess I will use both.

And download video/audio in background. :)

Oh dam.. I use metro tube...guess I'll change for mytube now..

The best YouTube app ever!! Even when compared to the official one.

Didn't know there is an official one...

Was talking about the Android and iOS counterparts, smart ass...

Not familiar with those...

Lol!! You're not missing out on anything. Don't worry.

Agree. I use both iOS and Android YouTube apps and they are BORING compared to MetroTube and myTube on WP and Hyper on Windows 8. Posted from The Dark Side.

I love this app. Use it every day

+1. As much as I liked MetroTube - it was riddled with bugs. Since myTube exists - I use only it and I never encountered any hiccups or strange behavior from this app. It's the best, hands down.

I stopped using Metrotube ever since myTube just because Metrotube wasn't getting updates at the time and myTube came along and beat it in everyway.

How about both (and Tubecast for good measure!?)

Tubecast > Metrotube > myTube

Nein! Tubecast > myTube > Metrotube

It's by far the best Youtube app out there! I just hope that design will be more Windowish than now (like it was before latest big update). Otherwise, thumbs up for developer! :)

Tubecast > Metrotube > myTube ...

If that is the case, how come we never see any articles on tubecast/metrotube? It's because myTube is better :)

Need to try on the surface

I hate this app cos needs external power source when video >100mb to download

This is an OS limitation, not app. The dev can't do anything to fix it.

Not an OS limitation. I can download larger than 100mbs through Metrotube without needing an external power source. So it would be an app limitation.

Hi Jonnie, this is an OS limitation on WP 8.1 for background transfers (so the downloads work when the app is closed). Background downloads for WP 8.1 apps should be unrestricted as long as DataSense doesn't think you're running out of data :)

Yeah, it doesn't even take a minute to download a 100MB video on my home Wi-Fi... it's so annoying that I need to plug it in just to download a video, it just doesn't make sense... I wonder what the reason behind this is

I have the beta and today I downloaded a hd clip over 20 minutes long without plugging it. Don't know when he added that feature to the beta. Just tried with an hour long 720p file it started downloading without power or wifi

Oh that sounds great! Except for the plug in to power part I love the app :D I don't use betas, but this is a sign that it will probably come in an update in the near future ;)

Hey Jelleeh, this is an OS limitation with background tranasfers in 8.0 apps. 8.1 apps don't have this limitation, so the next update won't either :)

You need to try internet service providers in India where it can take upto more than two hours to download a 100MB download. This slow transfer puts huge strain on the device and its battery. Microsoft has to think of nations where the device shall be used and so is the applicability of these limitations. Though I'll also admit, not all providers here are slow, but again, not everyone has a high speed data connection here...

Yes, I understand that, but you can always voluntarily plug in your device if you want to. They don't take away the option to plug it in by adding the option not to plug it in. It just doesn't make sense to me that they required it to be plugged in.

The restriction has been removed in 8.1 so the next update should fix that :)

Yeah, just heard that ;) Really happy about it!

How to download? Haven't seen any option to download in metrotube...

And it always says same thing when connected to Wi-Fi

The app animations are fantastic.

I'm a beta tester. Be aware.This app is the best I've ever seen.

Me too it looks amazing so far

How is it compared to the old one made by Microsoft (the one that got pulled by google)??

A lot better. Believe.
You can even download video/audio in background....

Been waiting forever in a new update for this. This is the best YouTube app on wp

This app is awesome just the way it is. Well, a big update would be perfect too.

Very exciting. The ability to have just the audio play is absolutely incredible. So being able to download just the audio.... my life will be filled with so many lectures about things that are not my degree... and that is fantastic.

I'm married. I don't need the mytube app to get lectures :)

I see what you did there. xD

I can't wait. Yes I use it.

Better than youtube music key!! Lol

MyTube is in my opinion, the best app on windows phone... It is great, the developer needs more support!

Poki is a contender. IMHO it's the best app on WP.
I have mytube. It's amazing.

There's nothing better than mytube. It reigns supreme!

Mytube is my main youtube app, but tubecast pro is awesome streaming to dlna or airplay devices, a must have feature for me.

I believe the new update has the casting over dlna etc feature. Not sure

I'm looking forward a lot. Mytube is the best app app ever!!!!! And I love his little update messages when you start the app, so I've already read this. Old news :p

will it have any casting features? I've moved to tubecast, and its really good =)

Is there any youtube app that can use the pair feature? Or is browser the only option?

with Metrotube I can download videos with mobile data do not need wifi , whether there is anything to Mytube ? :D

Just tried, downloaded a 720p hour long file, no power or wifi.

I like this one the best out of the YouTube apps. Looking forward to the update... :)

Been using the beta version on Windows Phone 8.1 on my Lumia 1020 and the Windows 8.1 version on my Surface Pro 3. Very solid on both, hands down the best YouTube app for Windows Phone, and the best app currently available for Windows 8.1 (Hyper for YouTube was so much better because of all its great features, but sadly, it's been delisted and the app no longer functions on devices it's installed on).

Hyper still works for me on 8.1.

Yep, Hyper is out there, but only for Windows. I have W10 tech preview, and use it every day.

Well it no longer works on my Surface Pro 2 or my Surface Pro 3, and it's been delisted from the Windows Store.

Hands down the best youtube app ever. The beta on the other hand still feels kinda buggy (like download playback sometimes not working offline).

I use MyTube exclusively on ny phone but I use MetroTube on my PC. That will change to MyTube as soon as the app is released...

Will it be able to save that audio of a video as a song on the music section of my 520?

Use Files app (http://www.windowsphone.com/s?appid=762e837f-461d-4847-8399-3526f54fc25e) to move to Music folder. Then use Tag Editor app (http://www.windowsphone.com/s?appid=9a9f46f0-370b-43f3-a4c4-962c747af2cb) to add album and artist info. Finally, use MPAtool app (http://www.windowsphone.com/s?appid=a6056e5e-34bd-4098-9cd8-4ed5df611d97) to add artist picture and album art.

Prefer tubeCast, mainly for dlna & chromecast streaming to tv, but it also has an excellent interface

I believe this update will bring that to mytube. But not totally sure.

so, does this mean a revamped UI for the beta or does it mean that the beta is going out of beta?

Going out of Beta to the official app.

Ah that's good then. Only thing still missing is 480p, which seems to be absent in every YouTube app for WP somehow. Hope Ryken adds it before going out of beta

The only thing I hate about myTube is these smiley faces like for example when you open the 'Search' window. They are just silly and makes you think that the app was written by a 12-year-old. Oh and the animations are slightly overdone for my taste.

I think that the smileys are what defines MyTube actually (although I believe they are not in the beta right now).

MyTube really looks silly so I am glad they are going away :)

I switched to Metrotube because of those smileys

Gosh.... These grumpy people

Does this mean Youtube audio can be found in Xbox music?!? :)

myTube was my preferred youtube app until I discovered Tubecast Pro.

Gotta admit that I started using Tubecast as well lately. It has a better custom rotation system than MyTube beta atm

Tubecast > myTube > Metrotube

Get on beta and you will get to use the latest version. Anyone can join as long as they subscribe to it by opting in under the setting..

Just tried and beta is now full...well, just have to wait for the next update then

Started with metro tube great app then moved to mytube again a brilliant app.... Now using tubecast and it's better mainly because it does what metrotube/mytube does but it also projects to chromecast. I use chromecast mite than I watch tv these days

"along with a way to just download the audio portion of a YouTube clip". THIS!!!

Use it almost every day. Can't wait till can use it on my DV8P too!

I dont comment much but Mytube is the best youtube app in every platform! Many thanks to the developer!

Already signed up to the beta. To those of you that aren't, I can assure you its gonna be a hell of an update.

All day everyday. The only YouTube app on my 1520. Thank you dev!

My favorite YouTube app!!! I wanna give the developer a big hug!!!

But I like the old design better.

I hadn't used it before, but will give it a try once they implement those changes.

Can't wait for the update

UI update is nice...but if it doesn't get the ability to cast to your TV like Tubecast does it will be a failure.

Any word on 1080p video streaming and UI support for 1080p/6" screens?

Love this app already as it is so I cast wait to see what's next

My favourite app with the best swipe interface for YouTube on phone

One of the best YouTube client!!

Toib, tubecast , metrotube are all good alternatives aswell but right now am using Metrotube while this comes out

Let it come,then only giving right review of it.

Mytube is my favourite app.

Good, now how about a good Chromecast app?

I like the animations and fluidity of mytube, but like the simple to use ui of metro tube, but metro tube has some bugs that prevent me from preloading hd videos and playing them.

fuck u google we don't need your app. fuck totally off with your apps we dont want any if your apps.

It's by far the best Youtube App! Congratulations to the creator

Awesome app that I miss on my Iphone

Youtube is going to fight hard this one, it's against tos to download :/

One more reason not to download the official YouTube app just in case it was present.

I still find it funny that 3rd party apps are sometimes better than the official versions.

Brilliant app - reallly good work by the developer - didn't hesitate to pay for it

myTube là một ứng dụng xem Youtube khá tốt . Nhưng tôi hiện đang mong chờ bản nâng cấp cho Metrotube hơn :)

What about transfer image to TV?

This is old news for me. Chris said this half a week ago in the app

Do these third party YouTube have the feature for connecting to other devices like the PS3 and view videos on TV? Posted via the Windows Central App for Android

I hope the new update brings a lot of UI improvements because the current beta version is really bland and not as stylish looking as the regular version. It's also missing a ton of thungs like a proper app bar, animations, and color themes that the non beta has.

Subtitles feature. Pretty please?

I've been part of the beta since he started working on the new major update, and trust me, it's unbelievably good. It's even better than rival apps and better than the official YouTube app for Android. You have to try it out yourself though to genuinely believe me though, as you may think I'm exaggerating when I'm genuinely not

I am coming back to you "mytube"

Love this app. For my money it is the best YouTube app on any platform, including Android's official version. Good to hear the guys are continuing to push it forward. Posted via the Windows Central App for Android

Will you be able to export the extracted audio to the music hub?
This was one of the major strongholds of a youtube-App that was discontinued sadly (I don't even remember it's name).
Christopher is doing awesome work technically, especially when you take into regard he does everything on his own and in his spare time.
But regarding visuals i always thought there was some space for improvement left... ;-)

Love the myTube app and use it on windows phone 8.1, windows 8.1 & windows 10 Tech preview

Great developer he's always working on how to improve his app

1080P please, and WiFi only please! I've been asking the latter from the dev since early this year but got no reply yet. That was absolutely annoying.

Finally myTube for Windows 8.1. Perfect DEVELOPER.

My favoirte youtube application, can't wait for it

UC Browser has enabled downloading YouTube videos to SD card months ago

No use I use YouTube HD.One advantage no ad .

Love this app... am in the beta both for WP an Win8.1 and love them! x)

if it does not get 1080p video streaming support, is not worth it
Windows Central Newsletter
Thank you for signing up to Windows Central. You will receive a verification email shortly.
There was a problem. Please refresh the page and try again.