NAPA Chassis Car Pack adds 5 new cars to Forza Horizon 2 tracks on Xbox One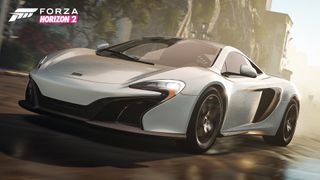 The NAPA Chassis Car Pack for Forza Horizon 2 brings an additional 5 cars to choose from as you get ready for the race on your Xbox One. The expansion pack costs just $5 in the Xbox Live store. In addition to the NAPA Chassis Car Pack, this month Forza Horizon 2 racers will also get the 2002 Lotus Espirit V8 gratis.
The NAPA Chassis Car Pack brings the following additions to the game:
2015 McLaren 650S Coupe
2014 Land Rover Range Rover Supercharged
1970 Buick GSX
2015 Audi RS 6 Avant
1988 Chevrolet Monte Carlo Super Sport
If you're interested in joining the Forza Horizon 2 race, be sure to read our review.
Source: Xbox (opens in new tab)
Chuong's passion for gadgets began with the humble PDA. Since then, he has covered a range of consumer and enterprise devices, raning from smartphones to tablets, laptops to desktops and everything in between for publications like Pocketnow, Digital Trends, Wareable, Paste Magazine, and TechRadar in the past before joining the awesome team at Windows Central. Based in the San Francisco Bay Area, when not working, he likes exploring the diverse and eclectic food scene, taking short jaunts to wine country, soaking in the sun along California's coast, consuming news, and finding new hiking trails.
That's an awesome collection of cars there...especially the RS6 and McLaren

It's justa cars for game.
Why this pack costs 5$.
Too expensive I guess.

I see you have never been shopping in a NAPA...

I have given up on Turn 10. After releasing a GotY version of Forza 5, with almost noting added, I am sick of them. GotY compilations are basically known for including all released DLC, and Forza 5 didn't include its Season Pass content. I'm done buying Forza games until Turn 10 stops being basically the greediest developer in gaming. It's worse than EA and Ubisoft anymore.

DLC can help increase the mileage you get out of a game, and therefore has value. I appreciate the offer of additional content, and am willing to pay for some of it, if it's worthwhile.

That's not what I'm talking about, though. Go to a store and look at the possibility of buying a GotY release. Look at Fallout or The Elder Scrolls or Borderlands or Halo 4 or Dead Rising 3 or Ryse or whatever. With those games, the GotY re-release includes all then-released DLC the game offered. In the case of a game like Borderlands 2, it included all Season Pass content, plus a little extra. With Forza 5, Turn 10 isn't doing that. Their GotY release includes NO Season Pass content, just a single car pack and the free DLC tracks on-disc. You would still have to put the $40+ into the Season Pass to get the full content of Forza 5, something you never see with other games' GotY releases. So, the way I see it, it's basically a con. Everyone sees GotY releases as DLC-inclusive, Turn 10 is almost preying on that to get sales, then people will be disappointed to learn that the GotY release they got is basically 5 more cars and nothing else, and it's disgusting.

That is truly disgusting, don't think will be getting forza horizon 2 anytime soon now.

Nevermind the fact that FM5 is sub par in every way except graphics to 4, and, like almost every time, MS pisses off fan base, and this time, the uber fan base by not allowing support for the legacy wheels.

I don't think that's entirely true. I resisted Forza 5 for a long time because of the lack of content, but it ended up being a gift, so I went ahead and took it. Beyond the visuals, the general feel of the game is improved, with the rumble triggers being a great addition to the game. The lack of tracks (including some of my favorites, like the initial loss of Nurburgring and the lack of Fujimi Kaido and Maple Valley) sucks, as does the fact that Forza 5 only launched with about 40% of the cars that Forza 4 did. Yeah, the improved details of the newer games are nice, but missing out on your favorite car won't be made up by extra polygons on something else, necessarily. Where I got lost is that I sold my base copy of Forza 5, in anticipation of getting the GotY release. However, I later learned that the release lacked any real changes, with a 5-car pack all we'd get. I wasn't buying back into such a money grab for that.

Cool. On another note, might be time to change the sites club from wpce to wce or something more reflecting the site now.

They already did. The new branding is Windows Central

Any Nissan S14'ns in this game?

Good pack, shame its not making it to the 360 version, a demo has been release recently for the 360, but what they did because of this, is unforgiveable.

"just" 5$ 5€ isn't worth 5 cars to me ... glad they already included enough of them! But still ...

Oh man, I'll be all over the Range Rover
Windows Central Newsletter
Thank you for signing up to Windows Central. You will receive a verification email shortly.
There was a problem. Please refresh the page and try again.