Need For Speed games and Zombie Driver among this week's Deals with Gold for Xbox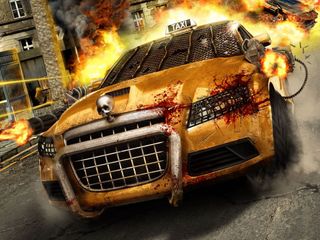 Microsoft has a bunch of Xbox One and Xbox 360 digital games on sale this week for members of its paid Xbox Live Gold program, including several games in EA's Need for Speed series.
Xbox One owners with Xbox Live Gold can purchase and download the following games at these reduced prices for the next week:
Xbox 360 owners can take advantage of these digital game deals:
Note that all these deals will expire on October 27, with the exception of Darksiders, which will continue to have the lower price until October 31.
By the way, we plan to offer a live stream of gameplay from Zombie Driver on Saturday, so if you are on the fence about getting the game, even at its lower price, this may help in that decision. Which games do you plan to buy on this list?
Source: Major Nelson
Windows Central Newsletter
Get the best of Windows Central in your inbox, every day!
I didn't have to pay ;)
Hurrah for Bing Rewards!

WindowsCentral I am the first one to hashtag on instagram

Now that's success! Congrats man, you rock!

And no mention of BURNOUT PARADISE for $5.09?!?! Easily the best of the best when it comes to car games

I know guys this is not the right place to ask this thing but I have failed in all my attempts to update Xbox music on my phone.. But everytime it stops during installing phase.. Can someone please help me.. This is the last place in earth where I can expect wise answers.. Thanks in advance.. I use a 1320.

All I can suggest is do a soft reset and try again.

What exactly is the error while updating?

Nothing.. It just skips it and starts updating next app.. Attention required( Tap to try again) is all that I get...

Soft reset. If that doesn't work, then hard reset.

Delete it completely and download again.

You can't delete Xbox music app because it is core app.

Make sure you're on WiFi?

try to download a new free app. There may be a policy update that doesn't show up till you download a new free app. I've had this happen a couple of times. I've also had a case where my microsoft password has expired, and it needed to be updated first.

Need for speed hot pursuit is cheaper than undercover?! Wtf?

Zombie Driver is really fun on my PC (via Steam). It must be even more fun on the big screen on an Xbox!

Titanfall Season Pass. That's what I want on Deals with Gold, por favor.

I thought the news is about need for speed game for windows phone

EA is done for me as long as they don't support Windows Phone properly. They only deliver these crappy casual games instead of proper games like "Need for speed". I know there are two old titles, but there have been way more mobile titles. They even have more/higher profile games on Blackberry than on Windows Phone!

True but the last need for speed was the most wanted for mobile and at that time windows phone was much more smaller in number so they didn't support WP. Who knows in future there will be proper support.

Dude, MS' first party developers are hardly even supporting WP.

Actually, Microsoft Studios has done a pretty good job of supporting gaming on WP. Since Christmas 2013, when I started counting, they've released 10 Xbox games on WP (Microsoft Mahjong, Microsoft Minesweeper, Microsoft Solitaire Collection, Throne Together, Hexic, Snap Attack, Kinectimals, Tentacles: Enter the Mind, Age of Empires: Castle Siege, Secrets and Treasure). Plus, they've already announced at least 3 more big-name games coming this year (Halo: Spartan Strike, Age of Empires: World Domination, Minecraft: Pocket Edition). So, we're looking at at least 13 games in a 12-month period. It's not brag-worthy, but it's not dismissable either.

If you want more EA games on Windows Phone, then tell them! Here are details on the #SaveXboxWP movement, and here is the list of relevant EA accounts to ping: @EA @EAMobile @popcap @petermooreEA

Darksiders 2 is also free for the 360

Ahh Burnout, oh how I love that game series. I really hope Criterion is planning on a new Burnout game for the current consoles, instead of just Need for Speed stuff

Yeah, at that price I think I will at least pick up Burnout Revenge for when friends come over. I haven't played that some the original Xbox ...

Dragon ball z is pretty tempting at that price.