Netflix is rolling out offline playback for its Windows 10 Store PC app
Netflix is rolling out an update to its Windows 10 PC app bringing a hugely requested feature.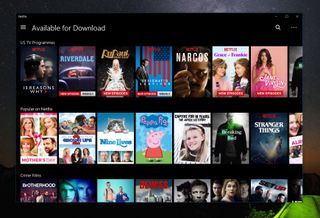 For the first time, Windows 10 users will be able to download Netflix shows and movies for offline viewing, saving them to local storage.
The selection for offline play seems to be a little sparse at the moment, sticking primarily to Netflix' own in-house content. But as licensing issues thaw out, we should begin to see a wider selection of movies and shows join the program.
You can test it for yourself by selecting a piece of support content and finding the download button depicted above. The media should begin downloading, and become available for viewing without an internet connection. This could also be useful for those with poor connections, who want to watch something in the highest quality without buffering issues.
You can find the full list of supported content by hitting the hamburger menu in the top left corner, and then finding Available for Download. You can also view content you have previously downloaded via the same hamburger menu, by selecting My Downloads.
As of writing, we haven't seen any updates for the Windows 10 Mobile version of the app or the Xbox One app, but it's fair to assume the updates are on the way. If you haven't seen the update yet, it's likely because it's rolling out in stages, but it should appear in your download queue sooner rather than later.
What shows are you going to sync offline first? Hit the comments and let us know.
Windows Central Newsletter
Get the best of Windows Central in in your inbox, every day!
Jez Corden a Managing Editor at Windows Central, focusing primarily on all things Xbox and gaming. Jez is known for breaking exclusive news and analysis as relates to the Microsoft ecosystem while being powered by caffeine. Follow on Twitter @JezCorden and listen to his Xbox Two podcast, all about, you guessed it, Xbox!
Mobile support would be boss Netflix 😁

Hope it rolls out to mobile soon too.

Along with long overdue continuum support. It is a universal app right? Time to treat it as such!

This. It's insane having to go to the browser to use Netflix when there's a perfectly working app.

I don't think its a universal app on mobile, based on the animations it uses

i think its the old 'universal' app under windows 8 definition. developers create two apps and put it in the store as one.

Yeah the WP8.1 type of universal (on mobile) and UWP on PC AFAIK

Maybe its time to give Netflix another go?

First thing I'm downloading is House of Cards

Yess!!! FINALLY. This is soooooo good!!!

I expect it to come to Xbox mainly because Xbox is a huge market for them. I do not expect it to come to Mobile, simply because it's Mobile.

is it really required for xbox though? i mean, unless you have poor internet i suppose and still want HD? otherwise, i feel like most xboxes will have a decent broadband connection making this a very small convenience for only a small percentage of people. they'd probably help out more people going to windows 10 mobile first... but that has its own set of disadvantages, so i guess we'll see.

I think you answered your own question. My sister has very poor internet connection out in the country and during peak hours it's even worse. This option would give her a much better Netflix experience.

FINALLY!!! I prefer Hulu though so it sucks that both Windows apps suck right now.

Don't Hulu have a UWP w/ Continuum support or did I imagine that? Never looked into Hulu much but AFAIK its not in the UK where I am

It has an app but I doubt its a UWP. It hasn't been updated in a long time and is really buggy.

I've been telling people this for months. The Hulu app is UWP, and yes, it works in Continuum.

Thought it was. Sure I've seen it in a demo video of continuum

After updating the app through Store it gives me an error message with anything I try to download on my Surface Pro 2 (15063.11).It reads: "Download error There was a problem with this download. (VC2-W800A138F)" Anybody else having the same issue?

Yes, me too! Updated the app, but every download gives me the above mentioned error...

I'm having the same issue

Logout/login should fix it.

Tried that a couple times and doesnt work

That worked for me. Thanks!

While in the app, sign out of your account then sign back in. Problem solved!

yep, me too! really annoying!

This is what is ridiculous about developers. They claim numbers, numbers, numbers as the reason they don't support Windows 10 Mobile. Then we have Windows 10 with I don't know how many ungodly users there are, and still they have to wait for ever for options like this, and only after screaming. Even worse is almost everyone I know says they choose watching Netflix over their laptop over phones...yet with so many Windows 10 laptops out there, here we are just receiving this so much later. I often feel like developers intentionally try to tank Windows.

The key thing is there are a lot more people that watch Netflix in a browser than bother with the application.

ugh. I had nothing but issues on my Surface Book using Netflix and the browser. I don't know why people would pick the browser over and app with anything. 9/10 the app is always a better experience.

That might be your problem. I've never had issues watching Netflix in Chrome.

yeah. not a fan of Chrome or FireFox

Mind if I ask why? I'm not trying to sound antagonistic, but you pointed out you have a problem with Microsoft's browsers, and the problem isn't there in Chrome or Firefox.

No, I get it. A lot of times here, everyone that doesnt agree with you goes bananas and starts lecturing. I have had problems with all the browsers we have talked about. This browser has a problem with this service, that browser has a problem with that service. I just find that I have less issues with IE and I find Edge to be coming along nicely. I hate using multiples. I use to do that, and it drove me nuts trying to remember what browser worked well with what service. Edge has been great up until my Netflix issues. Ugh. Lol

That's fair, and I can appreciate that. I'm a bit of the opposite - or was before moving to ChromeOS. After every big update, I'd give Edge a try. Import my bookmarks, load extensions, etc. For whatever reason, most of the sites I use just do not display correctly on Edge. So, it was easier to stick with Chrome.

I keep hearing that, about sites not displaying correctly on Edge, but either im not experiencing it or it really doesn't bother me and I dont actually know what is meant by not displaying correctly. What is meant by that when people say that?

is that true though? in one of the keynotes awhile back, they touted how more people used the app then the browser... granted, i don't know if its still true, but at one point, more people used the app.

That's my point. Every time I bring this complaint up about any service, im told "most people just prefer the browser", but in my circle of friends, family, and colleagues almost everyone always says they prefer any app over the same service in a browser. I really feel this developers will use any excuse and flip flop it to argue against Windows. I keep hearing that no one wants Windows 10 apps in different articles, but once again...everyone I talk to prefers much more the apps in Windows 10 versus the web browser version and even over the x64 and x86 programs if it is an option. Every time this discussion comes up and I hear the argument against the concept of Windows 10 (and the reasoning against it changes three times) I just feel like someone is lying to win their argument over.

they're absolutely lying. otherwise, no one would call the app gap a problem. Now, if its a crappy app, sure i can see someone using the browser over the app, but generally, the big names don't have crappy apps.

This is my argument. I see no reason for them not to make apps for Windows 10. They cried "lack of users" with the phones. So now we have Windows 10 amd they started crying "lack of users" and that argument has gone out the window (pardon the pun), so they have switched to "no one wants app" BS. I would like to meet this community that prefers the browser and x86 and x64 programs over the apps. Even after you call them out on this, someone comes up with a third and fourth excuse. I think Microsoft got a bad rap about 15 years ago with the end of the monopoly claims and people have been looking to stick it to them ever since. The Snapchat clown is one perfect example...flat out refuses to deal with them just out of spite.

I haven't watch Netflix on a browser in years. The app runs much better for me on all of my devices.

Netflix app is great, on both platforms, and in my case, I've never had any problems with it. I don't remember the last time I used browser for Netflix, app is so much better, and finally we have a download option, and it's great, it works fine for me, and I hope this will come to mobile soon. If I recall correctly, I read somewhere that the Netflix app was voted the best app for Windows platform, so, keep up the good work!

I wish MS would let us download the movies we buy from their storefronts.

do they not?
Edit: The things I've purchased from Microsoft are all downloadable. The things linked from other accounts (ie, Disney) are not downloadable. Is that what you're referring to?

I've downloaded the Disney stuff too, iirc. They can only be watched through the app though, but that makes sense.

This is really cool, the Netflix app is brilliant on PC

Great example of why we need apps rather than just a browser. I don't see Netflix (or Amazon) ever bringing downloads to the web.

Does the browser version of Netflix support 5.1 surround yet? Tried it a while back and it didn't seem to be working, in edge anyways.

From Netflix support site. "5.1 surround sound is not currently supported while streaming on a computer using Microsoft Silverlight or HTML5 " It would see that it's still not.

Very, very nice. On time before the spring holidays. A highlight moment for windows 10. Well done, Netflix!!

Cool. Just in time for testing my new Nuvision tablet.

Now only if they'd bring back better mouse support. :P

I've already done this with the Android app, and it wasn't restricted to Neflix-produced content either (I had downloaded the three Madoka movies and a couple other such films to my tablet before the blizzard last month, in case we lost internet, and maybe even power). The biggest issue will be whether it will let you save content to the "external SD" storage rather than using up precious internal storage.
Windows Central Newsletter
Thank you for signing up to Windows Central. You will receive a verification email shortly.
There was a problem. Please refresh the page and try again.