New transparency effects and Cortana integration spotted in unreleased Windows 10 build
By Rich Edmonds published
The folks over at WinBeta have taken a close look at an unreleased build of Windows 10. Build 10102 includes not only new transparency effects, but also further Cortana integration.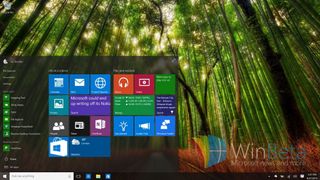 The company has altered the way Cortana is integrated with the Start menu and Windows 10 itself. Searching from within the menu (as demonstrated in the above footage) will now bring up Cortana, but once Cortana is active there are a variety of new options available in a hamburger menu on the side. To make everything appear as a seamless experience, Microsoft has made it so Cortana shares the same height values as the Start menu.
Microsoft has added transparent effects in previous Windows 10 preview builds, but the company seems to be looking at past versions of Windows, as well as feedback supplied by the community, to take things further with a blur effect. This new Aero-like effect will be present on the taskbar, as well as the Start Menu. It's a pretty cool mix between Aero and a more modern UI.
We're certain Microsoft will have more details on Windows 10 at the company's Build conference, so be sure to remain tuned to our feeds for all the latest on the PC operating system.
Source: WinBeta 1, 2
Rich Edmonds is Senior Editor of PC hardware at Windows Central, covering everything related to PC components and NAS. He's been involved in technology for more than a decade and knows a thing or two about the magic inside a PC chassis. You can follow him over on Twitter at @RichEdmonds.
Oh yeah. That's just good looking stuff

That IS looking good. Now if that Start Menu can be disabled it will be looking awesome.

Yes, disable the Start menu and make everything as useless as they are on Windows 8(.1). Wouldn't be a better design choice to "Cortana-enable" the Start menu instead of adding another "sidekick" window that basically does what the Windows 7 search in the old Start menu used to do? They just needed to add Cortana to the Windows 7 Start menu search bar, and the results would show up neatly in the Start menu itself. What's the rationale behind that separation? P.S. That is not to say the new solution is not way better than what it was in the previous builds of WIndows 10...

Can you please describe to us all how everything is useless on Win8? Because what I'm using on Win8 is an order of magnitude more useful than anything else I've ever come across. e.g.I can order and group application icons (tiles) in any way I like, with headings, to make everything easy to find. And almost all my less used things fit on a single screen, nicely ordered without me having to dive into menus and sub-menus. And the Windows 7 search you seem so fond of is supercharged in Win8, making it even more useful. I'll guarantee you that Win10 will see almost everyone diving across to the W8 style Start Screen to look for things on occasion. I intend to make it my default and completely ignore the useless chimera they ahve created for W10, which seems to combine all the disadvantages of both systems into one horrible, useless thing. And hopefully i'll be able to remove the search box from my Taskbar because W8 has allowed me to be sufficiently organised that I hardly ever need to search for anything.

I'll give you a hint: hit Start, type "keyboard". Now try to bring up the Control Panel keyboard settings we used to adjust the cursor blinking rate, speed, etc. Unfortunately I don't have much time to dive into the fact that closed, hierarchical groups of icons were in fact more useful compared to an ultra giant list of giant tiles spanning pages and pages, with a single label on top for navigating through all the shortcuts of all the programs on a computer. Or you know what? How about having this giant space wasted when you search, with another, narrow bar on the right side giving you irrelevant results mostly from the "PC settings" app that is less than half capable of what Control Panel applets did. Go set a proxy in the PC settings app. Click the Save button. Did it save the new settings? Who knows? That's how half-baked the entire thing is. Give me a break please. Windows 8 will only be remembered as that first attempt Microsoft did to cope with its waning influence. We'll see if they come to their senses with Windows 10.

I tried your "keyboard" thing and it was the third thing in the list, after "On-Screen Keyboard" and "Microsoft Mouse and Keyboard Center (sic)". On the subject of "closed heirarchical groups", you can't go into details because you couldn't be more wrong. And even if you're not wrong, Win8 offers precisely that anyway. The difference is that, unlike W7 and W10, it doesn't make you search through it all via a tiny, little window. As for "gaint tiles", you will find that a small tile on the Start Screen is smaller than a small desktop shortcut and smaller than an item in the W7 Start Screen's list. Doubt me? Look at this - http://imgur.com/ATsUpvX (couldn't make it show up in the comment). What space is wasted in search? What else could it be used for, given that when the Start Menu is open in W7, it has focus and you can't do anything else anyway. The very fact that you are so hung up on search simply shows that you need a much better way of organising your computer. That's actually why Microsoft made the Start Screen - because their user data showed that people had stopped using the Start Menu so they made somethign infinitely better. I never use search for anything because I use the excellent tools available in Win8 to keep everything organised and at my fingertips. Using search is an admission of defeat for me. What does "go set a proxy" mean? A proxy for what? And why would I use the Settings App when Control Panel is much easier to get to? The Settings App is mostly terrible, although I do use it a bit on my 8" tablet, but Control Panel is easier to get at than ever before. I can even stick items from it on my Start Screen. It's awesome. Judging by yoru comments, you haven't made even the slightest effort to learn how much better W8 does things. You've just looked at it and decided not to like it. That's stupid.

If you have a keyboard attached just type keyboard, this brings up the keyboard in a list, click on that for blink rate settings. No keyboard attached, click on the search icon and type keyboard.... What could be simpler? I see people going into a menu to go into a menu etc, that's slow and time consuming, imho anyway.

I want Cortana to be a floating bubble like facebook messenger in android. Haha

That is actually a pretty cool idea...... Pin her to desktop, and you get a Cortana icon jumping around with notifications right on the desktop

yup. except way more awesome

It has a new WP-inspired Wi-Fi icon!

Yeah, but where is the ' find song' button?

Looks really nice. And people want familiar eye candy.

Window 10 Pro + Enterprise Technical Preview Build 10074 with Language Pack http://talhawebz.blogspot.com/2015/04/window-10-pro-enterprise-build-10074.html Enjoy it!!!!!!!!!!

And you're not funny at all. Weird combination.

Do you want some butthurt cream? I really like cars and cheese.

Truly you are a king among kings.

Beautiful. I want the Aero-blur transparency for Windows 10 Phone too.

Oh my god. Yes please. That would look beautiful.

Oh yes.. It would be great

The theme setting for wp10 should be like : Black , white or transparent(aero like) . Action centre must be in transparent too.hehe.

Go to Microsoft Vote Site and tell ur idea to them

Link so we can vote for your idea? :) ask for the notification center too!

Can you do it? and post the link here.. I'm at work so can't do it right now. :)

Should i tell them like this ? : The system & UI should be in Aero Blur transparency. Any other idea? Photo etc. I'll help u guys post it.

Thanks.. Um maybe just the Start Screen, Cortana and Action Centre? What do you think? I'm not sure if I want the transparency on the Settings page.

I've already email WC regarding this. Hope they will help us to spread the word. :)

This is good,this is really good. But....suddenly they're at build 10102? I know they'll always are further ahead than what we receive on our devices, but this is a pretty large gap within a few days

Nope not that large. And I'm sure this build is a lot older than a few days. Its just that the preview program gets spin off builds. And considering we're expecting a July launch, its not that a big surprise. I love the new options and effects. Looks good. Lets hope it gains traction.

They jumped build numbers to 10100 after they reached 10066 :).

This may be the case if phone made it to 10070 as seen in leaked shots if that was real

I don't think that's the case. Pics have surfaced of those accidentally getting build 10074 to show up in their WU window.

Well I can assure you that this is actually the case. There are some branches though that did not follow suit, maybe because they are behind schedule. The Win Mobile branch could be among them. They are at build 10110 as of yesterday.

Build numbering is not perfectly linear. You'll often see the a change in the 0x00 x position when a new feature branch is added to the winmain branch that the public gets actual builds of. And they of course can skip large numbers whenever they like. It's not set in stone.

Do you see Siri and google now in safari and chrome? No? Exactly.

Not defending the evil empire of goo, but google now is integrated into chrome, actually, it works a lot like Cortana does. Only thing I've sworn off Goo for now until they support Windows, I'm done with them. They are stupid for not releasing apps to 100's of millions of people, its just dumb

Siri exists only on IOS. Cortana exists on windows phone and windows10. You can access both from anywhere. Hold down the button to open siri, press the search button to open Cortana, click on the search box on the taskbar to open cortana on pc. Cortana does work everywhere if you ask me

Maybe he's talking about regional availability..

If you change your phone region, you can get her to work everywhere.

Yeah hope Microsoft fix this asap. Maybe they insist that Cortana must be able to interact with native language instead of English everywhere just like google now and Siri?

Yes they do. That's why Cortana is being developed in Chinese and Spanish etc etc

When's that classic Start Menu option coming back that disappeared a couple builds ago?

It definitely will not be coming back unless they write a whole new start menu in the winrt style while maintaining the classic shell theme.

I doubt that. They had it a couple builds ago and it was pretty slick. Then they took it out for some reason. The option is gone from the settings, but the space it was in is still there...so I assume they're planning on re-enabling it after they're done with their transparency kick.

There's a screenshot of it on here. Build 9841 http://betanews.com/2014/10/04/the-curmudgeons-guide-to-microsofts-embry...

I didn't understand why they had that in the first place but now I do. Windows 8.2 was real, it was most likely a last minute decision (like the axe to the Surface Mini) to move on from Windows 8 series immediately. They built what they showed off a year prior. Windows 8.1 with a start menu again and windowed modern apps. Realized would've been same mistake as the two separate environments with jarring transitions between them. Aero and Modern couldn't live together. They made that decision to progress to a new Windows 10 vision, and the work they already made, went into the first technical preview builds. Start screen was an option, All of that code was still there. They showed off their new Continuum vision and after their January event, the 8.2 start menu was depreciated along with the Windows 8 start screen. Continuum has now matured along with the rest of Windows 10 to graduate from technical preview to insider preview. If you do not want the tiles, you can unpin them and resize it to just the left hand menu, it will look a lot like the classic start menu from before XP because of no right hand side. Anyway, that 8.2 start menu was written in different code, new one is XAML. They can't bring back the old one but add new functionality to the XAML based Continuum start menu.

Try Classic Shell, it's free.

It is, but I'm concerned with enterprise users with the final product.

Just right click on the task a, and add the desktop toolbar. It's your old start menu without the fuss. Scrollable folder structure for your desktop software and folders, just like the OL menu. I do think they should relocate it on the new start menu, or at least give the option to add it there though. It would go a long way for those holding onto legacy ui

That's not coming back. It's the same thing, just unpin all the tiles and you'll have a classic start menu.

Windows 10 is looking better and better can't wait for final version. I would say hurry up but I don't want anything left out

If they could rtm win10 today, that would be great :D

So what if "trolls" or MS haters start giving "feedback" that we don't really want implemented and MS does add it?

That's what voting is for

What happenned with store? Why it even bigger? Seriously it looks ugly

They don't want u to miss the shop:-)

Lol they dont want me to miss the shop? What does they have in the store? Official instagram? Well i guess i should download it now!

You can put lots of apps in that big ass bag ;)

Sigh! Look at the other tiles and the text. There seems to be some scaling issue. I don't want to be an ass, but nitpicking an alpha build is not very clever.

I wish when you open the start menu, that ugly thing with all the colored tiles that occupies almost the entire screen wouldn't pop up.

You can resize it you know

And you can delete all the tiles and all you have left is the program-list. Fixed.

Don't pin tiles to the Start Menu. I know, so simple.

You can install Windows 7.

Not only can you resize it, but you don't have to pin anything to it. Also, if you still don't like it, you have the option to install classic shell, start8, etc. I think at this point, your probably going to be in the minority

People like you should be banned from using any kind of modern operating system.

The Power button should be below the All Apps button.!! Yes? No?

I agree. Its weird right now.

Next, people will start asking it should be back up on the top.... Lol :P.

Well, why not give us the option to move things around. Let us arrange the Start Menu just as we want. Let us pin tiles, menu options, shortcuts and everything else there and size them as menu options or tiles and place them wherever we want.

Because that'll make things confusing? They can't put settings for every minor thing like that.

Wow! Transparent tiles on windows 10 for phones should have that blur effect too!

I really like it! Ima comment again.

Love where Windows is going. This the comeback y'all.

Now that actually looks really nice, I really hope the phone version will have a similar look to it.

That will take them another 5 year

I hope they include opaque/no transparency options for it as well

When is next build for windows phone

Looking good, think the requests for Aero-esque transparency have quite alot of votes in the feedback app. Which is now working for me, :).

If it ain't broken don't fix it. See they are slowly taking the good bits from the old OSes and giving them a modern implementation. Sleek!!! Such small changes can have huge difference...Now please make the title bars of the windows into glass as well instead of the grey

Looking very nice! WP 10 rely on The success of windows 10 Posted via Windows Phone Central App

It's so pretty!!! Me likey

omggg i need that wallpaper

That screenshot makes windows look very beautiful

A small thing, but I'd like them to change "All Apps" back to "All Programs" (or "All Aplications"). Sure they want to push Modern/Metro apps in the hope Windows can get the apps that are on Android and iOS, but that's ignoring the massive legacy desktop applications/programs that are still to a major extent the strong point of Windows. "Apps" just seems lightweight and flimsy (though some are obviously pretty fully featured). Sure it may sound cooler to some, but I think there's enough people who care more about productivity than coolness and the old name would give that feeling of power over "apps".

Bring Transparent tiles and live tile folders to full Windows, and your done.......well, almost that is

The Cortana "ask me anything" textbox should be resizeable, I want it smaller. Also, we should be able to theme it. I'd rather have a dark grey background & white text, that'd blend nicer than a white block in the middle of that black toolbar.

Where are those annoying users talking about how ugly the Preview were.

Shhhhh. Trolls don't wake the trolls.


This is really neat, hope MS can deliver this goodness soon!

Beautiful. Now that blur has to be also present in the notification / action center panel in Win 10 and Win 10 for mobile. And, as everyone mentioned, that 1 pxl edge has to be put to sleep, everywhere!

Nice. But: working Start menu would be nice too. Lmao. They should solve these problems first.

Wooww blur effect in transperacy thats what im thingking about

Holy moly! That's looks great. Starting to see some polish! I love it. Why are all the icons going blue? Spartan, Store, Music, Video, Calendar all now blue. Must be the push for transparency in the tiles? You won't miss what color wasn't there kind of thing? Or maybe the blue is just the indicator for unfinished apps?

This looks absolutely awesome

I don't really like the "Search the Web" - "Search my stuff" options, at least no the way it works now. In my phone I found myself most of the time getting result from my stuff, when I actually just wanna search the web. Sent the feedback.

Wow looks amazing! They need to add that transparent blurry dark background as an option to ALL apps in Windows 10 for phones that have a standard black/white background. That would make it look slick.

LOOKS LIKE TOM WARREN WAS RIGHT! Cortana is gonna look even sexier... and hopefully add that blurry dark transparent background too! https://twitter.com/tomwarren/status/577598909150818304

Wow..just give it some colour combination and it will stand out like nothing..

I hope Microsoft bring aero effect to cortana.


I love Aero + windows 10 will be great match!
Windows Central Newsletter
Get the best of Windows Central in in your inbox, every day!
Thank you for signing up to Windows Central. You will receive a verification email shortly.
There was a problem. Please refresh the page and try again.