Lenovo launches the Air 13 thin and light notebook in China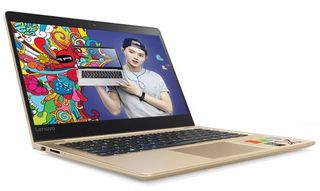 Lenovo has launched a new thin and light Windows 10 notebook, the Lenovo Air 13, in China. The laptop could be a rival to the just announced Xiaomi Mi Notebook Air in that country.
The Times of India (via Neowin) reports:
By comparison, the Xiaomi Mi Notebook Air has two models to choose from; one with a 12.5-inch display and one with a 13.3-inch screen. The latter model has an Intel Core i5 CPU, 8GB of DDR4 RAM, 256GB SSD, and an Nvidia 940MX video card. It weighs 1.28 kilos, which is slightly less than the Lenovo Air 13.
The new Lenovo notebook is only available in China and currently has the same price as the Xiaomi laptop; ¥4,999, or $750. There's no word yet on when either of these thin and light laptops will go on sale in other parts of the world.
Windows Central Newsletter
Get the best of Windows Central in in your inbox, every day!
Better days are here for Windows Laptops. Waiting to see what Microsoft does with the next Surface Book

Surface may be done. Microsoft does not want to sell hardware or compete with OEMs.

Please everyone ignore the troll, move along, nothing to see here.

Their not really competing with their OEMs. Their devices are way overpriced for similar items. Surface is there as a showcase of what Microsoft envisions how these devices should be like. It's what pushing OEMs to developed better hardware and not rely on 10 year old R&D that's no longer appealing to its consumers. That's why many people started buying Apple because owning a beautiful lightweight devices has its perks. Now Microsoft is pushing Intel to develop better chips to compete with ARM. If I was Microsoft, I will put my money on "A phone that can replace your desktop". Intel x86 processor with the muscle of Core i7 but with the power draw of Atoms/Core M without the need for fan. Hopefully, we'll get there in less than 2 years!

Intel made it quite clear that it's done with SoCs. Perhaps Surface Book will get second edition but regular Surfaces are already well managed by OEM's if MS is not in the business of makings hardware and competing with OEM's as some claim.

Well, all the more opportunity for AMD to take back some market share.

Right, that is why Microsoft is getting into the leasing business, expanding their devices with a possible new form factor, and working on a new version. But you need to troll, which means inventing wild stories to create FUD.

Oh plese do tell the new magical form factor that microsoft is Inventing? is it rock shaped or titanic shaped...because they are sinking like one or the other.

When in India... no wait... America?

Which is more than ok for most users out there and usually expandable. get out Dato.

are you sure it's expandable? almost all ultrabook laptops have embedded RAM memory. get out you. lol

And almost all can be expanded at the point of purchase. embedded? embed a bigger one then?

:-D 4GB ram is a joke. Hopefully, its expandable

When in Europe Posted via the Windows Central App for Android

Just curious why companies are naming Air in the name. I mean it isn't mandatory to follow one's name just for the sake of popularity. They could even run towards uniqueness, say like "Vacuum" of "Feather"?? :D

P.S: I hate everything Apple!

Why? They are superior products. I guess you hate what you cannot have....

Every Company wants publicity like Apple product.

Yes.
My (mi) book would have been much better
What do u think? Posted via the Windows Central App for Android

Helium, lighter than earth's air.

Yet another inexpensive and alluring Chinese spybox.

I'd much rather take that than a spybox from the last country to extradict someone from my country?

My Wish - MSFT - SB Hybrid, SB Air, SB Pro.

Yay for windows hello. Nay for 4GB RAM. Does it have backlit keyboard? For me it's one of the musts. Good job by Lenovo. And yet they will keep on selling trunks in international market. The day we have thin AND LIGHT laptops as a norm will be THE day for pc market.

Yet another Macbook copy. Jesus can't they use another name other than air.

Once again no touchscreen. No, thank you. Anything smaller than 14 inch should come with touchscreen.

...seems like 'Air' is a common word now...hahaha..love the competition.. :D
Windows Central Newsletter
Thank you for signing up to Windows Central. You will receive a verification email shortly.
There was a problem. Please refresh the page and try again.