The new Lenovo Z41 and Z51 Windows laptops are for the media lover in all of us
By Richard Devine published
Lenovo is currently throwing its first solo showcase, Tech World, out in Beijing, China, and has announced a pair of new laptops for the multimedia lovers out there that don't cost the earth.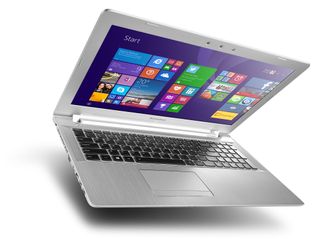 The Z41 and Z51 won't win any awards for being the thinnest, lightest laptops around, but that's not the point of them. They're pretty appealing in their own right though with some decent hardware on offer, including Dolby Surround Sound.
There are sizes on offer, a 14-incher in the Z41 and a 15-inch option in the Z51. Both are what Lenovo calls "equal parts home-entertainment center and powerful workstation," and the hardware specs seem to back this up somewhat. With a 1080p display, upto 1TB of internal storage and options up to an Intel Core i7 CPU, there's plenty under the hood for the heavy media consumer.
Other specs include optional AMD discrete graphics, Dolby DS 1.0 Home Theater Surround Sound and on the Z51 an option to have Intel's RealSense 3D camera allowing the laptop the ability to sense depth and "bring the world to life in 3D."
Both will be available in June with prices starting at $499. For the RealSense equipped Z51 with 8GB of RAM and an Intel Core i5 will run from $599.
We'll hopefully be getting a better look at them soon live from Beijing, but in the meantime check out the full press release and some more images below.
Lenovo's New Consumer Laptops Designed for Those Who Love Simplicity
Lenovo Z41, Lenovo Z51 and ideapad 100 notebooks kick off Lenovo Tech World's new product lineup
Lenovo unveiled three new consumer laptops, Lenovo Z41, Lenovo Z51 and ideapad 100, for users who value simple and functional design
Lenovo Z41 and Lenovo Z51 (featuring an optional Intel® RealSenseTM 3D camera) are the ultimate multimedia workstations for music and video lovers
The ideapad 100 is ideal for customers who need only the most essential laptop features
BEIJING, MAY 27, 2015 – Lenovo (HKSE: 992) (ADR: LNVGY) today unveiled three new consumer laptops in advance of Lenovo Tech World, the company's first exclusive global technology innovation event in Beijing. The new Lenovo Z41, Lenovo Z51 and the ideapad 100 laptops are as versatile as Lenovo's customers are. Whether users just need to create and edit content or want a fully-equipped multimedia experience to enjoy music and videos, the new Lenovo Z41, Lenovo Z51 and ideapad 100 laptops are ideal for users who value simple and functional design.
The new 14-inch Lenovo Z41 and 15-inch Lenovo Z51 laptops are equal parts home-entertainment center and powerful workstation. Featuring a stunning FHD display, optional AMD discrete graphics and immersive Dolby® DS 1.0 Home Theater® Surround Sound for crisp sound and sharp visuals, they are ideal for streaming videos, downloading music and gaming. The new Lenovo Z41 and Lenovo Z51 come with advanced 802.11 a/c WiFi technology for up to three times the Internet speed of regular laptops for faster web surfing, streaming and downloading content. Engineered for productivity, the new laptops are powered by up to the latest Intel® CoreTM i7 processor with up to 1 TB of storage. The new Lenovo Z51 and Lenovo Z41 stand out for their beautiful color options in ebony black, chalk white and crimson red (for the 14-inch laptop).
The new Lenovo Z51 also features an optional Intel® RealSenseTM 3D camera that brings the world to life in 3D. Featuring full 1080p color and a depth sensor, the revolutionary 3D camera allows the new Lenovo Z51 to sense and capture depth like the human eye. Users can 3D scan objects to 3D print, play 3D games or use gestures to control the laptop. Customers can also create a more lifelike video chat experience by changing the background and sharing content.
Lenovo created the entry ideapad 100 laptop for customers who need only the most essential features, such as surfing the web, creating content and managing lists. It features up to Intel® BayTrail-M N3540 processor, up to 500 GB HDD storage and integrated Intel® Graphics giving users a fast processor, ample storage and solid display. The new ideapad 100 runs up to 4 hours without plugging in so users can work, browse online, watch videos and more with minimal interruption. Measuring at just 20.2 mm for the 14-inch and 22.6 mm for the 15-inch laptop, the thin and sleek ideapad 100 looks anything but entry level with its classic ebony black finish. Starting at an incredibly affordable price of $249, the new ideapad 100 fits in nearly any budget.
"We've created the new Lenovo Z41, Z51 and ideapad 100 laptops specifically for customers who want simple and functional design," said Mr. BAI Peng, vice president and general manager, Lenovo Notebook Business Unit, PC Group. "But because our customers are diverse, so our products are not 'one size fits all' either. Our three new laptops offer customers the choice to select the one that's right for them – two specialized for multimedia and one all-rounder."
The new 14-inch Lenovo Z41 and 15-inch Lenovo Z51 laptops will be available on www.lenovo.com and will hit retail shelves starting in June. Pricing for both laptops starts at US $499. The new Lenovo Z51 laptop with optional Intel® RealSenseTM 3D camera comes with an Intel® Core™ i5 processor and 8GB memory, starting at US $599.
The new Lenovo ideapad 100 14 and 15-inch notebooks will be available on www.lenovo.com and hit retail shelves starting in June. Price will start at US $249.
Richard Devine is an Editor at Windows Central. A former Project Manager and long-term tech addict, he joined Mobile Nations in 2011 and has been found on Android Central and iMore as well as Windows Central. Currently you'll find him covering all manner of PC hardware and gaming, and you can follow him on Twitter and Instagram.
Just picked up a hp envy k201tx, apart from build quality everything seems fair. Anyway, lenovo has lost its reputation.

Well Superfish is a dumb excuse... because it could be removed easily, and also you could easily install Windows fresh, so superfish wouldn't be there or any other crap. but then... all other Windows OEMs have alot of crap installed in their computers, maybe they are not flagged as adware stuff but other OEMs add so much bloat and crap they don't make it better.

You people need to let this go already.

Daniel am I right in thinking Lenovo are a solid reputable, & offer Quality products & support to match, because there pricing is fantastic, I would appreciate your honesty & opinion. Also any other genuine honest opinion, I'm not bothered about the Super fish episode, Thanks

Lenovo makes the better laptop offers around. So much they dominated the market and became #1 laptop vendor, that their competitors made a lot of noise about a "problem" that was not even a problem to start with since you could easily and immediately remove it. Lenovo offers the best Hardware/Price analogy, and that hurts Dell, Asus, et.al No. They still make great hardware. And that's how it is.

Let it go! LET IT GO! Oh SHUT UP already, nobody cares about frozen anymore.

Their financial results would say otherwise. They are showing PC growth in sales well the rest are declining.

Why do they still have a 15 pin DIN plug??

Why the miniature trackpad? Why include the numeric pad that one person in a million uses? You're forcing the keyboard unergonomically to the left for everybody else and cramming the tiny trackpad to the left side. That is the only method of interfacing with the product and you're making it intentionally worse... and for what? So a middle manager can tick the checkbox that says "also suitable for purchase by an accountant". If somebody needs a numberpad let them buy a peripheral, don't ruin the product for everybody else. Why do OEM's only produce lowest common denominator trash and then blame windows for pushing people to proper laptops that Apple makes?

Are you really whining about there being a number pad? I swear you're just looking for something to complain about. I mean, if you SERIOUSLY don't like it, get something else. It's not like your short on options. I for one love and want a number pad on my laptop, which I get on my Toshiba. I know many people who prefer using a number pad, as well.

What? Number pads are awesome and I'm glad some laptops still have them.

Yea, I had a laptop without the number pad and when I upgraded I looked specifically for one with a number pad on the keyboard. Not having it was a huge issue, especially if you do a lot of stuff in spreadsheets, Quicken, etc.

Acquire nothing but notebooks with numeric keypad for work.... Besides our SP3's (those are docked with full size wireless keyboards though), and our handful of MBPs

Most ppl use the numerical pad for convenience. In this day of age I wouldn't buy a laptop without it

Lenovo is Chinese crap. Let them buy it.

So is Apple, HP, Dell, etc. Is there even a notebook that is still assembled anywhere else but China?

Buy a ThinkPad, they're assembled in North Carolina :) Lenovo is the only major computer manufacturer I know of that has assembly plants and tech support (staffed by Americans) in the US.

Specs are same as my z50, except the z51 comes with 5th gen processor, z50 had 4th gen.

If USB 3.0 ports are backwards compatible then why even put a 2.0 port on there? I can't imagine it costs that much more in the scale of things

It's more about how much power the Mobo can output at any given time. If they had all USB 3 and you filled all the ports up with USB 3 devices chances are they wouldn't function properly, plus the battery would last minutes.

A little off topic. If that is the case, why do desktop mobo have the same mixture of USB 2 and 3?

Because Desktops also have Power Supplies and they have rated outputs as well. It's the same reason why you need a beefy PSU in your PC to run a top of the line monster gaming graphics card. If you have a bunch of USB 3.0 peripherals running through those ports (and possibly being powered by/charging through them) it can become problematic to the system due to the amount of power they're all putting. USB 2.0 has a lower power output than 3.0, so it's a balancing act.

Battery life on these laptops is poor at only 4 hours. My Asus ZenBook UX305 battery lasts 8 hours.

There are Dell Laptops with AMD APUs from 2013 that will give you 6.5-8 hours of battery life depending on usage. 4 Hours is comparable to a cheap Compaq notebook from 2011 or something. Really, I'm surprised they even released a device with a battery this poor. I'd rather get a 900p screen and slightly slower processor and gain 2 extra hours than deal with a 4 hour manufacturer rating (which more often than not is best case scenario and with hardly anything running on the machine (services, etc.)).

These are nice for the price, bit you can see where they cut corners (battery and display).

Some people will always moan. Num pad is very good. In fact num pad is an important factor when I go for new laptop.

3D Intel camera = Microsoft smile compatible :)

Until they improve their customer service, Lenovo is off the list for me here in India.
Windows Central Newsletter
Get the best of Windows Central in in your inbox, every day!
Thank you for signing up to Windows Central. You will receive a verification email shortly.
There was a problem. Please refresh the page and try again.