New Skype app, Bash on Ubuntu support, dark theme mode and more in Windows 10 PC Insider build 14316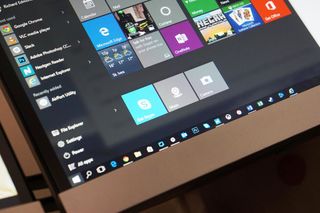 The release of the Windows 10 PC Insider build 14316 to members in the Fast ring is one of the biggest such updates yet for members of the program. Microsoft has added a ton of new features that it announced last week at Build 2016 and will be included in the forthcoming Windows 10 Anniversary "Redstone" Update.
Microsoft's blog site has the details has the details:
Run native Bash on Ubuntu on Windows: In this build, you can natively run Bash in Windows as announced last week at Build 2016. To do this, you first need to turn on Developer Mode via Settings > Update & security > For developers. Then search for "Windows Features" and choose "Turn Windows features on or off" and enable Windows Subsystem for Linux (Beta). To get Bash installed, open Command Prompt and type "bash".
Cortana Cross-Device Features: Starting today, we will be releasing new features to Insiders on an ongoing basis that keeps you in perfect sync across all the devices where you use Cortana to stay connected and never miss a beat throughout your day. With today's build, we are rolling out the below features. If you are an Insider who doesn't have a Windows phone, these features will also work with Android devices too but you will need Cortana Version 1.5 or higher for them to work.
Low Battery Notifications: Cortana will now inform you of low battery power on your mobile devices. For example, if your phone's battery is low, a notification will pop up on your PC so you can promptly charge it before your next meeting.
Find my phone/Ring my phone: We all lose track of our phone from time to time and now you can ask Cortana to find your phone, regardless of device, on your PC using the new find my phone feature. The feature will allow users to locate their phone from their PC through geo-location and by having Cortana ring your phone.
Share map directions across devices: To date, people go through a lot of effort to manually connect the dots between devices—emailing links to open on other devices or re-doing a search on the phone to find directions to a location they were just looking at on the PC. Today, we're breaking down one of those barriers by enabling you to access navigation details across devices through Cortana. Tell Cortana "directions to < place>" on your PC and she'll send those same directions to your phone.
Making Cortana easier to setup on your device: If you are in Cortana supported markets and struggled to get Cortana enabled, this will automatically download the necessary speech language, if needed, and enable Cortana for you
Try out the Skype UWP Preview app: You can try out the Skype UWP Preview app announced a couple of weeks ago on the Skype blog. The Skype UWP Preview app includes a lot of the basic Skype functionality – with more features and functionality to come in the next couple of releases. We are first releasing this for PCs only, but we will be making the Skype UWP app available on for Mobile in a future build.
Action Center Improvements: We have added the ability to select which app notifications are more important to you in Action Center. On your device, you can manage the notification settings for individual apps by going to Settings > System > Notifications & actions. Just click or tap on a specific app to adjust its notification settings. You can prioritize its notifications in Action Center to be one of 3 levels: Normal, High, or Priority. Additionally, you can also adjust how many notifications are visible per app. The default is now 3 per app. If an app has more than 3 notifications, just click or tap to expand and see all notifications for that app. This was a top request from Insiders.
Updated Emoji: We wanted to share some cool work from our design team that is showing up in this build. We are updating the entire set of font-based emoji in Windows 10 that aligns with the Microsoft Design Language with a distinct visual style as well as the Unicode standard. These new emoji are designed to be detailed, expressive, and playful. Their larger size takes full advantage of every pixel and the two-pixel outline allows for emoji to appear on any color background without loss of fidelity. Our new emoji also supports skin tone modification across a wide variety of people glyphs.
Personalization Improvements: We've added the ability to universally toggle between dark and light modes via Settings > Personalization > Colors. When you switch to dark mode, apps such as Settings, Store, Alarms & Clock, Calculator and other UWP apps that listen and respond to theme changes in the OS will change into dark mode. Some UWP apps that control their own theme settings (separate from Windows) won't change by toggling this setting.
We've also added a new option under Settings > Personalization > Colors to show color only on app title bars in addition to the option to show color on Start, the taskbar, and Action Center.
New PC access experience: Using the new Connect app, you can bring the Continuum experience from your phone (a Continuum-enabled Windows 10 phone is required) to the PC without needing a dock or Miracast adapter. Additionally, it also allows other Miracast-enabled PCs to project to other PCs without needing a dock or Miracast adapter as well. The Connect app will mention the ability to use a USB cable to connect to your PC however this is a bug and the app only supports wireless connections on PCs. This is an early preview of this feature – we have more work coming to make the experience even better.
Virtual Desktop Improvements: You can now pin a window so it's available on every desktop. To do this, launch Task View then right-click on the window you want to pin and choose "Show this window on all desktops". Try pinning Skype or Groove Music so they're always at your fingertips. And if you have a multi-mon setup, you might enjoy the ability to have your email app on the second monitor no matter which desktop you switch to.
New Update Progress Experience: When you PC installs today's new build update – you will see a new progress experience for installing the update. This is part of an effort to align the experience of installing updates from Windows Update.
Updated Battery Settings and Battery Saving Experience: We have renamed "Battery Saver" settings page to be "Battery" since we believe a single entry point for all battery related settings including Battery Saver simplifies the user experience. We also updated the Detailed Battery Use page so you can now manage the per-app background settings inline without going to a second page and added a new background settings option called "Managed by Windows". With this option, not only will the app stop running in the background when Battery Saver is enabled, but it will temporarily turn off apps with high battery drain that you haven't used in a while or pinned to your Start screen till you next launch the application (shown as "Turned off by system" on the Detailed Battery Use page). We also added a prompt asking the user if they'd like to turn on Battery Saver when battery is at 20% – something we had with Windows Phone 8.1 that Insiders wanted to see us re-implement as we merged Battery Sense into the Settings app for both PC and mobile.
Updated Windows Update Settings: You can now set the time in which you are most active on your device by adjusting active hours under Settings > Update & security > Windows Update. Windows Update will avoid automatically installing updates during your active hours on your device.
Commenting in the Feedback Hub: As we announced at Build last week, we have added the ability to comment on feedback inside the Feedback Hub. You have seen responses from our engineering team in the app already, in what we call "sticky comments". Those comments are now the top items in a comments thread where you can discuss feedback with each other and us. So in addition to up-voting on feedback, you can now comment on feedback too. We hope you will use the discussion feature to share workarounds, discuss suggestions others have made, and share any new info you have about problems you're seeing. As always, please let us know what you think by going to Apps & Games > Feedback Hub and joining the discussion!
Messaging Everywhere Preview Coming Soon: We will soon be enabling a preview of the "Messaging everywhere" feature in Windows 10 that allows you to send and receive text messages from your phone directly from your Windows 10 PC's. You will see options for this feature in the Messaging app on PC however an update is required for the Messaging app for Mobile for this experience to work. More to come on this when the experience is live.
This is a very exciting build!

windows has huge potential and just needs time..!!! btw i am exited too!!!

Yeah, and now I'm more excited for the upcoming Mobile builds :D

Ultra Excited, look at all these features and think how much benefit W10M will get out these, Awesomeness

I wont be excited about the mobile preview until i can split the screen and run two apps at once.

Needs time for what? Its had 270 million installs, and Windows 10 on PC is excellent!

Talking about mobile... Windows pc is awesome as there is no competitor as good.. But mobile is not finished yet and is in beta.. Users are complaining that w10m is not great.. After seeing such features added to windows 10.. I say windows has huge potential but needs time for adding things and fixing bugs.. :)

Ironically, the biggest competitor and the biggest hurdle for Windows 10 is Windows 7. Until Windows 10 style is everywhere in Windows 10, Windows 10 desktop is also not finished(or get to it's true potential)

This Build Deserves a Video Sent from Windows Central app for Hololens

Loving it!! Windows 10 is going places, people!

Finally, I can't wait to get rid of Build 14295. I'm so excited for new features for Windows Mobile Posted on Lumia 930 with
Windows 10 Mobile

This is for PC at present

I know, it'll come in 1 week for mobile Posted on Lumia 930 with
Windows 10 Mobile

Holy hell!!!!!! Look at the number of features in this build... OMG OMG OMG OMG!!!!! Posted from Windows Central for Windows 10

When will the final version be released?

"Summer" for Anniversary Edition. Some are pinning that as late as August.

Probably July aligning with July 29 Last year for 10240

I cant digest all these new features!!! very much excited! and yet you are asking for the final version.

Massive build! All looks great! Loving the fact that Messaging Everywhere is almost here!

Windows 10 is taking over! IOS and Android should be warned... Windows 10 will surely hit 600m installations this summer.... We need windows10 edge os( edgebook) to rival chromebook.. Google shouldn't be given a chance

600 million? Sorry, no way in the world that's happening this summer.

you never knwo, its 270M already, and with all these new features, i doesnt seem IMPOSSIBLE as more and more ppl would want all.

It's unrealistic. The fastest growth Windows 10 has managed to achieve was 75 million in one month, which was in the first month. To reach 600 million this summer, even assuming that number would be reached in late September, it would need to grow 60 millions a month (whereas the last increase we know of was 70 million in three months). I just don't see that happening.

I agree that 600 million by summer may be unrealistic, but I also expect adoption rates to increase as July approaches and the free upgade time frame closes.

Yes but even so, I doubt they are going to achieve the numbers of the first month of availability. And my figures were overly generous by assuming Windows 10 would have until late September to achieve significant growth every month while it's going to decrease significantly after the free upgrade expires.

What is your obsession with warning other platforms in each post? And why would iOS or Android need to be warned about Microsoft when Microsoft is adding features and services to both platforms? Finally, what would be the point of an Edgebook when Edge can't do a quarter of the things Chrome can?

No, we don't need any more crippled devices, which would only serve to hurt the Windows name. Remember Windows RT?

Hey, I still use my RT! LOL. Seriously, I don't have a problem with it when traveling.

Google sheets is a nightmare on
rt :)

Yes, but would you recommend RT to someone now? :)

Yes...its called a Lumia 950

Will messaging everywhere work with .164? I don't want to update to the preview build right now. Too many bugs

Interested if sms sync works yet.

The only bug that scares me is the Visual Studio W10M emulator bug. I have to use my phone for debugging while on this build. However this build looks awesome. Posted from Windows Central for Windows 10

Oh snaps! Time to power up my 950xl and ditch the iPhone SE lol

I know relax down voters, relax. I read the article. I should've been more clear though and said: Oh snaps! Time to power up my 950xl and ditch the iPhone SE [because I own 3 Windows PCs, and I would like that integration with my 950XL. Cortana on the iPhone is well, not great.]

I am not sure of iOS, bit Cortana for Android already works to tell me on my PC when I miss a call. Posted via the Windows Central App for Android

Out of interest, how are you finding your SE?

The experience is the same software experience as all the other iPhones with basically the same feel of the iPhone 5.

This. I find the iPhone, more of phone really rather a smartphone.. It's really simple.

Oh, okay. The reason I ask is because I'm not sure whether or not to upgrade my iPhone 5S (my secondary device) to an SE. I think I'll stick with the 950 and 5S for now.

Is Cortana on Android bound to language or region?

I have two Windows phones so will it always go to my main phone or can Cortana ring my work phone as well?

Maybe she will ask wich one... if not, report it in the feedback :)

I think you'll be able to chose from devices logged in with the same MS account, or connected work/school account. But I just speculate :D Posted with the Windows Central app for Windows 10 on HP 250 G1 notebook. It is a scary old monster, I think :D

I would say if an unsupported w10m, it won't work.

I'm waiting to see this too

Downloading now. Anxious to try it when I get home.

No doubt, window 10 will hit 500m installations this summer.... We need windows10 edge os to rival chrome.. Google must not be given a chance

No we do not need an Edge OS. Chrome OS is not going anywhere fast. Just because Google did it, that doesn't mean MS should follow suit.

I agree.. They need to sort bugs on win10(m). Not create an OS that would be pointless

600m? 500m? Make up your mind.

Don't encourage him to talk

Would I be able to roll back to 14295 if things went wrong?!

*Tries to resist the urge to pass on the Fast Ring on my production laptop*

Same here, but with my laptop and phone too (when the mobile build comes out) :D Posted with the Windows Central app for Windows 10 on HP 250 G1 notebook. It is a scary old monster, I think :D

The Dark Theme is cool, but can already enabled on any build : http://www.howtogeek.com/222614/how-to-enable-windows-10%e2%80%99s-hidde... But since it's becoming official, I won't some little errors here and here as it is now. Can't use Cortana smartphone stuff because my phone lags totally when Cortana runs. I use PushBullet instead. But still appreciated when I get a new (real this time) smartphone. Bash and Skype UWP are coming! And all those little tweaks I not mentionned also are cool. Seeing the list of broken things on the Feedback Hub and that nothing really concerns me, it's even more difficult to resist. :P

Yeah, the dark theme can be enabled on older builds too, I use it on 10586.164. But it isn't perfect in those builds, and causes some white text on white background or black text on black background, at places like the Skype Video app and the Lockscreen Settings in the Settings app (when choosing which apps notifications are there). And maybe the Settings menu in the Wunderlist app is somewhat broken for me for the same reason. But I like the black theme so much :D So I waited for this toggle for a long time. And for the coloring things on app title bars and others to be separated :D And yeah, the other thins are awesome too! :D Posted with the Windows Central app for Windows 10 on HP 250 G1 notebook. It is a scary old monster, I think :D

Can we see the new emoji?

http://az648995.vo.msecnd.net/win/2016/04/MICROSOFT-EMOJI-V3.gif

You can view them here: http://www.neowin.net/news/microsoft-releases-windows-10-for-pcs-build-1...

Ok, this seems to take me into fast ring on PC as well. I can still use my laptop for work in case this build will force me to do clean install on my desktop PC :)

Surprisingly big update, wowza. I know they mentioned all of these features at Build, but I felt like they were still a month or two off. This is awesome! If there aren't too many bugs in this build, I'll probably install, all these new features look rather tasty!

This is change I can get behind. I might actually sign up for the Insider Preview on my PC because of this. Here's hoping we get a W10M update soon as well, and that they add a moose emoji. We have everything I'm the world, it seems (including multiple horses, sake, poop, and a bunch of stuff I don't even recognize), but no moose! All of Canada should be offended.

Surely for Cortana to work as described all systems need same OS version.

Not necessarily. Cortana can be updated without new builds.

MESSAGING AND BASH IN ONE UPDATE I'M HYPERVENTILATING Sent from my Lumia 950 running Windows 10 Mobile

i think this Connect app is gonna be my baby.

Can't wait to see the hands on!! Posted from Windows Central for Windows 10

Holy crap! Wasn't expect such amaze-balls changelog! Also fixed lots of bugs. Installing NOW xD

Ah, finally something that I can't complain about or mock Microsoft for. About time. :)

This is Microsoft! They promised and now delivered within a week.

Actually I think it's their first time delivering something so quickly. Let's see how fast is the new start menu and action center gonna come. Posted from Windows Central for Windows 10

Missing news on OneDrive.

These changes make force me to put my 950 xl into the fast ring when it comes out for mobile... right now im enjoying just the release version but i might update for these!

I must say this is a very nice build.

So, will the linux subsystem be brought to windows 10 mobile as well?

a great reason to try a w10m

What a beast this is!! :D

I am so angry because my phone Lumia 530 not supported windows phone 10 what can I do now ?

What the hell would you do with this on Windows Phone 10? It's a PC insider build

This looks awesome. Finally gonna put my main PC on a preview... and like everyone should, I already imaged my drive for backup

I have un installed Skype UWP by mistake. How can I get it back? I don't see the app in the store. thanks.

Go to https://www.windowscentral.com/e?link=https%3A%2F%2Fclick.linksynergy.co... and search for Skype and then click skype blue icon. Click "get the app" note: "Get Skype" is for old builds and not an UWP app. request: Can anyone install Fiddler from telerik website and share skype UWP Appx package URL (starts with: http://xx.v4.a.dl.ws.microsoft.com/) when you click "Install" in the windows store? Thank you and sorry for my bad english.

Oups, mods delete my message please. .

Awesome, this seems to be nearly all the content for Anniversary update.

I like the idea of just being able to plug my 950 into a desktop and launching Continuum. That means when I'm traveling and at a hotel, I can just jump on one of their desktops and business as usual. Thats assuming the wired mouse and keyboard will be functional on my mobile... That is something that was not specifically mentioned.

Any mouse or keyboard plugged into the host PC will work. I wouldn't hold my breath waiting for hotels to upgrade. Not only do they need to upgrade to Windows 10, they will need to upgrade all of the way to the anniversary edition to be released this summer. By the time most hotels get upgraded to that level there will be far more interesting and exciting things available.

Seems faster. When in India? Sent from your mother's house.

Holy crap, that is a huge number of amazing improvements! Nice job devs! Can't wait to see more improvements be pushed out to Mobile too.

Blue screen of death. Twice already on surface pro 3. Disappointed... From Windows Central App for Windows 10

Keep cranking out those features, MS! Can't wait to get back home and test this goodness called 14316! Posted from Windows Central app, Built for Windows 10.

So can I send and receive texts on my computer now?

This update is MASSIVE!!! Posted via the Windows Central App for Windows 10 Mobile

Has anyone figured out how to use the new Connect app yet, or will I be forced to wait with anticipation for the corresponding mobile build to be release?

Nice build wow. I wish they would make a keyboard shortcut to move windows to different virtual desktops but maybe someday. Nice info though, and can't wait to be released on july or whatever.

Wooow features galore!!! Im happy :) Posted via the Windows Central App for Android

New PC access experience: Using the new Connect app, you can bring the Continuum experience from your phone (a Continuum-enabled Windows 10 phone is required) This is huge - plug your phone in to any locked Windows 10 PC/laptop and use the keyboard, mouse and screen with the connected PC still locked! That PC/Laptop becomes your dock!

How to install this build?

My user account just vanished after the update to 14316. Had two user accounts configured on my laptop and, after installing the build , the administrator account is gone. Tried to add new account but "ops, something went wrong" when trying to add it again. Others are facing the same problem.
I believe it's because the account is a MS account configured as a administrator.


Microsoft is absolutely addicted to reinventing the wheel. Wow. I just don't understand how a company can have to backtrack or restart something so many times, and never really learn from it.
Windows Central Newsletter
Get the best of Windows Central in in your inbox, every day!
Thank you for signing up to Windows Central. You will receive a verification email shortly.
There was a problem. Please refresh the page and try again.