New video and info reveal more of the upcoming Xbox One experience for Windows 10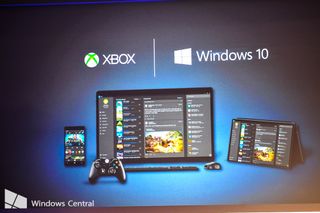 Microsoft showed off how the Xbox One experience will be brought to Windows 10 in a new video, along with more information on how Windows 10 and the console will team up to please hard core gamers.
Microsoft outlined the key gaming features of Windows 10 and how it will link to the Xbox One.
The Xbox App. Whether you only game on the PC, the console or both, the Xbox app brings together the most important aspects of your gaming life: Games, Friends, Messages, Activity Feed, your gaming legacy with Achievements, and much more.
Xbox Live and multiplayer across devices. Xbox Live is social, interactive, and seamlessly integrated directly into Windows 10, bringing gamers the experiences they love across devices, like multiplayer gaming on Windows 10 against players on an Xbox One, and messaging and chat with friends. And developers will get full access to the Xbox Live API, making it easier to create more powerful gaming scenarios across devices.
Game Streaming. Thanks to the deep integration of Xbox on Windows 10, games on Xbox One can be streamed through your home network to your Windows 10 PC or tablet, anywhere in your house. Xbox One gamers will now be able to play many of their favorite console games on their PC. And many Xbox One accessories will work interchangeably on the console and PC (with more on the way), so you can customize your experience in whatever way you see fit.
DirectX 12. We've enhanced our graphics technology to squeeze every ounce of performance out of your supported hardware and open up a new wave of innovation for high-end graphics. Delivering greater complexity and detail on your current PC, games authored or updated for DirectX 12 are able to run faster and have richer visuals. And this technology is already in the hands of developers today. The engines used to power hundreds of games are implementing DirectX 12, including Unreal Engine 4 from Epic and, as we announced today, Unity.
Game DVR. On Xbox One, one of the most popular features used by gamers is Game DVR, which gives simple access to recording, editing, and sharing out your most epic gaming moments. It's not easy or consistent to do that for PC games today. We're bringing this beloved feature to Windows 10, now accessible by simply pressing Windows+G. With the games you love playing – whether on Xbox Live, Steam, or other services – you can record, edit, and share game clips with all your social networks.
Fable Legends. Today we announced that we are bringing Fable Legends to Windows 10 PCs, day-and-date with the Xbox One version in 2015. This means Fable fans running Windows 10 will be able to play against their fellow gamers on Xbox One. It's the same game, in the same world, on the same map. Fable Legends is just the first of the major game franchises from Microsoft Studios coming to Windows 10 and we will have more to share in the coming months.
Source: Xbox Wire
Get the Windows Central Newsletter
All the latest news, reviews, and guides for Windows and Xbox diehards.