New video and info reveal more of the upcoming Xbox One experience for Windows 10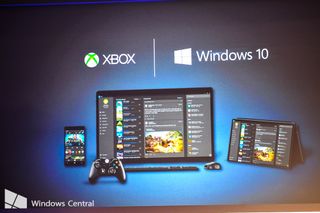 Microsoft showed off how the Xbox One experience will be brought to Windows 10 in a new video, along with more information on how Windows 10 and the console will team up to please hard core gamers.
Microsoft outlined the key gaming features of Windows 10 and how it will link to the Xbox One.
The Xbox App. Whether you only game on the PC, the console or both, the Xbox app brings together the most important aspects of your gaming life: Games, Friends, Messages, Activity Feed, your gaming legacy with Achievements, and much more.
Xbox Live and multiplayer across devices. Xbox Live is social, interactive, and seamlessly integrated directly into Windows 10, bringing gamers the experiences they love across devices, like multiplayer gaming on Windows 10 against players on an Xbox One, and messaging and chat with friends. And developers will get full access to the Xbox Live API, making it easier to create more powerful gaming scenarios across devices.
Game Streaming. Thanks to the deep integration of Xbox on Windows 10, games on Xbox One can be streamed through your home network to your Windows 10 PC or tablet, anywhere in your house. Xbox One gamers will now be able to play many of their favorite console games on their PC. And many Xbox One accessories will work interchangeably on the console and PC (with more on the way), so you can customize your experience in whatever way you see fit.
DirectX 12. We've enhanced our graphics technology to squeeze every ounce of performance out of your supported hardware and open up a new wave of innovation for high-end graphics. Delivering greater complexity and detail on your current PC, games authored or updated for DirectX 12 are able to run faster and have richer visuals. And this technology is already in the hands of developers today. The engines used to power hundreds of games are implementing DirectX 12, including Unreal Engine 4 from Epic and, as we announced today, Unity.
Game DVR. On Xbox One, one of the most popular features used by gamers is Game DVR, which gives simple access to recording, editing, and sharing out your most epic gaming moments. It's not easy or consistent to do that for PC games today. We're bringing this beloved feature to Windows 10, now accessible by simply pressing Windows+G. With the games you love playing – whether on Xbox Live, Steam, or other services – you can record, edit, and share game clips with all your social networks.
Fable Legends. Today we announced that we are bringing Fable Legends to Windows 10 PCs, day-and-date with the Xbox One version in 2015. This means Fable fans running Windows 10 will be able to play against their fellow gamers on Xbox One. It's the same game, in the same world, on the same map. Fable Legends is just the first of the major game franchises from Microsoft Studios coming to Windows 10 and we will have more to share in the coming months.
Source: Xbox Wire (opens in new tab)
Windows Central Newsletter
Get the best of Windows Central in in your inbox, every day!
Halo, Halo, Halo, Halo, Halo........... Posted via the Windows Phone Central App for Android

Game Streaming is an amazing feature

For me this is ONLY amazing from Microsoft Event. :( (ok and Cortana)

I'm curious if you'll be able to do something else on the Xbox One while streaming a game. Can I stream a game to my PC while my girlfriend is watching a TV show (through the Xbox) or watching something on Hulu/Netflix?

Joe cleary used that kind off an example that it is actually possible. So yeah, you can ;)

Did he? I thought he said when he and his wife were watching tv. Meaning the xbox wasnt in use but the screen was unavailable to his son. Then his son can turn on the xbox and connect it to a Windows 10 device and use the device's screen to stream Xbox games. Which is not the same as dual-using the Xbox One on two devices.

hm, very valid point. I assumed he uses hs box to watch tv (I mean, duh, xbox, joe..) but you are right.. I will turn my enthusiams valve a little closer now.. hahah

It would be pretty amazing if you could do that but you'd run into all sorts of problems. Like when someone is using a menu or you receive a message. Should the xboox player or the movie watcher receive it? And who can comment on it. I wouldn't be a practical experience and perhapps impossible given it would radically increase hardware requirements as you're using the xbox for to resource intensive tasks. Let's save that for the next gen ;)

Microsoft is working on quantum computing.

Watching TV actually uses the HDMI passthrough, so yes you probably will be able to watch TV and play (stream) a game at the same time. i.e. Just like you CAN right now while the TV app is Snapped!

Oh, great to hear. I missed that part (at work, so I can't listen to any vids).

I guess you can still use apps but probably no games.

Yes he used an exsample that he could be watching a movie and his son could be away in his room playing minecraft

So effectively, you have to have an Xbox One anyway to play Xbox games on your PC that can totally play xbox games now.

You're not thinking wide enough. Mobile devices like phones and tablets, for example. I know they didn't say phones, but if Windows 10 is Windows 10, you'd have to think it's coming. This isn't about putting Xbox games on your PC. It's about putting Xbox gaming everywhere.

The PC can already play PC games, yes, but cannot play Xbox One exclusive games. The new Xbox app for windows 10 solves that problem.

No it doesn't. It still requires an Xbox One. They should've brought "Xbox One" to the PC. Missed opportunity.

Yeah. I was hoping for some kinda XBOX Virtual Machine for Win 10 too. But if they do it, nobody would buy XBOX Hardware.

That's fine. They make no money on hardware. In fact, they probably lose money at the $349 price. Software sales is where the dough is, and Xbox One on PC would've resulted in higher sales.

I thought the point of the xbox was one reference hardware for developers that people could buy and play games without worrying about pc configs, updates etc etc, what you're all suggesting is...just release every game as a pc game but call it an xbox game?

I'm no computer programmer so I don't know how possible this is, but my original idea is to create a virtual app inside Windows 10 that literally is Xbox One (or very close to it) so that Xbox One games are instantly universal apps (or can, with minimal effort, become ones). Even if that isn't the case, developers already make games for consoles and then port them to PCs with all those annoying configurations to deal with. Microsoft should unify those stores, do what they're doing with Project Spark and offer 'pause-and-play' cloud sync between the same games on both platforms, and recapture the profits they're losing to Valve.

Not entirely true they'd still have to put out a drive for retail games

Its almost impossible but having cross platform adaptable controls would be awesome. Stream a game to my phone and tablet that I can use touch with. Guess just have to get a wired Xbox one controller to hook up to my surface.

Now only if we could stream steam games to our Xbox...

Project Spark basically does this already. Any games created in Project Spark automatically remap controls for controller, keyboard and mouse, and touch devices, even if the original game programmer didn't individually code them in.

in the presentation he used an XO controller wirelessly so i guess it works in W10 without wires

Dude im soooo excited for this! Like, im so glad that day I bought a Windows Phone to lead to me becoming a developer and switch to all MS products.

Everything is awesome!!!!!!

Today is a good day, the future will be even better!

I wonder if the cross-platform multiplayer will be backwards compatible. For example Xbox vs. PC players for Titanfall. That would be pretty cool.

It probably is but they would need to update the PC version with the Xbox API.

Titanfall on PC is not an Xbox game. It's on Origin. Look to Project Spark for the answer: it's an Xbox One game and an Xbox game on Windows. That's why cross-platform play works.

Right but Phil Spencer was talking about older games working with Xbox APIs and gave the example by recording that clip of Civilization or whatever RTS game it was that he showed. I figured all PC gaming would be unified in Windows 10 wasn't that the whole purpose of talking about Xbox in the presentation? Why should it matter whether the game came from origin/steam? I mean it's not as if Windows 10 won't run older games just because they're ok older DX libraries etc.

"Why should it matter whether the game came from origin/steam?" It matters where the game came from because whereever it was sold is who got the money for it. Microsoft selling their games in Steam means they get a smaller return. Microsoft selling their games in their own app Store means they get all the profits. Microsoft selling others' games in their app Store means they get even more profits.

They did a few year ago at a Microsoft shareholder meeting show this tech off streaming halo on a windows phone

Also why not add an app to the 360 so it can stream games from xbox one. that would be the best thing ever because I have a 360 on all my tvs and only one xb1

So wait.. does this mean if I had a Xbox that i can stream the game to my phone? I've seen people saying this but this article says PC or Tablet. Just confused.

If you look at the picture above, you will see a phone.

But when talking about the game streaming they talk about PCs and Tablets. The xbox app is coming to 10 for phones, but it doesn't look like game streaming is. Yet.

That's what I was thinking. Thank you.

All it is doing is making a video stream from the box to your device, and a controller stream from your device back to your box. The only thing preventing this from working is that XB1 controller will likely be required, and as of right now the XB1 controller requires a tether to work. Maybe the real treat here is a BT enabled XB1 controller so we can pair it with our phones and PCs wirelessly?

Guess I better get started on a new PC build!

So.... What about the Kinect and Kinect games :-) ! (Kinect via PC anyone?)

I thought the kinect was already able to connect to Pc's ?

I would've liked to have heard more about Kinect from them. Disappointing they didn't mention it.

Ya, I was half surprised this was not touched on at all. I mean they have an adapter to bring the new Kinect to PC, so I was expecting at least something mentioned on that. But then again I get the feeling that we are going to see a lot more about that at //build in a few months.

I really hope this is merely step one because I am not going to buy another box just so that I can stream to my PC. I mean, it is a great little value-add feature for those who have both, but I am way more interested in the cross-play features where I can buy a game for PC and play with XB1 players. That is the future. The XB1 is merely the 'Surface PC' and we need to break down the walls of PC vs Console.

What over and above do you want from the cross play that they have already announced? Serious question.

I (as a console player and pc gamer) would never play a cross platform shooter (which I'm assuming is what you are looking for). A gamer with a high end PC has too many advantages for input precision, resolution, distance rendering, and anytime they got killed they'd (small but vocal minority) would complain about anything done on the console to try and balance the experience (like aim assist and so on). It might be interesting if you can force the user to use the same input device and limit rendering to the same resolution and refresh as the max console specs if they want to play xplatform to provide as near par experience as possible, but people would complain about that too. Now for things where its coop or like the adventure mode of diablo3 or something else (like that fable demo) where platform differences don't really matter to the player because the experience is not the root cause of death, I'd be all for it...

Game steaming!!!!!!!! I've been waiting for this since the smartglass release!

Does this mean I could possibly watch a blu ray on my surface pro 3 through the Xbox one, I know it said stream games but what about apps. Blu ray player being one of those. If so that would be awesome!

Xbox One games streamed to my Surface RT?

IF you get windows 10... my rt is sitll waiting for 8.1...

Can't you just go into the Windows Store and install 8.1? I thought it was available to anything that 8 installed on.

Did they say anything on Miracast and projecting laptop/mobile screen onto xbox one?

Always loved the idea of one game multiple platforms obviously they tried this with Games for Windows with limited success this on the other hand looks more interesting.

I wonder if Minecraft will now have cross-play between PC and Xbox. Would be nice!

I just want them to make a official Microsoft wireless mix for the Xbox one

You could edit it even in the app

Bring back Xbox games on phone!!!

WHOA! Does this mean I can play Destiny on my tablet while I am at work and visti XUR on Thursday to buy my Exotics or be disappointed with what he is selling?

Only if you work from home or close enough that you can be on your wifi. Both your PC and the XBOX have to be connected to the same wifi/network in order for streaming to happen between them (according to what they were saying yesterday)
Windows Central Newsletter
Thank you for signing up to Windows Central. You will receive a verification email shortly.
There was a problem. Please refresh the page and try again.