Next build for Windows 10 for Phone due this Friday, Lumia 930 and Icon excluded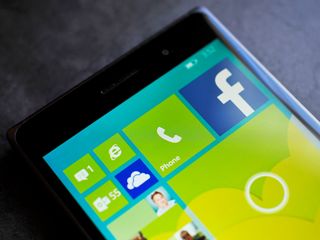 Microsoft's Gabe Aul just dropped the news that the next build of the Windows 10 Preview for Windows Phone is due this Friday at 10 am PT (1 pm ET).
The news was announced on the Windows Weekly podcast, which is currently being broadcast on TWiT.
That is the good news. The bad news is both the Lumia Icon and Lumia 930 will not be a part of this update round due to a bug with device scaling. Of course, this will be addressed likely for the next-next build, but not for this one.
Microsoft posted a few weeks ago the list of Lumias that will be included with the next build of Windows 10 Preview and the rest of that list is still intact for Friday. You can see that list here of eligible Lumias.
Microsoft will post a blog post later this week detailing all the changes with this build, which include some changes requested by users.
Source: Windows Weekly
Daniel Rubino is the Executive Editor of Windows Central, head reviewer, podcast co-host, and analyst. He has been covering Microsoft here since 2007, back when this site was called WMExperts (and later Windows Phone Central). His interests include Windows, Microsoft Surface, laptops, next-gen computing, and arguing with people on the internet.
What a bday gift for me from Microsoft :P last year also I got a pleasant surprise from them. I remember windows phone 8.1 PFD was released on 14th Apr ( if m not wrong).

Happy birthday in advance!

Nice, someone keeps a release log. Lol.

Happy birthday to you in advance. :-)

Yes, an early happy birthday then ;-)

Many many happy returns of the day dear

Only took 10 months for my phone to receive the update and there's still many waiting. Microsoft needs to find a better path or option for upgrading.

Preview for Developers. It's not Beta software. It's the software you get from carriers. That's the way of upgrading quicker

I hope it's got much more things than what was leaked -.-

Yes... this build really needs to be a lot further along. The first build was pretty awful and almost completely unusable in so many ways. I need to see that the change to W10 won't be harmful to the OS... I'm really happy with where it is in WP8.1, I don't want to see a lot of speed issues and nonsense happening when I upgrade.

Then don't use the TP program and wait for the official release

Then get off the tech preview you moron -_-

I use TP on a 630 every day since release, and its far from unusable. Sure its gui is messed up a bit in some sections and it has bugs, but nothing critical. Everything it functional to a normal use. I daily use fb, 6tag, ie, twitter, camera, phone, wapp, onedrive etc and nothing avoided me to use them as I was used to do on wp8.1. Just some few crashes. The device instead never crashed, only slows down after 2/3 days but reboot turns the things as usual. Increased battery drain. In my opinion it's really stable for being a preview/beta, far more stable than some final android roms for sure, those are really unusable avoiding me in some cases to make a simple phone call.

Yeah, m using it on my 630. Never faces any major problem. Everything is working fine except some small bugs.

And why are you using the Tech Preview?

Interesting... there seem to be a lot of comments responding to things I didn't even say. For the rude idiots, I have the TP on my Lumia 635, which is not my primary phone. I also have a 1520, 1020, 920, 820, 620, and 520 available to me. The 1520 is my current primary. Is that ok with you guys that I am testing the TP on a secondary phone? Gee thanks. To Woooooa, the only response that was intelligent, I didn't say that it crashes or is unstable. I said I find it to be unusable in many ways. Quite a big difference. I especially have major issues with the Photos app, which seems truly useless. Speed is bad, user interface is very obviously rough... so many of the features I rely on are simply not there yet. Nor would I have expected them to be in the first release. However, what I was hoping for was that we would see more frequent updates, and we would start to see the interface evolve to be closer to where it currently is with WP8.1 (and hopefully better in many ways). Instead, we have seen zero updates. This is certainly not portending doom or anything, but it's also not what I was hoping would happen. Hence my comment that I hope this version has advanced a fair amount towards a more stable and usable system.

Then quit TP...i don't know why half the idiots here don't understand that builds aren't going to be good enough for regular use until they are close to RTM...provide feedback but don't get all judgemental abt a half baked OS...

Did you even read my comment posts? Why should I quit the TP? As I have said, I am testing it on a secondary phone. I'm not sure why you boys are so sensitive... I have not said it is crap, or crashes, or that it's going to suck, or that I expect it to be bug free at this point. I voiced what I am hoping for in the next build. Good grief.

You're asking for release candidate quality software from a second, very early alpha release. Your expectations are unrealistic. That is what people are trying to say.

Yes, these people are very sensitive. It's normal that it's crashing. Thanks to your advice, I'll install it on my 530 first and if it works the way I need it, I'll update my 1020

And i just got an icon days ago!

Sorry dude, we chose poorly. Nobody cares about the Icon. Remember that sweet Cyan update last May? Yeah, that was timely...

It would be great if you guys start describing time in GMT ...

Yep, I too am fed up with PT and ET

+920 please include gmt time

That would be 5 PM GMT if I'm not mistaken.

i am fed up with petty complaints ... This is an American site ... this is news coming out of America ... news is from an American podcast ... about an American company ... why would it not be reported using local time? sorry that American time offends you and you have to look up time conversion #sorrynotsorry

I'd agree except that most of the market share for Windows Phone is out of the US :( What you need is a javascript widget that will take GMT or UT and return the user's local time. Anyhow, PT is -8 hrs..eeectept that we do daylight savings time, so.. again, it's better to use a date widget. https://countingdownto.com/countdown/next-windows-phone-10-build-10-apri...

Thanks for the link, although I would only use it on vacation. I have also wondered, the U.S. has less market share, but more people as a whole, so it still could be a good amount right? Say as many as a small country with decent percent of people using WP? Honest question.

10% of America=30000000 30% of UK=18000000

The thing about a JavaScript solution is that it won't do anything in the apps. Better the writers use Project Spartan and have Cortana do time conversions in their address bar while they write. We don't need lots of time zones, only one: GMT.

I'm pretty much sure it has got more than half of it's readers from other countries.

Just a heads up for you. Windows Phone is a global platform; one that is succeeding to a far greater extent in pretty much every place BUT America!
This website also has editors spread across a whole range of time zones.
Like it or not though...the world's time revolves around GMT. So rather than stick to some silly notion of east/west coast time, let's just stick to a timing standard that the whole world understands!

Wordl-wide standards, not exactly the American way...

Excuse me, the last time i checked it was a international site for a international community.
So yes its quite common to use a international time standard like gmt.

Be careful! An American posting on an American site about a product from an American company with a valid point is a bad thing and people from other countries that dont get their local time will have a fit. I think Windows Central should post times in all 24 time zones. That way no one has to Bing time conversions.

Every one who has ever installed any OS would have known GMT and their time zone related to GMT. So posting the time in GMT would suffice. It is a constructive feedback and if you have anything more to add please feel free to. Not like the one you posted.

Wow!!! American site!!! Guess articles about 640 and 640XL released in India, Thailand, etc are pretty out of place...

Nothing is made in America.

Because it has a very large (possibly majority) international readership who is not accustomed to converting from PT or ET. However most people in the world who care know how many hours they are from GMT and can make that conversion in an instant. When Bing will convert time zones for you it's trivial for writers to give a GMT conversion when they write a new post, rather than require a large number of people to do it themselves often when they're on the go.

Except that the news given is international and not just local to America...

If that is ur take on time conversions...then id suggest we stop using American products...chutiya sala

very good reply , eterna!!!! I live in Greece, but making a simple time conversion in my head is far easier and preferable to bitching and moaning like a butthurt idiot on the forums...

I love that way of thinking. So deep so wide!!!!

http://tinyurl.com/nkb5b7y Now that you know how, next time you can save yourself the trouble of complaining about an American site listing American time zones in their articles.

North America... just to let you know that America is a continent that im part of, just because your country uses it as part of the name doesn't mean you have to use it for everything... NORTH AMERICA ok? ;) Sincerely from an south american who can still call himself american, have a good night.

This will be my last reply to this comment thread because it is wildly off topic, but it is widely accepted that 'American' is the demonym of people from the US.

Ok Joe, just don't count me in that "wide" bunch of people. US would be shorter and... Not bad... Ok no, just take the name of the continent since it sounds... Bad. Feliz noche.

On the topic, I still want to try w10 and its little new features, that way to send messages from notification seems good, hopefully not only for texting but for apps...

Colloquial use suggests otherwise. America generally means USA.

Same here. GMT is more universal. everyone can calculate their time frome it without having to search for the meaning of ET/PT

Therefore by the end of the week I'll get W10 on my old nl 620?! Cool!

My lumia 920 is still pending win 10 old build. What will happen once new build comes out?? Will my phone brick?? Will it get its right version??

Yes it is. What does this mean for Windows insiders running the Windows 10 TP on the PC. Will we be able to finally run apps on the phone and PC from the UAP?

noooooooooooo! of course the icon isn't included

No point in using Windows 10 as a daily driver. Folks are gonna cry about heating, freezing and all very soon. It's just the initial hype.

No worries... This is exactly what the 8.1update/beta does to my beloved 1020 now........

Exactly. 8.1 has the be the buggiest RTM... I was actually trying to go back to 8.0 for a while because of how sluggish it currently is. Even after a reset.

Yes! Ever since 8.1 dropped, my 1020 has been painfully buggy and laggy. I have been anticipating the Windows10 preview just to see if it improves. Cant be much worse than what is currently going on with my phone.

Ya my 1020 used to be super fast. But after 8.1 it became slow and buggy... Hope this TP would be good

Fuck yeah! We've been waiting since months now!

Basically. I plan to change back to my HTC One M7 after installing the WP10 TP

Freezing and heating? My Lumia never gets cold.

That is what we like to hear!

My poor 930!! Give us even a sniff of GDR2 then lol

Gonna test on my old 920 first. Save the gorgeous 930 for the glorious day.

Yup except I'll be testing my 1020 and saving my 930. Lol Posted via Windows Phone Central App

Exactly! Gonna test it on my spare 520...

Ditto, going to use my 920 to test drive W10!

Gonna just go for it. Can't be worse than gdr1

If the 520 is ever supported in the TP, I'll load Windows 10 on my 520 and not risk putting 10 on my 930 until it's ready for public release :) The potential risks to phones when 10 TP is installed on them are too great for me to take as a Uni student with a flagship device.

Horse shit isn't included in the update, Call Lumia help to get it delivered at your house.

You sir have won the internet of the day award! LOL❕❕❕

Ah, my eyes! Da faq did I just read?

Ah, manure... makes the roses smell so sweet.

I simply can say that I don't want to give up on this platform. From the days of WP7 to here, all I've experienced is WAIT. Will Windows 10 solve it? I think YES.

I'm with you on that. My very first smartphone was the LG Quantum, and is to this date still one of my favorite phones ever, but WP7 was lacking. I've stuck with them this long, and I don't think I could abandon Windows Phone even if I tried, but Windows 10 is shaping up to be what I had hoped to get with WP7.

How? We're still going to be missing key apps and services the other os'es have. I can't see Windows 10 somehow miraculously fixing that, at least not for some time.
It'll still be a waiting game. Waiting for all devices to get Windows 10, waiting for new devices running 10, waiting on devs and companies waiting to see how it's adopted before 'green lighting' their apps
I've been with the os since day 1, but I'm also a realist. Don't believe everything will suddenly change for the better because of an os update. I would like to be proved wrong, but I doubt I will.

If the os is half as good as they believe it to be and the (tech) media will promote it the big apps and developers will come. Besides that and correct me if I'm wrong windows 10 apps are going to be cross platform apps.

The only problem with that is most media, bloggers and tech journalists are bought out by Apple.

Yes cross platform, but do you really think a desktop app will also work on phone and tablet without some tweaking and ui changes?

No but I intend to be positive. I think they are on a good path. Being innovative, really listening to your consumers feedback and creating a new brand/lifestyle (a Apple kind of way but different is the way to go)

I agree, but a lot of other people seem to think it'll be a quick miracle fix.
I hope it takes off and we finally get all the app and services support to go along with a great os. I just can't see it happening with such a low market share and all Microsoft services and apps (quite rightly) being available elsewhere.

windows 8.1 RT was a bit different from windows 8 yet most apps in the store supports ARM and Intel processors and a funny thing some games i downloaded from the store on my 1520 looks better than the ones on RT for example games like sonic dash

Who is talking about the desktop? Lol...

Quite a few of us, covering the wider reach of the os if you bothered to read what has been wrote and discussed before.
Maybe you should read everything we've been discussing before you try and act clever and comment with a 'lol'
You'll not come across as such a douche next time.

Developers can already make unified apps with windows 8.1/windows phone 8.1. That hasn't magically made the platforms explode with the big boy apps. It's a bit disingeneous by everyone involved (fans, MS, journalists, etc) to insinuate the universal app feature in Windows 10 is going to be a strong driver for improving app selection. Now, I'm not sure anyone who's been using the Windows 10 tech preview could argue against the simple fact that they've gone backwards a lot on the tablet side of the OS. Admittedly, Microsoft has said they want us all to focus on the desktop side, so maybe there's a whole tablet UI that's missing completely (best case scenario), but if there isn't, it's hard not to be cynical and think Microsoft is overreacting to the /wristing over the metro UI by select people, and essentially turning Windows back into a desktop OS without the tablet side, because being able to choose between the two was apparently too confusing for the average tech journalist who spent the past few years blasting Windows 8/8.1 as if one couldn't choose to operate only in desktop mode. If so, that's hardly going to drive developers to make tablet/phone friendly apps in Windows 10.

They say it will get better, and it will. Just that.

You won't be proved wrong. You are spot on. The ONLY realistic way out of this mess is Android app support, and that's not a particularly elegant solution. Another, "fantastical" way out would be to open the platform up and pray the hacker community fixes it up (this worked wonders for WebOS). I'm not sure why they insist on walling up Windows Phone. That's Apple's MO. I'd say this game is over. If there were something, anything, in Windows 10 that put it ahead of the competition, that'd be one thing, but it doesn't look like it'll even come close to closing the gap with Android (and not just apps, but basic OS features).

Nahh, Android apps won't fix a thing (why not just get an Android device?). Allowing for native Java development and creating similar APIs to Android could help, as well as further supporting / improving things like Xamarin. It wouldn't hurt if MS made some exclusive content either (personally, I'd only create high end games for the flagship Windows devices to showcase their capabilities if I were them).

If Microsoft won't even try to drive users to Windows Phone via the best in-house experience (office, etc) being on Windows Phone, then why in the world would any other company have any confidence in investing in developing for the system? I get that it makes financial sense (at least in the short term) for Microsoft to chase the customers, but neither Apple or Google got their mobile share by giving their competitors the best software experience.

Missing apps wont fix with an OS update. Idk what will fix that but introducing a flagship is important. Make a surface phone.

Sadly, my flagship was was just EOL'd... With no upgrade path in sight... Forever 1520

I don't think you know what EOL means. It'll still receive updates.

Or what upgrade path means either. I'm pretty sure nothing is stopping him from buying another phone after the 1520.

1520 wasn't a proper flagship. It is way too big to carry that title, and it was AT&T only (in the US at least). To be a flagship, I'd say you've got to be main stream, high end, and available on many carries. 1520 met only one of those criteria. So far, only HTC has delivered ANY flagship Windows Phones in the US. Nokia/Microsoft could never get it done.

Its hard don't give up. My last chance to this platform will be Win10.

I'll support Windows til the end. But there will be no end to it ;)

Wait for what? A technical preview that you would not get on any other mobile OS?

Convert into Indian timing plz..!!

Pretty late in the night. Just download it the next morning?

You can do that with Bing, what makes you think only India that is so goddamn important?

Largest market for Windows phone and he is from India

Largest market share with most of them using low end devices and whining about paid apps and flagship features. No offense to other Indian users though.

Isn't that the case worldwide..?

I own L1520 and I buy apps, there are lot of guys like me here..

I'm sorry if I have offended you. I didn't say all.. But most of them.. You can find them easily in the forums, app review articles or even the WP store reviews

Even all Americans don't buy apps!!?

If you bought a phone new for retail price at less than $200 you arent an american.

Though you sure they are all Indians..?

"largest market for Windows phone"
Nope

1st, 2nd or 3rd. But it is.

India may be the largest market for Windows, yet there's no regional website like Windows Central here. Why do you think that is?

Europe and Brasil have a bigger share than US of A, but still....Why..?
Cause the parent site MN is US based and most of those writers are US based too.

No. I'm pretty sure the US is still the biggest WP market.

I'd argue the same. Maybe not by percentage but by total # of users

Yeah. Only takes one minute to convert.

What's with all the hostility mate? Just calm