Nextgen Reader updated for Windows 8, adds new Feedly Pro features and more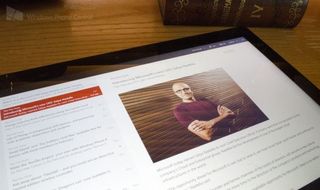 Here at Windows Phone Central, some apps just sit clear above the rest as our favorites. When it comes to gathering your favorite news sources and reading them in an efficient fashion, we do not go farther than NextMatter's Nextgen Reader.
The popular RSS reading app for Windows 8 has received an update today and a plethora of new features and abilities have been introduced.
For those who are unaware, Nextgen Reader is an RSS reading application (powered by Feedly) that is available for both Windows Phone and Windows 8. The application is not free, but we guarantee that if you are a news hound, your few bucks will not go wasted. I personally use Nextgen Reader here at Windows Phone Central to stay on top of the latest press releases and news – I find it that reliable.
To start off the list of today's updates, we begin with the newly integrated Smart Search ability. The new integration into Nextgen Reader allows users with a Feedly Pro subscription to search their articles. Feedly Pro is a subscription that is available for $5 a month or $45 a year and gives access to article search, Pocket integration, Evernote integration, OneNote integration, and premium support.
For the majority of us that do not have Feedly Pro, you shouldn't be worried as this Nextgen Reader update still packs improvements for the rest of us. You can now easily show/hide read items and feeds without having to dig through menus. You also gain the ability to right-click on a specific feed or article and receive new context menus (Yay for mouse and keyboard support).
Talking about keyboard support, the update also introduces two new shortcuts to quickly get things done. Users can hit the "Y" key to show/hide read items and the "Z" key to quickly focus on a specific section of the application.
Several bug fixes have also been included, along with performance enhancements. If you have been having an issue with logging in or syncing during first time setup – that issue has also been resolved.
As we all know, Nextgen Reader is not just available on Windows 8, it is also available on Windows Phone. Last week the app got updated and slipped by us, but the biggest new feature was the ability to share content with your OneNote notebooks.
In addition to the new feature added, standard bug fixes and performance improvements have also been applied to the Windows Phone variation. If you were previously having trouble when posting to Twitter, that issue has been remedied and you should be all ready to go once again!
Click here (opens in new tab) to download the latest version of Nextgen Reader (trial version/$2.99) for Windows 8. If you are interested in Nextgen Reader for Windows Phone (trial version/$1.99), you can click here to download it or scan the QR Code below.
Do you use Nextgen Reader to keep up with the latest news and your favorite RSS feeds – if not, what are you using to get the job done?
Ninja please stop posting this everywhere!

First and final warning - stop spamming this. Thank you.

Second time I did this! Ever! Read it correctly never mind.

I updated 24 hours ago.
Today I updated Nokia Mix Radio. 12 hours ago

Nice! Was going to once again complain about feedly only support Google accounts but I went today and BOOM! Support for Microsoft accounts now! Awesome! Erased my account with the google sign in (the last thing using anything Google for me) and setup a new one.

Amen to that! Same here. Was very pleasently surprised when visiting the Feedly website just now. Amazed though they did not shout this out, as I read many comments on Feedly that people grumbled on having to use Google. For me Feedly was the only thing I had a Google account for. Now I can get fully rid of it!

Time to rename the site to Windows Central.

Windows Phone will be Windows in a year's time. Chill.

Once Threshold launches, if it meets the current one-OS hype, then maybe, but not yet.

Great update! Loving the new unread toggle feature.

This app update is not available in my region yet

This never syncs correctly for me, whether it's just over one device or several I lose articles and get old ones too.

This is app is 14MB which is too large, Zite is only 1MB cause it keeps your saved articles online...

Nice app, I use both desktop and mobile versions. Somehow, I don't like that flipping style of reading online content. Lame.

Still waiting for offline reading...

Whooooo no more Google.... Yes FINALLY!!! Installed Nextgen Reader back to my PC and WP. Bye bye limited, overpriced, weirdly behaving, annoying and something Weave and welcome back NEXTGEN.

Well, not sure what's up with you guys around the facination with the "old" three column layout (including you, the author). I liked it too but then I tried Readiy (another feedly client) and have never looked back. The modern view works so much better and nextgen just doesn't come close to what Readiy has to offer there... and its free too which helps ;)
Windows Central Newsletter
Get the best of Windows Central in in your inbox, every day!
Thank you for signing up to Windows Central. You will receive a verification email shortly.
There was a problem. Please refresh the page and try again.