Nextgen Reader for Windows 8 goes free, but for today only (Update: Price change rolling out with slight delay)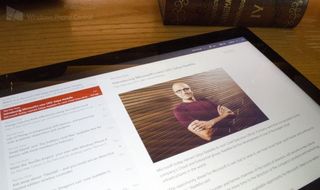 One of our personal favorite applications for both Windows Phone and Windows 8, Nextgen Reader, is being listed free on the latter platform's store. The Windows Store will have what is quite possibly the best RSS reader for the platform free, and it is only rumored to last for the remainder of today. As the app normally runs for $2.99 USD, it cannot hurt to pick it up now.
Nextgen Reader is powered by news aggregator, Feedly, and provides a beautiful and touch friendly way to interact with the latest news on your Windows 8 device. Using Feedly will require a Google account and as we know, not many of you will be fond with that idea, but the experience is worth it.
As of now, the client supports multiple options to customize your reading environment, a comfortable "Modern View" for reading through the news of the day, a three-pane design that allows you to easily sort through and access the news you are seeking, and full keyboard shortcut support.
The team over at NextMatters truly cares about the software they are producing and we find that they are constantly pushing out updates to make the client better. The latest version 2.1 update also brought the ability to share articles directly to other Windows 8 applications including OneNote, Evernote, Mail, Twitter, and more. Support has also been added for BufferApp – if you are unfamiliar with Buffer, you can click here to learn more.
Here at Windows Phone Central, we have to keep up with the latest news and press releases and we find Nextgen Reader as an excellent solution to do so across all of our devices - smartphones, tablets, and PCs.
For a full review and look at NextMatters' Nextgen Reader client, you can click here. Otherwise, click here (opens in new tab) to access the Windows Store and download the app for completely free. If you love the app just as much as we do, we suggest supporting the developer and downloading the companion application for Windows Phone for $1.99 USD by clicking here or scanning the QR Code below!
The current free status of Nextgen Reader is thanks to a partnership between NextMatters and news blog, Windows Observer. Be sure to check out their site and give a shout out to Richard Hay on Twitter for the move.
Do you currently use Nextgen Reader on Windows 8 or Windows Phone - are you enjoying the experience?
Thanks for the tip, Brian Holmgren!
UPDATE: We are receiving reports that some users are not seeing the application as free within their regions. It is possible that the application price change is still rolling out as it was recently implemented, but we are checking with the developer.
UPDATE 2: We have confirmed that the price change is still rolling out and the developer is looking into the delay. Thanks for your patience.
Windows Central Newsletter
Get the best of Windows Central in in your inbox, every day!
Still shows $2.99 for me.

I have installed this one. Will I be able to re install it if I re install Windows without paying the fee

of course... if it belongs to you its yours and you can install it up to whatever devices Microsoft says, its not only yours for couple of hours and then nothing.
even stuff like Fhotorom which was supposed to be "in app purchase" its free today for me, because it knows my account "bought" so the pro thing, belongs to me, and they cant take it away.

Link bait. Desktop free, you must read carefully.

No... you just must read - the headline says "Windows 8".

Seems to be a delayed rollout - check the updates above. Thanks!

Try the Windows 8 link, website says free, store says 2.99

Same here, still 2.99 in the store. Windows 8 Store website says Free but that doesn't really matter if the price isn't reflected in the store.

not free for me. hey WP central maybe some clarification is in order. clearly this feels a bit like link bait.

Nextgen Reader shows as free on our end and we have contacted the developer to clarify - we are not fans of "link bait".

Try forcing the Store to refresh 1. Drag the app to the buttom of the screen and hold it there till the tile flips. 2. Relaunch the Store Or simply restart your computer. I have noticed the Store does a poor job refreshing itself.

Nopes, still showing $1.99 :(

$1.99 is the Windows Phone price. Are you following the link to the Windows store? (Store will likely say $2.99 until the FREE rollout makes it to everyone.)

Damn it! I would use the living hell out of this app if it didn't require a Google account. I really don't want to use their services.

I dont use Google for anything but this.

I have considered it. But I seriously can't bring myself to do that. I don't even have a Google account anymore, so to open one again feels very wrong. It's a shame really because this app looks really good.

I understand, it pains me to need one.

Free for me. But Feedly is deal breaker.

Nothing is worth having a Google Account. If it wasn't for YouTube, I'd be rid of this madness.

There was a time when Google Reader was the best RSS reader, now I just have the same account but for feedly. The only reason I have a Googel account is RSS.

Doesn't let me download tried 3 devices

85% on topic:
I think its ridicules I can't "buy" a windows 8 desktop app from the online marketplace like I can for the phone. I travel for days every week and this one time I forgot my surface at home and the laptop I brought is my gaming one still running windows 7. I would upgrade but had serious driver issues with 8. Has anyone here upgraded an Asus g73jh to 8
1 and havr it run longer than an hour without bsd?

If it requires google account it is spying you.

Got it free in Spain. Shame it requires google. Probably won't keep it for that reason.

Damn...bought it yesterday.

*** Feedly client (requires Google account) ***

No tanks.

I am very happy it was free today, just got a Lenovo Yoga and having Nextgen Reader on it makes it much better. I like the app on my phone but is so much better on Windows 8.

I'll try again in a few hrs

Can someone explain what is the point of going free?

Because its human nature, that people do not want to pay for things. Downloads for free apps is x10 that of paid apps, even if the price is as low as 1 dollar.

I know that.
My question was, why the developer would make it free, what is the point in giving away their app?

Ah I see, sorry. Well, I will be doing exactly this soon with my app. My incentive is to ramp up the downloads for a short burst of time, and along with that also the ratings since its those that fuel your app's success, if the app is any good. The more downloads, the more ratings. That is more important to me than losing a week or so earnings on the app. After that, the app can be submitted to the Store at a paid fee again - back to normal as it were. I am not sure of the incentives of this developer but they will benefit this way too (plus they already got the publicity on this site of such an offer, not everyone is that lucky though). The upside for those that download it in this period is that it remains free for them, no matter whether they uninstall it, switch phone or whatever.

Great thanks for explaining *the developer * view, I never thought about it this way

Says Install for me so I installed it :) Guess i'm just blessed...

The last thing I want, other than a poke in the eye with a sharp stick, is a Google account just to read news!

Free here in Georgia. I will use my Gmail account, sometimes you have to swallow your pride.

Went to the store today and it says free, but when you try to install it, it wants to charge you.

Same issue here. I clicked the Free button and it asked me to confirm my payment details, then it told me to refresh the page because the app's details had changed. After a refresh it appears as $2.99.

It's never been free in the UK... It's still charging one pound & forty-nine pence & the download options are try or buy... I've been checking all day... So maybe it was certain regions..?

there are two links in the article, its difficult to miss because there are a ton of links around them too. The first is where it says "For a full review....Otherwise click here to access the windows store..." is for for windows 8 version... it is £2.19. This is the one thats supposed to be free. It then says about supporting the dev and downloading the companion app for windows phone 8. this is $1.99 or £1.49. Either way, both apps are at present showing as paid/not free in the UK stores.

So, it was always just the Windows 8 app that was supposed to be free... But actually wasn't..? The Windows Phone app, on the other hand, was NEVER free... & still isn't...

Never free here either..us
Windows Central Newsletter
Thank you for signing up to Windows Central. You will receive a verification email shortly.
There was a problem. Please refresh the page and try again.