Nextgen Reader for Windows 8 goes free, but for today only (Update: Price change rolling out with slight delay)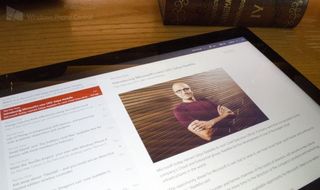 One of our personal favorite applications for both Windows Phone and Windows 8, Nextgen Reader, is being listed free on the latter platform's store. The Windows Store will have what is quite possibly the best RSS reader for the platform free, and it is only rumored to last for the remainder of today. As the app normally runs for $2.99 USD, it cannot hurt to pick it up now.
Nextgen Reader is powered by news aggregator, Feedly, and provides a beautiful and touch friendly way to interact with the latest news on your Windows 8 device. Using Feedly will require a Google account and as we know, not many of you will be fond with that idea, but the experience is worth it.
As of now, the client supports multiple options to customize your reading environment, a comfortable "Modern View" for reading through the news of the day, a three-pane design that allows you to easily sort through and access the news you are seeking, and full keyboard shortcut support.
The team over at NextMatters truly cares about the software they are producing and we find that they are constantly pushing out updates to make the client better. The latest version 2.1 update also brought the ability to share articles directly to other Windows 8 applications including OneNote, Evernote, Mail, Twitter, and more. Support has also been added for BufferApp – if you are unfamiliar with Buffer, you can click here to learn more.
Here at Windows Phone Central, we have to keep up with the latest news and press releases and we find Nextgen Reader as an excellent solution to do so across all of our devices - smartphones, tablets, and PCs.
For a full review and look at NextMatters' Nextgen Reader client, you can click here. Otherwise, click here to access the Windows Store and download the app for completely free. If you love the app just as much as we do, we suggest supporting the developer and downloading the companion application for Windows Phone for $1.99 USD by clicking here or scanning the QR Code below!
The current free status of Nextgen Reader is thanks to a partnership between NextMatters and news blog, Windows Observer. Be sure to check out their site and give a shout out to Richard Hay on Twitter for the move.
Do you currently use Nextgen Reader on Windows 8 or Windows Phone - are you enjoying the experience?
Thanks for the tip, Brian Holmgren!
UPDATE: We are receiving reports that some users are not seeing the application as free within their regions. It is possible that the application price change is still rolling out as it was recently implemented, but we are checking with the developer.
UPDATE 2: We have confirmed that the price change is still rolling out and the developer is looking into the delay. Thanks for your patience.
Get the Windows Central Newsletter
All the latest news, reviews, and guides for Windows and Xbox diehards.