No new Xbox games for Windows Phone this week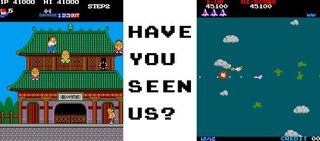 Two weeks ago on November 28, AlphaJax missed its intended launch date. As such, there was no Xbox Windows Phone release that week. We sort of understood that the game had hit a last minute road bump, and then it popped up the next week, so little harm was done. I'm afraid I have similar news to report: there will be no Xbox release this week. Perhaps the sting is lessened since nobody announced a title in advance, though I'd argue the lack of even a delayed game to look forward to makes it worse.
The lack of an Xbox Windows Phone release is not unprecedented. Although it hasn't been much of a problem this year, we suffered two dry weeks in a row in 2011. Whenever this happens, it's my duty to point out the finished games that Microsoft could release if they felt like it. That list has long included Shaolin's Road and Time Pilot, but we can now add Loondon as well.
The Game Room games that weren't
Shao-Lin's Road
For readers who are new to the party, Shaolin's Road and Time Pilot were among the six Game Room titles Microsoft announced for Windows Phone back at the beginning of 2011. On the Xbox 360 and PC, the Game Room client allows users to test and purchase individual classic game ROMs and play them via emulation. The service showed ample potential, though it suffered from a dearth of quality titles and new games stopped coming a long time ago.
On Windows Phone, Microsoft simply published a handful of titles from the Game Room lineup as standalone $2.99 releases: Asteroids Deluxe, Centipede, Lunar Lander, and Pitfall. These games were seemingly chosen at random as they're all extremely dated and largely ill-suited for touch-screen controls. Seemingly, negative reaction towards the quality of the released games and their prices led to the cancellation of the two remaining titles.
The cancellation of Shaolin's Road and Time Pilot is frustrating because of the six announced games, they are easily the best of the bunch. Both titles look markedly better than the games that got released, and Shaolin's Road is just plain fun.
Tiny Windows Phone screenshots from Xbox.com.
Besides, these games were actually finished before their cancellation. We even played Shao-Lin's Road at CES last year. There is nothing to stop Microsoft from just publishing them whenever a hole appears in the Xbox release lineup. Sure, gamers may balk at the $2.99 price established for Game Room games, but we have a 99 cent price point now that would make older games like these go over much easier with fickle gamers.
Missing adventure
Not much of a looker, but we'd still like to have played it.
As for Loondon, it was announced as a Windows Phone 7 launch title but never saw release. Microsoft contracted tiny Indonesian developer Flip-n-Tale to port their Flash game to WP7 back in 2010. The developers not only got the game running on WP, they even switched it to a 3D engine and added new content.
Despite all their hard work and the game's completion, Loondon was quietly cancelled without notice. Check out our in-depth article for a more detailed description of the events leading up to that cancellation. Also note that while we're told the game was completed, it would probably still require additional language translations before it could be released worldwide.
Uncertain future
Time Pilot
As we reported before, there will be no new Xbox Deals of the Week for the rest of the year. Could the same apply to new Xbox WP releases? Hopefully not. Microsoft wouldn't confirm whether a new title would come out next week, but they did promise to let us know on Monday or Tuesday. Let's hope something new comes along, as Windows Phone 8 needs a steady stream of new Xbox releases if it's to catch on with mobile gamers.
Paul Acevedo is the Games Editor at Windows Central. A lifelong gamer, he has written about videogames for over 15 years and reviewed over 350 games for our site. Follow him on Twitter @PaulRAcevedo. Don't hate. Appreciate!
Pinball FX2 is also MIA despite being showcased by Microsoft earlier this year.

We're told that game is still coming though... The developers just haven't been actively working on the WP port for some reason.

Perhaps just focusing on their win8 version?

Probably so. Zen is a small developer and has to balance out the ports with creating new tables too.

It may be worth noting that they've also been working on bring Zen Pinball 2 over to Wii U.

So they finally get a platform thats easy to develop games for and they already can't even get 1 game per week. That is weak

You mean: "1 **Xbox** game per week." There's ton of games coming out daily. What's your issue?

Exactly, there's about a dozen games per day.

Name at least one thse then from this month that is not shitty

Angry Birds Star Wars; Rag Doll Run, Word Twist.

Ragdoll, Word Twist: No, both from the last month
Angry Birds don't count as it's XBL game rebranded as non XBL for WP7 users so they get screwed and have to repurcahse it again on WP8 phones.


It's not a contest, it's a fact that the statement no games came last week, month is false and a silly rumour, there are more games than only Xbox branded.

Well, tbh I think MS should man up with the whiners and release the remaining Game Room titles, I actually like Lunar Landing and it works on touch screen.

And Time Pilot would probably be good with touch controls, as well.

I'm still waiting on Trivial Pursuit to be available on my 920 :/

I dont know but the lack of really nice game on windows phone is not good,sure we have nice game but not enough, i like nice racing games and time management Games and we are missing some really nice one...i hope to see more really nice graphical games release.

We can't forget Sonic 4 Episode 2...

Second this. 6 months late and counting

Paul, I'd say they should hire you to work on the Xbox Live on Windows Phone portfolio team at Microsoft, but I'm afraid your logical ideas rooted in common sense may be too much for them to handle. ;-)

I agree Tyler. Someone working over there that "gets it". Missing weeks without a release and poor releases to boot not even a month after wp8 releases is just poor. I cannot think of a week that xbla missed releasing at least one title.

I miss Game Room... A lot. Wish game packs were still being released. Had the potential to be the best thing ever for us retro gamers. Hesitant about buying the 4 titles on WP due to reviews and pricing. Wish I at least had access to all the games I bought via the 360 on my WP.

I was always curious about this. I know Microsoft has their own game studios and why can't they focus on making high quality games for WP platform. This way it a double win for Microsoft and the customers

Seriously, how is there not an exclusive Halo game for Windows Phone? Not saying a FPS but maybe an RPG based on Cortana when she infiltrates alien computers or a game where you play as the Flood infecting a Forerunner world long ago.

I WANT TO PLAY TEMPLE RUN!!!!

So do I. I won't recommend WP8 to any of my friend until they fix up with developers. This is frustrating.

Where is Tentacles for WP8?

Long time Xbox developer Activision has just started getting serious about mobile. Why hasn't MS been pressing them for games is beyond me.

Games by far are the biggest app weakness. No madden or FIFA. Not a single must have game. Weak effort all around

There are several must-have games. If your tastes are too narrow to appreciate them, that's your fault. But we do still need more quality titles, of course.

I thought after the black friday sale there were supposed to be no new games until next year. I thought I read that here somewhere.

What happened to sploding! I thought the misses was coming to wp....and ios.

I'm surprised by the negative sentiment from everyone here. I'm quite pleased with the offering of WP games so far. The only ones I feel like I'm missing out on are Game Dev Story and Scribblenauts Remix.

That's one of the things I miss about iOS. Every Thursday you know there will be new content in their store... No the same here. Even android store always gets new app on a steady basis.

We have skulls of the shogun and Ascend new gods coming up. Also Rare has been hiring gor windows phone and windows 8 development. Press Play is still working on new games and the recently formed london studio is for mobile as well.

Xbox used to mean games. I'm very disappointed in the offering. Its not that there are "no" games however if you compare to competing platforms the selection is weak.

To follow up, where is: Jet pack joyride, rayman jungle run, GTA lll, world of goo, tiny tower, temple run, a bards tale, minecraft, real racing 2, temple run, dead trigger, wild blood, horn, shadow gun, final fantasy 2 and 3, chrono trigger, madden, FIFA, osmosis, etc, etc???

I'm a big fan of wp8 but I'm worried it will never live up to its true potential as "the" mobile gaming handheld. There is so much potential. Why not make an official Xbox controller add on and Xbox phone branded accessories. Microsoft needs to market these phones to gamers and pull all the stops. Games and dev support need to come to WP8.... :/
Windows Central Newsletter
Get the best of Windows Central in in your inbox, every day!
Thank you for signing up to Windows Central. You will receive a verification email shortly.
There was a problem. Please refresh the page and try again.