No one is going to go buy a new PC just for Windows 11
Microsoft doesn't need Windows 11 to convince you to buy a new PC. That's already happening.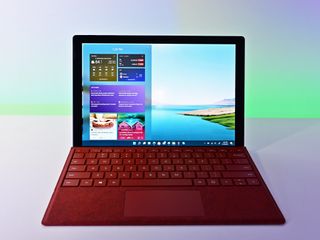 (Image credit: Daniel Rubino / Windows Central)
Ever since Microsoft announced Windows 11, the most contentious issue easily has been which PCs qualify for the upgrade. In a surprising move, Microsoft made a hard cut-off for computers that don't meet specific security requirements (TPM, Secure Boot, etc.) or don't obey DCH design principles.
Of course, like always, Microsoft was its own worst enemy here, flubbing the explanation, not offering enough detail, and providing a weak (and flawed) tool to check hardware eligibility.
But one conspiracy theory is Microsoft is making this all up because it wants to sell more PCs!
Putting aside objective reasoning for the requirements like security, reducing ransomware, and even the fact that non-eligible PCs have much higher kernel crashes, the idea that people will now buy a new computer just to have Windows 11 is stupid.
It's a useful foil ― a greedy corporation, lots of handwaving on confusing CPU requirements, and it's 2021, with trust in institutions being at an all-time low. It just makes sense, right?
Here are a few reasons why that line of thought is wrong and doesn't even matter.
People don't buy expensive computers for new OSs
Sure, Microsoft transformed the world, making "OS upgrades" a familiar subject, but Apple made it an annual ritual with the iPhone. Google followed with Android, but it never quite rings as loud as Apple's yearly proclamations of improved user experience, wiggly icons, and the worst notification system ever.
Microsoft's most significant OS upgrades either made the GUI popular (Windows 3.1), focused on the internet (Windows 95), or made you hate your computer (Windows Vista, Windows 8).
Windows 11 is a "reinvigoration" of Windows 10 ― it's not exactly groundbreaking.
And ordinary people don't go and buy new hardware just for the OS experience. At least with Windows 8, there was some radically new hardware with the advent of the 2-in-1 and tablet-style PCs.
With Windows 11, so far, we have not seen any of that, which leads to …
… People do buy new PCs because of hardware
This remark shouldn't be shocking: Individuals only buy new laptops or desktop PCs when they need new a new PC.
There are lots of reasons to get a new computer in 2021: Faster processor, ten hours of battery life, Thunderbolt 4, more powerful GPU, higher resolution display, ultra-light designs, new form factor, touchscreen, pen, 4G LTE/5G, etc.
Heck, Microsoft is likely to give you a few reasons on September 22.
But a new OS? Come on.
Some of you call Windows 11 "lipstick on a pig." And yet we're also to believe Windows 11 is a plot to get people to buy new computers because it's so seductive and alluring that people need it. At least get your BS straight.
If you are running a 2017 Surface Laptop that costs you $1,300, you're unlikely to want to get Surface Laptop 4 just to run Windows 11. Most people don't have that spare budget, especially with phone upgrades being a much more popular expense.
Don't believe me? Back in 2016, Intel embarrassingly noted that the replacement cycle for laptops slowed to "every five to six years" for consumers. Enterprise is usually every three to four years. According to Statista the average replacement cycle length for desktop PCs in 2020 is six years.
PCs are like cars: You only buy one when you absolutely must.
You can load Windows 11 on just about anything
Fire up a USB drive with a Windows 11 ISO using the Media Creation Tool, and you can put Windows 11 on unsupported hardware. Problem solved.
Sure, the media is confused because Microsoft states that this will result in the PC being in an "unsupported state." This statement means Microsoft won't commit to updates, drivers, or helping you fix something if it goes wrong ― you're on your own, technically.
But Windows 10 also has CPU requirements. Intel even has a fancy tool to check your processor. Sound familiar? People still get cumulative monthly patches, updated drivers and experienced no issues (besides running that legacy hardware).
Microsoft won't come out and guarantee monthly updates because that would undermine the concept of "unsupported." But Microsoft would rather have this gray area instead of thousands of computers running outdated Windows 11 builds that are now vulnerable to attacks from viruses, ransomware, or even botnets.
Microsoft doesn't owe you Windows 11
It's worth noting that when you bought your computer, you purchased a license for Windows 10. That's it. Microsoft is not obligated to give you a new OS.
I realize that is very harsh and insensitive, but that's the truth.
Microsoft guarantees support for Windows 10 through October 14, 2025. They intend to deliver on that promise. That's what you agreed to when you clicked "Accept" during the out-of-box experience (OOBE).
In light of Windows 11, should Microsoft extend support for Windows 10 beyond 2025? Yeah, I think they ought to, and I'll be shocked if they don't. But we'll cross that bridge when we get to it. My hunch is that Microsoft tacks on at least another year or two because many people will still use it daily.
Sure, it's nice that newer computers get Windows 11, but it's also mostly a visual refresh adapting to how we work in 2021 versus 2015. While it looks better, Windows 11 technically does what Windows 10 can do today. There's just more security, a better update process, a new layout, and new integrations (like Microsoft Teams).
And customers on Windows 10 are not being left behind. New updates are coming soon. There is no fragmentation to worry about, no app or developer angles either.
The PC is back, and the data proves it
Finally, I'm not naïve, and neither are you. Microsoft absolutely wants to sell Windows 11 licenses, and they do that through increased sales of PCs. That is Microsoft's business, after all.
But the world has changed dramatically in the last 18 months. PC sales are already up year-over-year. Dell just had a record quarter, and Lenovo is absolutely crushing it. Meanwhile, HP and Microsoft are both down, but only because neither can get enough chips to ship their product, not because demand is weak.
All of this was accomplished without Windows 11.
The rise in PC sales is not a blip due to the pandemic ― it's a permanent change. Here's what Lenovo, the #1 PC shipper on the planet, had to say just three weeks ago:
That was in Lenovo's latest numbers where it reported "a record first-quarter … [driven by] strong performance in PCs." And Micron Technology, who make DRAM and NAND chips for computers, claimed "nearly 1 million sales every day of PC " back in May.
I noted above that the average cycle for laptops upgrades was five to six years. Lenovo is claiming that it has shortened. Moreover, they see this strong PC market continuing for the next three years."
Let that sink in. The PC is back.
Windows 11: The right OS, for the right time
The critics have it backwards. Microsoft doesn't need Windows 11 to sell new PCs. The market is already demanding them. It just so happens that all those who need to buy new computers will also get a shiny new OS from now on.
Microsoft is betting you're going to buy a new PC in the next three years, not because of Windows 11, but because the new world we live in with remote work, streaming, online collaboration, gaming, and creativity demands it. Here is what Brian Lynch, Research Analyst at Canalys said on August 25:
For once, Microsoft is there to meet this market at a pivotal moment with an OS that reflects that new world.
You see, Microsoft doesn't need Windows 11 to convince you to buy a new PC. That's already occurring. There is no devious plot, just good timing. Let's just hope Microsoft works out all the kinks before October 5.
Get the Windows Central Newsletter
All the latest news, reviews, and guides for Windows and Xbox diehards.
Daniel Rubino is the Editor-in-chief of Windows Central, head reviewer, podcast co-host, and analyst. He has been covering Microsoft since 2007 when this site was called WMExperts (and later Windows Phone Central). His interests include Windows, laptops, next-gen computing, and for some reason, watches. Before all this tech stuff, he worked on a Ph.D. in linguistics, watched people sleep (for medical purposes!), and ran the projectors at movie theaters because it was fun.