No, Windows 10 is not 'spying' on your PC thousands of times a day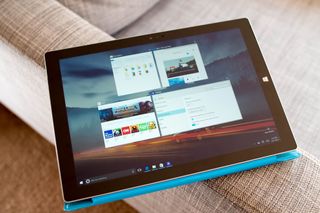 Windows 10 users who might be in a state of panic after reading an alarmist report claiming the OS is "spying" on PCs with thousands of data transfers a day can rest easy. The report was based on comments from a so-called security expert's comments that have since been deleted.
The report from Forbes, which we aren't linking to here because it's just so wrong, was based on comments made by a user on the Voat website, who used the handle "CheesusCrust". As pointed out by Ed Bott at ZDNet, there's no indication that the author of the Forbes article contacted "CheesusCrust" to try to verify his security credentials.
Before his post was deleted, "CheesusCrust" stated he installed Windows 10 Enterprise edition in a virtual machine. Then he "configured the DD-WRT router to drop and log all connection attempts via iptables through the DD-WRT router by Windows 10 Enterprise." As Bott states:
You can read Bott's full report for all the details. He dissects and ultimately dismisses "Mr. Crust's" analysis of the Windows 10 data. It also shows how poor reporting like this can blow something benign and boring way out of proportion.
Source: ZDNet
Get the Windows Central Newsletter
All the latest news, reviews, and guides for Windows and Xbox diehards.