Nokia announces new lightweight and portable chargers for your Windows Phones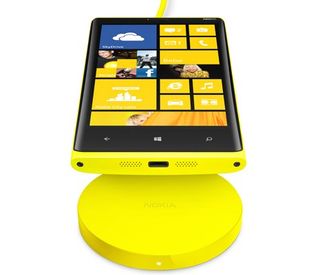 Nokia has announced two new portable chargers for topping up the juice in our smartphones while on the move ourselves. The DT-601 is Nokia's new wireless charger, while the DC-19 is the new portable USB charger to accompany your laptop and / or Windows 8 tablet.
Smaller, lighter and easier to carry
The DT-601 is very much like its predecessor, the DT-900. There are notable differences and improvements, however. The new wireless charger is smaller, lighter and easier to carry. Not only that, but it's also more affordable. Here's what Jaakko Huokkola, Product Manager for Wireless Charging at Nokia, had to say on the new accessory:
We can definitely comment on how the new charger looks more bouncy with the new design. Talking about the new design, the DT-601 comes in at just 65mm in diameter and is less than 9mm thick. Now that's small. As it's the main wireless charger, this jumpy little product will plug into a USB port or wall adapter. You also get a small strap to wrap up any excess cable.
Fear not about working hard to find the right spot when placing your Windows Phone on top of the charger as Nokia has you covered with the familiar LED notification light. Finally, the DT-601 is Qi compatible, meaning you can use it with any supported device. Nokia aims to start shipping in Asia-Pacific from this month, with Europe and America following in the coming months.
The DT-601 will set you back €29 and will be available in yellow, cyan, bright red, black, and white.
Zapping your phone while on the move
The DT-601 from Nokia is all well and dandy if you have access to power and a PC, but what it you don't and still require some charge? This is where the new DC-19 comes into play. Simply add some juice to this accessory, place it in your bag or pocket and then charge your phone when it runs a little low.
The DC-19, being the successor to the DC-18, has a 3,200mAh battery and measures in at 99.5mm long, with a circumference of 25.4mm.
LED battery level indicators display the level of charge remaining and the DC-19 can remain on stand-by for more than 6 months. As an added bonus, this accessory can be used with any device that supported microUSB charging.
So when can you pick one up? Availability begins this month and will set you back by €29. The DC-19 comes in cyan, white and yellow.
Source: Nokia
Rich Edmonds is Senior Editor of PC hardware at Windows Central, covering everything related to PC components and NAS. He's been involved in technology for more than a decade and knows a thing or two about the magic inside a PC chassis. You can follow him over on Twitter at @RichEdmonds.
Is it just me that thinks the bottom one looks like a tampon?

Love the new wireless chargers :)

Looks cool but I've already got a wireless charging stand, two charging plates, a superman fatboy pillow, wireless car charger and the dc-16. I think I'm set!

I bet u even charging ur ass lol this guy have 10000 chargers Jesus .

Haha I had just the plate and stand which I got for $20 but then got another plate and superman pillow for free :P and there's two lumias in the house that use them. the cr-200 is just awesome.

Does anyone else have inconsistent connections with USB charging with yhe L920? WiCharging works great.

@Simphf - I certainly do, from time to time.
My DT-900 always works, and never fails.

Same here. Have one at my desk at work, that thing is reliable and awesome in every way.

My wife does on her 920. My 920 never had that issue. Her's sometimes keeps on "ting tating"-ing till you remove it and place it again.

Try using a different cable. I had that issue with the Nokia provided cable. Switched to a different one and the problem went away. Probably got a bad batch.

I had the same problem with a Lumia 928. Turns out the micro-USB connector isn't quite standard. The plug was super loose and would fall out or not make contact. I switched to the USB cable that came with the phone, and it fits perfectly. Kind of disappointed in Nokia for botching that one up; it's a pain to have to always make sure I have one specific cable with me all the time.

Anyone here noticed a reduced battery life when charging wirelessly and not with a wall charger? It might be me imagining things, but the battery seems to drain much faster. Nonetheless, it's so damn useful :D

How much is that in American dollars?

You should really consider getting a currency conversion app on your phone.

Or use the Bing search key because it now does conversations.

http://bit.ly/1eDMCZK Sorry couldn't resist.

They are almost priced at the point where I would buy them.

Why would I use Google? I'm not some kind of Windows Phone defect

Where is the 'Let me Bing that for you'? never mind, quick Bing search and found it.....
http://bing.lmgtfy.com/
so should be http://bing.lmgtfy.com/?q=us+dollar+to+euro

You're still making it too hard :)
http://bit.ly/17QHu1e
I'd use Bing, but it doesn't want to play the game in NZ

Just a reminder though that straight conversion doesn't work.
Like usual, 29 euros will probably translate to 29 euros.
Old one was 69 euros, i would imagine it wasn't sold for 91 dollars in US?

You are right. 29 euros is almost always 29 euros.

I wish the DT-900 used a USB cable. Then I could plug it into the USB port of my power strip rather than wasting a full outlet for the adapter. But I do really like that external battery cylinder (DC-19). I may pick up one of those.

If they're like the other chargers, the end that connects to the actual charging plate is a proprietary plug that can be plugged into their other chargers. I have the cat charger and the old plate charger. I use the plate charger in my vehicle with the 12v plug and cord from the car charger. I then use the car charger at work using the cord and wall plug from the plate charger.

I considered that, but looking at the pictures of the DT-601 looks like the cable is attached to the charging plate, not separate like the DT-900. But it could just come off like that in photos. I'll have to check one out when they're available.

"I have the cat charger..." Jeeze, where does the plug go?

In the plug hole, of course. ;-)

lol MadSci2 said cat charger not car charger :P

I've passed on the DT-900 because it's too expensive, but at €29 I'll definitely get one.

I've gotten 2 for $20 each one in black and one in white of the DT-900.... Ebay is your friend for these things..

Well, all the interesting offers I saw were in the U.S. Unfortunately I'm in France, the shipping fee is so high that it just isn't worth it.

Nokia on the roll. After that awful announcement by Apple I'm smelling sth bright for Microsoft (if they can keep the hardware quality).
Now I want one of each of those after confirming im keeping my 920 for at least a year more.

I'm going to have wireless chargers all over my house I guess my excuses of my phone being dead can no longer be used

I know this is off subject but does anyone know of a moble charging option for the Surface tablet?

MikeGyver dot com has a car charger for the Surface Pro. Or you can wait for the new year and the rumoured new keyboard with battery slice.

I have the Surface RT but looks like they have options for both Pro and RT on the site. Thanks for the tip.

Unless there is some restriction I am unaware of, I'd go for the Pro version, it has extra juice and will charge an RT quicker.


All I can find is the current brick and the cord from the brick to the Surface is way too short.

Good thing all the new Nokia's have wireless charging built in. Oh wait...

lol, yeah the $40+ covers you need suck especially since you have to always take off your case or camera grip to use them; its less hassle to just plug in.

Wouldn't mind having the DC-19, but I wish it came in black.

Yeah that's kind of bothering me too :P cyan is definitely not ugly but it just wouldn't fit with my black 920 like me black DC-16 does

I never did get why the DT-900 wasn't USB compatible and find this new DT-601 very welcome. And at roughly £25 a good bargain to snap up.

..or any of their chargers. If they sold a usb ti whatever that connection is, or even replacement cables, alright then, but they don't. And the cables are a bit thin and flimsy..

Nice to finally have an affordable wireless charger as they are very expensive in the UK...

Is it worth upgrading to the DC-19 from a DC-16?

Good ol' Nokia. Saw these advertised on their Facebook page earlier. Never regretted jumping back on the Nokia bandwagon!

Circumference of 25mm is tiny...

The more accessories the better.

I'm sorry, but the DC-19 looks like a feminine hygiene product :-\

Apple could sell one called the iTampon to charge the iPad.

And screen cleaner called iDouche

Still think the wireless charger is overpriced, considering it costs the same as the battery thing. I would be very interested in finding out how much it actually costs Nokia to make the wireless chargers, I very much doubt its more than a few dollars.



I think they have to pay for using the Qi Standard....

Is this coming to the states anytime soon. I want the DC-19 now. I wish it came in black tho.

DC-19 is not a successor to DC-18 it's a successor to DC-16

Now if only they can design it so that it actually has nfc/bluetooth built in so it also wireless connects to a laptop or computer or where ever the USB is connected.

Hehehe, why is Nokia making a joke of themselves??? They haven't made available any of the accessories that they have announced more than 8 months ago in India and now they start to talk about new and upcoming accessories??? This is becoming a big comedy in India.

Portable chargers are nice for festivals

Glad to see them using a atsndard USB cable

The wireless car charger is a great idea, but is a major design f**k up when it comes to 928 owners.

Does the new one have the same output as the dt900?

Not sure there was a need for smaller wireless charging plates but it's nice to see different options. I can't wait to see someone try to balance a 1520 on that tiny wafer.

Can the DT-601 be plugged into the USB port on a PC for a power source?

FYI Amazon has lots of "Lipstick" style external battery chargers for well under $20US.

I'm all set for external charging, I have one with 6200 and one with 10500 capacity... Wireless charging I have two already as well, but the tiny portable one is very tempting

Well this be available in the US? Because it does not state the price in dollars.

I have one of the portable Nokia wired chargers. Have to admit. They look good and provide excellent performance.

Hey that's exactly an inch thick !! And wow, 6 months ?? Sure you aren't kidding??

I've own 10,400mAh powerbank. So durable power, can powerup my 920 4 times (low battery to full)

I'll be glad if the wireless one doesn't come with the huge, glossy white wall plug (on the UK version it currently does)

That 601 is a great idea.

I think i'll pick the new one up...I can't wait to the day when you cna have the 920 NEAR the wireless charger rather than on it

I think my charging plate that came free with my phone is small thin and light. Which means portable to me. What is like is say one of those portable to go chargers ( like those sticks ) that offers wireless charging. Now that would be nice!

I think you can connect the DT-601 to the DC-19 - would be grat if it worked.

The usb is nice. Means i can leave one plugged into the centre console if my car. Been tossing up whether to get the windscreen mount, but most of the time the phone just sits in the console bluetoothing music.

I'd get the stick one. Bur not with my little 520. That's why I can't wait for them to bring a phablet to Tmo

Would be nice if our phones didn't need any chargers, charged themselves free of batteries..or wires using ambient sources etc.. Is this me or did Tesla already touch base on this like a few decades ago??

Problem is, where in the US can you get these? Wish Nokia had an online store still.

Looks nice BUT it will not make it to US stores any time soon. Can anyone tell me what US store sells the wireless car charger?
You trying to get back into the US market, cool, but why is it so hard to find some accessories.
BT headphones, playup speaker, wireless charger dt-910, mostly online orders only

Brilliant where do I get them in Australia

The DT-601 looks nice! Now if only they would make the Lumia 720 wireless charging back available more easily and for a lillte bit cheaper price...

I'll get one of each. I wonder if you can connect them and make some sort of nincharger.
Windows Central Newsletter
Get the best of Windows Central in in your inbox, every day!
Thank you for signing up to Windows Central. You will receive a verification email shortly.
There was a problem. Please refresh the page and try again.