Nokia EOS/1020 charging shell and camera accessory revealed in latest leak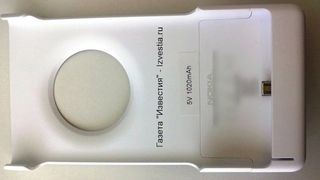 The other day we brought some exclusive details about Nokia's supposed camera accessory for the upcoming Lumia 1020/EOS Windows Phone with a 41MP sensor. The news started with mention of a "camera grip" via FCC documents and then later, WPDang were able to confirm some more information about the add on accessory, which is expected to sell for an extra $70.
Now, an image has leaked of what the camera booster will look like and it's kind of what we expected. The addon has a 1020mAh battery (35% boost), microUSB charging expansion, tripod mount, dedicated shutter button and of course it has the added benefit of making the Lumia 1020 feel more substantial in the hands, akin to a real point and shoot camera.
Wireless charging is not expected to be a part of this accessory, though a second clip on cover for wireless charging we are told will be available.
The Nokia EOS/Lumia 1020 is expected to be announced this Thursday in New York City. Windows Phone Central will be there for live coverage and interviews.
Source: Izvestia; via WP7Forum.ru
Daniel Rubino is the Editor-in-chief of Windows Central, head reviewer, podcast co-host, and analyst. He has been here covering Microsoft since 2007 when this site was called WMExperts (and later Windows Phone Central). His interests include Windows, Microsoft Surface, laptops, next-gen computing, and for some reason, watches. Before all this tech stuff, he worked on a Ph.D. in linguistics and ran the projectors at movie theaters, which has done absolutely nothing for his career.
Awesome! The extra battery is fantastic!

We'll just take an already bulky phone and make it even bulkier. No, thanks.

I'm guessing this phone and focus on photography just isn't for you. As a hobbyist photographer, this has me all giddy and excited.

Same here, I am immuned to bulk now. If you want 2 days battery life and enhanced camer (I do) then you will overlook the bulk.

"Here we observe the ignorant consumer in its natural habitat"

Then you'll really love the Galaxy S4 Zoom!

This case supposedly adds a camera grip, like this.

If I remember correctly, the 1020 is 1mm thinner than the 920, (aside from the camera hump.)

So don't buy it. Nobody said you have to buy every phone and accessory. However, If you want to mount the best camera available on a smartphone on a tripod and have extra battery life then here you go.

Have u seen the iPhone and galaxy cases many people put on their phones? Sometimes I wonder how they fit in their pocket.

Exactly, they call this bulky, where every other iPhone and galaxy SX has that ridiculous otter box case that doubles its size... They aren't cheap and add no battery or other functionality to the device.

Not impressed, if the sole functions of this accessory are to provide a grip and to provide additional electrons.
I would probably PASS on the accessory altogether ... and just keep the 1020 charged, or have a charger available (or share a Halo with my wife's iPhone).
In fact, rather than cough up $70 for a 1020-only accessory, I would probably buy a Halo for $30, and pocket the balance.
But I love the camera concept ... This phone could be a true "Powershot replacement" ... Never forget your camera again!

Daniel, so EOS has close to a 2900 mAh battery built in already? My stock 920 has 2000, so an extra 1000 mAh is a huge boost, not to mention larger battery in the phone.

I have the Brando Power Jacket for my 920. It does make the phone twice as thick but when you have a kick stand and an extra 2200 mAh battery attached to your phone it can be forgiven. Having an additional battery connected to your phone can be a life saver.

Aye, I agree, those are awesome features, thanks for reminding me about the Brando, will be useful traveling overseas next year. If EOS supports it I can't wait to see what third party manufacturers can do.

I was excited, but with no wireless charging that went out the window. I guess I need to wait and see the other cover though.

There millions that have bought the iPhone 5 have not complained about lack of wireless charging yet. So relax.

Wireless charge for me is also mandatory...

When its standard on all phones, then we can consider mandatory. I'm sure there can only be so much that can be crammed into a a ultra camera phone.

Yes, but but this is a bulky addon shell to that camera phone.

Yes but with extra battery.

Sure. But they freely are able to select the size of both the addon shell and the battery in that addon shell. If they didn't require the cutesy 1020mAh, for example, then it'd be easy to add wireless charging. If you're going to have a bulky addon shell, it should encompass all of the options, not just some of them, with another addon shell to switch to for some of the other options.

Mandatory is a personal thing. For me, I will not buy a phone without it anymore.

Same here... Will always look at wireless choice first

Why do I care about what millions of iPhone users do or do not complain about? I'm saying I want wireless charging. Love it, not going to live without it from this point on. Unless there's no other choice, of course.

I agree with you. I have a Lumia 920 and have now invested in wireless changing with the charging plate I got with the phone I use at home. The wireless charging stand I use at work and the power up speaker that I have at home. Now the way Nokia is going if I end up upgrading to a new model I'm going to have to start clipping things on my phone to continue to use the wireless chargers that I have bought.

True that iPhone users have not complained about not having wireless charging, but once the iPhone brings wireless charging to the table, people will say how great it is (and claim Apple invented it). There is a fairly known view that in market research, people will nto tell you what they want if it is so new they can't envision it.

I bet if you gave 1000 iPhone users wireless charging most would claim it is a must have feature.
I personally just came over to Windows phone from Palm Pre and am very happy.

Yeah, wireless charging is definitely way nifty for the set-and-charge mentality I am in when I get home. However, I only have one wicharging station (just haven't bought others). So I still charge mine at night right next to my bed. It would be a step back, but not so unsettling a change.

Told you we have all those biased reviewers to blame. Since the Lumia 920 was so "heavy" then that means Nokia won't put in any more wireless charging. So now we have to deal with the fall out.

That's one good idea. If someone doesn't like it in sure there will be some other cases like for every phone out there. But giving customers choice of great accessory is something Nokia knows how to do.

I love it, it will be my next purchase!

As if the case does not have wireless charging built in. Does that mean to have wireless charging you need two cases on the eos?

That is what it seems like, sadly enough.

I doubt there are stackable. Most likely one or the other.

Nokia must not be too worried about keeping things confidential. I guess the best advertising is that which comes for free.
.

I'm really quite certain these are not "controlled leaks", which we rarely see.

Then Nokia got shit for brains keeping thing under the radar

Spoken like someone who has no idea how this business works. It's more likely that their 3rd party vendors who manufacturer parts or the dozens of carriers that are testing it has people who are leaking. Where do you think @evleaks info comes? Samsung, HTC, LG, etc. all have their news leaked there, so this is not just a Nokia thing.

Like I said... But thanks for trying to explain the rocket science of 3rd party MFR.

Tell that kind of stuff to Apple. Don't have to leak. Just lose it at a bar.

I wonder how long it will be before we can get the phone + both shells + pillow charger for 1 cent with 2-year contract. Labor Day or Thanksgiving perhaps! This is the beauty of WP's low market share.

What makes this accessory so great is that its not a permanent fixation like the Galaxy S Zoom. Don't want it don't buy it. Its a brilliant design and innovation to have your phone look like a phone and camera if want it to. Excited about this phone!

I want to feel the phone so badly!

Might have to actually Switch to AT&T... Oh lord.

This keeps getting better and better, I am excited about this phone. Hope at&t can do an early upgrade to it but I doubt it, may have to buy it out.

You will have to buy it outright, ATT just announcd all phone upgrades will be no sooner than 24 months. However, just buy it and then trade your current phone into NOKIA via there Trade-UP Program.

http://www.nokia.com/us-en/tradeup/

Thanks, $120 for 920 is pretty lame. $250 for iphone 4s and $360 for iphone 5. :/

Just another huge plus for this phone. Whether you love it or not. this will convert ultra tech folks to WP8 and Nokia if they are not allready there!

For me personally just reassures me that Nokia is the best at what they do and been doing for years.

I can foresee pro photographers just having a blast with this. Goodbye to cannons and Olympus's.

I wonder what battery life will be like without this. Anyone with an 808 want to comment on battery life?

I bet standard battery life on this beast is going to be piss poor and will only be able to snap 50-100 pics until your realise it wont be able to last you the day.
If thats true this case/battery pack will become a nescessity and make this thing very heavy indeed!


If I put my 808 into Power Saving Mode I can snap high res pics all day with about 2 bars left.

Looking forward to finally having options with WP accessories but two shells? I guess not everyone needs wireless charging with their camera shell but there are those of us who would like an All-In-One option...

Techiedude

I bought a 13,000mAh (yes 13,000) external usb charger/battery for use with my 620 when riding. It's really nice I can be out all day on my bike with GPS on, music playing, grabbing a video on breaks and taking photos which go to SkySDrive in highest possible quality all on cellular and come back home with a fully charged phone.. Just plug the battery/charger in to my USB3 hub for charging and no problem..
:D

http://www.ianker.com/product/79AN13K-BA

You had me at tripod mount.
asdfghjkl.

I want this for my Lumia 920!

Does anyone think that 1020 battery capacity a little strange? Is this the source of Lumia 1020rumours?

Why not just bulk up the casing so the camera is flush with the casing. Use the extra room for wireless charging and a huge battery. This obsession that manufactures have with thinness has got to stop.


Where exactly is the tripod mount? I can't imagine where on that shell could fit a huge screw like that
Windows Central Newsletter
Thank you for signing up to Windows Central. You will receive a verification email shortly.
There was a problem. Please refresh the page and try again.