Nokia first to bring Kaliki service to Windows Phone also launches Batman Origins comic [Video]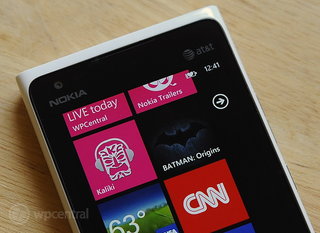 Nokia is the first to bring Kaliki to a mobile platform
Nokia is back at it again, giving customers the most bang for their buck by releasing two more exclusive apps today in the Nokia Collection for Lumia Windows Phones. Today's apps include the Batman Origins comic and the truly unique Kaliki.
Batman Origins is a straight up prequel comic to the new movie Batman: The Dark Knight Rises due in a few weeks. There's not much to the app as it's just a straight up digital comic featuring two sides—Batman or Bane—and you can just go through and read it. The gorgeous artwork is provided by DC Comics of course and it's a fun little read, especially for you fans.
What's more, under "Links" for the app there is evidently another app coming called "The Dark Knight Rises: Prologue". That app is not yet available but we imagine it's just a matter of time. This marks the third app from Nokia featuring Batman with the other being the TDKR App, now this origins-comic and soon a Prologue.
Next up is the even more interesting Kaliki app from Nokia. This was something we did not see coming and boy is it cool. In essence, it's a news app that reads the news to you but not in some mechanical robot voice. No, Kaliki takes highlight news stories from various sources like the NY Times, CNN, USA Today and has a professional voice actor narrate it to you, making all news sound much more epic.
If you like Audible and/or National Public Radio, this app is for you.
Kaliki includes various types of news including headlines, sports, celebrity, science & technology and more too, so you have a wide selection of headlines to choose from. The app requires a data connection and you can't save any of the recordings for offline use—heck, there are basically no options within the app. But for you commuters with constant data connections, Kaliki is killer.
Kaliki is actually a new service not exclusive to Nokia (but they have the app first). The company (https://www.afternic.com/forsale/kaliki.com?utm_source=TDFS_DASLNC&utm_medium=DASLNC&utm_campaign=TDFS_DASLNC&traffic_type=TDFS_DASLNC&traffic_id=daslnc&) wants to be "Pandora for magazines" and will be coming to other platforms. But as far as we can tell, Nokia and Windows Phone is the first mobile iteration of the new service which hasn't officially launched, until today.
No doubt both apps will continue to cause consternation amongst those who don't have a Nokia Lumia phone, but for those who do, you'll be quite pleased with both offerings.
Pick up Batman Origins here and Kaliki for Lumia Windows Phones here in the Nokia Collection.
Windows Central Newsletter
Get the best of Windows Central in your inbox, every day!
Daniel Rubino is the Editor-in-chief of Windows Central, head reviewer, podcast co-host, and analyst. He has been covering Microsoft since 2007 when this site was called WMExperts (and later Windows Phone Central). His interests include Windows, laptops, next-gen computing, and for some reason, watches. Before all this tech stuff, he worked on a Ph.D. in linguistics, watched people sleep (for medical purposes!), and ran the projectors at movie theaters because it was fun.
I guess this goes against the belief that support for Wp7 is going away after the announcement.
More apps/games coming to wp7 through the summer months.

This is why Nokia will get my $$ with wp8

Sadly Kaliki is not available in Germany. I hope however that they make this an App that can be used using voice only. Would be awesome on the road to get the latest news!

Kaliki sounds like a great idea, problem is the news on it is old. CNN, 5th one down is donna summers passing away. That's old news

Yeah, wow I'm seeing the same thing. News about Richard Dawson dying.
Sports, Finanicals? Not up to date? How can this be a useful app?
I love the value-add Nokia is providing with their apps, but I have to say the content behind some of them is lacking. Nokia Trailers is another that just doesn't get updated enough, and then there are major gaps in the movies that are available.
And Bing Maps works much better at finding things around where I live (N. CA) that Nokia Maps does. If Nokia Maps is replacing Bing in WP8, gawd I hope they're getting Bing's database...


Kaliki is *very* new and this is its first run on any mobile device. My bet is give 'em some time to ramp up. Obviously there will always be a delay as voice recording isn't fast but hopefully the "news" won't be weeks old.

Second story is about the winner of American ideal. App has great potential if the news was current

Damn HTC need to get to work and get more apps

+39919191 too bad that's not happening.

Don't see the Batman app and the link says app not found.

That's on you then as the links are correct and region neutral.

Nope, I'm in the US with a Lumia, still get app not found in this market.

Actually, the QR code scans fine, but the link is wrong. Not the first time this happens on wpcentral.

Sorry, but you're just wrong and I don't appreciate the tone. The link for the QR code is the SAME as the link provided. Our app recognizes the link, it works on my 900 in Internet Explorer just fine, so I have no idea what you are referring to... Unless... If you are opening the links on a PC they won't work. They never do because OEM APPS DO NOT APPEAR ON THE PUBLIC WEB MARKETPLACE. But you wouldn't be confusing that with the link being broken, would you? Because that's always been the case for obvious reasons.

Daniel,
There was no 'tone' implied or otherwise, and my post is accurate. You however, sound like a condescending jerk, something unnacceptable to a wpcentral writer. I hope this thread is monitored and you are suspended till you learn to carry on a civil conversation with a customer, which we commenters are.
And while I was opening the link in the pc, I don't agree it wouldn't work for obvious reasons. Since the marketplace knows my device, there's no reason for it not to work. You could still have made it clear that links should be opened on the phone directly, or informed us in a polite manner.
Please refrain from interacting with humans until you learn manners.

You mean we get an app before the Apple or Google. SUCCESS! Nokia 4 Life!

Kaliki sadly seems to be US only. Is that trend ever going to stop?

Kaliki not available in denmark

Also got Kaliki in Canada

Finally, a Batman app I can actually download!

Soon enough the Nokia App market will be bigger than the actual marketplace. Tsk.

Got the Batman app in UK. But no Kaliki and still no Camera Extras. Well done Nokia anyway.

It's pity, Kaliki isn't avaible in France !!!!

If Nokia released a comic book reader app that could access both DC and marvel comic marketplaces and read them the way this Batman Origin comic app works i would be broke. if they included cbz and cbr support I would be in heaven. it is a great app.

Ideally they should work with Microsoft to get Comixology on Windows Phone (and Windows 8). At least, existing customers would be able to import their purchases which would be awesome.

It's too bad that it seems that much of Nokia's focus is on the US as opposed to everywhere else. Its understandable, but I wouldn't mind them not starting the same trend as every other major tech company.

I wouldn't say it's understandable, Nokia got big thanks to the other markets so I don't think they should neglect them while trying to win the US over.

"Kaliki is actually a new service not exclusive to Nokia (but they have the app first)."