Nokia Lumia 1320 coming to Australia next month, starts at AUD $449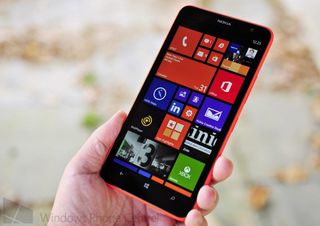 Living down under? Hopefully you're enjoying summer, because a hot handset is coming to Australia soon. Nokia Australia has just announced pricing and availability of the Nokia Lumia 1320. Pricing and dates below for our friends from a land down under.
The Nokia Lumia 1320 is an affordable large-screen Windows Phone from Nokia. It has a 1280 x 720 IPS display in a 6-inch screen. Other screen tech include Gorilla Glass 3, ClearBlack, Super Sensitive Touch, and a 60 Hz refresh rate. Driving the pixels is a 1.7 GHz dual-core Snapdragon S4 processor with 1GB of RAM. You'll be taking pictures with a 5MP f/2.4 rear camera and storing those photos (along with your apps, games, music and videos) on the 8GB of included internal storage, though you can expand with a microSD card.
In Australia the Lumia 1320 goes on sale on the 4th of February and starts at AUD $449 (about $395 USD). Get it through Telstra or Vodafone, you can also buy it outright from Harvey Norman and other retailers.
Any of our friends in Australia thinking of picking this bad boy up? Let us know below. Not sure if you're going to? Check out our unboxing with the Lumia 1320 for our impressions.
Source: Nokia Australia, Via: Maxi-Geek
Thanks for the tip Luke!
Just a bit concerned with camera and storage but will probably get my folks to upgrade from their Lumia800 to this.

The camera will take great pictures.. And the storage is expandable.. Just think of how good of pictures you used to take with first Gen WP hardware.. These will be better❕

Do not be fooled by specs all the time, the camera takes great pictures. You would like it, because now you can also use the Nokia pro cam as well. Its free in the store, takes the camera to another level. Next update you can install to the SD card too, and i have a 64gb card in mine.

It's for his parents, not him..

The camera, Okay I can agree with that, but you won't need more than 1gb of memory, it's windows you know.
http://goo.gl/zbSx7K

Is Nokia Lumia 1320's camera good as iPod Touch 5. The Nokia Lumia 710 one was all right but Nokia Lumia 620 one was awful in my opinion. I thinking about picking up the Nokia Lumia 1320 on a plan.

What about the US❔❔
They should bring this to Sprint, or T Mobile... Heck, just put it on all 4 major US carriers.. Be done with it❕

Agreed, but I prefer to have the 1520 32G because my ATIV S is almost full, I'm the type who carry around my favorite music on my phone.
I love the overall design of the 1320. The rounded edges looks nice.

Im currently using this device on TMobile US in ATX, and it is a fantastic device. I only paid $375 for it, and its really nice. Worth it to me, because I get the basically a lower spec'd 1520, just by a bit at a great price unlocked. It feels great in hand, and is really fast. You don't need a quad core phone for windows. My Galaxy Note 3 has some competition now, check this phone out if you can get one.

True.. It's about a speedy as my 920, a little faster... But, where it shines is with opening apps, and helps tremendously with processing 21mp worth of pictures... But, if you're talking about the 5mp camera then yes, I agree that DC is fine.. And this isn't just the same old DC processor the 920 has,, it's much better.. I wish I could get this phone for my mom through att..

I want one and I have T-Mobile in Los Angeles, California but I was wondering if I will get 4G

So you are using Lumia 1320 on t-Mobile. What exact model you have? Is it RM-994, RM-995 or RM-996? I am thinking to buy Lumia 1320 on ebay and use it on T-Mobile carrier in US.
So I need to make sure that it will work at least on HSPA/HSPA+.

So is this another non Verizon phone

I suspect that Verizon is getting a XLWP, sound better than phablet❔,,, with the next generation of WP8.1 devices... Yep❕

Seen the Allstate commercial with the black 920 in it?

And the pig❔... No, wait that's GEICO.. LOL❕

No pig in that one, just the 920 and the HTC one

I'll definetely be picking this up when it comes out. However Ill be looking online for a better price first...

I have heard telstra are doing it outright for $408 but guess we need to wait til its out to confirm.. if they are, I am sure you can work harvey down to under 400

Woah I never realized how cheap it was!!! Always hearing prices in USD I just ignore. But 449?! That's almost half the price of my 820! Ugh if only I wasn't waiting for the next flagship....

Yeah, it's insanely cheap! The 920 launched closer to $700. Obviously they're a lot cheaper now at around the $350 mark, but it's good to see a new model reasonably priced. EDIT: It's only 8GB, so I guess that's why it's so cheap :(

Agreed!! :D Yeah I suppose, but surely most people are able to get their hands on a microSD. Though I must admit, it's not too great when you have too many apps (from experience, with my 820)

Its actually going to be priced at $499... Not $449... This is straight from Nokia directly...

wrong.. taken from the offical press release that I posted "With an RRP of AUD $449"

8gb is so 2012. I had an 820 and let me tell you 8gb is peanuts. The amount of times I had to restore my phone so I could play the latest Xbox games was atrocious. Moved to the 920 and 32gb should be the minimum.

Wow... I missed that part. That's utter fail for a device like this. I definitely won't buy it with a paltry 8GB.

Thank god Microsoft made the minimum requirement 8gb it could be less!!

Just put a micro sd card in easy fix

Micro SD card for apps, yeah think again. On an 8gb device you can't fit the batman game or FIFA together, so yeah 8gb devices suck.

Good price for the Australian market. They will sell heaps

I'd rather buy a nexus 5 with $400s lol they have to sell it way cheaper for it to sell well in USA considering it runs WP

Bit big for me not sure will wait to see in person, personally waiting for the Icon/929 or what ever its name is.. Currently have a L920 a L625 an a old L800 lol..

That is a bloody good price for a phablet in Australia.

I just got rid of my nexus 7 2013 and now need some big screen phone or a tablet. Devices in my mind are lumia 1520, 1320, Ipad Air, Surface Pro, Surface RT and samsung note 3. I already have a lumia 1020. 1320 attracting me with its low price :D.

I was waiting for Lumia 1320 cause of its price but I couldn't wait anymore so I took Lumia 920 for $326

I´m just waiting till this baby comes to Portugal to buy it. *-*

This is here now, and available through carriers, my sister upgraded to one without even knowing what it was. Why the Hell couldn't they provide the 1520 through carriers down here? It boggles my mind.
Windows Central Newsletter
Get the best of Windows Central in in your inbox, every day!
Thank you for signing up to Windows Central. You will receive a verification email shortly.
There was a problem. Please refresh the page and try again.