Nokia Lumia 521 available with Xbox Live deal at GameStop; listed for less at FRYS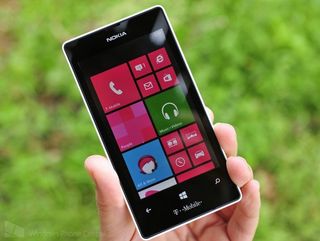 The Lumia 521 is T-Mobile's exclusive low-end Nokia Windows Phone. It's essentially the Lumia 520, which is available elsewhere, but sports a unique and interesting design. We've recently looked at how Walmart has limited stock of this rather elusive smartphone, but we've just been made aware of two awesome deals available online at GameStop and FRYS.
It's surely selling like hotcakes everywhere, we know the Lumia 520 is in Europe and beyond, but should you still be hunting the US-only Windows Phone, you'll be pleased to know there are two options for you. FRYS has the Lumia 521 listed for $119.99 and while the website states there are none available, we've check and found some stores reporting units ready to go. So be sure to check your local for more details.
GameStop has the Windows Phone listed for $129.99 and it's in stock. While it's slightly more expensive than FRYS, you also receive a free month of Xbox Live, which is pretty neat. This isn't stated on the website, but we were alerted via email, so again, be sure to check with GameStop before purchasing.
Source: GameStop (opens in new tab), FRYS.com; thanks everyone who tipped us!
Rich Edmonds is Senior Editor of PC hardware at Windows Central, covering everything related to PC components and NAS. He's been involved in technology for more than a decade and knows a thing or two about the magic inside a PC chassis. You can follow him over on Twitter at @RichEdmonds.
We have the same deal here at WalMart for the 521. I'm a tmobile rep, just sold one!

Just sold one? Come on, ship the rest already! :-P

Haha I been talking up windows phones hard! Doing demonstrations with my 920. People are interested, just nit biting the bullet just yet! I'm gonna show them the way

Hi I just bought the Nokia Lumia 521 with the free Xbox live for a month and I'm having trouble with how to add it to my Xbox live account I tryed doing it on my phone and it just takes me to the windows phone page if you could help tell me what to do I would be happy cuz my Live account needs to be renewed and I only have so many days be for it exspires it exspires the 31 of Oct 2013

What changes does 521 have? I own a 520..

IIRC it's just a few design alterations.

nothing really, just made for T-mobile USA.

The Tmo 521 is 2mm longer then the 520, so cases won't be compatible

Anyone know if the 520 or 521 purchased in the US will work in Russia?

Lumia 520 purchased in the US is the same international version that's sold in Russia. It's sold in the US only by independent online retailers and shows as international unlocked.

Awesome, gonna get one for the visiting mother in law. Thanks!!!

Fry's almost never makes the phones available for online shipping. They want people to get in their stores.

I wonder how much is Frys/walmart, Tmobile and nokia make from this 120 dollar?.

I have a feeling Fry's isn't making much after this discount, which is why it's only available in store. It's hard to go into a Fry's store and comeout with nothing else other than that phone. you need a lot of discipline for that.
They could be making 0$ on it and it's still a good deal for them if it brings people in.

$10 difference, isn't a month of Xbox Live less than a$10 value?

Wait, GameStop sells carrier phones too? WTH lol

Yeah, I didn't know that!!.. If MS was smart they would have a deal with GS to sell WP devices.. They could do more of the free XBL incentive.... Beside, gamers might want more high end devices besides the 521..

Gamestop selling Windows Phones? Thats a weird partnership.
But then again they also sold Zunes.

Result of the DRM backpeddel?

What would that have to do with it?

All windows phones should come with a month free of xbox live gold

I always wondered why MS doesn't do bundle deals with WP8? Talk about a way to make even more sales going untapped.

What color is the one on Gamestop? I don't see it.

They're all white as far as I know


We had 2 at the fry's i worked at, and were gone by lunch lol

Combine with the Microsoft Store Bing it On Challenge for another 25 off 75. 94.99 before tax! Best deal on a phone at this price range!

Or you could buy it for $69 bucks from https://www.windowscentral.com/e?link=https%3A%2F%2Fclick.linksynergy.co... and use the $60 you saved to buy an entire year of Xbox Live or whatever else you may want????? It has been $69 at the MS Store every time I have looked for the last 6 months....

I can't customize my avatar on the Lumia 521. It says to check my connection or store unavailable even though I can download apps and have great connection. I don't know what the problem is, someone please help.
Windows Central Newsletter
Get the best of Windows Central in in your inbox, every day!
Thank you for signing up to Windows Central. You will receive a verification email shortly.
There was a problem. Please refresh the page and try again.