Walmart has limited T-Mobile Nokia Lumia 521 stock at select stores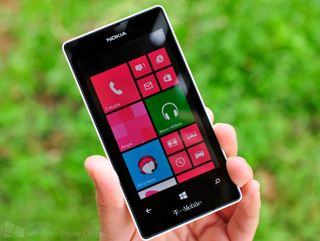 The T-Mobile Lumia 521 is essentially the Nokia Lumia 520 with the usual North America mobile operator branding for exclusivity. The Windows Phone has been rather difficult to locate, particularly at Walmart stores. The device has appeared on SlickDeals and we've looked around the Walmart online store at various locations to confirm that there's stock available, depending on your location.
The Lumia 521 is exclusively available on T-Mobile and can be picked up for just $130 pre-paid. That's not a bad deal at all.
We've previously looked at Nokia's cheapest Lumia Windows Phone (along with the Lumia 520), so do have a read through our thorough Lumia 521 review. Be sure to head on over to your local Walmart, or check online to see where you can pick up a Lumia 521.
Source: Walmart (opens in new tab), via: SlickDeals; Thanks to everyone for the tips!
Rich Edmonds is Senior Editor of PC hardware at Windows Central, covering everything related to PC components and NAS. He's been involved in technology for more than a decade and knows a thing or two about the magic inside a PC chassis. You can follow him over on Twitter at @RichEdmonds.
How about the Lumia 925 :P sorry just patiently waiting for T-mobile US to start selling it already O_O

They're taking forever with the 925. Sucks!!!!

Yesssss! I want it so bad!!

Guys, feel free to jump on that SlickDeals thread to combat the moron trolls. The ignorance is astounding.

So you want to troll the trolls? That never works you know...like ever...

Unless, you can out Troll a Troll...very hard to do, but it can be done lol

Do a copypasta to get em!

My local Walmart had an add on the security panels when you walk in the door. Went back to electronics and they don't even carry T- Mobile. Fail.

My mom was lucky enough to pick up this phone a few weeks ago at her local Walmart. Even though it's sold as prepaid there, we had no trouble adding her as a new line to my account (my account is not prepaid) They were able to use the SIM card which came with the phone.

My friend got this phone a couple of weeks back. I was going to pick up one also, until I find out that the Lumia 520's different color back covers won't fit this phone. I'm not really a "white" phone kind of guy...(Maybe I'm secretly racist?) jk

I was scared of the white too, but after I got it I liked it more.

Forget about 521, Walmart doesn't even have a single windows phone on the display.
There were around 40 android handsets on the display and none was windows phone. There were around 10 people all looking guess what android phones. No way this is going to help Windows platform.

521 is hard to find in some areas. U may need to order it online from them and ship to store. Or order from hsn or Microsoft store.

As a fan, already got one from Microsoft Store. This will go as a gift. So far I am happy with my 920.
But millions of people going to Walmart daily don't see the Windows Phone on the display. Neither they are aware of it nor they follow like we do. They buy what they see there.
I was expecting atleast 1 HTC & 2-3 Nokia phones on the display shelf.

Microsoft really need to fix this and get a stand in stores like Walmart showing the "Smartphone of the Year 2012" along with more budget versions (521) which are more likely to sell there.
Get some marketting on the ground...

Exactly what I think, Microsoft/Nokia needs to do.

This is a good thing and shows MS that they should be reaching out to low end OEMs for more products for this market. Get Sharp and Danger to create some lowend WP8 Sidekick messaging phones, get Kyocera on board and LG & ZTE back on board.

With the minimum chassis specs that are now in place, these guys should be able to pump out cheap attractive devices with 1 Ghz proccessors, 512 mb ram, WVGA TFT LCD screens. It would allow them to all have the same smooth user experience and the upper end but without all of the bells & whistles and it would blow away low end Android devices. WP could OWN the low end if MS puts their heart into.

It's always been "Out of stock" in my city, but now two of the stores show "Limited availability" at least, so I guess they might have some.
I gave up waiting and bought the 520 from T-Mobile instead. Great phone for what it is at this price. Will be replaced by a Lumia 925 when it arrives, but I will keep using this one too for sure.

I found one this past Monday at Wal-Mart. Couldn't pass it up. I love this phone! My last phone was an HTC HD7. Had it for about two-years, and I started getting tired of seeing all the new apps coming to WP8. Sold my HTC and picked up the 521. I wasn't expecting to be so impressed. Obviously, it lacks high-end hardware in certain areas, but I can't believe how much this phone packs for $130! Rarely do I feel like I'm getting more than I paid for, but I do with 521. My only complaint right now is that there is no support for different colors in the replacable housing. I don't hate the white (looks better in person) but I need yellow!

Isn't the 521 different cuz it has 4g capabilities or am I mistaken ?

I find these comments interesting. My local Walmart here in Utah has the HTC 8x on display along with the Lumia 928 for Verizon and the Lumia 900 for AT&T. I have also noted ALLOT more windows phones out in the wild here in Utah. Things are looking up.

I got mine for $105.00 + tax + $115.90 out the door .

Not carried in your local Ukiah store. It's not at our Ukiah, CA Walmart. Our Walmart doesn't even have a communciations center, just some prepaid phones and cards in electronics, and the phones are all represented with tags, which you have to take to the counter to have them get it for you.

Just got a 521 at my local Clearwater fl WalMart for $1.04 using my upgrade.
Windows Central Newsletter
Get the best of Windows Central in in your inbox, every day!
Thank you for signing up to Windows Central. You will receive a verification email shortly.
There was a problem. Please refresh the page and try again.