Nokia Lumia 630 is yours for just £49.99 at Carphone Warehouse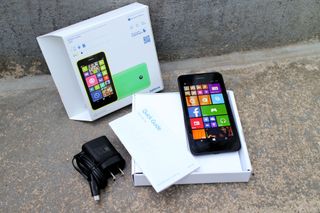 The Lumia 630 is currently available for £49.99 at Carphone Warehouse, which includes a £10 top-up. The smartphone is an ideal option for those who are looking for a new handset but happen to be on a tight budget.
What's neat about this deal at CPW in the UK is that the Lumia 630, and Lumia 635 (available for £69.99), are unlocked and can be used on any network. Do note that since these are budget smartphones, there's no 4G and you're restricted by 512MB of RAM for gaming.
Purchase Lumia 630 from Carphone Warehouse (opens in new tab) (£49.99)
Purchase Lumia 635 from Carphone Warehouse (opens in new tab) (£69.99)
Via: Neowin
Windows Central Newsletter
Get the best of Windows Central in your inbox, every day!
Rich Edmonds was formerly a Senior Editor of PC hardware at Windows Central, covering everything related to PC components and NAS. He's been involved in technology for more than a decade and knows a thing or two about the magic inside a PC chassis. You can follow him on Twitter at @RichEdmonds.
What was the price before for the Lumia 630? Thanks

I got mine in Nepal more than a year ago for about 180$, when iy was just released here.

Thank you. It was expensive for a low end device with those low specifications

I got my 635 for $50 new..1/2 that price!! and 4G Bargain.

Lumia 630 My user experience:
Performance wise ok, but for smooth start screen loading No; Limitations are restricted 512 Mb Ram, no front camera, no led flash, Only 3g;
Defects are the gaps between glass panel and the front corners of the phone is too much, software buttons cannot be hidden, very sharp corners so that device is uneasy to hold with one hand, the back light bleed issue particularly at upper and lower edges of the screen in white backgrounds is too much, the display is not much nice owing to the fact of much gap between display panel and gorilla glass, the display looks washed out in high and medium brightness and very low brightness is too much inconsistent.

Great phone for the price. The user experience is miles better than similarly priced Android handsets

Why i love it..4G no issues here.

The article notes that the 630/635 @CPW is 512mb Ram but as I have experienced some 635/630 come with the 1gb RAM instead l- but this seems to be more pot luck

All Carphone Warehouse stock of the 635 is now the 1GB RAM version. This is also the same for phones sold at O2 and Orange stores. The 630 is 512MB only. There is no 1GB RAM version of the 630. Posted via the Windows Central App for Android

I bought a 630 for ₹11,000 when it came out in India, and 6 months later I couldn't get even half that amount when selling it. Switched to a 730 and I'm very happy with the switch. I wouldn't touch a 512MB RAM device now, especially with windows 10 coming out.

Been using this device for a year. A solid enough phone for £50 (I paid twice this) and often people confuse it for an iPhone 5C. High build quality. But the 512mb RAM is now becoming an issue, for example loading certain websites such as AutoExpress or DenofGeek will just crash the browser. My parents have the 635 model with 4G and 1GB RAM with no problems so try get that version. If I was buying today though I'd go for a 535 or 640.

Exactly, my mum has this phone and for the price it does everything she needs it for. You all have to remember that not everyone requires a flagship device like the 930 and for basic needs a device like the 630 is perfect.

Yep i have Cyan cover people think its Iphone 5C lol, The Ram is fine on it, no crashes when i use it..loads of phones including androids still run 512 to much focus on it......Win 10 will run fine on 512 it did when i tried the preview of 10 last month I rolled back only because it being buggy but it actually ran better........for $50 no complaints if i paid that little for android id get a load of rubbish!!!

I own a 630 for more then a year, got it for €130, I have to say my experience is rather positive, it never gave me any problems, good battery life, most of the games work perfectly thanks to the quad core, although the 512mb RAM is a bit of a problem for the more powerful games, it has never became slow, unlike most android phones, the screen display is a bit low quality, the space between the display and the edges are big, the phone itself doesn't have much grip to hold on to, it feels very slippery. As my verdict, I rate this phone a mere 6/10 its a good phone but the lesser features can be very noticeable compared to other mid-range phones from Lumia.

I had this phone for a year. It was clearly overpriced; I bought this phone for 10k, but it had no front cam, no flash, no accessories (earphones, USB cable etc), only 512 MB of RAM (RAM doesn't matter for WP, but most buyers expect 1 GB of RAM in a phone priced at 10k) and a very underwhelming user experience with slight lag after a few months of usage (yes, lag in a WP device). But battery life was quite good. This was one of the bad devices of Nokia, along with the L530 and the Nokia X series.