Nokia Lumia 800 bundle now available at Amazon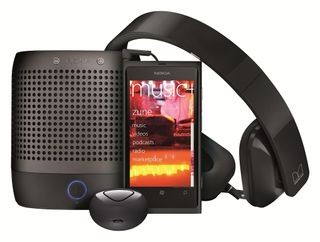 Amazon is now offering the Lumia 800 bundle that features not only the Windows Phone, but the Purity HD Headset by Monster, a Nokia Play 360 portable speaker, and a Nokia Luna Bluetooth headset (our review). Microsoft recently announced the bundle on the official store.
The bundle, which will set the buyer back by $899, is available in both black and magenta. The Lumia 800 included is unlocked and works on GSM 850/900/1800/1900 and HSPA 850/1900/2100 networks. While the price tag may put off some potential purchasers, the bundle does come packed with the right kit for those who are on the move and enjoy staying connected to both contacts and music.
Should you be interested in ordering the bundle from Amazon, be quick about it as there are only a few left in stock (re-stock for both colours on the way).
Source: Amazon - Black (opens in new tab), Magenta (opens in new tab)
Rich Edmonds is Senior Editor of PC hardware at Windows Central, covering everything related to PC components and NAS. He's been involved in technology for more than a decade and knows a thing or two about the magic inside a PC chassis. You can follow him over on Twitter at @RichEdmonds.
I dunno how anybody could justify spending that much money on a phone and accessories

I think if you subtract the price of the Bluetooth speakers, headphones and headset, it puts the phone in the $500 range, which is typical for an unlocked smartphone.

Given that the phone itself is around $600, this bundle is pretty good. Plus, AMAZON! NO TAX! (for most)

Not sure of t-mo bands, but I understand that this particular device would not be ideal for their network, even if unlocked, is that correct??

No, it does not support T Mobile's 3g band which is 1700mhz in the U.S. Sucks!!!!

Which is a shame because I was ready to pounce on this until I found it would only support Edge on TMo. Shame indeed.

I am not familiar with what unlocked phones will work with networks in the US? If, for example, one was stuck on a network that sucks in the way of lacking WP7 devices (sprint), would an unlocked phone work?

In general, yes, an unlocked phone is not restricted to use on only one carrier.
However, it is like buying tires. The car company does not restrict you from buying whichever brand you desire, but it is up to you to buy tires that are appropriate for the vehicle.
Some carriers use different radio frequencies than others, and very few (if any) devices support all frequencies.
Basically, one needs to do their homework when choosing an unlocked device and carrier.

It depends... My HD7 phone is Telstra branded but it was never network locked, so I use it on Vodafone. However, I still have to wait for Telstra to approve updates even if Vodafone have already released them. So basically, being carrier unlocked doesn't necessarily mean it's carrier unbranded.

Sorry, I misread your response... I thought you were referring to updates in there :/ Um, yes most phones will work to some degree on most networks... I believe the US uses a lot of CDMA networks while most other countries are fully 3G (moving to 4G). So you just need to check what frequencies it supports.

im still holding out/dreaming that the reason its only being offered in this bundle (i.e. to a limited market) so that Verizon gets a nice exclusive red cdma variant..

That would be the greatest upset for me. I'm waiting for nokia's next WP with keyboard (portrait would be best like DVP but landscape keyboard would work) But if the 800/900will be available in red. I will buy it in a heartbeat.
Though, if that will happen, i'll still be happy for Verizon subscribers.. :)

I wonder what it means that both the black and magenta are at >10 stock now. Did they not have alot, or did they just sell like hot cakes.

I own a Play 360 speaker and like it very much. Like all recent Nokia products design and quality are great, it sounds a lot better than you might think, pairing with more than one devices is simple and it is very easy to switch. I also used NFC to pair it with my N9 and it worked great. And it comes with a very nice bag for safe transport. I know that the bundle is really expensive, but the products in it are defintely worth it if you intend to use them.

now if this were for the Nokia Lumia 900....then i'd be buying this no questions asked

They need to send some white Lumia 800's over for that bundle. Not eligible for an AT&T upgrade for a while so I haven't much choice but to get something unlocked. I would prefer not having to buy the additional items as I doubt I would use them.
I'm thinking my best chance to get an unlocked white model (phone only) will be through some Australian vendor.
Windows Central Newsletter
Thank you for signing up to Windows Central. You will receive a verification email shortly.
There was a problem. Please refresh the page and try again.