Nokia Lumia 920 Windows Phone listed at Amazon Wireless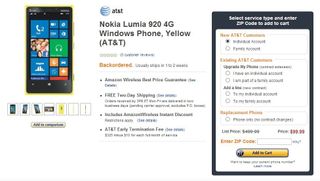 The Nokia Lumia 920 Windows Phone has surfaced over at Amazon Wireless. All five colors are available and the cost? The Lumia 920 on a new accounts or eligible upgrades will cost you $99.99. The out of contract price is $499.99.
Black and White models of the Lumia 920 are listed as shipping within 24 hours. The Cyan, Yellow and Red models are listed with estimated shipping in one to two weeks.
You can find the Amazon Wireless Lumia 920 listings here (opens in new tab) and we've got a discussion on the Amazon Wireless listings going on here in the WPCentral forums.
Thanks, Bugrahan, for the tip!
George is the Reviews Editor at Windows Central, concentrating on Windows 10 PC and Mobile apps. He's been a supporter of the platform since the days of Windows CE and uses his current Windows 10 Mobile phone daily to keep up with life and enjoy a game during down time.
ahhhh nice, Amazon wants in on this action!

I'm sorry to hijack this post, but I have a question. I understand that this phone is carrier locked, but is it possible to buy this phone while having no account whatsoever with AT&T and later unlock it with an unlock code (perhaps from ebay)? If so, I think I might let a friend in the US buy this for me and take it back to the Netherlands next month.
Thanks!

Hi Jules.
Yes, its possible. I am from Montreal, Canada..and drove last Saturday to US and bought one for 450$ + tax + wireless charger, without having any account whatsoever with ATT. The bad news is Ill probably have to return and get my money back..as there is no way in hell you can unlock this phone for the next couple months...So..be carefull what you wish..for, the phone is indeed gorgeous..but are you ready to shelf it for the next couple months?:)



Thanks for the reply! I'll take that in consideration, still have a couple of weeks to see if it will get a sim unlock before buying ;)

Yes it is definitely possible. You can unlock a Nokia Lumia 920 safer and easier using unlock code. You can get the unlock code for a Nokia Lumia 920 from any trusted vendors online. Once you have received the unlock code, you can visit MobileUnlockGuide.Com and get the free unlocking instruction for a Nokia Lumia 920. Good luck.

Backordered? Nokia didn't make enough banana phones!
No mention of the free charger.

Has anyone received confirmation from AT&T about the yellow Lumia 920 being shipped yet?

I'm wanting to know the same thing.

Yeah I have a Red one on order that hasn't shipped yet either

Still waiting on mine to. Talked to them yesterday and they don't have any ETA.

Kinda wished I picked a white one hahaha

I Pre-ordered a Red Lumia on the 7th (Probably not as early as everyone else).
I was told because it was a done during a promotional event (Free Charger) all orders were taken as First come, first serve.
I forgot to order the wireless piece so it seems its the same for all orders. However, I got my shipping confirmation early today (I paid for Next day) and just received confirmation it was shipped about an hour ago. I hope that helps!

I meant, delivered instead of "shipped an hour ago".

Nope. My order status is: "Processing". Expected ship date is 14-Nov-2012. I don't think that's going to happen. This was a botched attempt to quell the masses who wondered when they could get the Lumia 920. Nokia & AT&T knew that they didn't have the inventory and decided to let us pre-order b/c we'd probably wait. They screwed up! If you want anything other than a black or white Lumia 920, they may not be available from any store for weeks.

I still don't have an ETA on my order. I ordered on the 7th as well. :(

Nothing that I know of. I ordered the cyan blue and wasn't told it was backordered till I called them myself and they wouldn't even give me an estimated ship date.


Yeah, we need chargers now!

min they saw that this phone is selling hot, all around the world, eveyone wants to be part of it. Walmart announced that, they are selling the phone for $49, now amazon and sprint. Good for Win Phone 8
Got an email from ATT yesterday confirming that the charger will be shipped soon.

Anyone have any inside info on Black Friday deals for Amazon Wireless? I'm holding out hope on a sale for the 920; that's where I got my Focus 3 years ago for 1 cent.

Off contract from AT&T is $450

I hope this year black Fridays brings off contract deals as well, because it's usually new contract deals only :-(

820 is also listed now has well

I went to the local ATT shop to get a 920 this past Saturday, none of the cyan in stock. I am suppose to get it shipped direct from the warehouse and have it within a week. Still waiting for it to ship. My son did get his black Nokia 920, but charging plates were out of stock. I did get a notice that item has shipped.

That's cause no store has Cyan in stock unless it's a Microsoft store. Cyan and Yellow are online orders only

im guessing that the unlocked version wont be sold through amazonwireless but through their main website
amazon. com?

Minimum data plan required is the 3 GB for $30 plan.
I guess I can't go with Amazon Wireless if I want to keep my 200 MB for $15 plan.

Yeah the Best Buy site used to be like that didn't have the a check upgrade availability. They finally added it. What I did a few years ago is selected the plan on their site, then called AT&T and told them I just got a new phone but dont want to change my Unlimited plan.

Hope they are acutally available. I tried to buy the White from BestBuy.com because stores will only be carrying the Black (except in select markets, no clue what ones I had the online Mobile search all over). Basically the .com warehouses at Best Buy have 0 of the colored versions and only have the Black in stock. It seems that AT&T is trying to fill their orders of color phones first to keep customers buying them directly instead of retailers. I sacrificed and got the Black from a BBY Mobile and had them price match the $49.99 Walmart price so saved $50 but didn't get the Color I wanted.

If i was to order this out of contract from the UK, would it still work here?

Got my Cyan on Friday, my red and chariging plates on Monday. Wordaapp!

What is with the $499 prices everywhere except for straight from AT&T?! AT&T's no-contract price is $449. I don't remember seeing that it was any type of promotional price. That's annoying because I was looking to get my phone at either Amazon or eBay Wireless or the Microsoft Store and they all show the extra $50 price, $499, what gives!?!

If I'm not mistaken Best Buy is showing $599 and Walmart is $699

They say that the unlocked price is 500$. But, do they mean 'Unlocked" or just "Out of contract." Because they say "Unlocked." If it was just "Out of contract" then saying "unlocked" would be false advertising.

Yeah it is only "Out of contract" as far as I have been able to figure out.

A question from a desperate wannabe Black Lumia 920 buyer from Venezuela: While I know that currently if I buy the 499$ phone it will not work in my country, is there any chance to (hopefully legally) unlock it in the near future?

Yes, AT&T usually releases the unlock code after some time.
In case of Lumia 900, they did it in about 6 months, I think.

I'm still sticking with the 49.99 WalMart deal.

The be noticed you have to go black or yellow..too many black phones...

Yes it is definitely possible. You can unlock a Nokia Lumia 920 safer and easier using unlock code. You can get the unlock code for a Nokia Lumia 920 from any trusted vendors online. Once you have received the unlock code, you can visit MobileUnlockGuide.Com and get the free unlocking instruction for a Nokia Lumia 920. Good luck.
Windows Central Newsletter
Thank you for signing up to Windows Central. You will receive a verification email shortly.
There was a problem. Please refresh the page and try again.