Nokia patents foldable battery. Could be in your smartwatch someday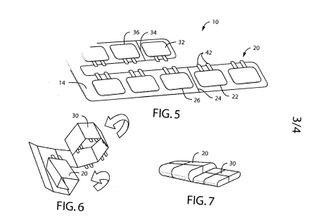 Wearable devices are the next big thing in consumer electronics. We're already seeing the beginning of the future with things like the Fitbit family of devices and Samsung's recent "Galaxy Gear" smartwatch. Rumors of devices from both Microsoft and Nokia have picked up recently. Supposedly, we've even seen what is potentially an entry from Nokia in the smartwatch market. Now, a recent patent filed from Nokia adds more fuel to the fire for a future smartwatch.
This patent was filed in March and aims to solve a problem that will potentially arise with smartwatches. The patent focuses on creating foldable batteries, an idea that can definitely find room for implementation in wearables like smartwatches.
Nokia is no stranger to pushing the boundary with electronics. This concept for batteries is no exception to that Nokia spirit. We're looking at a handful of foldable cells, these cells can be folded to form an asymmetrical battery that can better utilize space than conventional batteries. You know, like in a smartwatch.
The applications for foldable batteries could easily expand beyond smartwatches. What other scenarios do you envision as being useful for such technology? Let us know below.
Source: European Patent Office, Via: Daily Mail
Windows Central Newsletter
Get the best of Windows Central in your inbox, every day!
Wonder if I can get cancer from this.

It cures everything, like magnet rings.

I can't say I've suffered from magnet rings ;)

I'm sure there's easier ways... Try sun-tanning :P

As long as its not for that fugly watchlet they prototyped.

How about smart contact lenses? Blink twice for telephone three times to text.

And when you accidently sneeze, you hang up/erase your text.

Why don't write about the new Gameloft game ""Kingdoms & Lords"?

Because it wasn't released yet?

Except it has been in some regions apparently. A quick internet search would have showed you that...at least that was the first thing I did when I saw this comment http://www.winphoneviet.com/forum/index.php?threads/60847/

So did I. Including Gameloft's own official website. Nothing came up. And you're right, it's not available to all regions. I had to change it to Vietnam to be able to get it.

I am from Mexico and I can download

I'm in Europe and we can't. Why, I have no idea. Not that it matters now anyway lol

Because you didn't send us a tip! What's the link for it? I can't find it.

http://www.winphoneviet.com/forum/index.php?threads/60847/ tipped you in the email too

Credit the OP though, I only found it because they mentioned it being released in the first place.

If this is put in a watch band I wonder if it would end up acting like the magnet bracelets people buy (attn: Phil Mickelson).

I don't see that it's intended for a band, but to fit in non-square spaces. It would be used in the folded state when the pins line up like in figure 3, no?

Probably see these batteries appear in the prototype smartphones with curved displays

In the past Nokia show a prototype phone with flexible screen, may this kind of battery will be in the future phone too .

Seems like batmans utility belt

Seems like this could work for the iPad smart covers. Thin batteries in each of those little slats. Add some life to a tablet.

Nokia patent bud, apple can go fts

Or maybe, say, a lumia tablet?

Worst comment of the day!

That's exactly what this article is talking about Sherlock Holmes...

In a totally unrelated note, Apple plans to introduce a revolutionary, never before seen foldable battery in the iPhone 7 in two years.

They also have plans to release a revolutionary means of communication between two smartphone by rubbing a Bluetooth style sensor with another one called "NFC" (never fuc£ing copy)

Don't forget about the iAirCharger

Here you go: http://www.patentlyapple.com/patently-apple/2013/07/apple-prepares-battery-designs-for-flexible-display-devices-while-their-maps-may-gain-a-few-minor-features.html

Is this a patient that Microsoft is taking ownership of?

MS will not own any of Nokia's patents except for design patents that belong to the Lumia and Asha brand. They will be licensing a great deal of Nokia's patents though.

Microsoft has an 10year license to Nokia Patents when their deal goes through...not ownership of.

Nokia you guys are great!

EDIT: Nevermind. Someone asked above.

arm band. like the ultimate warrior

Why not make a phone cover made of this material, maybe a cover that works for wireless charging and also has extended battery in the form of multiple batteries folded together inside the cover

Well now I'm thinking about other possibilities. I don't know if it would be better to just make one thin long battery inside the cover. Either way, would be cool to see a wireless cover that also has an extra battery in it for extended battery time.

If MS finally buys Nokia will MS own ALL Nokias patents. Or just some, as somebody above mentioned only Lumia and Asha design related??

As somebody replied above... No.

I think this would be useful in clothing applications; for examples, smart gloves or heated socks. Basically, situations where you could use batteries that can adjust to the surface easily.

Longer lasting batteries on smartphones! Imagine a smartphone that lasts as long as a feature phone! One charge a week

Smart watches are useless and serves no purpose, and lets face it tech companies are terrible when it comes to designing anything that matches the current trend in fashion so why put them in charge of designing wearable devices? Now put this folding battery tech in the following however and I'll be buying in a heartbeat: * Clam shell device with foldable screen - so normally a 5 inch smartphone but can fold out to be a large 9 inch tablet in one piece (none of the dual screen silly-ness like what Sony made), then line the entire shell with this foldable battery for extra long battery life. Say bye bye to holding a 6 inch phablets to your face like an idiot (especially if you are a small person) - a true phone/tablet convertible hybrid. * Rollable tablet/scroll - roll up a large 13inch tablet into a tube for easy carrying.

I bet Nokia with get approached by the Pentagon for this...seems like it would be useful in military applications.

That is for their smart watch ? Sweet :)

android watch = malWEAR. haha get it?