Nokia pushes out update for its City Lens Windows Phone app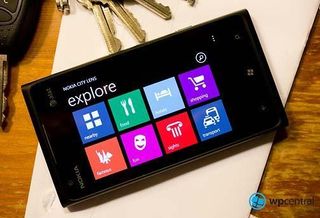 Nokia has pushed an update to its City Lens augmented reality app, which is available from its collection in the Windows Phone Store. As is generally the case with Nokia app updates, no changelog is presently available. We can only imagine that minor improvements are included as no big features have been highlighted.
Last time we looked at City Lens it was sat at version 1.3.0.1632, which has now been bumped to 1.3.0.1666 in this latest roll out. As is the case with the last update, we don't believe this is the large update the manufacturer has promised Lumia owners that will include 3D icons and more.
As mentioned above, we're slightly unsure as to what's new, but if you happen to notice anything through app use then do get in touch or let us know in the comments. You can download Nokia City Lens from the Windows Phone Store (Lumia handsets only).
via: Plaffo; thanks, Dario, for the heads up!
Rich Edmonds is Senior Editor of PC hardware at Windows Central, covering everything related to PC components and NAS. He's been involved in technology for more than a decade and knows a thing or two about the magic inside a PC chassis. You can follow him over on Twitter at @RichEdmonds.
I got the notification this morning for the update. However, I clicked on it to view the description. Once I returned to the update list it was gone. After clicking on the update link provided through the WPCentral app, the marketplace tells me it's not available for my device. I require a software update.

*Software update, exclusive to provider, or not available in my region. USA, AT&T, Lumia900

I'd say we are having marketplace woes as of late

Skype + .NET = SkyNET We've mentioned it before, guys. It's happening. Bloody rapture is here!

That is pretty weird. You've tried the old trick of rebooting the device, right? I never received such notification, but managed to achive an update via search.

Which now wont start due to an error...

I tried to update later in the morning and it succeeded.

The store is messed up big time. I apparently had 3 updates according to the tile this morning but when I opened it only found 1 and since yesterday have had an update to Kayak which fails to install again and again. Just like the store on Windows 8 which shows phantom updates, MS doesn't seem to know what they're doing here.

I don't understand the marketing of Nokia.
They used the Lumia 920 with this app at their conference, and they said that with a Lumia 920, you'd get augmented reality, and blablabla...
But since the app is already available for Lumia 900/800/710... What's the point?
If they wanted to speak about the 920, why didn't they just show its screen, the features of the OS and other stuff?
I'll never understand marketing.

I thought they said something like it will be integrated in the OS, not be an app anymore. That's what I made out of it anyway.

Ok, so what?
600$ for a new phone just because that app is no longer an app, but it is integrated?
The lumia 920 is an AWESOME phone, it's a shame they put so emphasis on these stupid little details, instead of focusing on the phone itself.

I would agree that the presentation was a rambling, unprofessional mess littered with technical issues, but I would stop short of saying that they did not focus on the phone itself. The wireless charging, PureView image stabilization & low light performance, NFC usage with other devices, phone colors, PureMotion HD+ with the high performance sunlight mode, and super sensitive touch screen were all discussed at length. Nokia's apps are also part of their differentiation with the competition. The fact that City Lens will now be part of the seamless workflow of WP is not a stupid detail. The integration of Windows Phone with its services are one of the best features of the OS.

Not everyone is upgrading from a Lumia and already has this app. I had not seen it before, and now it's one of the things swaying me from the 8x. People forget that their experience is not the same as everyone's, and marketing is sometimes not aimed precisely at them. :-D

Sergio - Are you aware of every single app in the iOS store? How about the Google Play store? Didn't think so!

The presentation featured an augmented reality app/service that Nokia provides to its consumers - something that the other oems either don't have, or never highlights as a service. For those viewers not aware of such an application, the demonstration was appropriate.



Got a weird message about reviewing the terms of usage and personalizing my music experience for Zune and then booted back to the city lens app page after accepting. Pretty sure the app didn't update

Got that as well, didn't accept, no update. I closed out of that, reopened City Lens app and it then downloaded? It was then on kilometers instead of miles so I had to adjust that, all seems well now.

Got it for Rogers Canada Lumia 900

Same problem here in India...update is available but nt downloadable...using lumia 800..

wtf!? I have a lot of problems with the market too... A lot of apps such as Adobe Reader won't update because "my phone software need an update or whatever..." much of the apps you (wpcentral) say is being updated (viber, adobe, city lens) is not or disappear...
Unlocked ROGERS' Lumia 900, Canada

I had the problem where the update disappeared for me too and then it said it was unavailable for my market. I just restarted my phone, followed the link to the app from this article and it allowed me to update. I just think it was being a bit special today.

Sadly, as a Lumia 610 user, I can't use this app. Don't have compass on my phone :(

tried to update gave me an error the wmpoweruer link took me to the marketpace app not founf used qr code here a few seconds ago now to point says pending hopefully it will go on through its really slow loading though must still be having issues.
its dowloaded but hasnt started installin yet now it has halfway installed an slowed down again now done! took a couple of minutes or so

L 900

Got the update, no problems whatsoever. Lumia 900 on AT&T.

Lens still inconsistent in my area, bay area california.

Wont show place real clsoe to me and only shows places like 2-4 miles away.

Not very good if i am standing in an area and looking for a place within walking distance.

btw, updated fine. att 900

Clicked the link, it shows the new version 1666. But it says it's not available for the phone i am using :o Lumia 710 India.

The 710 doesn't have a compass so it won't work with the 710

First Adobe Reader disappears from my marketplace and I'm still stuck on version 9 after accidentally downgrading and now Nokia City Lens disappears. Both say the apps are not available in my region or my device. Wtf is going on?

I'm running an unlocked Telus-branded Lumia 800 on Fido in Canada.
Windows Central Newsletter
Thank you for signing up to Windows Central. You will receive a verification email shortly.
There was a problem. Please refresh the page and try again.