Nokia releases Play To beta for Windows Phone 8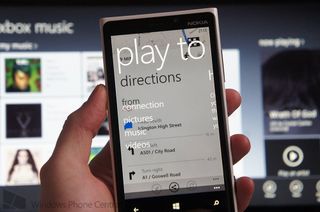 Nokia has made its Play To app available as a beta for Windows Phone 8 devices. Those who own new Lumia smartphones will be able to enjoy the wireless streaming experience that was present prior to Microsoft unveiling the latest version of Windows Phone. We last touched on Nokia Play To earlier this month when it was revealed that the company could be waiting for Mobile World Congress before releasing the app (publicly or as beta).
Play To is now listed (opens in new tab) on the Nokia Beta Labs website for download. If you're not familiar with the app, Play To enables consumers to stream content from their Windows Phone to compatible hardware. Televisions, Xbox and computers to name but a few. Videos, music and photos can be fired from the Windows Phone to other installations over the WLAN.
Unfortunately, if you don't have the required firmware installed (Settings > About > more information) on your Lumia Windows Phone 8 device, you wont be able to enjoy the latest experience. Here's what you'll need to be running:
Nokia Lumia 920 - PR1.1 (1232.5951.1249.0001)
Nokia Lumia 820 - PR1.1 (1232.5951.1249.0001)
Nokia Lumia 822 - PR1.1
Nokia Lumia 810 - PR1.1
Nokia Lumia 620 - Any firmware
As well as the above, Nokia also reveals that the app does not yet work as a digital media server, meaning you won't be able to connect your Windows Phone 8 Lumia device to the PS3 just yet. It's a feature the team is reportedly working on to include in the future. To accompany the PS3 limitation, music streaming is also limited to local content which is stored on the device. Not a huge problem for those who have a number of tracks stored for offline playback.
You can download Nokia Play To from the Windows Phone Store, using the QR code below. Source: Nokia Beta Labs (opens in new tab); thanks to everyone who tipped us!
Windows Central Newsletter
Get the best of Windows Central in in your inbox, every day!
Rich Edmonds was formerly a Senior Editor of PC hardware at Windows Central, covering everything related to PC components and NAS. He's been involved in technology for more than a decade and knows a thing or two about the magic inside a PC chassis. You can follow him on Twitter at @RichEdmonds.
Tried it. Works flawlessly imo

Now if I could get a good DLNA client so I can stream from my PS3 media server

It's just so embarrasing to know that even as far back as the Nokia E71 Smbian S60 (!) had DLNA support for streaming music-and even the late lamened N900 running Maemo Fremantle was right on top of the DLNA game.
The best we can get out Microsoft is a slightly functional Windows Home Server Controller whose audio plyaer support is just so tragic when comapred to what is out there for Android and iOS-and of the few of the so-called DLNA apps in the WinApp Store - quite frankly, they're horrible. And those streaming apps that may stand a decent chance feature-wise, you have to install separate server code to make 'em work--WTF? I already HAVE a DLNA server, I don't want/need another one to have to care/feed. Thankfully my SGH-T899M supports 64 GB microSDXC and (gag) Windows Media 10 Lossless.
Now if only MSFT can support assignable alerts to specific SMS numbers I'd be a happy camper-if the second iteration of Blue for Windows Phone 8 doesn't deliver it, then you can write Microsoft off as Google/Samsung and Apple will squeeze them from the top and Nokia Asha/Samsung Tizen/Firefox Phone will squeeze them at the bottom.
To think that even as far back as Windows Mobile 5/6, there were apps to allow assingable alert tones to SMS messages, and this is one of the highest requested features the Windows Phone crew haa been tasked to deliver-and they have failed miserably.


Only a few of my music files show up. Blast.

Glad Nokias can do this now. I've been flaming everywhere about HTC not updating theirs. They keep saying, buy another one from the marketplace, which we all know there isn't one that utilize these phones as the Nokia Playto or Connected media does.

MY firmware ends with 1004 and it installed OK for me.

Nokia i love you. This is why i buy your products. Works perfectly for me.

I don't see it on the store. Did I miss something?

Yes, there is a link to Nokia's beta-lab website. From there you'll find the download

In most cases of a nerwly released app, it doesnt show up in the search. Using the direct link on the website is the best way to get access to the download.

Sucks that you have to have a computer to download these apps from beta labs... Why can't they just give you a link to click instead of making you scan one of those fu**ing QR tags.

Agreed, I'm viewing this on my Nokia 920 and have to grab my partners 900 to pull up the qr code to scan. Highly annoying.

You could always use the front facing camera and a couple of mirrors :)


Use the search button on your phone, hit the eye button and point your camera at the QR code above...

You can't manually search for it in the store

Downloaded the app directly from the More section of this article. Is it not available for all?

Use the search button on your phone, hit the eye button and point your camera at the QR code above...

You can't manually search for it in the store

Thanks for sharing how to use WP for other users. I was about to do this myself.
I think MS has to remember not everyone is gifted with analyst like skills in tech.

It states in the article to use the QR code (or visit the Beta Labs website). It's not that difficult?

Can someone post a direct marketplace link.

http://www.windowsphone.com/s?appid=8257b398-f4bf-4483-97c7-6fd6a1e60bbf

should cover it...

http://www.windowsphone.com/s?appid=8257b398-f4bf-4483-97c7-6fd6a1e60bbf

Installs without a problem on 822, but when launching gives not supported error.

This works great with the PlayTo Receiver app on Windows 8. Movies and Music streamed right to my Surface from my Lumia!!! Awesome! https://www.windowscentral.com/e?link=https2F%2Fclick.linksynergy.co...

Hey, I too didn't know the Receiver app existed. +MegaPoints to you for mentioning AND posting the link !

You know what else works great as a PlayTo receiver? Windows Media Player. ;)

I mean, this is helpful for Windows RT, but still.

Yes, Windows Media Player also works. each has their advantage, you can't watch a video in snapped view with Windows Media Player, and you can't play music in the background with the PlayTo Receiver app.

Hmm, can't get this to work. My PlayTo Receiver app cannot see my Lumia 920. And the phone cannot see the PC. Not much to configure - as far as I can see ...
Any ideas?

The devices need to be on the same Wifi with sharing turned on in Windows 8. http://windows.microsoft.com/en-US/windows-8/fix-problems-play-to
You should initialize the connection within the PlayTo app on your phone after launching the PlayTo Receiver app on your PC/Tablet as shown in the video inside the app.

Thanks, that's what I did. Does not work here ...
EDIT:
Disable/enabled sharing again.
Then I tried to record a short video with my phone and display it on the PC. It worked! Quite choppy, though ... And the PC App crashed a few times.
None of my pictures would show ...

Thanks giantveggie didn't know that app existed. Will enjoy that

I gotta say... Nokia is really hitting it out of the park these days! So impressed by them.

So what devices does this work with? I am looking for a full home music streaming solution, but not sure what it will be yet. So far I have been using a Sonos device, but am open to other ideas.

What is the PR1.1 FW? Is that Portico?

Great...now I'll have to wait for Verizon to get off of their butts and release it for the 822. I'd probably have better luck panning for gold in my shower.

I wonder what's a good receiver for win7.

Doesn't work with my LG-TV, it loads forever and ends in disconnecting.

WOOOO HOOOO!!!! It's about Fraking time!!!
I just loaded it on my L810 and it's working to my Samsung Smart TV. Music, pictures, video, so far so good. I'll have to delve into it later to find any issues.
Oh, my firmware is: 1532.5951.1250.1004

Is there a way to make it work like Apple airplay does with 3rd party apps such as Rhapsody?

How do i get the correct firmware?

I have tried. I connected to my Sony Bravia TV. The connection was quick. I can see the photos in the my TV, but when I switched between the pictures was not smooth. It was slowly. The video shering was working, but sometimes I couldn't play the video. So this app need update, becuse these bugs.

The app depend on your Network Speed.

"This phone uses features missing on your phone * 1280x768
* 800x480 "

Works, would have liked if could send music from Xbox music, but yet again it is Nokia who pushes the os to be better, not ms and their apps.

Installed fine, but I cannot see any of the Songs I downloaded with my XBox Music subscription. Makes it useless for me. This sounded like a great way to play my Xbox Music songs to my sonos system

Connected to my XBox. Works well!

My windows phone 7 allowed me to stream from my nas drive to my phone... Why can't i do this with my Nokia? Or can? Very annoying!

This is what I was hoping for... Play from media server TO my phone.

Who provided your WP7 phone? It obviously wasn't Nokia-I believe LG, HTC, and Samsung may have deployed a DLNA client for WP7; but with WP8, they're all missing in action due to the new screen-size and other various 'no longer supported' changes in the WP8 code base....

Unfortunately it won't work for my needs at the moment as it needs the full media server functionality to work with my Sony Blu-Ray player for streaming. It sees it and connect, but the BD player doesn't show a server to play from. Hoping the update process to add this won't take too long.

Was able to stream pictures to my Xbox, though swiping through was a little slow. Videos didn't play- the video name would show on screen then nothing. Trying to stream music immediately crashed the Play To app on the phone. I'll keep playing around with it though.

Still not got the new firmware for the 920 EE UK. Anyone know when it will be happening?

Almost perfect
I was surprised how easy it is to use it: just connect to wifi, and with one press connect to required device (the list of all devices appears automatically) and... you can enjoy all your media on huge screen and/or in HIFI quality – just fantastic !!!!!
but there is no rose without a thorn I noticed significant increase in battery consumption even if I am not transferring any data (as if it was constantly using wifi) And, as it was stated, you can not transfer anything else that your media library (so no Mix Radio, Utube, or media in any other apps) – big disappointment

WILL NOT WORK ON MY 822, PLEASE HELP

for some strange reasons some videos plays right, some not (even if they play ok on the phone), at least the ones that I recorded with my L920 works fine

"This phone uses features missing on your phone
* 1280x768
* 800x480 "
How unprofessional is this really? How is it possible to exclude 720p when the app is compatible with 1280x768? And WHY OH WHY is this NOT built into the system as on iPhone and Android?

I'm beginning to be very very tired of the Windows Phone platform. Apps locked to Nokia only, some apps not working depending on screen size and other stupid stuff such as one single volume for the complete OS. Windows Phone 8 is STILL missing Turn by Turn navigation as they promised would come! Was it all maby one big lie? I live in Sweden and NO the Nokia Drive (Beta) app is not available here!

Is Microsoft even beleve the OS will gain any more popularity than some percent they must really fix this!



Why would it support 720p, when it's Nokia only, and Nokia's devices are all 1280x768 or 800x480?

If you want DLNA Play To support, complain to HTC. They had their own app "Connected Media" to do that in WP7, it's not Nokia's fault that HTC hasn't refreshed that for WP8.

I really like Windows Phone and it is my choice of system, but I cant really understand people who support brand-locked apps. Is it really that hard for you guys to understand that this is an effective way to make the buyers confused, angered and differentiated. Even we who like Windows Phone got different opinions on this, it is really bad.
I work with app development for Windows Phone and offers a variety of devices including the Nokia Lumia 920. My favourite is still 8X which I think is prettier and smoother. The differences in terms of app really pisses me of though.


I'll ignore the part about limited exclusives because I disagree with you fully.

In this case though, it's even more simple than that. There's ZERO built-in support for DLNA. In order for an app like this to work, it has to interface directly with the device firmware. Nokia isn't going to be able to communicate with the Wifi hardware on a HTC device, just like HTC's "Connected Media" app has never worked on any other phone (and the same goes for Samsung's AllShare app).

So, like I said, you need to bug HTC about this if you want the feature on an 8X.

I don't have that exact firmware but it works for the most part. Videos play back fine, alongside pictures but a lot of songs are greyed out. If that gets fixed it will be perfect. Although, I do wish that MS would integrate this functionality at the OS level for any type of media.

This functionality (in app form) should have been implemented by Microsoft into Windows Phone 8. Hopefully HTC is willing release a PlayTo app just as Nokia.

Does not work on my Lumia 822, probably because we need the Portico update. Thanks for sitting on that Verizon, the best selling WP8 device on your network and you can't get it together to update it... Its only going on 3 months late...


received the message: we've updated the dev center app. Go to the store to install the update.... But there is no update in the store ;( Cannot log in now !

Nice app, but i would love it if i can select music from the plex server i'm running in my network. The if i select the music to play and it is streaming i should be able to close the nokia play and the music should continue to stream to the dlna device saving battery of my lumia

On a related note, I just discovered that Win8 (RT) has a MediaMonkey app. OMG, I think it will play my FLACs. Finally!!!! Have had that on my PC since XP, so this is a godsend.

I don't understand: you can buy a Bluetooth bridge for your ht receiver and stream music, no problem. But streaming it through play to violates Xbox music DRM? Maybe there's a good reason for it, but from where I'm sitting....silly.

If using the WPC app swipe to more. I was able to get to it on my 8X but cannot download because limited to 1020x768 and 480x800 wxga lol.

Keep in mind this app is in beta form and many of these issues will undoubtedly be worked out before final release.

This doesn't work for me, can't stream to either my Xbox 360 or my Windows 7 PC using WMP. My 920 thinks it's streaming, but nothing shows on either the Xbox or PC. Would be helpful if they had more help text. Also don't like that you have to exit out of the app and restart if it can't make the initial connection.

AWESOME! Works flawlessly. Recognized my TV right away was sending pics to it from my 920 in seconds. Who needs Airplay? Thanks Nokia!
Windows Central Newsletter
Thank you for signing up to Windows Central. You will receive a verification email shortly.
There was a problem. Please refresh the page and try again.