Nokia shuts Shanghai flagship store, reports pointing to lack of consumer interest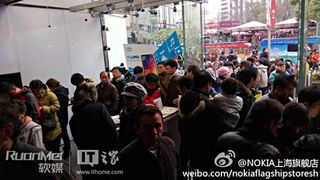 Nokia previously announced plans to shut down the flagship store in Shanghai China, but now the Finnish manufacturer has closed its doors and ceased to accept customers at its brick and mortar establishment. The flagship store in Shanghai is the latest in a series of shutdowns on Nokia's retail front.
It wasn't a successful endeavour, according to TechinAsia. The website notes that the "Nokia Flagship Store SH" Sina Weibo account had only 928 reposts of its "Goodbye Shanghai" post over the last three days. The account itself only accumulated 4,251 fans - not exactly a massive following.
It's odd as the report states that the Nokia Shanghai store opened in 2007 when Nokia, at that time remained China's top phone manufacturer with the Symbian platform. This was before iOS and Android took off. Nokia has since fallen behind in China and has only started to regain traction with Windows Phone 8.
We've previously reported on this very store being swamped with consumers who were actively looking at Lumia Windows Phone hardware, but it would make sense for Nokia to cut costs where ever possible, especially if such activity was not maintained after a product launch.
If the store proves to not be as popular as local retail and mobile phone specialists, Nokia would be better off spending the funds on marketing, partnerships and support at other establishments. That said, Windows Phone has been performing rather well in the competitive and important market, even taking more shares than iOS.
Nokia is continuing to tackle China with the Lumia 720 and Lumia 520, two new Lumia Windows Phones that are launching in multiple regions. How Nokia and Microsoft will be able to continue pushing Windows Phone will be interesting to monitor, especially with the growing pressure from Android.
Source: Sina Tech, via: TechinAsia; thanks, Reui, for the tip!
Rich Edmonds is Senior Editor of PC hardware at Windows Central, covering everything related to PC components and NAS. He's been involved in technology for more than a decade and knows a thing or two about the magic inside a PC chassis. You can follow him over on Twitter at @RichEdmonds.
Depends. If you like ecom - than yes. if you believe local stores are the future - no :)

I just hope the top level executives from Microsoft have a different kind of plan for 2013.
the pace from the previous plan was veru slow

I seem to find my own in the picture
I still remember the day I queued up to buy lumia 920
So sad :_(

How big was the line that day?

Without kidding, the line was super long
That day is a winter day, but I felt very hot

I can only imagine as images are misleading.

Bye, Nokia China, bye, Shanghai.

To the edit, Nokia has nota gained anything with Windows Phone, anywhere. It has only lost.
It's too bad really. Just two years ago they dominated Chinese market. Now they have dropped to 5th brand after switching.
Windows Phone so needs to move faster an provide the needed platform to build hardware on.

Yep, it's just sad, although devices like 520 should improve the marketshare.

You are just trolling because if you were not, then you would realize that before Nokia shifted to Windows Phone, Symbian was already a burning platform and loosing ground fast and Meego was also proving to be a dead end. The one who said this was the previous Chairman of the Board of Nokia! You can't know better than the previous Chairman of Nokia in your analysis therefore you can only be a trolling.

It wasn't for choosing to partner with WP that their market share dropped, if they stayed with Symbian it most likely had been worse. They were falling faster prior to WP. Nevertheless, with all the good news in WP lately, with it starting to gain parity with the dated OS's and still maintaining its charisma, butthurt ex-Nokia fans tend to rejoice with such articles, they're getting rarer.
Personally with MS opening high street store I don't see the point in Nokia wasting money with theirs.

+1 Wish the people that spout crap like the OP will learn that correlation DOES NOT equal causation.

I think the market domination and the store shutting should be seen as two seperate things. Nokia phones are available from a multitude of sources, whether on-line or in other high street shops so having your own brand store isnt a particularly wise choice, especially with such a limited span of products i.e. your own make mobile phones and accessories.
They would be competing with mobile stores next door that not only stocked their products, but also other makes too. I know where I'd go if I was looking for a new mobile and hadn't made up my mind on make or model.
I suppose potentially the Nokia shop could have had cheaper prices, but this is often not the case - like our local Apple store has either the same price as many other shops in the high street or other shops are doing deals like get a free case, etc.
So to me its not a "doom and gloom" sign for Nokia, just common sense from the punters who shop around.

Yes, the two are separate.

With regards to pricing you mentioned, here in my country, the Lumias can be bought cheaper elsewhere than in Nokia stores. I understand why Nokia does not undercut the prices of their retailer partners. That's Nokia's way of protecting their partners.

The Chinese market is extremely important for Nokia, I hope they succeed in this country.

I hope they succeed everywhere.

They need to get phones out there. But release / available and models never seem to fit. Better speed things up or loose to Samsung. Time is of essence.

Right now Nokia sells more phones locked to carrier than unlocked. This was not the case when this store opened. So closing it only proves that very few people buy unlocked now.

On opening day, people came for the free snacks and tea, not Nokia.

It opened in 2007, before Windows Phone.

Nokia and MS and WP8 has a long up hill battle to fight.. Its not really about getting the word out there. Its about convincing people to pull out their wallet and commit to change. Its not just about buying a phone. It's about buying an ecosystem.... When you go car shopping, u don't just buy the engine, you buy the whole vehicle, the warranty, the service, reputation of the brand. MS has to convince people to make a long term commitment to WP8 and future releases. I got alot of compliments on my 920 but can't convince anyone to drop android or iOS to WP8.its great and fresh but its not enough to convince them to change. If a male or female that looks better than what you already have, would you divorce your spouse for him or her?? We are basically asking the same from iOS and android users. ( I said basically. Because we are in some ways married to the whole package. Not just the device). I made 2 huge sacrifices by jumping from iPhone to the windows OS. IMessaging with my kids while they are at home and I'm at work and can't get work emails on my phone now. I am overall very happy with it though. Got kids using Skype and no work emails means I have an excuse to not want to work..

It doesn't make any sense for Nokia to have physical stores, because all they sell is Mobile Phones. Apple, Microsoft and even Samsung are able to have physical stores because they have a wider product range from tablets, laptops, phones through to TVs, software and computer games / video game consoles (Microsoft).

If anything, Nokia should be selling its phones through Microsoft stores, 3rd party phone retailers and carriers.

The Chinese probably think iPhone is the "king of cool" like they do McDonalds.

No android is the king of cool in china...they can hack away at it and make fun knockoffs like the goophone i5 :3
Windows Central Newsletter
Get the best of Windows Central in in your inbox, every day!
Thank you for signing up to Windows Central. You will receive a verification email shortly.
There was a problem. Please refresh the page and try again.