Nokia updates City Lens app to Version 2.x with new usability features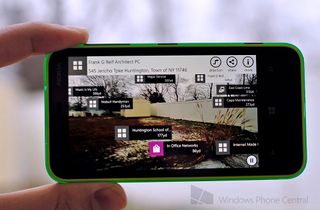 Nokia has just pushed out a nice little update for their popular augmented-reality app City Lens (which ironically is not a Lens on Windows Phone 8). Bumped up to version 2.0 (for WP8) and 2.1 (for WP7), the update brings a host of new features that in our opinion, go a long way in making the app more user friendly.
Both versions get the same new features, including:
Sightline feature lets you switch your view to only what's in your direct line of sight.
Quick information. Now you can quickly view a place's address without leaving your camera view.
Freeze view lets you pause your view and study your options without having to keep your phone pointed at the target.
Pin your most common searches and favorite categories to home screen so you can find what you are looking for at a glance.
We're big fans of the "Quick information" feature, which allows you to tap a location and instead of directly opening Maps (a slightly time consuming process), it will now display a little bar with more information about the establishment. Once you're committed to the joint in question, you can now launch Maps for directions, photos, reviews and whatever other info Nokia can pull down. That's a big time saver.
The other great feature is "Freeze" which allows you to pause the augmented-reality view so that you can move the phone down to a more comfortable position (or show a friend). It's pretty ingenious and even allows the above "Quick info" feature to still work when paused.
Pinning and Sightlines are just bonuses.
Overall, City Lens is consistently progressing to be one killer app. It's great to see the continued updates refine the experience, often based on user requests and we can see ourselves start to use it more and more (as opposed to it being more of a gimmick).
Pick up City Lens for Windows Phone 8 (v2.0) here and City Lens for Windows Phone 7.x (v2.1) here in the Nokia Collection. Thanks, bawboh86, for the tip!
Daniel Rubino is the Editor-in-chief of Windows Central, head reviewer, podcast co-host, and analyst. He has been here covering Microsoft since 2007 when this site was called WMExperts (and later Windows Phone Central). His interests include Windows, Microsoft Surface, laptops, next-gen computing, and for some reason, watches. Before all this tech stuff, he worked on a Ph.D. in linguistics and ran the projectors at movie theaters, which has done absolutely nothing for his career.
Not only Verizon, just got for Att too

Ditto on the "Lens Feature" observation. It is rather odd. I'd even think it would be cool to be able to take a photo with the overlaying information.


I can't find the sightline option either. Also noticed it now has 3 views....portrait list view, AR lens view, and now map view when holding it flat landscape.

Didn't it have those 3 views already?

The map feature was advertised but didn't exist till this update.

it was there before i've used it many times before this update maybe it was in the beta version but i'm pretty sure it was there before

Ok am I retarted because I cant find the "sightline" feature AT ALLLLLLLL

For really though, can anybody find the sightline feature because I've been waiting for this since it was shown last september

Sightline seems to be on by default for me now that its updated, although I can't find where to switch it off (if thats even possible)

I cant find any sightline option either.

I just updated to this and not even 10min later now my phone shut off out of nowhere for the first time ever in the 2 months I owned it and wouldn't boot back up without a volume button and power pushed at the same time. Has me wondering now if this update could be buggy. I'm curiou to see if this is just a random problem with the phone or this update is involved cause the time is very odd.


I think it may be your single case, as I updated before the article was posted and still have had no issues with my phone. I'm using a white AT&T Lumia 920.

The only downside is that it lags a bit when panning...
Lumia 920. It need a bit of optimization :)

Where do people live that this app is useful? I live in South Florida USA and selecting "shopping" and panning around yields a half-dozen nonexistent "locksmiths". Nokia's POI data is the worst ever and this app is useless without quality POI data.


Works perfect in Indiana!

Nor-Cal works perfect here

Amazing here in Sweden. I have lived in Stockholm for 20 years and found places near me i never knew about.

I live in Toronto, ON Canada and I have hundreds of POI's pop up. It may be the area you live in. Nokia updates their apps constantly so have faith that it will get better!

I have hundreds of POIs pop up but that's the problem, they aren't really relevant to the icon I selected. For example, if I pick it up right now, turn it on and press "Sights", it shows me churches. If I pick "Shopping", it shows me locksmiths and home-based businesses. It's the same old, crappy, spammy POI data that every map vendor has been using for 20 years. Maybe it's just a problem here because this area is high growth, I'll try it when I travel.

I really should use this app more

I may be wrong but isn't a version 2.1 a improved version over 2.0? Windows phone 7.x has 2.1 whereas 8 is on 2.0.

This app froze my phone. Can't power off and restart. It's just sitting on a black screen with Nokia across the center.

Was hoping the update might fix the fact that all poi's on my phone are about 90 - 180 degrees out. Have recalibrated a few times with no luck. Problem may be because I am in southern hemisphere and devs didn't factor that in? Would be keen to hear thoughts/ experiences of anyone else with this problem as it's a cool app that I would like to work. I have a Lumia 800 if that helps.

Has anyone figured out "sightline" yet?

Yes. For sightline, put phone ind landscape mode, and look at lower right corner of screen. The 'pause' symbol freezes, and the 'play' symbol unfreezes.

Hi everyone, this is Pino from the HERE team at Nokia.
Thanks for all your positive or constructive feedback about Nokia City Lens. We are all proud of this app too. I would also like to address some of your questions.
The Sightline feature is only available in supported areas, where we have already collected highly accurate, 3D data. In these cases, you will automatically see the filter icon in Nokia City Lens. If you don't see it, you have to be patient until we cover that area too.
Because of the way Windows Phone Store manages app updates and the way we submit them, sometimes the version number on WP7 is slightly different than on WP8 even if the features are the same. We know it's not optimal, but we might find a better solution for the next releases.
As usual, don't hesitate to contact us at @heremaps or on Nokia Conversations

Nokia City Lens, Drive + Beta, Maps & Transit are all great features, but i think Nokia should work on merging all these apps into one, when i use Drive + Beta i dont see trafic information, i will have to use Maps to get that information. i have Lumia 920, live in US.

We believe that separate apps is a better, more flexible and faster solution. One big app is more complex to update and to extend with more features. People think in use cases "driving to work", "finding a restaurant" that we address with specific apps, we want to make everyday actions easier. Also, thanks to Windows Phone, what you need is easily accessible on the Start Screen instead of ideen in menus.
On the other side, we are working on improving each single app with the features that make most sense. Traffic information will come to Nokia Drive soon as My Commute for instance. Additionally, the apps are connected to each other in a way that you can open Nokia Drive or Nokia Transport from Nokia Maps or Nokia Maps from Nokia City Lens.

This article has a video showing the new features:
http://nokiapoweruser.com/2013/01/29/nokia-updates-city-lens-with-sightline-and-freeze-view-features-demo-video-comes-out-of-beta/

Android has "Street Lens" in Play store similar to City Lens now - https://www.windowscentral.com/e?link=https2F2F...
Windows Central Newsletter
Thank you for signing up to Windows Central. You will receive a verification email shortly.
There was a problem. Please refresh the page and try again.