Sci-fi gaming hit N.O.V.A. 3 headed to Windows Phone 8 this week [Updated]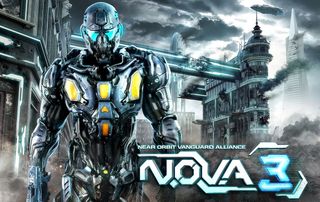 Update: Gameloft could not confirm the May 8th release date and the game hasn't shown up, so our source looks to have been incorrect. Sorry for getting everybody's hopes up. Ubisoft's Monster Burner is this week's actual Xbox release.
Gameloft announced 12 killer Xbox games for Windows Phone 8 back in October of last year (and later amended the list). Those titles starting rolling out with Asphalt 7 in February. With Ice Age Village appearing at the end of April, we're up to seven out of 12 games so far. Not a bad two months of releases, but the most anticipated game (among our readers, anyway), N.O.V.A. 3 had yet to appear.
That changes this Wednesday when Gameloft's N.O.V.A. 3 finally debuts. A first-person shooter based on the Halo series. N.O.V.A. 3 is the closest thing Windows Phone will have to a proper Halo title unless Microsoft ever has a change of heart. Like Modern Combat 4, this one will require 1 GB of RAM and lots of storage space, so some devices like the Lumia 520 and 620 won't be able to run it.
Fighting for the future
N.O.V.A. 3 draws on both Halo for and Crysis for inspiration. The beginning of the game takes place on a future earth that is entirely desolate and uninhabitable. Players control Kal Warden, a commander in the Near Orbit Vanguard Alliance or NOVA for short. Kal's mission is to recover an alien artifact that could make the earth livable once more while also battling the evil Volterite army. The 10-level campaign spans not only earth but two more alien planets as well.
On top of the single-player game, N.O.V.A. 3 will also include multiplayer via local Wi-Fi and online. A variety of game modes are supported, though it remains to be seen whether the matchmaking will discourage players from trying those modes as it does in Modern Combat 4. The addition of vehicles and mechs should certainly make for a more dynamic experience, at any rate.
The Windows Phone 8 version of N.O.V.A. 3 utilizes the same graphical engine as Modern Combat 4, so it should easily be one of the prettiest games on our platform when it releases. Its touch-screen controls will work similarly as well, with the player's left thumb controlling movement and the right thumb handling firing, grenades, and other functions.
For players who dislike using their right thumbs to both look and shoot, gyroscope looking will again be an option. As I've said before, spend enough time with the game and you'll eventually get the hang of it.
N.O.V.A. 3 will cost $6.99 and clock in somewhere around 1 GB in download size. We'll have the download link for you on Wednesday!
More on the way
Once N.O.V.A. 3 debuts, four of the 12 announced Gameloft titles will remain:
Kingdoms & Lords: An easy-to-learn strategy game with a fantasy setting.
Order & Chaos Online: The first mobile MMO with Xbox features! Let's just hope it won't be too buggy…
Six Guns: A third-person game set in the wild west and based on the phenomenal console hit Red Dead Redemption.
Uno & Friends: An Uno game with online multiplayer and Windows 8 connectivity!
Of course, Gameloft will likely support Windows Phone 8 with more releases in the future as well – stay tuned for future announcements.
Source: MonWindowsPhone
Paul Acevedo is the Games Editor at Windows Central. A lifelong gamer, he has written about videogames for over 15 years and reviewed over 350 games for our site. Follow him on Twitter @PaulRAcevedo. Don't hate. Appreciate!
Told you it was coming this week.. I'm never wrong!

you probably just set urself up... LOL just sayin =P

Hey Rodneyej I got me a badass dodge magnum in Hurst the other day I went up ther today and they have a 2004 dodge viper for $48,000 only 21,000 miles on it lol wish I had that much money :P

$48,000, and only 21,000 miles?? I need that thing! To bad gas is $3.80 a gallon... Lol!

Lucky you...
Here it is $2.5 pr. LITER...
(1 gallon ca. 4 liter)

He is probably in Europe.

In Norway... 1 liter is 15 Nkr ($1 = 5.8 Nkr)
The real joke is that Norway is one of the world's largest producers of oil and gas...

Stupid politicians! That's all it is.. Sad!

Don't have 1GB so won't be able to play it but then again nobody else will until MOGA.

If it's the same or similar to Modern Combat it should be easy enough.

I am half way through my second completion. It isn't hard to control.

I literally just audibly gasped.

I know it's OT but Da Vinci Pinball has just been reduced to 79p, snapped that up regardless of the issues it's reported to have :D

Really? *sigh*...another Chillingo game (first was Cut the Rope Experiments) dropped in price very shortly after release. That's $4 robbed from me.

Cut the Rope is Zeptolab, though the original was originally Chillingo on iOS (like Angry Birds).

Seems youre right. Slipped my mind that ZeptoLab published Experiments independent of Chillingo. Nonetheless, getting stung with price drops shortly after release hurts! :(

I was stung by Cut the Rope Experiments too (Though only in the sense that it dropped days after, I still believe it was worth what I paid) but I purposefully held off on DVP just in case as the reviews were pretty poor and it did seem a lot to ask for just one table. It happened with Turn N Run and Connect 4, probably a few others too - it certainly doesn't help encourage people to buy the games!

I always have that when i buy full games or smaller games in the Nintendo eShop! 3/5 of the games I bought are always on sale within a month after my purchase -.-

Or, you can take responsibility for your impatience instead of accusing developers of 'robbing you'.

Impatience =/= early adoption. There is a difference.

Early adoption or impatience - you pay the price. No need to accuse the developer of "robbing you".

And speaking of taking responsibility for things, since you want to speak about that, how about Zeptolabs taking responsibility and refunding the early purchasers of Cut the Rope the $2 extra they paid over everyone else? Yes, it's not much, but it's a matter of principles. Whether or not the price drop was due to a pricing error, as some have suggested, or perhaps Zeptolabs saw the error of their ways and decided against charging Windows Phone users 3x as much as Android and iPhone users for the same product, the point remains that some people who wanted to purchase the game on day 1 (reasons vary across the board) were charged 3x as much as everyone else who bought the game subsequently just a mere few days later.

You valued the game as worth the price you paid for it - Zeptolabs, nor any developer owe you what you paid for - the app/game, not a a price match.

What is the logic behind that? Most stores do the same. If you buy something and it drops twenty bucks a week later, you can go back to the store and be reimbursed the difference, that's almost a universal courtesy most places honor. I wouldn't be complaining had they not dropped the price literally DAYS later after launching the damn thing. That's just shady business.

Zeptolabs doesn't run the store; Microsoft does. And several people successfully received refunds on the price difference through Microsoft.

this game was wasted on my old 4s 3.5 screen, will look better on my l920

will look better on an ATIV S! I can't wait to finally get an ATIV Specifically for media use!

While the Ativ is a fine device, it will actually look better on the 920.. He's right because the Lumia has a 4.5 screen at 768p, and the Ativ is 720 at 4.8, basically the same as the Amoled on the GS3. There is no doubt that the Lumia's IPS screen is more crisp, brighter, and has better colors..

Well glad I have a 8X as my main device then because it'll look even better with my 10 extra ppi vs a L920 :)

Is it really higher by only 10ppi? No difference.. Lol! 4.5 at 768p is the sweet spot... Of course you know I'd jump all over a 5.0 or higher at 1080p.. Just my opinion!!

Hmmm, I actually prefer the Ativ S screen. Modern Combat 4 looks fantastic on my Ativ. No doubt this will too.

Good thing we have choices.. And, we can always use more!!

AMOLED is brighter and gives better colours. Im jealous of my friend with an 820, dat contrast

@ Paul... You listed the price, and game, as Modern Combat 4 not Nova in the article..

Finally!! I can't wait! I held out on Modern Combat because if this game. :)

Not enough storage space for both?

No, its just that I prefer the SciFi setting for fps games. The terrorist plot is boring and waaaaaaaaaaaaaaaaaaaaaaaaaaaaaaaaay waaaaaaaaaaaaaaaaaaaaaaay overdone lol.
Oh and btw, I have 5.50gb free as of now :)

Nice!!... NL920 on at&t-Dallas.

Jetpack joyride was also coming to Windows Phone 8, right?

Yes, but it's been stuck in Xbox Live certification for a long time.

i want this game so bad :(

Xbox Live certification will be the reason most of the game releases will be delayed.

I'm really excited for Jetpack Joyride, didn't think I would enjoy the game as much as I have. It's awesome!

i am also waiting for Jetpack Joyride. I love playing it on my Windows 8 PC :)

I want O&C
Paul please change the title to order & chaos instead of nova ;p

I second this. So pumped.

Me too! hoping it supports 512 mb ram devices..

Without Gameloft WP8 gaming would be a complete wasteland. Lets hope they have more top games in store as MS don't seem interested in bringing their Xbox IP to the phone.

Wrong. I have a LOT of games I play on my Lumia 920, and Ashpalt 7 is the only GameLoft one among them.

And yet another 7€ game...and yet another one I won't buy.

Yet another $6 game and yet another day I'll pack lunch instead if eating out ):

I don't know about you, but sometimes the trial versions are more than sufficient. If you play the trial, you may decide that the game isn't worth your money at any price, at least I find this to be the case for me for quite a few games/apps.

Yeah I normally try all the games before I buy them. However, there's a line I draw when it comes to smartphone games. And that line is 2.99€. I refuse to pay more than that for a game to play on a phone, no matter now nice it is. I'm not paying almost as much as I pay for a PC game. It's a decision I made when it comes to spending money on the Store. I don't buy games over 2.99€ (and to buy a 2.99€ the game has to be REALLY good) and I don't waste money on Apps I have no use, as much as I wish the developers of WP apps to thrive. The World's economy isn't in the best of shapes and it's bad enough Nokia Portugal made me burn 200€ on a Lumia 620 to use while my L920 went for repair, just because they suspended the substitute phone program.
You can say "it's just a couple of Euros". Sure. A couple here, a couple there...and you make a fortune. Call me Scrooge MacDuck, but I was thought the value of money and I don't like to spend it lightly :P

Perhaps you could have just got a cheap burner phone if you value money so much

There was no cheaper phone. I spent almost a month without my phone and the cheaper Nokia has here is the 620. The 520 hadn't launched and still hasn't and I needed the phone to work (hence the need for a smartphone). Sure I could have got a cheap Samsung with Android. But I would rather throw the money out of a window. The result would be the same. ;P

Just beat beat it recently on my nexus 7. So I won't be buying it. Again. If I didn't already have it I would definitely get it. Good game

Paul, any word on maybe game dev story ever coming to wp8? We need that or maybe some adult swim games.

No word, but that game and Adult Swim titles would be awesome.

7 bucks ? Damn , Gameloft games are getting expensive ! I bought Asphalt 7 for 0.99 a while back !
That said, I wouldn't mind paying 7 bucks for a quality game .

Still no love for 512mb devices. At least gameloft should optimize the already released games under their hood.

with more of the 1gb+ games coming out I really hope Nokias next flagship device will have a microSD slot, unlike the 920

While that would help, it probably wouldn't help much. From what I hear, the only thing you cam store on the sd card is music and pictures and videos. I don't think you can put apps on it.

I think 32 gb is enough for all apps and games with a sdcard slot provided(for music and videos only) , but thats just me..

With Gameloft games often taking over 1 GB of storage (and all apps requiring 4x the amount of storage in order to install), even a 32 GB phone fills up eventually.

please please please let wp users have ironman3 too gameloft! it's perfect for the season

i repeat ironman3!! i want! lets go~~~ lol *dev respect*

SHUT UP AND TAKE MY MONEY!!!

Very exciting! This game is a blast on my Android tablet! :D

I might reset my phone - 820 - to download this. Looks grand.

And then the wait for the Lumia 928 becomes even harder for me. :P

Already bought Modern Combat 4. I'll wait for Order & Chaos

Lets see a memorial day sale on gameloft titles for win 8 phones $.99

Notice advert sais iphone iPad android device hey jerk offs missed out us windows phone users ! Lol it looks epic though :)

Wish i could play this on my Surface :/

If this will be come true! I will be very much glad to play with my Bluetooth Cursor Mouse ;)

Still wont b able to dwnload this game because of my lumia820!!
Starting to look at other phones now, starting to really do my head in

Hopefully this game bucks the trend for gameloft ever second game has at least one glitched achievement that will never be fixed :S

*THIS* is the one I've been waiting for... time to ditch some dead weight games off the old 920...

I need WP 8 the games being released now are exactly why I got such a high end phone. Just a shame that it took a year to get released and when they do its on upgraded hardware :(

Ive deleted loads of stuff off my 820 got 4gb space left so fingers crossed should b able to get nova today!!

There's no way N.O.V.A 3 was cancelled right??? That has to be fake or it would be all over wpcentral. Can someone at windows phone central confirm this???

Wtf is this banana daquiri????
Windows Central Newsletter
Get the best of Windows Central in in your inbox, every day!
Thank you for signing up to Windows Central. You will receive a verification email shortly.
There was a problem. Please refresh the page and try again.