Now there's a video of Windows 10X on a Surface Pro 7
By Sean Endicott last updated
Windows 10X looks gorgeous on Microsoft's Surface Pro 7.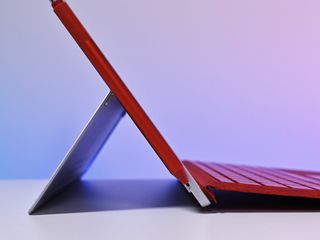 (Image credit: Windows Central)
What you need to know
A new video shows Windows 10X running on a Surface Pro 7.
Windows 10X won't ship to the Surface Pro 7, but people have managed to get it onto the device.
Windows 10X has also been spotted on a Lumia 950 XL and a MacBook Air.
Yesterday, images came out showing off Windows 10X running on several unsupported devices, including the Surface Pro 7, MacBook Air, and Lumia 950 XL. While a picture is worth a thousand words, a video does the beautiful operating system more justice. UX designer and expert on getting things to run where they shouldn't, ADeltaX, recently shared a video of Windows 10X on a Surface Pro 7.
The video is a fluidity test to see how the new version of Windows runs on the unsupported hardware. There are some moments of lag, but overall Windows 10X seems to run well on the Surface Pro 7, especially considering that it isn't a final build and is running on unsupported hardware.
A tweet by ADeltaX explains that most drivers work, but that orientation doesn't work and audio requires a registry patch.
The video shows off the new Start Menu, Taskbar, Action Center, and other elements of Windows 10X. Navigating the operating system with touch or a stylus seems to work well, as does inking with the Surface Pen. The video even shows the shortcut button on the Surface Pen working with Windows 10X.
The design and features we see from Windows 10X aren't surprising. We went hands-on with Windows 10X recently. The main takeaway here is how the new version of Windows looks on a current Surface device.
Microsoft won't ship Windows 10X to the Surface Pro 7 or any other current device. Instead, it will only ship with specific new hardware. Windows 10X will first appear on budget-friendly clamshell PCs aimed at education and enterprise. Support for new tablets and other form factors will arrive at a later date.
Sean Endicott is the news writer for Windows Central. If it runs Windows, is made by Microsoft, or has anything to do with either, he's on it. Sean's been with Windows Central since 2017 and is also our resident app expert. If you have a news tip or an app to review, hit him up at sean.endicott@futurenet.com.
I see a choppy animation when opening Task View while the weather app is in focus ...

You see choppy animation on a non-final build of an operating system running on unsupported hardware.* FTFY

If it is choppy on SP7, imagine it running on low spec cheap laptop, as is planned for this OS.

Imagine it running on hardware it's built for?

like low speed 30gb disk, 2gb ram and 2 core atom processor?

"Non-final build"
It's almost final. And anyway, that doesn't mean much or anything at all, considering Microsoft's track record with leaving broken animations in final, public builds for years. "Unsupported hardware"
Everything else seems to run mostly fluid, including some instances of the same animation with other windows. I'd suspect it's the animation itself that's at fault here in some scenarios. And again, I point to years of final builds on supported hardware for Windows 10. Of course, if it turns out the animation does run fine on the final build on supported hardware, I will fully retract my criticism. I'm just pointing out that this makes me skeptical, for now.

This was essentially a hacked installation. Obviously the drivers are suboptimal, even the article says orientation does not work which clearly points to the fact that the drivers have missing components. No need to get all 'skeptical' over a leaked rom.

🤣Where's Zac 'built-from-the-ground' Bowden? This thing literally has two features... Swipe up start icons and swipe up notifications.
I know we are on the 13th month of 2020, but even in a year like this... to be excited about this nothing... MS is disrespectful to end user and OEMs.
This is less than nothing...

I can only imagine how bad Edge will be on it...

Why would it run any worse than on Windows 10? The hardware is the same.

Look more friendly to touch controls.

It does, at least when it comes to gestures. Opening Action Center and Start menu follows the finger. Unlike on Windows 10 where when you swipe from right edge, Action Center just animates to slide in on its own, not really following your finger at all. One thing, Windows 10X doesn't seem to have same gesture with iPadOS with 5-finger pinch to close or goes to app switcher. On Windows 10X, you still have to tap the Task View button. But so far looks pretty much a better version of Tablet Mode in Windows 10, but sadly without Live Tile Start screen anymore and basic All Apps list.

For beta software running on unsupported hardware, it doesn't look bad. I don't see why it couldn't run on whatever hardware Windows 10 desktop runs on, as long as they maintain the same kernel + drivers. I see potential in this. My ideal Windows10X device would be something like this that can also run Android apps and the occasional Win32 app.

Looks good! At least the slide animation gesture seems to follow the finger, unlike on current Windows 10 where it doesn't and just half-baked implementation of gestures since the start. Though it needs further polish. The UI doesn't show up sliding until half-way there and it just appears out of nowhere and finishes the remaining animation. Still not iOS-like but closer than current Windows 10 gestures. Still needs work, I wonder if the actual final RTM that was pushed to OEMs already fixed this. I hope, but at the same time Microsoft has the history to somehow ship something half-baked as well, especially with smaller details like these. Crossing fingers but won't hold my breath. For now anything goes.
Windows Central Newsletter
Get the best of Windows Central in in your inbox, every day!
Thank you for signing up to Windows Central. You will receive a verification email shortly.
There was a problem. Please refresh the page and try again.