Office apps hit the Windows Store in preview for Surface Laptop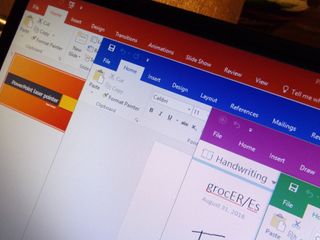 Microsoft's Office desktop apps are launching in the Windows Store today, coinciding with the launch of the new Surface Laptop with Windows 10 S. The Office suite, having been brought to the Windows Store using Microsoft's 'Project Centennial' desktop app bridge, is available to Surface Laptop owners only as part of a preview install and update process, according to an Office on Windows 10 S FAQ (opens in new tab) initially spotted by Microsoft leaker WalkingCat.
Microsoft clarifies that, while the install and update process is in preview, the apps themselves are not. Still, during the preview period, the following apps are only available to install for Surface Laptop users with Windows 10 S:
Word
Excel
PowerPoint
OneNote for Windows 10
Outlook (not available in preview for Office 365 Education plans)
Access (not available in preview for Office 365 Education plans)
Publisher (not available in preview for Office 365 Education plans)
It's worth noting that OneNote is the Universal Windows Platform (UWP) version of the app that has been available for some time.
Though the bulk of the suite is made up of bridged desktop versions of the Office apps, they are the 32-bit versions; 64-bit versions are not available via the Windows Store. Likewise, they are not compatible with COM add-ins, Microsoft points out.
As for the Office Mobile apps, which were previously the only versions of Office apps available on the Windows Store, Microsoft is repositioning them smartphones and tablets with screen sizes under 10.1-inches. Given their "Mobile" designation, this makes much more sense.
Again, the preview period limits the new Office apps to Surface Laptops running Windows 10 S. Microsoft notes that the apps will be available for purchase and installation on other Windows 10 devices after the preview period is over. Finally, as a bonus for Surface Laptop owners, Microsoft is offering one free year of Office 365 Personal for laptops that ship during the preview period.
Dan Thorp-Lancaster is the former Editor-in-Chief of Windows Central. He began working with Windows Central, Android Central, and iMore as a news writer in 2014 and is obsessed with tech of all sorts. You can follow Dan on Twitter @DthorpL and Instagram @heyitsdtl.
Hope it will also be available for Office 365 subscribers as a free alternative to the x32 version. I think it is much better to be able to install only the apps that each user wants instead of obligating to install the full Office package.

You have always been able to pick which applications to install from the Office 365 portal.

Thanks for the tip. I will try that. UPDATE: this option is not available in office.com. It only allows me to download a full installer of the Office suite. The individual installer options directs to the "mobile" version of the apps.

Does Office come with Windows 10 S consumer devices? During the Office in the Windows Store preview period, we're including 1 year of Office 365 Personal on Surface Laptop running Windows 10 S. While Office itself is not in preview, Office is using new install and update processes that are in preview. As a result, Office in the Windows Store may occasionally behave in unexpected ways. Office 365 Personal includes: Fully installed applications like Word, Excel, PowerPoint, OneNote, Outlook and Access. Use across multiple devices like PCs and Macs, tablets and smartphones. 1 TB of OneDrive cloud storage. 60 Skype minutes of calling per month to mobile phones and landlines. After the preview period, you can buy Office for your Windows 10 S device from the Windows Store, Microsoft Store, Office.com, or your favorite software reseller.

You have to use the office setup configuration tool to create a custom click to run install and specify what you want. So no you can't install the apps in a separate easy manner like you can with the windows store it takes some effort.

I am more intrested to know if this allows you to install to a location other than the C drive.

It would be awesome is someone figured out a way to do this on an Windows PC right now.

If even Microsoft's own apps aren't UWP, why would anyone else bother with UWP? They don't even support their own platforms. No wonder they never catch on.

Office Mobile is UWP. What's your point?

My point is obvious, I more than made it in the OP. Some quick back story though: The U stands for UNIVERSAL. If you have to have two completely separate apps, then that isn't very universal is it? Microsoft touts the benefits of their "Universal" platform then doesn't lead by example. Office is probably Microsoft's most important program so they should be putting their money where their mouth is. Office should be a fully universal app at this point that scales according to device and input. Again, why should anyone else use UWP when even Microsoft doesn't fully utilize it? Was my point not obvious the first time?

No. Even they won't be able to re write a 30 year old program in three years of Windows 10

And why should they? There is no target market for it. Office Mobile is pretty functional by now.

I didn't say they should now did i?

Oh no, I was agreeing with you. Sorry, I see how that wasn't clear.

They are leading by example. They're continuing to build Office Mobile and add features to it from Office Desktop. Do you know how long it takes to rewrite a 30-year-old software suite? And how many features people rely on that are not yet possible in UWP? And for what? Proving something to a very small subset of their developers? Come on.

Exactly. UWP sucks. It isn't powerful enough for a fully functional desktop program and mobile isn't worth targeting. Why does Microsoft continue to waste their time on a pointless and inferior platform?

UWA is fine. You can't look at a massive enterprise-scale software suite as the measure of an app container. They have very different requirements. Most software is not 30 years old or as big as the Office suite. By the way, you're thinking of UWA. UWP is perfectly capable of running Office, as this release prices.

Because I'm getting spoiled by how stable my apps are, and how they update in the back ground automatically and don't make me wait 10 minutes while installing an update before using a program, and if they do go wonky windows just shuts the app down, and it doesn't mess my whole PC up. I am starting to get really annoyed win32 crap. Yes, full Office should have been in the store from the get go. But since when has MS ever got something completely right?

Consider the office team a different company, they always behaved that way.
While headquarters pushes UWP, the office team still believe in ribbon interface.

I don't get it. We have the insider program. Why we can't test it first?

The Short answer making sure insiders either own it, or have a 365 account.

And all Insiders game and can test the mixer feature? And all Surface laptop users have Office 365?

Well all the Xbox insider sure, and course not all desktop users But nice pool of user

I'm interested in knowing if this version needs a license for every user account on a PC. People said I was crazy to worry it wouldn't be available to all users of a PC and its getting late to book a good room in a four star loony bin.

That's a legit question HoosierDaddy... To the people above, I find it reprehensible that someone is getting down-voted simply for making a legit point. They should disable the voting of comments. It serves no purpose other than to virtue signal fanboy tendencies. He has a point. Microsoft isn't using their own UI tech in their own apps. Designating one as Mobile and one as Desktop is counter to what they are trying to sell developers. What they're basically signaling is "we aren't willing to lose business doing this, but we want you to help us make money by risking your own business on it." No one is going to do that, unless they're doing this as a hoppy with "utility" type apps. They will just use the bridge and put it there, maybe... if they are willing to cede portions of their revenue to Microsoft. It also makes Windows 10 "Tablets" continue to be practically inefficient as it tells developers that it's okay to keep producing apps that completely ignore the form factor. This is an issue when you're trying to develop an OS that is supposed to work "Universally" and be as fit for Tablet use as for Desktop use. Right now, users are dealing with all the detriments of this strategy, while reaping very little of the benefits... No ability to install a full OneNote on this laptop unless you pay to upgrade to Windows Pro? To use a "Free" app directly from Microsoft? This cannot be intentional, especially for a device aimed at the Educational market... UWP OneNote is absolutely terrible compared to the Win32 version. On the bright side, Office is as "optional" these days as it's ever been, so increasing amounts of people can simply forego it completely...

They are using their own tech, it's just not an instant magical switch they flip and all of a sudden UWP is as powerful as win32 is. It's going to take time to get all the same win32 APIs for UWP. The other challenge is, as Daniel put it in one of the recent WC podcasts, it's like you're trying to completely tear down and renovate your home all the way down to the foundation except you still have people living in it (I may have totally butchered that analogy, but it was similar to this lol). For example, I'm pretty sure they've stopped adding new features to the win32 OneNote and are only building on the UWP version now. Yes both still exist because you still have people living in the home (you can't just throw them out) and yes one isn't equal or more powerful than the other because we're not there yet. However, in general you're going to continue to focus on the renovations.

I also think the inability to selectively install the apps you need on the Desktop is a problem. This is possible on Mac, but no Windows where you are force fed Publisher, Access, and Outlook even if you have literally no need for them. You can also selectively uninstall them on macOS after installation. Such a thing is literally impossible on Windows 10 with the Win32 versions. Why this is limited to Surface Laptops leaves me stupefied. It makes literally no sense whatsoever, especially when they're desperately trying to get more users to care about the Windows Store (so that they can, maybe, see an app there they'd like and download it - building a habit that doesn't exist for the vast majority of Windows users).

Slightly off topic, Power BI Desktop is coming to the Windows Store. This gets me one step closer to being able to use Windows 10 S, and removes a headache from my life. https://ideas.powerbi.com/forums/265200-power-bi-ideas/suggestions/10399...
Windows Central Newsletter
Thank you for signing up to Windows Central. You will receive a verification email shortly.
There was a problem. Please refresh the page and try again.