Office Online updated with improved commenting, arrives in Chrome Web Store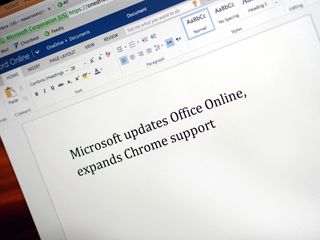 Microsoft has made Office Online available on the Google Chrome Web Store. While Office Online has always worked in Chrome, Chrome users install Word, Excel, PowerPoint, and OneNote Online in the Chrome App Launcher. Office Online will go head-to-head with Google's productivity apps right in Google's own store.
In addition to the arrival in the Chrome Web Store, Office Online has received some major updates today. Word Online has added commenting to editing mode. Footnotes and end notes are also simpler to work with, and can be added inline. Word Online will now add text that you started typing directly under a numbered list a part of that list.
Commenting has also been enhanced in Excel Online. Users can now add new comments, as well as edit and delete existing comments. Support for VBA files has also been added to Excel, and the app is gaining the Tell Me feature, previously only available in Word Online, which gives users a set of applicable commands when they ask how to complete a task.
Smaller updates have been made to PowerPoint and OneNote Online. Like Excel, PowerPoint Online now has Tell Me support, along with a performance boost and a re-engineered text editor. OneNote has added printing support and multi-column section and page navigation.
You can take a look at all of these changes, as well as Office Online on the Chrome Web Store, right now.
Source: Microsoft (opens in new tab)
Windows Central Newsletter
Get the best of Windows Central in your inbox, every day!
Office everywhere . I totally agree with this strategy

Awesome, glad Microsoft now has a product viable enough to compete with Google Docs.

That's not hard, google docs is terrible.

Oh, I agree. The problem is that my school requires students to use Google Docs for many of our assignments. So now all my peers are learning how to use Google Docs, and get disguised when I mention Office Online. Unfortunate, really.

Ask, seriously ask, how they are complying with FERPA. You could mention that Google will not indemnify them if they get in legal trouble over it.

FERPA? Can't say I've heard of it...

Only applies if you live in the US: http://www.ed.gov/policy/gen/guid/fpco/ferpa/index.html Has to do with Privacy (which Google doesn't care for) in education.

Unfortunately Google Docs still has quite a few advantages over Office Online. For example Google spreadsheet has much wider and better functionality (like scripting support) and very good real-time collaboration support.

+720 google tries to play monopoly with ppl in services. If u have to do dis then u have to create account of google+ ans then shit happens. Want Microsoft to be more dynamic. Looking foward that Microsoft will also buy one more company this year.

To be realistic, Office Online (previous Office Web Apps) has always been miles ahead of Google Docs.

It had a few kinks, I personally found it was easier to comment on Google Docs. And over must remember that live collaboration only came out just a matter of months ago. However, now Office Online has caught up to and even surpassed Google Docs, if only there world recognized this...

Now its time for bing to grow big.

Haha, I'm doubtful Bing will every grow significant mind share. Time to start spreading the phrase, "Ask Cortana," as "Bing it" doesn't have a chance of every catching on.

Yay for Microsoft. Loving my WP 8.1

Except that office is still the same old useless one, which cant even put pictures in a word document.

are you talking about office 1997 ?

No, office on wp8 and wp8.1...

Office on WP is now updatable. And they already announced at BUILD that it's getting the same touch version that Windows 8.1 will get since they will be Universal Apps. Making it more ahead of the other platforms. Patience my friend :)... And also, the Office we have now on WP8 is better than the mobile versions iPhone and Android have, and it will only get better once the universal apps come later this summer/early fall as they said.

I guess 'patience' answers my issue ! ;) i know it is coming, but i didn't know that office is now updateable.

Ok.. So MS supports a failing and idiotic Chrome OS but folks over in Mountain View could not care less about bringing their services to windows 8 users.. My hate for Google only grows...

Lol ! Yeah maybe they should give a web wrapper like the chrome one till the time the actual touch version is released for w8.1

One of the usless browser I ever seen is chrome. IE can handle many things but isn't still upto tujhe mark. Mozilla Firefox is the best of all.

I've time and again wanted to switch to Mozilla but... Chrome is still the smoothest. Besides, i dont need sync so i dont even sign in with a google account in chrome. Mozilla is a little bit clunky. The latest update has made it smoother, hopefully I'll stop using chrome now. (Mozilla is already my default browser).

IE 11 is going great for me. For some of the addons however, I use FF or Chromium (Chrome compiled source minus Google's invasion).

You type a lot in hinglish right ? Probably on WhatsApp etc.. The autocorrect to 'tujhe', and 'kick google's ass' to 'kitni' down in the comments reflects that ! ;-)

Microsoft doesn't need to stoop down to Google's level. They lead by example and show how it's truly done. :-) Who knwos, maybe Google someday will learn a thing or two.

Chrome OS "failing and idiotic?" Chromebooks are the fastest growing type of laptop right now and now are over 20% market share, virtually all customers stolen from Windows laptops. Obviously you're not judge of what's failing - that would be the marketplace.

My brother now uses Chrome, and now uses Google Docs. Maybe I can get him to switch. :)

Delete his gmail account and m make him switch to office online

lol +1... though I don't think that'll go over well. But hey in the long run, he'll be happier :D

Time for Google to put some apps on Windows and Windows Phone 8.

Time for microsoft to get dynamic. We don't need a shit company's apps on WP. Browser if working fine. Now its time to kitni googles ass by cloud services, bing services

As someone who has to use Google Docs for school, a Google service that doesn't function in WP browsers at all, I disagree.

Much as I hate Google and only use Microsoft ecosystem, I believe it would benefit WP. But Google is being uncompetitive.

I'm seriously not liking using fb app. Fb I integration was the uniqueness of WP. Get it back Joe

I can't find the Excel app. Also, I can't install PowerPoint online, because the app 'conflicts' with Word Online. I hope the will fix this soon. I have to say that I really like Microsofts strategy from the last time towards a more cross-platform service. I hope other companies will follow this approach *cough* Google *cough*. To quote Martin Luther King: "I have a dream that one day the web will rise up and live out the true meaning of its creed: "We hold these truths to be self-evident: that all platforms and services are created equal." I have a dream that one day on the plains of the web the sons of former Windows fanboys and the sons of former Apple lovers will be able to sit down together at a table of brotherhood. I have a dream that one day even the platform of Android, a platform, sweltering with the heat of injustice and sweltering with the heat of oppression, will be transformed into an oasis of freedom and justice. I have a dream that the operating systems out there will one day live in a web where they will not be judged by the availability of apps, but by their willingness to share their services. I have a dream today."

Haha..good one...I share your dream. :)

I never knew that this was available!! I will totally download it on my chromebook!! I'm all for supporting cross platform services...we need it! I use all platforms, so my hope is that they all start playing nice and really improve the consumer experience. I'm going to try onenote as well. I use s note write now, because I like being able to jot down what comes to mind, it would be awesome if this was a feature for onenote! Posted via the WPC App for Android!

Just need the chat feature.

Just got a chrombook from the best buy $100 xp credit thing. This is cool. Hope its more than just a bookmark to a site.

Sell it on ebay to some idiot for $500 and buy a real laptop.