Official HTC Windows Phone 8S video now live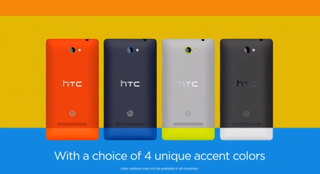 We're not entirely sure how this passed over our Windows Phone radar, but HTC has published an official video to its YouTube channel showing off the upcoming Windows Phone 8S. The HTC 8S is yet to be released in multiple markets and is already destined to numerous sources.
The Windows Phone comes packed with a dual-core 1Ghz chip, 4Gb storage (with MicroSD support), 4" LCD display (WVGA), 512MB RAM and a 5MP rear shooter. Like its older, more powerful brother, the HTC 8S sports Beats Audio - but does not come with an extra amplifier.
Be sure to head on over to our community forum to discuss the video and the HTC 8S.
Source: YouTube
Rich Edmonds is Senior Editor of PC hardware at Windows Central, covering everything related to PC components and NAS. He's been involved in technology for more than a decade and knows a thing or two about the magic inside a PC chassis. You can follow him over on Twitter at @RichEdmonds.
I am happy with my HTC 8X haha

Hey DenniSundaY! I'm thinking about getting the 8X. I have a Lumia 710 now, and was wondering what's a really good navigation app to buy for the 8X? What's on par with Nokia Drive?

Y not just get a new Nokia cuz HTC price is a rip off

The Nokia Lumia's aren't available yet in the Netherlands and the htc 8x was very cheap with telfort. It is a really good phone and it doesn't bother me if it is a Nokia or a htc. It only has to be wp for me and i am happy.

Dennis, want to buy the HTC 8X via smartphoneshop.be but wonder one thing: how about battery life? Some problems like with Lumia 920 or going on for a whole day?
thx


If you use it normal it can last for a whole day I think, but my first days I use it so much it only last for a few hours xD.

Cuz dude wantz teh HTCz. Y elz

I do prefer Nokia, but the 810 just looks so cheaply built compared to the 8X.

Not everyone is on AT&T. And the 8X is better than the 820 and 820 variants.

I've been using Navigon for a year now and it works great and reliable.

I'm happy with Nokia Lumia 920

That makes 2 of us, love my white 920

Me three with my black Lumia 920!

4, with my red Lumia 920.

5 With my white Lumia 920 that isn't heavy and doesn't even feel big anymore! I was wondering how i managed to cope with all the phones i have been using still now. Its still has things i don't like (wp8) but i am optimistic that it will be solved in the nearest future.

I can't go back to my 900 or any other phone, curved screen, 4,5" display best out there, love my white 920

Dude how does the red 920 look in person? The reason I ask is because in some videos I have seen the red looks a bit too light (almost orange) and was wondering if that is just because of lighting conditions.

Could order a ref, but happy with my black. Was going to get the 8s if they where going to release it on Verizon but eventually just switched to att.

I will be happy with my yellow 920, when I actually receive it...

Some I see circle round dot near by the charging bar, does anybody knows what that is ??

Someone explained in the comments of another article a few days ago but I already forgot O_O

Correct. It's an indication that a location service is currently being utilised. More info: http://www.wpcentral.com/location-services-alert-icon-be-introduced-windows-phone-75

Awesome I was going to ask the same question lol

Hey! Rich did you install Skype on wp8? Finally I can Skype on my Lumia 920.

What a great advert and a grat looking phone.

Now that is a cool WP8 commercial. It shows off the phone and some of the baked in features. Too bad it is by HTC. Titan II SUCKS.

HTC Titan is really great why do you say it sucks??

I own a titan 2 and still loving it. Never had a problem.

I wasn't aware one bad phone defined a whole company's portfolio.

It just sucks at sucking, that's all.

Well this will be my backup device for my Lumia 920. Such a shame there will be no green and black.

Green and Black does exist ;) This one is available in Germany...

And where exactly is the green one available?

It is not yet available. :( but on a dutch site they showed a green and an orange one. So just wait a bit...

You mean the windowsphone.com site? Yes, there's a green one on European WP sites, but that may only be a concept render, since there's no green one on HTC sites.

Can't wait to get my 8X on Thursday, I'm happy with HTC been using HTC phones since the Windows Mobile 6.1 era at present I have the HTC HD7.

Ey William the Bing maps is powered by nokia drive so you can't go wrong with this

I had HTC hd7 ,now I switched to white Nokia Lumia 920 ,I'm loving it.

I have to admit, I think that is a very good commercial.

If they had must included a front facing camera thus would be my next phone if it comes to T-Mobile. Guess I'll wait and see what happens after the exclusive with ATT is over for the 920.

Agreed. No ffc in this day and age is a bad decision. This phone would kill it in the low end market with its design alone. But for me, no ffc, no buy. Maybe on the refresh

Nice job on the commercial. This is silly, but I really really wish I could get that clock/weather app they showed on my Lumia 920.

Perhaps once/if WP8 is hacked. We will see.

I can see this device doing very well. It's priced at a much lower point than the Lumia 820 in a lot of countries, and is in my opinion much more aesthetically appealing.

Does anybody know wich app is that one with the big clock and weather info?

It is HTC hub now in Windows 8 phone it was renamed to just Hub.It's only on HTC devices

I just don't know why they crippled the specs so bad... No ffc, 4gb storage, 1ghz processor. Just too low compared to Nokia 82x...

NFC is not an essential..its a luxury..you can put a MicroSD card in although 8gb would have been more reasonable and 1ghz dual core is more than enough. I think you are confused on what market this is aimed for. It's not for the tech savvy younger people. It's for people who want the basics from what I see.

He didn't say NFC. He said FFC(front facing camera) which, imo, is essential. Not including atleast a VGA FFC in this day and age especially with Skype being an big part of the WP8 eco system is inexcusible. The rest of the specs, however, don't bother me becuase this is supposed to be a low end device.

I mistyped on my phone.
Still a Front Facing Camera is still not essential..Skype was mainly for voice over IP when it was released and video calling/confrencing is not that big on mobiles...especially here in the UK!. I think what people are wanitng from the price point is a little unrealistic.
If the device was pushing on £300, I would expect a storage and camera bump up, but its at £220-30 so to me its reasonably specced.
..Just my opinion


I NEVER use my FFC personally. However, it does feel like it should be a phone standard. Just my .02

Are you aware that the 8S is half the price of a Lumia 820? Most people are satisified with what a 610 or 710 offers, so they will love the 8S, which is actually even cheaper than then the 710 when it premiered. The 8S would be a spectacular sucess, If it was sold by Nokia. HTC globally lacks at marketing and making deals with carriers, they are so way behind Nokia and Samsung.

sold my Lumia 800 for 200 euros (price now 240 euros) and pre-ordered the 8S for 275 :D
in march 2013 i will get a high end device (Lumia 920 or something better maybe) on contract :D

It looks great and I prefer the design over all other current WP devices. But the specs! Couldn't it have been a little bit more? Like RAM, STORAGE (I know it is expandable, but as far as I know, you cannot install apps to the sd card) and CAMERA. My Mozart has better specs :'(

This is my next.

Yes, I'm budget

White 920, so far excluding battery life (which is improving when you monitor what apps are open) is the best phone I've ever owned hands down

Nice, HTC makes the best windows phones.

what HTC is bringing to the table makes nokia look mediocre in design...the color coordination and style of this 8s is truly awe stunning. lumia looks meh (920,820,810,822) now that this and the 8x are available for my viewing pleasure. HTC FTW

Exactly! I look at the pictures of 8x and 8s everyday on my computer. I dream about having sex with those super sexy phones everynight. Cum on HTC! Make a WindowsPhone that you can have sex with, already!

Uhhh that is all kinds of wrong :P

Only quibble is that the ad says the live tiles are Windows 8 inspired. Huh? I understand the desire to attach itself to Windows 8 but thats just not accurate.

Great video.... I'm still getting the 920 though

I still hate the new Windows logo

They should have given it a front facing camera..

Verizon employees are getting the 8X in that gray/yellow color scheme as an exclusive. So happy I work for Verizon.

Just a question... Is it possible to install apps on the micro sd card of the HTC 8S ? Because if the app space is limited to internal memory, this phone is not that great.

Just a question... Is it possible to install apps on the micro sd card of the HTC 8S ? Because if the app space is limited to internal memory, this phone is not that great.

I wish that yellow-grey one had 8x specs..

Hoping it won't be priced ridiculously high here in the Philippines. Looking at this to replace my HTC Trophy, but still hoping Nokia would release a successor to the Lumia 710 with the same price tag.
Windows Central Newsletter
Thank you for signing up to Windows Central. You will receive a verification email shortly.
There was a problem. Please refresh the page and try again.