Manage your 'home cloud' with the official QNAP remote storage app for Windows Phone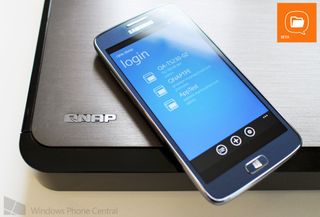 QNAP makes a series of Network Attached Storage (NAS) devices for professional and home usage. All of that sounds bizarre to myself, because frankly I don't follow home-networking news. NAS devices though are becoming increasingly popular as homes – to break out a buzzword – become more 'connected' in 2014.
For those still confused, it's a home cloud server akin to having your own local SkyDrive account. NAS devices allow you to configure them with multiple terabytes of storage, and they then connect to the 'net. Tablets, PCs, laptops and phones can then join to pull down (or upload) videos, music, photos, etc.
This week, QNAP (www.qnap.com) released an official app for Windows Phone called Qfile. It's still technically in beta, though if you have a QNAP NAS running firmware V3.8.0 or later, you should be good to go. What does Qfile bring? It comes with the following features on board:
Qfile 1.0 (1.0.1.114)
Access files on the Turbo NAS anytime, anywhere.
Upload your photos and documents directly from mobile devices to the Turbo NAS.
Easy management: Move, copy, rename or delete files on the Turbo NAS, all via your mobile device. No computer required.
Offline file reading: Qfile provides a simple way for downloading files from the Turbo NAS to mobile devices for offline reading.
Once again, the analogy to your own personal SkyDrive account should be obvious. With Qfile, you can use your Windows Phone to manage your own files and folders on your home NAS directly, backing up photos, videos or even playing music.
I actually have a QNAP NAS HS-210 (see lede photo), though it's not yet setup as I'm waiting to move first (I picked it up at CES, evidently). But the idea now that Windows Phone has an official app has my interest piqued. While I really enjoy SkyDrive, there's something enticing about running your own cloud service that you can control and manage for friends and family.
Unfortunately, there's no Windows 8 RT app yet, but seeing as QNAP is embracing Windows Phone, we imagine it can't be too far behind.
If you have a QNAP NAS, you can grab Qfile here in the Store. Windows Phone 8 only.
Anyone already on board with their own NAS? Shout out below how you use it and why you like it.
Via: WMPU
Windows Central Newsletter
Get the best of Windows Central in your inbox, every day!
Daniel Rubino is the Editor-in-chief of Windows Central, head reviewer, podcast co-host, and analyst. He has been covering Microsoft since 2007 when this site was called WMExperts (and later Windows Phone Central). His interests include Windows, laptops, next-gen computing, and for some reason, watches. Before all this tech stuff, he worked on a Ph.D. in linguistics, watched people sleep (for medical purposes!), and ran the projectors at movie theaters because it was fun.
Holy cover picture switch, Batman!

Lol its been a while since I saw "windows phone 8 only" I thought that wasn't needed anymore

I think he was referring to RT as opposed to WP7

You man make it buzzphrase friendly by adding "the internet of things"

Sounds like a feel good novella

Not yet, but have been doing my research and shopping around for a while now.

Synology also updated all their apps this week and finally added their DS Download app to WP offering.
Excellent!

I love my Synology NAS and their support for WP

I've been using a 2 drive mirrored Synology NAS with attached external (for backups) for a couple years now. I love it. All my music, videos, pictures, and documents stored with redundancy and backed up, as well as being available to me through any internet connection including my phone. It's nice.

Sweet. Got one on in work.was waiting for this

Hilarious. This kind of crap predates Skydrive, but they make it sound new by slapping the word Cloud on it, and then you guys use Skydrive as a way of explaining how it works. Yikes. There is all sorts of wrong going on here. Hahahaha

I don't know anyone regular human who has NAS as home. I know lots of people with SkyDrive. No one cares if it 'predates' SkyDrive. We're talking about the consumer market and most people don't have a NAS solution in their living room, plain and simple.

You're so wrong. Anyone who is just a tiny little bit more serious about a home media library of music, videos or even photos gathered over the years must have a NAS solution. Preferably a RAID array of disks. Nobody right in their mind keeps this such a library on SkyDrive. So NAS storage is widespread.

Agreed. I have had a NAS for years, a Buffalo LinkStation Duo LS-WXL, and when it breaks I will get another one. I use it for backup mainly, though it does have DLNA capability, but I don't need that, preferring to use MediaMonkey as a music server. SkyDrive is NOT a backup solution, but it is invaluable when I am mobile or travelling. Both have their critical roles in my personal computer and networking strategy, that's just what happens after 40 years in IT. But Daniel, I am still a "regular human". [:-)

You're so wrong. I still don't know a single person with NAS.
Seriously, across the US, how many homes do you figure have a NAS setup? 20%? 50%? 80%? Or less than 1%? My bet is on the last number. Lesson: tech geeks are not the norm, no matter how "serious" you are.

I'm not sure what point you're trying to make. The point I was trying to make, but failed, was the irony that this old technology is touted as being new, and explaining it to people by using the technology that replaced it. It just disrupted my own personal space time continuum is all!

In 2011, I read report that states "estimated household penetration of consumer NAS in North America will be 4.4% at year-end 2015"

I agree on that one. With a 3,500-strong movie collection spanning over 30TB, three QNAP units tide me by quite well. NAS units are actually a lot more popular than you think, especially for what you would call "standard consumers" (eg. non-geeks). They sell NAS units in stores in the UK such as PC World, and I can be 100% certain, no true geek would ever shop in a place like that ;) (unless its for cheap writable media, ofc) ;)

This is much better news then the article makes It sound to me. Together with Synology apps It's great news for the platform.

Curious to see a review comparing this to Synology

I run a Synology DS 413J and the DS app support is terrific on WP8.

I guess now i have a reason to setup my QNAP private cloud.. not sure i need access to 12TB of data from my phone though :P

IIRC Western Digital is marketing a home NAS as a personal cloud. Seagate probably is too. As soon as the next breach of a big name cloud service occurs, you can bet personal cloud/NAS devices are going to see a surge in sales.

I have Synology since 2012, and their app support on Windows Phone 7/8 is at parity with iOS and Android. I also have a Western Digital N900 Central and I simply use DLNA-compliant app like MediaMonkey to access its contents.

Have had sky mngr. for six months to support multiple delete photos to sky. NBD.

I've been using QNAP for my business NAS for 5 or 6 years now. Good product. Good price. My latest QNAP NAS purchase was for our VMware datastore. I'm extremely pleased to see a Windows Phone app for QNAP. They are very cost effective and very reliable....provided you use the proper hard drives. I've been using Western Digital 'Red' drives for my most recent NAS installs. These work well in an enterprise application so any QNAPs purchased for home use should do very well.