Official TV commercial for FIFA 15 is pretty awesome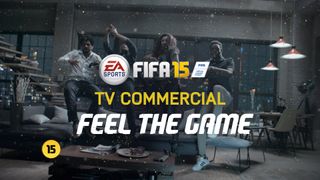 EA Sports has just published on YouTube the official TV commercial for FIFA 15. It is epic. Running just over 2 minutes, it shows multiple gamers playing FIFA 15. They're so tuned in that they actually feel like they're inside the game. They can feel the grabbing, pushing, and even the nasty tackles. Messi, of course, makes an appearance. Make sure to watch video.
What's new for this year's FIFA? Players now have memories and will show emotion based on pivotal moments on the pitch, for example, bad tackles, missed chances, or epic goals. Goalkeepers have also been re-written. There are 50 new save animations, improved Goalkeeper AI, last second save reactions, an authentic player model and realistic tips and deflections. In addition to improved visuals, dribbling and control system have also been overhauled, resulting in better accuracy in the spin, curl and flight of the football as it moves.
We're very excited about FIFA 15. If you can't wait to get your hands on the game, the demo is already available right now. The full game will be available in North America on September 23rd, UK on September 26th, and the rest of Europe on the 25th. You can also pre-order now.
Do you like the commercial? Are you getting FIFA 15? Let us know in the comments!
Windows Central Newsletter
Get the best of Windows Central in your inbox, every day!
Did you watch the video???

Jus commentators dude, that's it

Wow. That was a great video.

Not a soccer fan, but yes, that was cool.

Yes indeed, I'm already playing the Demo on Xbox One.
Anyone noticed that close to the ending of a game the team in front will try to kill time by holding onto the ball by the corner flag. Don't know If that's genius or lame....
Gonna pre order the Ultimate Fifa 15 Edition.

Alot of people say its the same as always, but people that truly play the game noticed all the changes down to little things, I really enjoy the demo, can't wait for a full game, game is amazing this year

True, and there is alot of little things in FIFA 15 that makes it a truly better game...like the Goal Celebrations, The player Animation after scoring and walking back to center field, The player animation when dribbling (the angle of the foot for eg), the Commentary got bumped too (though I would like more), the music is awesome too...just a few of the things I noticed so far.

Yeah that was amazing.. :-o

Ok, this has literally nothing to do with anything related to Microsoft...

How many times do you guys need to be told dont like it dont read it simple as and if we really want to dive into it fifa 15 will be coming to Microsoft's platforms eg xbox one so it does actually have something to do with Microsoft

FIFA 14 was on Xbone and Windows 8.1

So the Xbox console, symbol, controller's, and name shown throughout the advert from beginning to end which are owned, made and are property of Microsoft are nothing to do with Microsoft. Hmmmm, my friend, hmmmm indeed.

Get ready... if they screw you FIFA fans the way they srewed us NHL fans, you are going to pay $60, just to lose features. Someone has to pull these sports licnses from EA... they have just gotten way to lazy and greedy.

Yeah especially us Canadians, but honestly only NHL got the worst of it all. FIFA 15 seems to be progressing

What did you expect? It's not uncharted serious or GOW, there's not a huge difference between games every year, but that's not the main reason why we are, FIFA fans, buy it every year. But because we fucking love football. But FIFA 15 is def an improvement from 14.

Gold fish was man on the match lol game looks awesome!

The fish made my day lol!!

I'm not the biggest soccer fan, but that was pure awesome.

Of course they had to show Messi scoring.

That was pretty awesome !

Xbox one is on the right track, video's like these show why!!!

Messi - more overrated then the entire Brazilian squad.

Well 1st he is from Argentina. 2nd Brazil was the best, now they have young players that have a lot to learn. So chill dude.

Will it be available for Windows Phone?

xD You're right! Its already going to be released for Android & iOS, hope it comes to our platform too, but shouldn't take that long! :P

I meant that technology progresses so fast that games we play right now on Xbox one, would be possible to play on our phones, that's why I said 5-6.

Yeah bro, I mean the same thing! Hope we'll be able to play those kind of games on our phones soon! ;) (Y)

Thts dope game though m not a fan of xbox on the playstation side wen it comes to a gaming console

I find it so funny how Real Madrid was not shown any the this ad or any previous version of FIFA. Anyone that plays FIFA knows that Real Madrid is the most popular team in the video game.

Wow! That's an awesome commercial! If I had an Xbox I would buy that for sure!!

Very well executed video. I've bought a couple of the previous Fifa games and been none too impressed, but this one sure looks good. I'll give the demo a go.

That was awesome and almost very interactive, Me Likey

Cool vid but I think they should try to launch a special Fifa every 4 years just before the world cup or to coincide with the world cup. That should increase their sales.

Like this you mean? Lol https://www.windowscentral.com/e?link=https2F%2Fclick.linksynergy.co... Posted via the Windows Phone Central App for Android