OneDrive for Windows Phone receives quick update to fix duplicate folders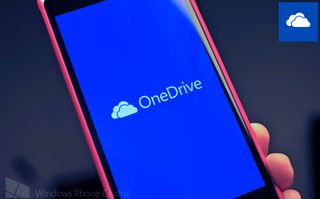 Yesterday was a great day for OneDrive fans. The app picked up a substantial update in version 4.1 for Windows Phone. The update was full of user-requested features like the ability to upload multiple photos, videos, files at once, the ability to sort and more. Unfortunately the update also introduced a bug that caused folders to duplicate for some users. You'll want to grab today's quick update to fix that.
Head into the Windows Phone Store and you'll find OneDrive now at version 4.1.1 with the following feautres:
Now looks great on large screen phones
Upload multiple photos, videos and files at once
New immersive view for viewing and managing photos
Open files from OneDrive in other apps
Share files to OneDrive from other apps
Sort files and folders
Bug fixes and performance improvements
Of course we knew about all those features from yesterday. Today's addition was a quick fix for anyone having duplicate folders appear. Let us know if you experienced that yesterday and it today's fix helps you out!
Don't forget to check our hands-on with the new features.
Download OneDrive from the Windows Phone Store.
Via: Windows Phone Central Forums
Thanks for the tip everyone!
Windows Central Newsletter
Get the best of Windows Central in your inbox, every day!
That was a real quick update from MS. Great job ! :) As its their own app didn't take long to pass certification and went live asap.

Updated to version 3.6 also crashing what gives?

Still no option to download video from one drive to phone ,while they provided this feature in their android version app,,,very bad

Yes it's absolutely faster - Nokia 920 and 1520.

Now this is what everyone moaning about integrated Facebook messenger needs to read and understand. Ever saw SkyDrive update in WP8? The system app? OneDrive is a system app yet got two updates in less than 24 hours. This benefit only gets better and better with every app that closely integrates into OS.

@rockstarzzz there you go using logic again. I wish people would understand THIS.

Still shows old thumbnails for the camera roll album. And how can i delete pictures from OneDrive in the photos app?

You can't. It's related to photos app not OneDrive.

Open it in OneDrive and then delete. You can open it without leaving the photo hub.

Yea right.. What a butt-ass solution..

You could only delete them 1 by 1 and that took some time on WP8. This is actually faster, stop being so lazy and actually make it work.

Wow what a way you have of defending crappy solutions mr. Fanboy who can't take criticism. It is not an elegant solution at all. How about we could delete multiple at once in the photos app?

Yeah, it would be super awesome to have that option but think about why it wouldn't work instead of demanding stuff to happen anyway.

BTW..why hasn't Fox Television sued Mozilla for using "Firefox"? They have common sense, that's why...:D

Sky didn't sure Delta either for SkyMiles.

Maybe because the copyright they have cover different classes?

Yeah this, or may be its because `fox` in Firefox is not a separate word (otherwise it would be CamelCased).

Now we're getting too deep into analysis...comment closed!

Yupp thanks to everyone.. The forum seems to be getting faste at delivering news :P

I should have waited few days ago and not do hard reset. OneDrive wasn't working for me at all, so I did hard reset, after, it allowed me to save ONE picture only. Well, still happy I got update yesterday and now I can upload even from photos hub like on 8.0

The duplicates are gone, but for some reason, when I access OD from the photo (hub?) I'm not taken straight to the albums. I have to click on "OneDrive Albums" to see them.

Let me download the songs I uploaded to my phone, at least is it even coming??

Off subject, but does anyone notice that the backgrounds folder has more images than before... Is MS able to add images to that folder?

Finally my music can play! No more error messages!

Is it the latest OneDrive or WP 8.1 that added a "Recent pictures" folder? I don't like it at all but it seems that I cannot delete it....

Its not a separate folder (taking up memory), its just a (virtual) view; showing stuff that you recently accessed.

Still no update available here, got stuck in version 2.3.0.0!!! :-/

I like the new sorting but I seem to have lost the custom sorting I set on the onedrive website.

No update here, got an update for 3.6 yesterday, sim free lumia 925, UK. what's going on?

No Windows Phone 7.8! Where it says it's only for Windows Phone 8.1??

"Head into the Windows Phone Store and you'll find OneDrive now at version 4.1.1 ???" Are you sure it's 4.1.1? Isn't actually 3.6.0.0? I did update my OneDrive app on my Samsung ATIV S (I8750) yesterday but it says version 3.6.0.0, not version 4.1.1! And I did go to the WP Store to check the version right before i wrote this comment and it says 3.6.0.0, not 4.1.1 Maybe you should correct your good article. :)

Also 4.1.1 http://i.imgur.com/rrYufgM.png

so, you are saying that this is a version for phones with WP8.1??? I have Samsung ATIV S (I8750) with WP8 GDR3, and i changed the countries in the desktop WP Store and on my phone too and still getting version 3.6.0.0 which i upgraded to on april 24th 2014. So it make only sense that this 4.1.1 is for WP8.1 devices. Or maybe the app is still not updated on WP Store for the whole world. I don't know what to think :)

It could be. I have WP 8.1 so it makes sense.

This is very likely considering that the update benefits those who have the 8.1 preview more.

Yeah, it makes sense, so non-offical conclusion: The OneDrive version for WP8 is 3.6.0.0 The OneDrive version for WP8.1 is 4.1.1

Knew they'd update this to allow sharing. Why it wasn't simultaneous for 8.1 baffles me though. Seems like a big mistake allowing consumers who don't understand that this is a preview mainly for devs to update their apps to for general consumption to complain about it.

No update in India i think it is for 8.1 developer preview.

Is the update only for WP8.1 or for WP8 as well? I'm from India region and running WP8. On the site via laptop I can see v4.1.1, but when I browse the store via my phone it still shows v3.6.0.0

I hope they introduce downloading multiple files at once on the droid. WPC App for Android- Lenovo IdeaTab A3000

This is a nice update - good to see the duplicate folder issue sorted. What I am hoping MS will update prior to 8.1's full release is the 'gallery'. I added a load of photos from previous Windows Phones into my 64GB 1020. The gallery app does not recognise/sort them by date. It is instead just an endless ream of photos. It's a pretty hopeless gallery implementation at present - especially given that there isn't a quick way to jump through the list.

Update fails every time I try to download it with no explanation or error code. Just says to try again or check for a phone OS update :/

They need to make it so we can open documents on Xbox and that we can select pictures from one drive to use as backgrounds... If it's there to do that I can't find it