Lenovo ThinkPad X1 Carbon (6th) with LTE: The configuration and specs I chose (and why)
Configuring a laptop for hardware is never easy. Here is what I chose for my X1 Carbon and why.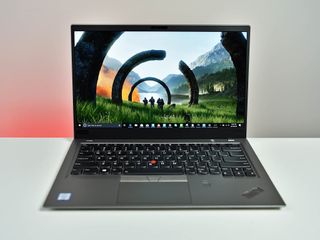 Recently, I wrote about why I chose the Lenovo X1 Yoga (3rd gen) over the Surface Book 2. Interestingly, I sent the Yoga in for a quick repair, but since it was within the return window of my purchase, Lenovo instead gave me a refund, which was not my intent.
Serendipitously, the ThinkPad X1 Carbon (6th gen) finally got its LTE-option on Lenovo's site. Combined with one of their frequent sales I ended up biting the bullet and ordering up a customized X1 Carbon (see my full review) and haven't been happier.
Here is what I chose and why.
The right combination of features
With the X1 Yoga I originally wanted it to have four things:
LTE-A connectivity.
Silver body (fewer fingerprints).
WQHD (2560x1440) preferably with HDR.
Windows Hello IR camera.
Unfortunately, due to Lenovo's unique configuration tool, you can only select some of those features. As a result, I ended up with no LTE or a Windows Hello IR camera for facial recognition. But those were things I could live begrudgingly without, and I still got the silver chassis with that HDR display.
Lenovo X1 Carbon 'Daniel edition' configuration
Swipe to scroll horizontally
Category
Lenovo X1 Carbon 'Dan edition'
Display
14-inch
2560 x 1440 non-touch and anti-glare
Processor
Intel 8th gen Core i5-8350U with vPro
Graphics
Intel UHD 620
RAM
16GB DDR3 2133MHZ
Storage
256GB PCIe-NVME SSD OPAL2.0
Ports
2 x USB 3.1 Gen 1 (one Always On)
2 x USB 3.1 Gen 2 Type-C / Intel Thunderbolt 3 (Power Delivery, DisplayPort, Data transfer)
HDMI
4-in-1 MicroSD card reader
Ethernet Extension Connector
Connectivity
Intel Dual-Band Wireless AC (2 x 2) 8265 + Bluetooth 4.1
Integrated Global Mobile Broadband LTE-A
Audio
Dual speakers (bottom edge), noise-cancelling dual-array mic
Battery
57Wh, up to 15-hour battery life
Dimensions
323.5 mm x 217.1 mm x 15.95 mm / 12.73 x 8.54 x 0.62 inches
Weight
2.49 lbs (1.13 kg)
Colors
Silver
Price paid
$1,580

(opens in new tab)

(sale)
With the X1 Carbon, however, I was able to get more of that list in one device including an IR camera, LTE-A, WQHD, and that silver body. For whatever reason, Lenovo does not offer that stellar Dolby HDR display with the silver frame – go figure.
Is the Intel Core i7 overkill?
Having a Core i7 processor in a laptop seems like the obvious choice given the right budget. After all, faster is better. But in my testing of many laptops and configurations, I've come to learn that what sounds better may not be the case all the time.
For the X1 Yoga, I had the Core i7-8650U – mainly the top-end 15W processor you can buy in 2018. But did I need it? No. When it came to ordering the X1 Carbon, I opted for the Core i5-8350U processor with vPRO. That processor not only runs cooler, but it saved me $200 over the Core i7. Plus, with the Core i5-8350U (versus the Core i5 8250U) I could still order 16GB of RAM, which is essential since you can't add more RAM later due to the soldered design on the X1 Carbon.
I have no regrets. While the Core i7 has turbo up to 4.2GHz for my job and daily task the 3.6GHz ceiling with the Core i5 is more than enough. Everything is fast, runs significantly cooler, and I'm getting better battery life.
Swapping out storage and saving money
Lenovo, like many premium tier manufacturers, is using some high-end SSDs for storage. Due to the way NAND memory works (chip redundancy) you tend to get better read and write speeds on the 500GB or 1TB models.
Nonetheless, in my configuration, I ordered just 256GB (Samsung PM961) for storage to save some money. I already had a new 500GB Samsung 970 EVO (opens in new tab) that I wanted to review to use instead, so that's what I did.
Swapping out the SSD is very easy on a Lenovo, and the result was worth it. Read speeds jumped from an already zippy 2,800 Mb/s to 3,500 Mb/s and write speeds went from just 1,345 Mb/s to an astounding 2,400 MB/s.
Interestingly, you could save yourself $30 by upgrading the storage yourself over letting Lenovo sell you the 512GB model. You could even sell off the "old" 256GB SSD for $75 on eBay.
So far, so good
My job exposes me to many laptops often at a weekly pace. Which one I find the best for my life and work balance is, let's say, an ongoing battle. For light computing and smaller tasks, I still like the HP Envy x2 with ARM and the Surface Pro with LTE is fun too, but I could just as easily live with the X1 Carbon that I have configured here.
With discounts, the Lenovo was running at the time the total bill of sale was $1,580, which I consider being very fair for a 2.5lb Ultrabook with these features. I also saved $550 from my original X1 Yoga purchase ($2,127).
Not all is perfect though. I have experienced an occasional trackpad bug where delays and freezing occur after an extended resume period. A quick reboot fixes it, but this is an excellent example of how Lenovo needs to go all-in with Microsoft Precision drivers and stop futzing with its Synaptics software underlayer. It causes nothing but problems and yields no benefits.
Image 1 of 2
Everything else though has lived up to my expectations. Battery life is excellent pushing ten hours. I now have the option for connectivity anywhere I work or travel with that LTE modem. Its performance is good, but I still maintain that reception could better and that Fibocom L850-GL modem is merely OK (manufacturers, unfortunately, have little choice for 4G LTE modems). At just $100 extra though I'm content. Finally, that 14-inch matte display is sharp and lets me get work done.
Do I miss the pen and inking of X1 Yoga? Not as much as the more massive keyboard deck and trackpad. Inking for me is still a thing I want to get into, but don't use daily. At least with the X1 Yoga, it was a convenient tool to have just in case, but so far, I'm fine without it or touch on the X1 Carbon.
The X1 Carbon is a half-pound lighter than the X1 Yoga though and I do notice that. In fact, the 14-inch X1 Carbon configured here is the same weight as the Surface Pro with LTE and is slightly lighter than HP Envy x2 with ARM - if you wonder why so many professionals like the X1 Carbon look no further than a scale.
In the end, picking a PC is never a simple choice even for someone like me. There dozens of picks for specific laptops and that exponentially increases once you start customizing your configuration. Having options is good, but it can be overwhelming too. Hopefully, my example as ordering like a "real" customer helps you understand some of those reasons with some realistic expectations.
See at Lenovo (opens in new tab)
Windows Central Newsletter
Get the best of Windows Central in in your inbox, every day!
Daniel Rubino is the Editor-in-chief of Windows Central, head reviewer, podcast co-host, and analyst. He has been covering Microsoft since 2007 when this site was called WMExperts (and later Windows Phone Central). His interests include Windows, laptops, next-gen computing, and for some reason, watches. Before all this tech stuff, he worked on a Ph.D. in linguistics, watched people sleep (for medical purposes!), and ran the projectors at movie theaters because it was fun.
You had me worried for a moment with the front page title, Dan.
Great read btw.

Thanks! Although now everyone is asking about the similar T480S and now I'm interested in that. I may be turning into a ThinkPad-head :P

16x9 screens on laptops are a "no purchase". too bad Lenovo has dropped the ball here.

I generally agree although from my experience it's less of an issue on 14" and larger displays than 13.3" and smaller. While I would have preferred 3:2 here I'm OK with 14" 16:9 at WQHD here. It's the Whenever I meet with HP, Dell, or Lenovo I'm pushing them on 3:2. Fingers crossed maybe for next year.

HP and Lenovo authorized reseller here. Elitebook X360 easily the best choice for my personal device and a better value IMHO. Inking supported and new models offer LTE as well. Build quality outstanding. I concur with your 3:2 display wish.

EliteBook x360 is super dope. Just waiting on a refresh for 2018.

Hi Dan, mind going into detail about what issue you had with your Yoga? I know you mentioned in the video it was related to the keyboard. Your previous video choosing the Yoga over the SB2 was a big factor in helping me decide to purchase the same config during Lenovo's Memorial Day sale and (after waiting nearly a month for it to arrive) I'm really happy with it so far. That said, I have noticed that the trackpad remains unresponsive for a second or two after waking up the laptop or switching back from tablet mode; guess that's a driver issue like you mentioned here. Other than that, everything else seems fine.

Oh, it was just when the Wave keyboard was retracting/rising (opening laptop, switching to tablet) it had a moment where it gets really stiff for a second like it's not aligned perfectly, then it would be fine. It was like at the 20 degree mark when opening. It was pretty superficial and didn't affect the device in any way, but in having a review unit it was easy to tell something was slightly off. Figured they'd just jiggle it bit or something, but didn't expect a refund.

Ah gotcha, yeah that seems like something they should've been able to fix. I'd be pretty annoyed if I had to send it for repair after waiting so long for it only to end up with a refund, but I'm glad you're enjoying the new Carbon instead. It does look like a nice alternative, and I'm sure the lighter weight is appreciated; I was using the ASUS Zenbook Flip S while waiting for my Yoga to arrive and it was a joy but the battery just wasn't cutting it for me. Anyway, thanks for the info as always :)

The only Thing Lenovo isn't doing, is making smartphones that can compliment Think Laptops. Currently I'm using a T460s i5 8G 256SSD LTE. Which I moved to after disposing off my T430. Lenovo Think Pads are only second to Apple. Apple's superiority here is just because of the Software Security it comes with.

I have always wondered when X1 Carbon will feature the LTE (Internet Everywhere) WWAN card. Finally it arrives. Good for developing countries where the internet connectivity via WI-FI HotSpots is still not that expansive. Combined with its feather weight X1 Carbon is a great device. I just hope this time Lenovo have enable Display flip using Ctrl+Alt+PgUP or PgDn when doing a 180 degrees demo to a client.

The processor choice is a really interesting area these days... I recently picked up a Dell Latitude 7390 2-in-1 and was torn between the i7 and i5. I went i7, well because in theory it's slightly faster at times, but there's a big hidden truth with mobile processors that doesn't get enough press: i5 processors can outperform i7 ones in some instances, and it's all down to TDP. I know that's something you've mentioned a little but I find is not at all obvious to people at all. Almost all processors can easily exceed their 15W TDP threshold these days, and in some benchmarks I read that compared i5 to i7 in the same model often had i5 going faster under load as the higher clocked processors would actually throttle more. Sure, for a few seconds the higher speed processors win out but for a 10 minute activity, that's not always the case. An ultrabook, while great for travelling should probably be more limited CPU wise if manufacturers want to be fairer on consumers and not give them something they are unable to fully use! As always, interesting to see what you're using. Have to say I like my new Dell though (performance wise - turns out not the best keyboard) although I was almost tempted back to a ThinkPad (had 5 in the past). I found my previous x360 overheated too much but was otherwise perfect. X1 Carbon has looked great in all reviews though.

Great review, one question - what was the average speeds you got with LTE? I need to buy a decent laptop that will last me a few years and this might fit the bill depending on LTE performance.

Even with a few bars I get 20Mbps. It's better than a lot of public Wi-Fi, which is all that matters.

Hi Dan, Is the panel quality is different between the 1080 and WQHD (non-HDR)? both are rated at 300 nits as stated by Lenovo, but what about the color gamut and quality between both?

They're both very similar just higher resolution.

Thanks for the info, do you see any scaling problems with your WQHD config. Issue here in UAE we cannot customize Lenovo laptops, they have a set of pre-configured options, for me to get the LTE I have to buy the i7, 16 GB, 1 TB, WQHD in black (no silver in any config though) which is extremely expensive, puts it up their in my Surface Book 2 price range.

Mine just cleared customs and should be in my hands tomorrow. I purchased mine on may 26th and its been a rollercoaster ride so far. I got the LTE, i7 8550u (I plan on doing some gaming with an egpu), 16gb ram, 256gb ssd because I plan on swapping out with a 1tb 970, and the hdr display. A week after ordering it said that the estimated ship date was September 20th and no one had answers or would respond to my emails. Oh well. It'll all be over tomorrow. Can't wait!

Yeah, their ETAs are all over the place. Mine was delayed too for the modem by a month, then 5 mins later they emailed me that it shipped. On average it takes 2 weeks to get it seems but can vary as you experienced.

Hey Dan greetings form Mexico, It is also very difficult for me to choose between all those options, I went with:
Color: Black (since it has a soft touch feeling).
Screen: FHD touch, I'm not planning on using touch but it better to have it. I didn't went for the higher def one because of scaling. When I had an XPS 15 9550 with uhd, it was a pain with Windows and external monitors, maybe it's way better now.
Core i7 9550
IR camera
16 Ram
500 SSD

Nice, sounds like a good mix!

I wish the Surface Pro LTE had the 16 GB option. I must admit that the laptop design that I liked the best is the Porsche Designed from last year, but i didn't buy it because I was worried about support - if only that had been the Surface Book.
have you heard anything more about a follow up

Great review since I am looking at your exact config. I am curious did you measure the srgb and brightness on this screen? I am torn on how good the wqhd matte vs hdr is. I want the IR, Silver and LTE but want a good screen. I am coming from last years Yoga and that screen was colorful and bright. I just never used the touch and always wished it was easier to open. What are your thoughts on how much easier this x1 Carbon is vs the Yoga?

Carbon screens used to be really dull, but this one is "good enough". I like the QHD, matte and the brightness is just enough for me to not complain. HDR is another league, but on Carbon it's SUPER glossy, almost too glossy for my likes. Yoga HDR is less glossy (and touch). While the HDR is stunning I'm OK with matte QHD and prefer to have LTE and Windows Hello IR.

So, Carbon actually has a better keyboard than yoga? I wonder if I could test them both in a store.

Hi Dan, love that you picked a X1 carbon. I'm curious why you didn't go with the touch option? Is Windows Hello with the IR camera that awesome?
Windows Central Newsletter
Thank you for signing up to Windows Central. You will receive a verification email shortly.
There was a problem. Please refresh the page and try again.