Our attempt of the MarketPlace Enabler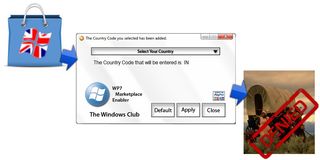 There has been a known issue clouding the Marketplace on our beloved platform that has affected a good number on non-US residents (surprise, surprise) – not being able to download a good number of apps (mainly just after they are published) or even access the Marketplace itself, as India has to struggle to cope with.
I have had this problem myself, attempting to download The Oregon Trail to bring back the old days of Windows 98. Reading up on a previous post about a registry hack that changes the location of the computer and allows you to catch apps using Zune software. Now The Windows Club team have taken it to the next level (good news for the less technically savvy) and have released MarketPlace Enabler.
This handy little program allows anyone who can't access the Marketplace (opens in new tab) to change the location and literally access it from anywhere in the world (except you wont be physically moving from your seat). As you'd be using the Zune software, free and paid apps will be downloaded just as you would on your phone, and it is all perfectly safe as the payment gateway attached to your Xbox Live/Zune account will be used to complete the purchase.
I installed the software on my Windows 7 desktop, highly excited to get my hands on The Oregon Trail HD. Simply running the .exe file (while Zune wasn't running and my phone was disconnected) I as able to change my location and it reported a successful change. Unfortunately, when plugging my phone in and starting Zune, I still could not find The Oregon Trail HD, which I should now be able to see/purchase. After countless reboots, and defaulting/changing my location with the tool, it seems that I have hit a brick wall and wont be going down the Oregon Trail in HD anytime soon, without hacks anyway. MarketPlace Enabler also doesn't allow me to pretend I'm from another planet; something I hope will be fixed in a future version, along with the above.
Although the tool itself failed to work, the idea and concept is spot on. There is room for improvement and possible fixes could be applied to a future update, or we could pin our hopes on the Marketplace loosening up slightly.
Check out the detailed page over at The Windows Club (opens in new tab) for more information and the download link. Let us know if the solution worked and how it has improved your experience with your Windows phone, or if it failed.
Source: The Windows Club (opens in new tab); via: Mobility Digest (opens in new tab)
Windows Central Newsletter
Get the best of Windows Central in your inbox, every day!
Rich Edmonds was formerly a Senior Editor of PC hardware at Windows Central, covering everything related to PC components and NAS. He's been involved in technology for more than a decade and knows a thing or two about the magic inside a PC chassis. You can follow him on Twitter at @RichEdmonds.
Hi. Richard. I was pleased to see WPCentral mention my application and I am sad to see it did not work for you. I am getting random results from users that couldn't get it to work for them and I am trying to collect some feedback to see what may be the issue.What version of the Zune software are you running? Currently this has been shown to only work on Zune v 4.7.1404.0 and earlier as the latest version do not have the settings available to allow the app to tweak it. (This is my fault as I should have had the application do a Zune version check when initially run).After Zune loaded were you prompted that settings were changed with the Zune Software?Hopefully getting some feedback I may be able to find a solution and hopefully get everyone access to features they deserve with their phones until Microsoft opens access.Lee@TWC

Lee,Thank you for getting in touch and making your voice known on this article. The Zune version that I have on my desktop is v4.7.1404.0, I was never prompted with anything on the Zune side in terms of reporting to me that setting shave been altered. So my guess is that it's not changing the registry successfully for my attempts.I do think the tool is a brilliant idea and I'm glad to hear that some have got it working. To have people who desperately require the MarketPlace the ability to access it with your software would be a fantastic achievement until - like you said - Microsoft sorts things out.

I tested all night trying to figure out what the problem users are having might be.I wrote a walk through of how I got it to work on the Feedback Forum at The Windows Club for those that may have issues with getting access.Richard: I did discover that applications that access XBox Live still do not display in Marketplace even after access is opened. Incidentally, The Oregon Trail is an XBox Live title. I'll be hunting for a solution to this as fast as I can!