Over 70% of our polled readers like Windows 11 so far
We're just under a week into testing Windows 11, and early impressions are good, according to our readers.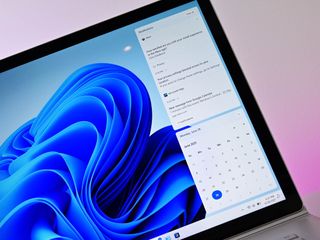 (Image credit: Daniel Rubino / Windows Central)
The first preview build of Windows 11 rolled out last week, and many Insiders raced out to try out the operating system. We ran a poll over the weekend to see what people think of the new OS so far. Based on early feedback, our readers are fans of Windows 11.
Out of over 2,000 votes at the time of publication, over 60% of polled readers said that they're "really liking" Windows 11 so far. An additional 13% say that Windows 11 is "an absolutely mind-blowing game-changer," meaning over 73% of polled participants view Windows 11 positively.
8.5% of participants said that they're indifferent about Windows 11, and only around 5% said that they like it slightly less than previous versions of Windows. Under 3% of polled readers said that they view Windows 11 as a "travesty of an OS." In total, only around 8% of people that voted in the poll view the OS in a negative way.
10% of polled readers haven't installed a preview build of Windows 11 yet.
Those that took time to comment appear to view the OS more negatively than those that voted. Many people criticized the new Start menu.
"Just installed it. Not liking the new Start Menu, but we will see what happens what features they add,' said Vincent McLaughlin. "As of now, I'm not understanding why people consider this modern. It's bland and static."
Others were more positive, including aXross, who said, "True, overall it is more polished at first go than what it was with first release of Windows 10. And we are still months away from public release either."
We'll leave the poll open to see if it trends in another way after more people can try out the operating system. We'll likely circle back with a similar poll as Windows 11 moves further into its development.
News Writer and apps editor
Sean Endicott brings nearly a decade of experience covering Microsoft and Windows news to Windows Central. He joined our team in 2017 as an app reviewer and now heads up our day-to-day news coverage. If you have a news tip or an app to review, hit him up at sean.endicott@futurenet.com (opens in new tab).
It was a nice first insider preview. But they have a looooooooot of work to do the coming weeks to get the UI consistent. There are already 3 different new context menu styles on the desktop. And they use 3 new styles of blur. They also should bring more customisation options. For instance let us specify which actions we want visible in the explorer context menu's instead of hiding a lot of basic things behind 'show more options' which requires extra clicks. Same for start menu customisation. I really hope they take the time to polish everything and not release everything half done like they usually did in the past. If Apple can overhaul MacOS and all the 20+ stock apps in the first beta with microscopic attention to detail, so should Microsoft

You're spot on about everything. I'm liking it so far but that can easily change.
They need to bring back the old context menu options using the new style, t
They also need to restore VPN access to the taskbar and bing back taskbar and desktop right-click options.
Start menu has a lot of wasted space and needs more customisation options.
They need to finish adding dark theme (it's been long enough to get that right)
Finishing moving Control Panel to settings (I prefer control panel but its sadly never coming back fully)

I am not one of them. It just feels like windows trying to be android. 🤮🤮🤮🤮
And the start menu is utter garbage
No tiles
No live tiles
Can't add folders to it
Windows 8.1 and 10 let you make the start menu as complicated or as simple as you want. Windows 11 nope you get a simple dul look and that's it.
So I'm sticking with windows 10. Hopefully by 2025 we will have windows 12 and or windows cloud with a surface ar glasses.

I think it depends on how you use it. For me I managed to install it on my surface Pro (original that was told was not supported) but it downloaded from insider build and had no issues. That said its been perfect on the tablet mode as for me this is what it's missed since Windows 8. Don't use the surface Pro for millions of things but I'm finding I'm picking it up agon to look at the Web emails ext instead of my phone. I will see what happens over the next few weeks but love it on my surface. I will stick it on my gaming pc at some point then my work one. This maybe when I see a diffence in how it works to how I use it.

Start menu is crap. Taskbar is crap. Form over functionality.

I'm with you. Total lack of personalization /personal productivity tweaks for the start menu and Taskbar. And why is it impossible to make the Taskbar transparent? Just a big ugly black bar.

I'm with the overwhelming majority, it looks GREAT! Windows is fun again!
Windows Central Newsletter
Thank you for signing up to Windows Central. You will receive a verification email shortly.
There was a problem. Please refresh the page and try again.