Patch Tuesday: Firmware updates available for all Surface devices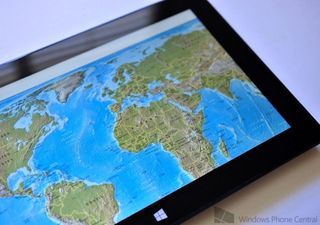 What's your favorite Tuesday of the month? If you're anything like us your favorite Tuesday is the second one. The one that Microsoft calls Patch Tuesday and puts out a ton of updates for things like Windows 8 and your Surface device. Today is that Tuesday, so let's check out what's new this month.
For Surface owners, we're looking at updates available across all devices: Surface, Surface 2, Surface Pro and Surface Pro 2. Here's the breakdown on what's new and/or fixed in the latest updates:
Surface – Release notes (opens in new tab)
Updates on both Windows RT 8.0 and Windows RT 8.1 that include:
Surface Home Button Driver update to optimize available system memory.
Surface Type Cover audio device driver update to enhance trackpad sounds for Type Cover
Surface 2 – Release notes (opens in new tab)
The Surface 2 is only running Windows RT 8.1. That said, here are the updates for the latest and greatest Surface:
Screen dimming during CPU intensive operations resolved.
Decreased charge time for batteries.
Two-finger trackpad use optimized.
Update to support additional external displays.
Skype video quality improved.
Resolved delay during restart when Bluetooth devices are connected.
Surface Pro – Release notes (opens in new tab)
Nothing new for Windows 8.0 users on the Surface Pro, but folks using it with Windows 8.1 will be seeing something that should make Rafael happy:
Wi-Fi driver (v14.69.24047.156) update for improved wireless display experience.
Surface Pro 2 – Release notes (opens in new tab)
Again, the Surface Pro 2 shipped with Windows 8.1 on board, so the updates are for that. Here's what you'll find new with your Surface Pro 2:
Improved system stability, including when minimizing full screen games.
Updated Wi-Fi driver for improved wireless display and connectivity with wireless access points.
Improved Surface Cover interaction including power-saving sleep functionality.
Color fidelity improvements for all applications.
Optimized two-finger trackpad use.
Enhanced audio experience when connected to a Display Port 1.2 device.
If you've got a Surface device you'll want to head to Windows Update in your PC's settings to get the latest firmware. The updates posted above (especially for the Surface 2 and Surface Pro 2) fix a handful of issues with the devices. Not rocking a Surface machine? No worries, Patch Tuesday is also a day for general and security fixes to Windows 8.
We can't list every single security bulletin list that the Microsoft Security Bulletin Summary for December 2013 (opens in new tab) does, but we can point out a few big ones. For example, bulletin ID MS13-096 is an update that addresses a vulnerability that could allow remote code execution in products like Windows, Office, and Lync. Another, MS13-097, is a cumulative security update for Internet Explorer that fixes privately reported vulnerabilities that could allow remote code execution. Head to Windows Update to grab all the latest there.
There are also optional updates in Patch Tuesday that are worth downloading. For example, KB 2913320 (opens in new tab) is an update that improves SkyDrive reliability and user experience when editing files from multiple endpoints in Windows RT 8.1 and Windows 8.1.
Any updates (either Surface firmware or Windows 8 related) you're looking forward to the most?
Via: ZDNet
Windows Central Newsletter
Get the best of Windows Central in in your inbox, every day!
So no speed improvements for Surface RT? That thing is painfully slow, especially IE.

It is becoming painfully slow for sure. Makes it look sorta buggy when switch apps.

Get a Surface2. Problem solved.

Considering that they sold over 15000 refurbished units on Black Friday and god knows how many new units, this problem is far from solved.

I bought one of those. This thing (with 8.1) is anything but slow. If I open multiple, and I mean 20+ tabs in ie, it'll slow down, otherwise, no issues. :)

Yeah me too. I can browse happily with no issues, then open my tabs at some point and I have like 30 to close.

Have you looked at the free space you have on the internal disk, my Surface RT only slows down when internal space is low.

I have the 64gb model so might explain why I never seem to experience this issue.

Welcome to the Surface. Microsoft should have done what they said they were going to do and allow the 5th core and increase the clock speed to what it is supposed to be.

If it is painfully slow you have a problem. Just updated both my RT's and they run like brilliantly. Mine are definitely not slow. Since putting on 8.1 i can see a great improvement in speed. Maybe you need to refresh.

Since I made the mistake that I hit the update button in the Windows 8.0 RT store, I curse that day at least once a week. Windows 8.0 RT was nearly perfect. IE10 never crashed or hang up. Since 8.1 and ie11, It always stops responding, or sometimes doesnt register any touchscreen input. I could only bring my Surface rt v1.0 back to life by restarting from the frozen windows control panel list.

Same here but I never mark it on my calendar... I think I will from now on.

I have both surface and 1020 .. I love updates

Everything become one eco system, Windows Surface, Surface 2, Windows phone, Windows 8, 8.1 at least from point of updates. All MS OS and devices receive updates in same day/date, I believe first time in history. Does this mean that they suffer same issue or going to be one.

My Surface Pro 2 has an issue keeping external displays awake. Applying the firmware updates now in hopes it will resolve the issue magically even though it is not listed.

No battery drain fix for OG Surfaces?

I've been having this issue too. It used to last for days, and now it's dead after 2-3 days off charger. It didn't do that before.

Touchscreen on my Vivotab RT has gone crazy. It's registering phantom touches and other issues. I basically have to turn off touch driver and use it as a laptop. Will send it in for repair if today's update doesn't fix it. Anyone knows how to fix it, please let me know!

Unfortunately that is a hardware problem and not software related :(

No fix for the Surface Pro lockout where picture password does not work and you can't switch to password without hard rebooting?

Is patch Tuesday only for surface? Lumia 2520 user

You should probably see the RT patches/updates. But there are some Surface specific firmware updates from Microsoft. Nokia will probably release new firmware, if it's needed, themselves (until Microsoft takes over)

Thanks, i was recieving an error, restarted tablet and now its updating, thank you.

I had 23 updates for my Lumia 2520.

What about the overheating stuff? I'm actually starting to feel it quite hot on my Surface 2.

The sleep issues with the SP2 need to be addressed.

To also be noted that (KB2903939) also includes a nice fix for gamers. 2908279 Mouse pointer stutters or freezes when you play certain games in Windows 8.1 and Windows Server 2012 R2

Very convenient. Just got a Surface Pro 2 today. Now let's see if it can connect to my phone, google account, flipboard account and other apparently unrealistic demands of mine.

Have a SP2 - installed all the minor updates but problem with the main Firmware - keeps saying theres a problem installing updates, plug in and fully charge and try again - i have it plugged in.....

After doing the update on my surface pro 2 i get "limited wifi" and can't connect to the internet. Thank you Microsoft :-(( I had problems with hdmi-connection, with lan and now wifi. Is it the stupid windows 8.1 or the surface? I am upset.

I got the firmware to update - after the update the network adapter driver failed as I had no wifi - just refreshed twice :/

try going to device manager - then disable your adapter - then re enable. i think that was my solution last time on SP2

God damn this - going to have to do factory restore - if this doesnt work im going to find the nearest MS employee and slap him in the head with this thing...losing hours of productivity here :/ im sooo Pished

Started a new thread in the Surface Pro 2 forums specifically for failed update/connectivity issues after the update

Liking the new optimized touch pad for my Touch Cover 2 on my SP2. Still not as nice a touch pad as I'd like it to be, but it's definitely much better than before.

WiFi display? Does it do WiDi?

I bought a RT on Black Friday, new, and I can say it's anything but slow. I love this thing! I had an Andriod tab and that thing was slow. Needless to say it's already gone thanks to E-Bay. I certainly don't need x86 progs to run on my tab, but that's just me so it's about perfect so far, and the battery life is stellar.

Yes, works great with miracast :)
Windows Central Newsletter
Thank you for signing up to Windows Central. You will receive a verification email shortly.
There was a problem. Please refresh the page and try again.