Peggle 2 pops caps on Xbox 360, Nutjitsu coming to Xbox One tomorrow, more console news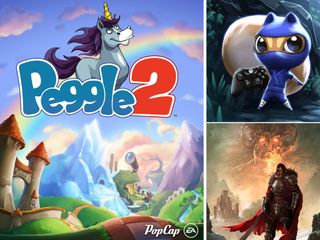 May is a very back-loaded month for Xbox One and 360 releases. Coming up on May 20 we have the highly-anticipated Wolfenstein: The New Order from Bethesda, followed by Watch Dogs from Ubisoft on May 27 – certainly the highest profile games the One and 360 will see for months. That doesn't mean gamers have to go without new releases this week and next, though!
Today the Xbox 360 finally gets Peggle 2 from Electronic Arts and PopCap, a timed exclusive that we formerly went crazy over on Xbox One. The One will have its own new downloadable game tomorrow, when Wahoo Studio's Nutjistsu makes the trip from Windows 8. And Friday sees the retail release of Focus Home Interactive's Bound by Flame on Xbox 360 (and Playstation 4 but not Xbox One, sadly). Head past the break for more details on this month's console releases!
Peggle 2
After debuting on Xbox One last December, Peggle 2 is now available for previous-gen Xbox owners! It remains a timed exclusive to Microsoft consoles. Wouldn't a Windows Phone version be grand though?
Peggle is a deceptively simple game. Each level consists of an assortment of colored pegs and bricks for players to destroy by firing balls at them. Blue pegs just give points, purple pegs add to your score multiplier, green pegs activate your character's special power, and all orange pegs (they look red) must be cleared to finish the level.
Peggle 2 includes a number of improvements over the original, most notably proper widescreen support with all-new HD visuals and highly animated characters. It's a beautiful game on both the 'bone and 360. The campaign structure is much improved as well, with optional goals for each level and challenge levels that you'll actually feel like completing.
The Peggle games are great in single-player, but things get really fun with friends. Luckily, Peggle 2 sports offline and online co-op multiplayer, as well as online versus gameplay. Check out our original review and expanded multiplayer impressions for the full skinny.
Nutjitsu
From the makers of Fusion: Sentient and A World of Keflings comes this classic arcade-style maze game. Players take on the role of a ninja squirrel who must rescue his clan's acorns from the evil kitsune samurai.
Each level contains a main filled with samurai guards that the ninja must sneak past. Objectives vary but usually involve picking up as many acorns as possible. As you play through a level, more and tougher enemies start to appear, making it tougher for the ninja to go undetected. Even if he does get caught, he'll still earn XP that contributes to his overall rank.
The ID@Xbox program allows games of all shapes and sizes to be self-published on Xbox One, including ports of phone and tablet games. Having originally launched on Windows 8 and RT, Nutjitsu will be the second tablet game to make the trip (Halo: Spartan Assault was the first). It's also the second indie game for the One, following Strike Suit Zero.
Nutjitsu also happens to be the cheapest downloadable Xbox One game, with a launch price of $6.49. The original was free to play, so hopefully Wahoo has rebalanced the console version to cut down on grinding. We'll find out when Nutjitsu arrives on Xbox One this Thursday.
Nutjitsu – Xbox One – ? MB – $6.49 – Xbox Store Link (coming soon)
Nutjitsu – Windows 8 and RT – 249 MB – Free – Store Link
Bound by Flame
Coming from French developer Spiders, Bound by Flame is a fantasy-themed action-RPG along the lines of Dragon Age and The Witcher series. Players control a character who has been possessed by a flame demon, giving him the power of fire. Depending on the choices the player makes during the storyline, the hero will either retain his humanity or give in and become more monstrous and evil.
Although Bound by Flame plays like other third-person RPGs, its focus is more on story than exploration. Players will travel through different hubs as they complete missions and advance the narrative. If you're looking for a shorter RPG experience, this might just do the trick. And the price is quite fair given the game's smaller scale – just forty bucks at launch. Bound by Flame arrives on Xbox 360 and Sony platforms this Friday.
Bound by Flame – Xbox 360 – ? MB – $39.99 – Amazon Link
Later this month
Super Time Force (Xbox One and 360)
The third ID@Xbox release for Xbox One will be Super Time Force from Capy Games, makers of Superbrothers: Sword and Sorcery EP on mobile and the upcoming Below for Xbox One.
Super Time Force is a very promising 2D run-and-gun shooter. Like Superbrothers, this one features a striking retro pixel art style that sets it apart from pretty much any other game in the genre. Although Super Time Force is only a single-player game, it features a unique time rewind mechanic in which players can rewind a level and then fight alongside past versions of themselves.
Capy's first Xbox One and Xbox 360 release will debut next week on Wednesday, May 14.
Wolfenstein: The New Order (Xbox One and 360)
We first previewed Wolfenstein: The New Order at E3 last year. At last, the game's release approaches! The latest entry in the long-running Wolfenstein series will launch on May 20 in North America, Europe, and Australia.
Bethesda recently announced the installation requirements for The New Order so that Wolfenstein fans can prepare their hard drives for its arrival. The Xbox 360 version ships on four discs, the first of which carries a mandatory install of 8 GB. The Xbox One version comes on a single Blu-ray with a 47 GB installation.
The New Order is really big for a single-player first-person shooter, but that's actually good news. Players can expect a big emphasis on the game's story, which takes in an alternate 1960s in which the Nazis won World War II. The story scenes I've witnessed so far are well-directed and extremely intriguing. And with the 360 version clocking in at nearly the same size as the massive Xbox One game, previous-gen gamers shouldn't miss out too much as far as graphics and sound go.
Preorders of Wolfenstein: The New Order include future access to the new DOOM beta. Note that the beta will only be available on Xbox One, Playstation 4, and PC. Preorder at Amazon to get a $10 credit too. Why not use our referral links?
Wolfenstein: The New Order – Xbox One – ? GB – $59.99 – Amazon Link
Wolfenstein: The New Order – Xbox 360 – 47 GB – $59.99 – Amazon Link
Watch Dogs
Last but not least is the open-world action-adventure game Watch Dogs from Ubisoft Montreal. The game stars Aiden Pearce, a hacker who steals and sells information in a futuristic version of Chicago. Hacking plays a large role in Watch Dogs, with players able to control street lights, bridges, steam pipes, and many other environmental objects via hacking.
Although Watch Dogs carries a substantial single-player experience, early impressions indicate that multiplayer is the game's stand-out feature. Several unique modes are included, most notably one in which another player is trying to kill you within the open-world setting. The catch? You can't tell the other player from the NPCs, creating a tense and exciting cat-and-mouse dynamic.
Watch Dogs arrives on May 27 in the US.
Get the Windows Central Newsletter
All the latest news, reviews, and guides for Windows and Xbox diehards.
Paul Acevedo is the Games Editor at Windows Central. A lifelong gamer, he has written about videogames for over 15 years and reviewed over 350 games for our site. Follow him on Twitter @PaulRAcevedo. Don't hate. Appreciate!