People app for Windows 10 gets the most dramatic Project NEON makeover yet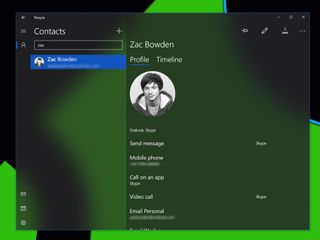 Microsoft's Project NEON, which has never been officially announced, is an effort to overhaul the visual appearance of the Windows 10 UI. Specifically, the changes add a translucency effect to existing core apps, and sources familiar with the project tell us the goal is to prep the OS for a holographic and mixed reality world.
Tonight, the People app for Windows 10 on PC was updated to version 10.2.1211 up from 10.2.1071. The update coincides with the Fast Ring update on May 4 to build 16188, which features a massive changelog of new features and tweaks.
The new People app has the same functionality, but the whole thing is translucent letting the background desktop peek through. Similar changes have come to the Groove music apps and a few others, but never have we seen this much translucency.
Our hot take on it the change is we're in love with the look and our hunch is you'll want it too.
We first reported on NEON way exclusively back in November 2016. Since then, we have seen it arrive in the Start Menu, Groove Music, Movies & TV, and more.
The update has not hit all our Fast Ring PCs just yet, meaning this could be part of some A/B testing before a broader rollout. Nor have we seen an update for Mobile either.
Windows 10 Redstone 3: Everything we know so far
Microsoft will likely talk more about NEON next week at Build 2017 in Redmond. The company is expected to keep tweaking the Windows 10 UI and core apps with the changes leading up to Redstone 3 this fall. Third party apps are already doing it themselves, but formal guidance on the UI from Microsoft should be coming soon.
Thanks, Jesse C., for the tip!
Daniel Rubino is the Editor-in-chief of Windows Central, head reviewer, podcast co-host, and analyst. He has been here covering Microsoft since 2007 when this site was called WMExperts (and later Windows Phone Central). His interests include Windows, Microsoft Surface, laptops, next-gen computing, and for some reason, watches. Before all this tech stuff, he worked on a Ph.D. in linguistics and ran the projectors at movie theaters, which has done absolutely nothing for his career.
Waste of resources in my opinion, but oh well.

I know, right? Let's just go back to DOS. UI's are dumb. Command line 4lyfe. CPU resource are super precious in 2017, unlike those Vista days where it was raining RAM and cores. Also, building out a UI for holographic and mixed reality? Please, we'll all be on flat screen for the next 20 years. I'm switching to Amiga.

Making Windows transparent doesn't improved an operating system, if anything it means it'll require more processing power and actually slow the operating system down for those with older machines. But hey, if you need things to be bright and shiny to retain your attention power to you (I can be sarcastic too, high five).

Not nearly as good at it though

What? Are? You? Talking? About?🤔🤔

project neon make the ui better and attract the user attention, and users want to use it more / in the long term help the windows 10 become better / design is a important part of os

Problem! Problem! Problem!......! Is there anything that satisfied you? Then you come bragging that iOS is gem. Just go there.

Even iOS uses NEONish UI and do you see people complaining about iOS??? NOOOO!!!
.
Don't know why people have a problem with NEON. IT IS AWESOME....
.
At least MSFT is trying out something new!! It's cool!

it will be awesome for people with better up to date HW but for those running 4y+ or older HW.... it will be a punch in the belly especially if AMD/Nvidia f* up the drivers for older devices of course, it can be turned off... but how many people will know that? I bet not all of them, right?

Settings: NEON on/off under display/personalisation. Heck, might even detect compatibility automatically!

Windows 7 had transparent UI parts all over the place. That's nonsense.

TBH, tho, plenty of people complain about iOS. 😀

Yep, Android as well. Then again, it seems like if someone complains about Windows 10 mobile, the damage hurts 1.5x more.

A lot of people hating iOS 7+ UI and not only, not sure if you know subject

Go back to command line Linux OS (with no GUI of course).

And like the current settings in W10, you can turn transparency off, so this is a non issue. If people want things to look a little better they have this option. If your computer sucks or need to squeeze that extra 2% of resources from your system, simply turn it off. Big whoop.

Picking a fight with the editor when you're right bold. Picking a fight with the editor when you're wrong =???

WinBeta Sean? Coming over to windows central?!?!

Someone needs to change your diaper and get you a pacifier because with all the crying you're doing, you must be wet. It's too early for your nonsense

What universe are you from ? is it the one where everyone hated windows 7 ? cause that would make more sense.

I agree with you. Windows 10 UI is awful and complete mess. But genius Microsoft's "designers" think that making it completely transparent will improve it dramatically. IMO, this "neon" looks even worse. I dont even mention performance impact.

Even most of the computers that came out during the Vista era could handle transparancy. If you are using it on such a low end PC that it matters then you can turn it off. People complained when MS got rid of Aero. Now people complain when they try to bring it back. Sheesh.

There's a Setting in the Personalization -> Colors section where you can toggle "Transparency Effects." I've already noticed instances where its not very processor optimized (Groove Music highlights) Akin to how running the Performance Tests on Win7 would allow you to enable Transparency if it detects your system is capable enough.

nice one, you didn't have to distory his dreams you know lol....

Switching to the Amiga?
http://www.vrexperience.net/Newsroom.aspx?id=120 The Amiga 3000 – a VR pioneer

There are opinions. Go back to India.

I never had an amiga, i used to game on an Apple IIe

then your whole life was a lie!

lol. That about sums it up. Commodore and Amiga were like Microsoft, Apple and Google are today then just died overnight. RIP

This! I loved my Amiga 500! :-)

This was a dumb comment. Bravo.

Sarcastic replies from Daniel are what I live for Hahaha! Just basically saying stfu! LOL

Should also be mentioned that the composition APIs in W10 (which keep getting better) are extremely well tuned for modern hardware, this isn't like the old hacks that windows skinning tools had to apply in the past which could have an impact. There will also most likely be an option to disable on very slow hardware just like you've always been able to reduce the number of animations in Windows since forever - Not that its needed so much these days.

I'm all for using a system's resources to make the system look great - but - I was thinking that a UI refresh meant something along the lines of a "Design Language" similar to the massive undertaking (and poor delivery) of Google's Material design. Microsoft once had a design language (Zune / Win Phone 7) that placed function over effect, and it turned into some really beautiful and easy to use applications. This Vista-esque translucency is a waste of resources - in fact, it's distractingly pointless - observe how the meaningless hamburger menu shows up on a PC environment. Observe the non-visually pleasing use of white space (at least it's not white?), observe the relics of pivot table within a content area, even though there is a side bar with a non highlighted search result. And my absolute favourite: - guess the icon game is back! Or, better yet: is it a button or a link you can click on!? click to find out. Microsoft would be doing themselves a favour if they can collaborate company wide and agree on a design language that makes sense. As they would certainly be better at getting those resources in the hands of developers...

Zac is very smart, he used sharp contrast colours in the background to make it look like this.

See why I've been saying this site needs a new Editor in Chief???

While I disagree with Sin Ogaris and really appreciate Neon, I find it funny how most people on this site just seemed to agree with WHATEVER Microsoft is currently doing. Go back a few years ago and any lonely comment asking for Transparency & Blur for Win8 would have been downvoted to the grave by a bunch of Windows 8 fanboys saying it was a waste of resources, as if they were using hardware from the 90s.

We could not down vote until last year.

Fine, they still would have gotten a bunch of disagreeing-hate replies.

Hey now....Amiga rocked....#Moonstones.

Daniel, that is one of the worst analogies you've ever made. While I think transparency looks nice, it's known fact that it slows down systems & increases RAM usage, That's why it was aero glass was disabled on Vista/7 with low-performance machines. I can understand you not agreeing with what a person says, but your analogy took it way past what the commenter said.

Yes back then it was an issue for lower end machines, but that was back then... Hardware changes and software too. Hardware can handle more and/or software gets better optimized.

Where's my Clipper installation disks? Who needs the internet? 16-bit Desktop applications rule!

butthurt much Daniel? Someone says something negative about/towards microsoft and you better come out guns blazing? Guess why, they are losing the race and can't see a way out and supporters/fanboys like you feel the pressure and desperation as well. For an outsider this looks like wasted effort and they should focus on the important stuff like mobile and uwp instead. Little do they know that these ui updates are made by different teams

It's not about saying something negative towards what someone likes, it's about how you say it. Obviously, there's freedom of speech but it doesn't mean there aren't consequences to how or what you say. I'm talking purely cause and effect here. I'm not necessarily targeting his specific comment, but also as a general statement.

I don't get you. So you say you Microsoft shouldn't pay attention to the fact that this would take some resources, and that they should push this for everybody? That could change my opinion of you. So you live in a rich country, or simply you have the money, and now you just can't believe that many others cannot afford expensive PC's for themselves? I hope you're not like that, and that you answered like this only because you found yourself provoked. But this is a great thing, and what I hope is that even Windows 10 Mobile will get this at some moment. Nevertheless, they should give us an option to turn this off or on, just like we can turn on the dark theme. So those of us who have lower specs PC's it phone's can still have or devices more optimized, and those who prefer this fancy look could enjoy these great things they are finally bringing to us.😊 In fact it was the but time for them to start making Windows 10 prettier, and not just for holographic and mixed reality, but for PC's and phones as well. I wish we had an option to have this blur effect on live tiles on mobile, that would make the start screen way cleaner. BUT they shouldn't just bring the changes, they should bring us the options instead. To use this transparency effect, and even with the tiles on mobile to have a bar for setting blur from 0 to 100, just like with transparency level. And what bugs me us why we still don't have (semi)transparent tiles on PC.

I hear ya I'm going back to Amiga as well.....relative to its time still my favorite computing experience to date I still have one fully functioning Amiga 2000 in my animation studio outta respect :)

Not a waste of resources.
This is gonna look GREAT on that Surface Mobile Device when the screen is folded out to 9"..........

"Surface Mobile"
Joke of the day right here!

I actually agree in this case, and hope they provide an option to turn it off. I despise translucency and would prefer flat colors. Then again, I'd prefer that Windows 10 Mobile would be more like 8.x, because it offered a far, FAR superior user experience.

Unfortunately the opinion police are out in force today.

I agree on being a choice. These effects don't turn on if your device doesn't support 'em though, so some old devices will be stuck on the good old flat style.

Well that's good to know then, thank you.

But when I look back at it now I feel it doesn't look as elegant as I used to think it did. A bit toy-ish compared to W10M which I do think looks very nice

You can already turn them off system-wide in the Settings app. Unfortunately there doesn't seem to be an option to leave transparency on in the start menu and taskbar but not in the apps.

The transparency effects DO TURN OFF. Just go to Settings\Personalization\Colors and turn off 'Transparency effects'.

Not a fan of it myself in fact I don't like the look at all but not a waste of resources especially if windows 10 has to work across all hardware. I'm sure they will let the user decide.

You know, once in my life I was writing a program and asking for GUIDS in a loop. I was thinking "What a waste of GUIDs here." Then my IT teacher came and told me. "When there is a single moment in time that GUIDs are not being asked for, now that is real wasting, since GUIDs would be unique even then." I guess a waste of resources is when you have good GPU power in your machine and you are browsing your contacs not using them. I am pretty sure that when NEON comes all supported, transparency could be switched off globally by a switch provided for HKEY_CURRENT_USER > SOFTWARE > MICROSOFT > WINDOWS > THEMES > PERSONALIZE.

It has been one of the biggest complaints in this community... "Windows on PC is too flat and scaled down". If you mean computer resources... The entire UI is rendered on the GPU which otherwise sits almost idle when you're not in a game, and when the game runs the entire UI is unloaded so it doesn't actually use anything else than otherwise idle resources. Why not use whatever is available to you? And no... Using the GPU doesn't affect the workflow in any way.

Most people don't know how resources are allocated when in use or "not in use" so they complain about things they don't understand even when they have no idea what they are talking about

It will give something to do to my Core i7 CPU which almost never hit 10% usage... Poor CPU is bored to death doing almost nothing...

I usually disable transparency because there always seem to be areas where the contrast between the text and the background gets too bad for my aging eyes, particularly when an underlying window is showing through. But it does look cool.

Add carrots to your diet. I'm being serious.

Carrots for the eyes is a myth ...glasses is the solution

Let's judge it when we see it with a decent background... This one might not be doing it justice.

sorry I just can't see it. Need to be more balanced out like movies & tv, groove music but looking forward to seeing what next

Well, if we had to choose our wallpaper because it can or can not be usable with the UI, it's a shame.
Would be better to have an option to adjust the strenght and to disable it.

Well, if we had to choose our wallpaper because it can or can not be usable with the UI, it's a shame.
Would be better to have an option to adjust the strenght and to disable it.

I've applied the effect in some of my apps to try the API for it and the background does make a huge difference. First time I tried it and it loaded on top of Visual Studio in dark mode it looked horrible but put it onto even the default wallpaper and it looks good. When I last tried it the effect is disabled in tablet mode

Yeah, the use of translucency is too much in this case. It doesn't have to make the whole app window to be like this, unless they can make it actually do look good. Though the biggest problem anyways is that People app is highly unpolished anyways, which doesn't justify the translucent effect. But yeah, I will just take it as explorative changes. You can't just use translucent effects just for the sake of it. There is a reason why designers don't design just for a whim. We really have to wait until what Project NEON design language is really is. Though for me, I rather not release these experimental changes publicly as it just sometimes ruins it. Just show of when the design language is really done, then that where we can see new design changes based on new specifications.

As long as there's an option to turn it off, I don't see this as a new feature

This is cool. In any case, we now have devices with very decently powerful hardware.

No se yo... Se ve bien, es cierto, pero sigue sin atraerme en algunos aspectos, por ejemplo la fuente original sigue siendo muy anticuada y da la sensación de una interfaz muy pobre. W10 tiene ese pequeño problema ( a mi parecer ) que tiene MUCHO espacio en blanco inútil cuando este debería rellanarse de alguna manera o con algo "útil" o mas "estético". Aun así, quiero creer que esto es solo un pedazo del pastel.

I just checked and my People app has been updated. If I had not read this article, I don't think I would even have noticed the difference as it is so subtle a change. Makes no real difference to my life in any case.

It's not a subtle change at all. It used to use your accent colour as the background. Now it's full NEON blur.

They should mix the blur with accent color

Photo app updated with some project neon elements as well.

I'm @ 10.2.1001 - German 16188 :(

I don't like it .. it too much confusing , I hope there will be a choice to disable it.

Maybe we can have transparent notification bar?!

you mean on mobile cause you can do that on pc

Yeah, didn't mention that.

Reminds me of Aero from Windows Vista and 7. Maybe this is what people liked about it :)

I'd still like to see a universal toggle for square or circular profile pictures. It may sound silly, but one of the reasons why I remain on Windows Phone 8.1 is because of the square profile pictures. :p

Haha! Windows is personal but we can give you so many options. but people are round lol.

I wonder if having 10 Neon windows maximized on the desktop has any detrimental effect on the performance of the system.

Looks ugly as **** to me. :( Hoping either it will improve or that I will learn to like it...? I'm trying to pin down why it feels so bad to me; I think it's a mixture of over use of transparency and not enough distinction between the panes. It also feels not very thought out, but of course that could be because it's a work in progress. Idk. The NEON concepts seemed well designed and crafted (even for early concepts), but this is just the current People apps with transparent backgrounds. I hope to see more design improvements from NEON instead of just making everything see through.

There's definitely more to it from the concept images, transparency is really just the first stage. I'd imagine they are gathering feedback on that initially

Yeah, I'm just waiting for actual design spec of Project NEON. These things are explorative changes that I wished they don't have to make it public, it ruins what Project NEON would be. This is not about making apps translucent just for the sake of it, just because its cool or something. There has to be a sense of proper design. Not to mention that People app since W10 has been horribly unpolished, that literally making it all translucent won't make it any better. I really hope that Project NEON design is really well defined and truly well designed language. There has to be more than just translucency and animations.

The problem I have with it is that the transparency pulls my focus away from what I'm trying to look at. It makes my eyes and brain fight each other. I think it looks tacky and overbaked. It's uncomfortable to look at (though that is possibly in part due to the very in-your-face wallpaper). I'll be happy as long as I can keep such garish effects turned off.

When in Indi.... Er.... When on W10M?

They should remove the ugly border !

Wallpaper Studio 10 has the NEON blur effect also, is there any other non Microsoft made apps with the effect on the Store?

Sure I have seen drop box, Interpol tool Preview, mytube beta

View 3D also got some NEON touch

It looks awful on my Samsung Slate 7 (all "grainy") at least on all other neon-enabled apps. Will check if the same goes on with this one, but as of now I don't get the fuss around it. Maybe I've some driver issues because it looks in fact better on my 950 (in Maps) :-P

I really like it, It suits form and function, I'm looking forward to seeing more of Project Neon!

Hello Windows fans. I have Lumia 640 and I would like to buy 950 Lumia, but I'm not sure how long microsoft will provide support and will get redstone 3 upgrade, actually will be functional for at least the next three years. I love Windows and wouldn't want to cross on android or iOS but worried about the future of win 10 for Microsoft by users, I feel like I've been a Microsoft on board who goes from America to Europe but does not have enough fuel to finish, no new phone and if thrown out Surface Phone most of us who use the middle rank of the phone will not be able to purchase the Surface Phone and I don't know what plans Microsoft has for current users. I'm interested in your opinion is a smart decision to buy Lumia 950.

I think the guaranteed support period is 2 years, it means at least security patches for that time. Even if it doesn't get RS3 (I think it will) then it can still run new apps as long as the developer doesn't lock out older devices (assuming nothing changes on how we are able to set minimum and target versions for our apps)

I'd go for a 950 just for the performance step up itself. You will have a much more fluent experience than on the 640. In my humble opinion, I'd just go for it. We have no official news about Surface Phone itself, and even if the announcement would come in Shanghai, that would not mean the complete shut off of Mobile 10. Just remember that Windows Mobile 10 is said to be dead for years now, and I am still happily using it. I have the 950 DS, bought it a year ago now, but will keep it even if Surface Phone comes out. I will have to wait for the prices of the first models to fall too before buying one. And I will be more than happy to buy a Surface Phone that had been bug fixed for at least a year or so.

Microsoft, Steven Sinofsky, 2012: "This style of simulating faux-realistic materials (such as glass or aluminum) on the screen looks dated and cheesy now, but at the time, it was very much en vogue." - https://blogs.msdn.microsoft.com/b8/2012/05/18/creating-the-windows-8-us... Microsoft, Build 2017: "WE'RE BACK, BABY!"

They should dump all of Sinofsky's dumb ideas right next to Steve Jobs' Single-Button Mouse and "nobody wants a large phone".

Steve Jobs, 2010 : "If you see a stylus, they blew it." Jony Ive, 2015 : "It delivers something extraordinary"

I hope the don't overdo it with translucency...

I would be glad if they allow us to change contact labels (mobile 1, mobile 2 etc) on phones so that i would be able to put my own (reception, secretary), this you won't be cracking your head to remember which number for the reception or secretary (less confusing)

I'd like the option to add/edit/apply contact photos. I miss the days when contact's photos were pulled in from Facebook.

Oh, Microsoft, you do know you're making it so hard for me to stay in Release Preview, right? This. Is. Amazing!

The thing I am hoping is that there is still "peak through" on my start menu full screen. Because that transparent tiles + actual normal wallpaper we see on some phones is gorgeous with the right wallpaper. I doubt blur BTW, for those saying so, takes much processor. Animations can introduce more lag I suspect, if other transparency and desktop image based effects is anything to go by.

I would be even more grateful for an actual support for black font on the start screen. Having a bright wallpaper with white labels is just plain awful.

That's way too much, having the side bar translucent made sense, but the whole main fragment background blurry as well? That's just distracting from the actual content.

Didn't we have this simple translucent effect in Windows 7? The departure from it then was not loved by the users, but celebrated by Microsoft as breakthrough design change to a "clean" 2D appearance, called "modern UI". Now we are asked to frenetically applaud the appearance of a "project neon" - which is old wine in new barrels.

Welcome to Microsoft™. Remove All app button in AU, Bring Back All app button in CU. Remove colour slider in Vanilla Win10, Bring back Colour Slider in CU... Not even going to bother mentioning the Start Menu or all the other more obvious examples.

On mobile nothing new nothing changed😒

I wonder if translucency has any sense on the mobile. What would it display underneath and why? No windowed mode. Actually makes sense to branching the two builds for now.