Phone House to offer free Fatboy Wireless Charging Pillow with Lumia 920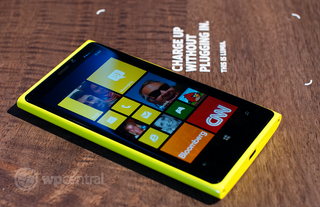 Should you be waiting for the Lumia 920 in Europe, popular retailer Phone House (trading as 'The Carphone Warehouse' in the UK) has reportedly confirmed availability of the Nokia Windows Phone for the end of this month. Not only that, but Phone House in France is also offering a free FatBoy with the first 200 purchases (limited to www.phonehouse.fr only / black Lumia 920).
The retailer states all eligible customers will be sent their Fatboy charging accessory by late October / early November. The Fatboy wireless charging pillow is just one of a few accessories that's offered by Nokia for its new Windows Phone devices. Making use of the Qi standard, the Lumia 920 and Lumia 820 will be compatible with a number of charging products.
via: NokiaPowerUser; thanks, Sunny, for the tip!
Windows Central Newsletter
Get the best of Windows Central in in your inbox, every day!
Rich Edmonds was formerly a Senior Editor of PC hardware at Windows Central, covering everything related to PC components and NAS. He's been involved in technology for more than a decade and knows a thing or two about the magic inside a PC chassis. You can follow him on Twitter at @RichEdmonds.
Lets hope they offer it in the UK. Lets also hope its unlocked so I can buy it outright!

You have trillion options to buy it aim free in the uk

Guys, I have a question/concern regarding wireless charging.Lets say, we are charging our phone with it and then pick up the device to attend a call , it will stop charging. And after that we keep it back to resume the charging. Wouldn't this cause wastage of charging cycles?? and coupled with a non- removable battery design, isnt this an issue???


You could always answer on speaker.....but hey good question...I'm just not one of those nerds that would know...

It is not a problem with the new type of batteries thats being used these days. That could have been a problem say 8 years ago

That's a pre-Li-Ion battery "myth" as far as I know or perhaps more so a misunderstood term of "recharge cycle".

As far as I know, the battery isnt really hurt depending how how often charging is iniated, but more so how long has it been charging or how many hours has it been charged during it's life. In fact, Wikipedia for example says that the best way to preserve the battery's long term life and capacity is rather to charge it more often in smaller increments rather than let it go low charge/empty. The most harmful thing to a Li-ion battery is let it go completely dry, the less you let it go to low capacity, the longer it'll probably live.

The charging cycle probably actually refers more to a "unit of one full recharge", as in having the phone charge for 5 minutes, then picking it up and putting back wouldnt count as "one charge cycle", but more like going from near empty battery to full battery is a full cycle, regardless of how many times it stopped and started charging during that cycle.

It's funny how deeply rooted many of the "battery myths" still are, despite most of the myths are tied to old forms of battery (like NimH) that arnt really used anymore. Like, for example if my parents buy a new phone, you can be sure they will keep the charger plugged in for over 24 hours before they start using it, cos that's how you were supposed to do it when u bought a new Nokia phone for example like 15 years ago :D

You can read up on the topic for example here: http://batteryuniversity.com/learn/article/how_to_prolong_lithium_based_...

As a rule of thumb, the best way to prolong the life of your battery, avoid full discharges and rather charge too often than too seldom. My N8 is over 2 years old now and I've always charged it every night regardless of what the battery meter shows and the battery is still doing just fine, naturally some reduced capacity can be observed compared to 2 years back, but the battery still lasts mostly the same as it used to.

Thanks for the info and the link!!!

I've been looking for that link for a while... Thanks!

Multiple partial charges have np measurable effect on the new Lithium Ion polymer technology. They have no "charge memory". There were a number of threads in the forum on this in the last year. The inherent weakness in the tech that powers today's smartphones is a limited number of *complete* charging cycles. In other words, frequently or consistently letting your battery completely die or get under 5-10% before charging (many do this deliberately in the name of "conditioning" their batteries) is what will result in you sending your 920 in for battery service halfway through your contract.

Only 200 pillows for the whole of France...That's not very many considering how popular WP is in France.

Then those who want one, better get in line early!

At the end of the day, the device is incentive enough; Phone House is being generous, as they don't have to offer the Fatboy at all.

Is the same UK version of the phone that holds the tmobile frequency bands?

Its not on the site in the netherlands yet.. Allthough they are quite anti-wp here in the stores.. They actually try to change your mind if you go into the store and say you want a wp.. :-/

Any guesses on what these FatBoys will cost?

I believe the fatboys only have the "usual wireless charger pad" that we've seen in pictures but inside a pillow, not sure why would anyone really care to pay extra for a pillow like that.

Anyways, I'd hope the charger pads (with or without pillows) would be fairly cheap so I could get one to like every room, but tbh I wont expect to see them under 20€

Also hoping the JBL speaker would be decently priced.. I'd really want to get one of those but expecting that to be 50€ at the minimum
Windows Central Newsletter
Thank you for signing up to Windows Central. You will receive a verification email shortly.
There was a problem. Please refresh the page and try again.