Microsoft's dubious positioning of the Surface Duo killed an ambitious vision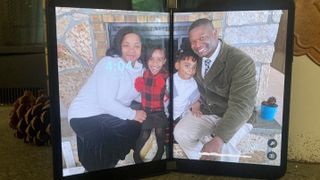 (Image credit: Jason Ward - Windows Central)
I was in the room on Oct 2nd, 2019, in New York, when Microsoft's Chief Product Officer Panos Panay, like a magician pulling matter from an immaterial plane, revealed what many Microsoft enthusiasts and Window Phone fanshad long dreamt would manifest from the combined narrative of our hopes, rumors, informed analysis and leaks. Microsoft's latest pocketable mobile device, the Surface Duo, was introduced to a room full of Microsoft fans and tech media that day. Indeed, Microsoft made the Surface Duo (and its much-improved successor) a fantastic product but also made some stupid moves when bringing what was to be a category-defining device to market.
The impossibly thin, alluringly sleek, beautiful piece of dual-screen, glass-covered tech with a 360-degree hinge was finally here. The Duo was the successor, or evolution – of Microsofts previous mobile devices – Windows Phones. Many fans had fallen in love with Windows Phones because of their user-focused platform, Live Tile UI, and Microsoft's productivity-focused positioning versus the grid-of-apps focus of the competition. Despite the passion of this minuscule minority of smartphone users, however, Microsoft's missteps, poor timing, and shameful commitment, along with external market forces, led to Windows Phone's death.
Yet, despite the demise of Redmond's smartphone efforts, fans hoped that Microsoft's mobile strategy would ultimately yield the productivity-focused, category-defining mobile device the company was rumored to be working on. We were also optimistic Microsoft would strive to encourage OEM partners to follow.
Category-defining vision, historic category-defining success
We did not pin our hopes on the ether either. In 2016, Microsoft CEO Satya Nadella described Microsoft's then-developing Duo as the "ultimate mobile device." He inspired us further by claiming the device would be positioned "beyond the curve" of the smartphone space. It would do more via hardware flexibility, software adaptability, cloud computing, and integration with Microsoft 365 than the slate-shaped iPhones and Android phones that saturated the even then plateauing smartphone market.

Pragmatic evidence that proved Microsoft, if committed, could pull it off also inspired us. The company had succeeded (after two failed attempts and negative press) in establishing an industry-wide 2-in-1 PC category with Surface Pro (that integrates productivity, software and hardware flexibility, touch, inking, and leisure), which competitors like Apple who once mocked it, now embrace.
So, despite the disheartening record of abandoned products left in Microsoft's wake, the Surface Duo inspired hope that Redmond was all in with its dual-screen productivity-focused mobile device vision. But, with its reported abandonment of two displays for version three in favor of a single folding display, a 180- versus 360-degree hinge, and its waning support of Surface Duo, Microsoft has proven its reliability in disappointing supporters.
Staking new mobile ground beyond smartphones…or not
Android as the OS of choice rather than a pared-down version of Windows was the first disappointment the Duo delivered to hardcore Windows Phone fans. Still, it was here, there was a partnership with Google to make Android at home, efficient and flexible on this dual-screen device, and Microsoft's dreaded mobile app gap was finally bridged.
OS choice aside, the fundamental design and use cases for the inordinately thin pocketable productivity-focused dual-screen Surface that could take different postures, supports inking, run Microsoft's and all Android apps, and makes phone calls was a unique play by Microsoft in the mobile space that overlapped but more importantly extended beyond the smartphone space.

This point of overlapping but extending into the mobile space beyond the smartphone space was important for consumers, tech reviewers, and OEM partners to understand. Still, Microsoft did a horrible job communicating it. The company's initial messaging differentiating the Duo from smartphones was evident. However, against stubborn market headwinds that made it difficult for many to conceptualize a productivity-focused pocketable device that could make calls being anything but a phone, Microsoft acquiesced, and the messaging collapsed.
You say phone, Surface Duo creator says "Surface"
Notably, when Surface Creator Panos Panay introduced the category-defining Surface Duo, he did not call it a phone. Indeed, as I observed the presentation with a clear view of the teleprompter from my seat, the carefully scripted presentation never included the word phone. The absence of the word phone from the script precludes any chance that Panay's omission of the word was an unintentional oversight. He even seemed to anticipate how the device would be perceived and raised this preemptive defense: "I want to be super clear about this, you're going to talk about this as a phone and I get that. And you're going to talk about it as a communication device and it does both of those things incredibly well, for sure. For sure, you can text, you can write, you can do what you want. But make no mistake this product is a Surface."

This echoes, Nadella's own words, "I didn't come at [the Duo] from 'Let's recommit to phones' or go back in time and enter the same market that we quote-unquote 'exited,'" says Nadella. "We're looking at what's next."
Surface Duo's dubious position
There has been and still may be a debate about what the Surface Duo is and isn't. This debate manifests Microsoft's core problem with Duo's positioning and marketing. Some swear it is a phone; some assert it is not. Some think of it as something somewhere in between, labeling it nebulously "more than a phone." If Microsoft had done its job correctly, this debate likely wouldn't exist to any meaningful degree. Microsoft made the Duo, and it is responsible for definitively defining to the masses what it is, what it does, what the company believes it will do for a user, or what users should do with it.
Sadly, I've since seen Microsoft employees refer to the Duo as a smartphone despite Panay's and Nadella's initial "beyond the curve" not-a-phone allusions and how it's currently and conflictingly still categorized as a dual-screen computer on the company's website. Talk about confusing.

Furthermore, in a 2021 Unbox Therapy interview, even Panay acknowledges how he gets into trouble because he has answered this question differently at different times. In fact, in response to the hosts' inquiry about what the Duo is, Panay begins his response: "I look at it as a Surface. And that's my mind; that's not even a trick. That's not a marketing tool." He continues, "This is Surface; it's a product that's going to adapt to what you need to do - period." Within the context of explaining the Duo's adaptability, to become what a user needs and its ability to replace one's phone, Panay continues: "This is my phone now, I don't have a problem saying [that]. That's where I kind of get in trouble; like you just said it wasn't a phone. I promise you, for many, it will be their phone; for others, it'll be a replacement for their tablet."
I note that even in this discourse, Panay does not assert the company's categorizing of the Duo as a phone or even a tablet. He stresses its adaptability to become whatever the user needs it to be. The fact that he calls it first a Surface, followed by a description of its context-conforming capabilities, concluding with stating that for some it would be a phone and others a tablet, while never definitively (for many) answering what the Duo is, predictably leaves some filling in the blanks for themselves.
To be fair, it is challenging to name a new category for a category-defining "ultimate mobile device" that tries to do it all. But the daring use of a new word, or an old word unapologetically and consistently used in a new way (Surface perhaps), was needed for Microsoft to define and stake a claim in the new mobile category it hoped to pioneer with the Duo. That's what Apple would have done.
Ambition begone let's make a smartphone
Microsoft's inconsistencies confused the market, which likely helped deliver a potentially fatal blow to its hopes of establishing a new category of dual-screen productivity-focused mobile devices. In fact, with Surface Duo 3, Microsoft is reportedly abandoning the dual screen, 360-degree hinge form factor, which allows for multiple postures, which were core to Microsoft's productivity vision for the Duo.
Microsoft will instead pursue a single folding display with a less versatile 180-degree hinge. It seems Redmond is ceding ground from the "beyond the curve" portion of the mobile space in which it hoped to set its stakes and is instead setting up camp firmly in the smartphone market Nadella asserted he was not recommitting to with the Duo.
Frankly, with single-display folding devices Samsung and others dominate mindshare in the smartphone portion of the still infantile yet broader folding mobile device space. Sadly, rather than remaining committed to its ambitious dual-screen productivity mobile device vision with the third iteration of the Duo, Microsoft is following the smartphone market.
Surface Duo 3 and the unambitious path of least resistance
Microsoft was either too lazy or their ability to execute too incoherent to educate consumers, tech journalists, and OEM partners of the Duo's merits, positioning, and purpose. Perhaps explaining how two displays keep a user's mind "in the flow, per Panay, how apps interact across two screens, how multitasking is optimized using two displays, how the device has different postures using its 360-degree hinge, how digital journaling across the broad displays and more makes the Duo a category-defining productivity powerhouse.
I suppose it was easier to make it a smartphone the third time because everyone understands smartphones, even fancy, expensive cutting-edge folding display smartphones. There's little to explain –and unlike the Duo, there is no significant learning curve. They're smartphones that get bigger when you unfold them. Simple.
Conversely, Panay explained the Duo like this, "To be clear, there's a learning curve—it's new." But he added, "I don't think you'll be able to trade it in once you get productive on this product. And that, I think, is how a category is established."
Panay is right. My Surface Duo 2 is hard to put down, and going back to a single-screen device is almost unthinkable – though perhaps inevitable as Microsoft ends Duo support. I wish Microsoft had done its part to help the market through that learning curve before pivoting to a less ambitious, potentially less productive, and in my opinion, more mundane mobile vision.
What Microsoft should do
The Surface Duo entered the market plagued with frustratingly buggy software. Microsoft's release of a costly device with such imperfect software made many users, reviewers, and perhaps OEM partners question Microsoft's seriousness about the category. Still, the Surface PC line had a tough beginning, but Microsoft was committed and educated the market on the merits of 2-in-1s. The company convinced OEM partners it was serious with its reference device positioning of the Surface Pro as it relentlessly pushed through two failures and substantial financial losses. Through commitment, industry education, and OEM support, a new category of 2-in-1s was born.
Microsoft should push through the initial failures of gen 1 and 2 of the Duo and aggressively stir consumer interest, educate the market, convince OEM partners the company is serious, and remain committed to the vision of the Duo with dual-screens, a 360-degree hinge and a productivity focus that encompasses but extends beyond the smartphone space. Will users immediately ditch their Android phones and iPhones? Nope. But Microsoft may succeed in educating the market that there is another way to "do mobile."
Microsoft may convince OEMs it is serious, and, over time, these partners may use the Duo as a reference device for their takes on the new category and provide diversity and options across price points. I know Microsoft has no OS to license here. Still, it does have a play in leading a new category of mobile computing, with dynamic hardware, flexible Android, and evolving ways to integrate AI, Microsoft 365, and Microsoft Launcher in creative and powerful ways on a dual display productivity-focused Android device that makes calls.
Interestingly Lenovo's Yoga Book 9i dual-screen PC (a better Surface Neo), though a laptop, demonstrates some of the benefits and flexibility of dual-screen computing. The device has aroused a lot of interest and much excitement. Given the positive response to this dual-screen laptop, Microsoft may be exiting the dual-screen model too soon with the Surface Duo.
I'm a Rocky fan. And one of the most inspiring lines in that movie that encourages pressing forward despite how beat up one may be is, "One more round." Microsoft, keep the Surface Duo's dual-screen approach in the fight for one more round.
Get the Windows Central Newsletter
All the latest news, reviews, and guides for Windows and Xbox diehards.
Jason L Ward is a columnist at Windows Central. He provides unique big picture analysis of the complex world of Microsoft. Jason takes the small clues and gives you an insightful big picture perspective through storytelling that you won't find *anywhere* else. Seriously, this dude thinks outside the box. Follow him on Twitter at @JLTechWord. He's doing the "write" thing!