Microsoft just doesn't get the consumer market — and that could be a fatal flaw
Microsoft may have a fatal flaw. Despite a record of innovation and introducing new technologies, it repeatedly misinterprets the consumer market.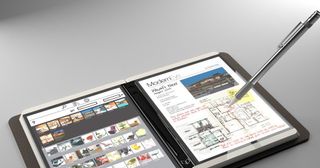 Microsoft has missed several categories that have driven personal computing forward. If the company had missed one, perhaps two that lack of foresight could be labeled an anomaly.
Sadly, the number of categories now defining personal computing where Microsoft's either absent or weakly represented suggests a deficit inherent to the company's culture rather than isolated incidents of poor decision-making.
In a candid talk titled Courageous Design Microsoft's General Manager of Design, Research and Product Incubation, Jon Friedman, discussed several products Microsoft killed. The SPOT (Smart Personal Object Technology) Watch, Microsoft Kin, Ultramobile PCs and Microsoft Courier were forward-looking devices Friedman highlighted. Windows phone, Zune, and Groove join these as products Microsoft let flounder in the increasingly important consumer space now driving personal computing's evolution.
Root of the problem
Microsoft's success is built on the enterprise. Even Windows' and Office's consumer successes are derivatives of that enterprise momentum. Consumers wanted the same productivity tools at home that they used at work. This made "putting a PC in every home" easy for Microsoft since there were few alternatives to Windows and Office.
Consequently, Microsoft developed enterprise-focused practices while hoping for "passive consumer trickle down" akin to what drove Windows and Office success. Lack of aggressive consumer focus (while serving the enterprise) is a major weakness, however, in the consumer-driven environment which now has many options.
Former Microsoft CEO Steve Ballmer's ridicule of the iPhone in 2007, while boasting about Microsoft's (now doomed) business-focused Windows phones, demonstrated Microsoft's cultural flaw. Consumer-focused smartphones ultimately transformed personal computing and led to more missed opportunities for Microsoft. For instance, the smartphone-related digital assistant and ambient computing markets evolved differently than Microsoft expected, according to the company's Corporate Vice President for Cortana Javier Soltero.
Microsoft's 'side project' attitude to consumer products
Though Microsoft's productivity tools like Office and Surface have professional and personal value, its pre-One Microsoft legacy of division negatively impacts its consumer success. Friedman shared how Microsoft treated innovative products as poorly supported side projects.
SPOT Watch
SPOT was an intelligent home and consumer electronics initiative which included a smartwatch. Former Microsoft CEO Bill Gates referenced it as a computer on every wrist-top. In a world of connected devices and wearables, Friedman said SPOT was a side project Microsoft killed too soon.
Ultramobile PCs
In 2006, Friedman conceptualized a thin, seven- to 10-inch, always-connected Ultramobile PC with instant on, great battery and a $400 price. He requested 300 people and two years to build it. Microsoft gave him 20 people and six months. A thick, $1,000 device with a poor UI was the failed result of yet another "side project."
Kin and phone troubles
Microsoft Kin was a social, cloud-focused phone. Friedman said Windows phone was pivoting and neither it nor Kin had clear strategies. Kin was killed in favor of Windows phone because Microsoft needed a platform for developers to focus on. Ironically, lack of developers contributed to Windows phone's failure.
Ex-Microsoft employees share why Windows phone failed
Courier
Microsoft's Courier digital journal with a custom OS bridged the divide between the digital and analog, said Friedman. He conceded the project was ahead of its time, but the approach was off-kilter and it was another side project Microsoft was playing with that didn't have clear developer and platform stories.
Interestingly, Courier's target market was, as Microsoft's rumored "Project Andromeda" is, creatives, or lateral thinkers. Or people like mathematicians, marketing managers and teachers who think things through in an analog way (versus an ordered linear fashion) and share those thoughts with others to build on.
Why Microsoft may think the market's ready for a digital journal
Patents and rumors of Microsoft's folding Andromeda device suggest the company is transitioning from a phone-focus to an ultramobile PC digital journal strategy. Here's why Microsoft may think the market's ready:
Microsoft made inking and cloud-based collaboration central to Windows and its device family strategy. Whiteboard, Surface, Teams and more create an environment that supports and facilitates collaborative lateral thinking, the target activity for digital journals.
Microsoft's Progressive Web Apps (PWA) investment addresses (in part) the developer barrier.
Windows on ARM "resurrected" always connected, instant-on and greater battery life, attributes of Friedman's failed Ultramobile PC. Microsoft is presumably merging those features with Courier's folding digital notepad concept and eSIM for Project Andromeda. With Windows Core OS, rather than Courier's custom OS, Microsoft may be integrating other Windows 10 features and reaching beyond Courier's target market.
Microsoft Graph and Your Phone may link iPhone and Android phones to digital journals, allowing them to share information.
If it's Surface-branded, company-wide, inter-department collaboration (rather than side project treatment) is likely.
How Microsoft's prepping the enterprise for digital journals
For these reasons, Microsoft may have deemed 2018 the right time for folding digital journals. Still, the problem exists and questionable commitments to the Harmon Kardon smart speaker and a shifting Cortana strategy reveal Microsoft is still struggling with what could be its fatal flaw.
If Microsoft green lights Andromeda, let's hope its ongoing struggles won't deliver a fatal blow to an intriguing new mobile PC category.
Get the Windows Central Newsletter
All the latest news, reviews, and guides for Windows and Xbox diehards.
Jason L Ward is a columnist at Windows Central. He provides unique big picture analysis of the complex world of Microsoft. Jason takes the small clues and gives you an insightful big picture perspective through storytelling that you won't find *anywhere* else. Seriously, this dude thinks outside the box. Follow him on Twitter at @JLTechWord. He's doing the "write" thing!