Pick up a 12-pack of Soylent for as little as $24 and put an end to skipping meals
Here's your impulse buy of the day.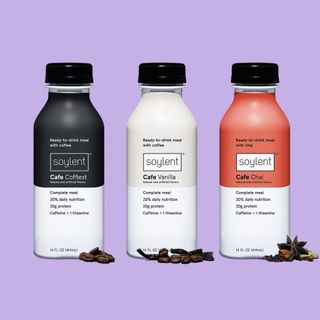 Update: This deal has returned with a new promo code!
Unless you live under a rock, odds are you've heard of Soylent (opens in new tab) before. This meal replacement drink has been the center of attention for quite some time, and people seem to really love it. Right now, you can save $10 on a variety of flavors by using coupon code 10SARA during checkout. These rarely go on sale during the year, and most of the discounts tend to take place during January for those kickstarting a New Year's resolution.
This discount drops a 12-pack of the original flavor (opens in new tab) down to just $24, or you can try the coffee flavor (opens in new tab) or vanilla (opens in new tab) for $5 more. If you don't need the premade drinks, you can pick up just over 2-pounds of the powder (opens in new tab) for $24 as well.
With Soylent being a full meal replacement, this is a great way to get those meals in during your busy times. We've all been there before, caught up at the office, sitting for long hours in front of our monitors, and the last thing on our mind is food. It's not healthy, so stop doing it and put the excuses behind. Use this discount to make the first step towards a healthier you.
Our pal Mark Guim has had amazing success using Soylent. He says:
See at Amazon (opens in new tab)
Jared started off writing about mobile phones back when BlackBerry ruled the market, and Windows Mobile was kinda cool. Now, with a family, mortgage and other responsibilities he has no choice but to look for the best deals, and he's here to share them with you.
That's weird I thought I was on Windowscentral.com

That site died a very Long time ago bro. Now we have everything mixed, from drugstores to Android. I hardly comment or visit here now but just wanted to reply to your comment😊

You are on the right site. This post is here because you can use your windows device to order the product by clicking on the Amazon affiliate link.

Indeed at first i too was wondering why does this feel so off topic ? but in reality there are computer users who tend to shy away from meals due to either having a lot of work or lots of studies /projects to deal with, else they are simply stuck in entertainment(a starved gamer is a bad gamer) so while this does feel a bit off, it is not entirely off from topic; since as PC users tend to forget their meals or lack the time to get that required nutrients into their systems, a product like this could really help these kinds of people stay healthy perhaps even with a balanced diet due to it.

Looks like Windows Central has finally jumped the shark and will post just about anything to get a click :(

I hope they start to post deals on diapers and formula. /s

Also surprised how off topic this is, but I guess it's no effort to scroll past either.
I actually just decided to keep this stuff stocked myself and have been settling for it frequently for the last few weeks. "Coffiest" is a pretty ok breakfast substitute that I do almost daily now. The original flavor is like drinking bottled sadness. But yeah, I've talked myself out of fast food runs and relied on it instead, so it serves it's purpose. "Cacao" is actually ok for a few cents extra. The tie in to Windows Central I suppose is that it's great to have if you find yourself not wanting to pull yourself AFK long enough to prep a meal?
And a PSA here, it's rather high fiber. Which is healthy and all, but be prepared for some gastric impact maybe?

Ok so obviously you use the stuff. Does it really keep you full from like breakfast to lunch?

I would say that it's good for a few hours. Keep in mind that each serving (bottle) is only 400 calories, so it's only 1/5 of your daily intake. I have mine for lunch with a salad and eat a healthy snack a few hours later so I can't say for sure.

Wut, does not come in Green? :D

That was exactly what I was thinking! Why would anyone make a drink called Soylent?! How can we ever truly know what's in it?! =D

Exactly what I was thinking as well!!

Exactly what I was thinking as well!!

Each bottle contains a person's worth of protein...

Do you know how many grams of protein the average human body contains? Haha

I just bought Soylent for $42 just yesterday lol should have waited for a coupon ☹️

I would like to say this type of "article" is surprising... But it really isn't.

Soylent Green is people! https://www.youtube.com/watch?v=9IKVj4l5GU4

So, is there a Windows Phone app for Soylent?

THIS IS WINDOWS CENTRAL NOT AD CENTRAL! THIS SITE IS CERTAINLY DYING

I think it's relevant, as my gamer friend always skipping meals. Now he's skinny like soybean plant! Ugh!

Gross. I bet that 90% of the fools buying this crap have no idea where the word "Soylent" comes from.
Windows Central Newsletter
Thank you for signing up to Windows Central. You will receive a verification email shortly.
There was a problem. Please refresh the page and try again.