Pick up the Intel Core m3 Surface Pro 4 with a Type Cover for just $599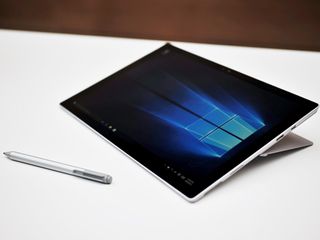 Best Buy is gearing up for Black Friday a little early by offering a solid discount on the Surface Pro 4. Specifically, you can pick up the Intel Core m3 version of the Surface Pro 4 with a Type Cover for just $599 (opens in new tab) at a Best Buy retail store near you.
The Alcantara Type Cover that's included in this bundle usually sells separately for $160, so that's already a solid savings. However, when you consider that the Core m3 Surface Pro 4 has a normal retail price tag of $899, it's all the more compelling. As Best Buy notes, the Surface Pen is sold separately, so you'll have to budget accordingly if inking is your thing.
One major thing to be aware of here is that it seems that Best Buy is only offering this deal in-store, so you won't be able to simply order one from the comfort of your couch. If you are planning to pick up one of these bundles, however, let us know in the comments!
Thanks to Dave for the tip!
Dan Thorp-Lancaster is the Editor in Chief for Windows Central. He began working with Windows Central as a news writer in 2014 and is obsessed with tech of all sorts. You can follow Dan on Twitter @DthorpL and Instagram @heyitsdtl. Got a hot tip? Send it to daniel.thorp-lancaster@futurenet.com.
That's awesome. We never have such great deals here in Europe.

What are you talking about? It seems like every great deal I usually see on here is usually in Europe.

Well at least not here in Germany, Austria, Swiss, Belgium, Netherlands,.. Maybe our countries are too rich.

I I'm about to move there

Where? Germany? From the US?

He's scared of Trump.....

Is this offer available for Bestbuy Canada and Futureshop Canada?

Its a shame they dont include the pen too. I thought that was kinda the surfaces thing. Include the pen for all the writing and inking.

It usually is (the TypeCover isn't), must be some sort of repackaging, specifically for BestBuy & similar.

There's a combo deal sticker on the box that offers $20 off the pen when you buy them together, so that's $40 for the pen. Not too bad.

Hey .... it does come with a pen .....all surface pro m3,i5,i7 all have a pen it's just the i5,i7 have a stronger charger than the m3 that's the only difference .

This bundle does not include the pen

I must be slightly outside the norm. love my pen and prefer to use it more than the keyboard. Its especially useful for one handed situations. such as playing with you kids hair while writing this post. I actually bought my pen before my cover. I honestly think the pen is an acquired taste! the more you use it for every day things the more you understand its purpose.

Personally, I'd rather have the type cover over the pen. After 5 months of usage, I've only used the pen a handful of times.

I just bought a refurbished SP4 and it didn't come with the Pen. There are some cases that I found myself wanting it, but it's rare at the most. The keyboard, however, is essential to me. I actually found myself using the trackpad a lot at work (more so than the touchscreen). It's just THAT good!

You can get a MS refurbished pen on eBay for $30... I'm about to order mine.

With the plummeting £ forget about good deals in the UK

Perfect comment for your picture.

Maybe it's a "note to self"

Newegg had a couple of nice deals on the i5 SP3 models, though not sure if they are still going.

Not available at any Best Buy location within 250 miles of me.

Editors FYI​. I just ordered one online yesterday, and it has been shipped today. So the deal is not in-store only.

I ordered mine two days ago, but I went to check the other BB ads online, and it said that the SP4 was sold in stores only. Maybe they ran out of the bundles at the shipping warehouses? It did say while supplies last.

Possible. Also it has been shipped from CA, all my other orders were shipped from NJ before. I believe they only had them in stock at a specific warehouse and now they are out.

This might be too good to pass up. They're probably never releasing a new 10" version; the SP5 won't be out for months and will be hundreds more; they've likely worked out all the driver issues with SP4 by now.

I haven't experienced any major issues on my SP4 yet (got it this week). It works flawlessly 99% of the time. I love it more and more everyday hahaha. Anyhow, I have the $999 model (i5, 4GB and 128gb SSD).

That's what I thought. Got one yesterday. :)

I wish I could pull the trigger on one. While I love my Surface 3, this would be an upgrade over that in every respect for basically the same price I paid for it.. Crazy good discount.

I'm loathing Microsoft decision to use A micro usb for power.... Im on my third us b wire do to the loss of strength, the connection

I am a bit as well. My original cord seems to be having issues charging. The device as a whole has always had an issue with charging every time you plug it in. They never ironed out that flaw. I think I need to get another cable... Other than that its a terrific device. I want them to continue the 10.8" surface line, hopefully the next will use usb type C.

I'm annoyed because very few actually picked up on the problems with using a micro-usb. Basically the 'feature' of using any charger is incorrect, because phone chargers just won't charge it. I really like my surface 3, it's an excellent device, its only failure is the charging. If the atom line is being discontinued, then hopefully they migrate the base m3 version of the SP line into the 10" form factor. I prefer the 1920x1280 resolution, however, the keyboard is a little cramped. For what I use the device, I just can't justify the cost of a SP4.

Just for the 3... I love it!

i am going to have to check this out! May be time to finally upgrade from my old Note 10.1 - 2012 edition

I went to the Microsoft Store and they did a price match. I already own the i7 version and i'll tell you this processor works great.

That's good to know. I have the base-model SP3 and was thinking of "upgrading," but I wasn't sure if it would be worth it.

If you picked up this deal a few weeks ago when the price was $849 and you still have your receipt, Best Buy will match the sale price. Was nice to save an extra $250. If you've been on the fence about picking up an SP4, this is a steal of a deal.

How is performance with m3. Name alone sounds weak

It's already miles better than the Atom processor on the Surface 3 (which costs $499 without the cover, lesser screen, lesser hinge angles, and a half the storage). That alone is enough to buy this, if you look at it this way.

The Surface 3 started at $399. And they stopped selling it, so you can't buy it anymore. But it was not a $500 machine. M3 has weak performance. The 12" MacBooks have it. It's weak compared to an i5, never mind an i7. The reason why these are on sale is likely because they aren't selling. People are completely avoiding the M3 anytime they can and just paying the cash for the i5, because of how bad the performance is. The people buying the Surface 3 weren't buying it for the performance. They were likely doing it for the Digitizer Screen and Pen Compatibility. Otherwise, you can get Laptops with decent battery life, more RAM, more storage, likely a 1080p screen at this point in time, and an i5 CPU these days for $450 (Pen didn't come with Surface 3).

The Surface 3 was 499 and 599. As far as the M3, you kinda confirmed what my concern was. I was tempted to get this as an upgrade to my Surface 3 (I currently have the 4gb 128 model) but the M3 concerned me. That and the fact that my main use will be as a second device in bed or whatever and the 12 inch screen might be too big for that purpose. If it was an i5 I would have jumped on it tho. I'm sure at some point there will be some crazy sales on the SP4 once the 5 comes out. I might jump on board then as the 4 will still be plenty powerful enough for what I want to use it for.

For Office, Web browsing and casual gaming it's excellent. I even do some light CAD'ing on it. It's fanless as well, so you don't have the noise from the other models.
I use a desktop PC for heavier tasks, so the i5 and i7 models are just not worth it for me.

Wow, this is a STEAL. Totally worth getting one.

I already picked one up a few days ago. Absolutely in love. Best purchase I've ever made haha.

Picked up this deal...had to call around and ended up about 45 mins away when there's 4 within 20 mins these are selling like hotcakes! Been eyeballing Surface for months but i5/4gb...this was such a good deal and the subreddit says the m3 should be plenty good so I'm hopeful...if not I'll try to get a Black Friday i5.

If only there was an 8gb Ram version

Is there any trade in deal? I've been waiting to upgrade my Surface 3, but I know they usually have a trade in deal at some point.

Maybe this is the best time to buy the whole shebang. If I want for Black Friday (even up here in Canada) it's almost certainly going to be too late.

Just picked one up for my wife. Can't wait to set it all up for her (and borrow it when she's not using it, lol). Best Buy in E. Hanover NJ, 3 people in front of me waiting for the same deal. They were still unloading boxes from the truck out back, but definately in stock.

Same model down to £699 at Argos in UK includes cover and pen: http://www.argos.co.uk/product/4766113 Very tempted but concerned with the M3 processor.

So tempting! Would Best Buy allow upgrades to the cover? I'd prefer the type cover with fingerprint id. Be happy to pay the difference between the regular and fingerprint version.

No they come together as one SKU no way to swap out...you do not get a choice in color or upgrade the keyboard.

I still use a 1st gen SP. Is it time to upgrade?

I'm glad I went with the Surface3.. It gets the job done (although it could use just a little more ram, and a tad but more power,, just a little) and, I'm pretty happy with it. The build quality is EXCELLENT, and it's just the right size.. Thin as hell, and best of all the battery life is TERRIFIC! I'm sure it blows the Pro 4 out of the water when it comes to battery life. I'm really pleased. It's a damn jewel in the hand. MS really has something special with Surface.. I'm hooked. But, that battery life... I didn't expect this. Amazing

That's REALLY tempting at that price. Just can't justify upgrading from my Surface 3 (non-pro). I actually prefer the smaller size of the 3 over the 3 and 4 Pro.

If you uy the pen at the same time you get $20 off the price of the pen. Just picked one up for my wife with pen. there is a sticker on the box that rhe sales reps didn't even know about.

Best Buy is completely out of this within a 250 mile radius of me in Chicago ... my local Microsoft Store price matched it, though, giving me a SP4 m3 (with the pen!) and a standard type cover for $599.

Looks like the deal is over. Clicked on the Best Buy link in this article, and it shows a $999 price.

I picked up this bundle yesterday, $400 off regular price you cant beat it. Pen is not included but you get $20 off the pen. After doing a price match with Amazon purchased the pen with the pen tip kit for only $24. Ultimately I want the surface book, but this will hold me over until SB2 is released.

I try buying it at Best buy in CA and they were sold out... however the manager offered me the i5 4gb 128gb for 549.99 and a typecover of my choice for 50... Over all a much better deal....I'm sure that manager was on his last day at work or something because that was a steal !!!!

I think there were 20 of them in total for all BestBuy store in USA. Kind of an irritation. I wanted one and none available.
Windows Central Newsletter
Get the best of Windows Central in in your inbox, every day!
Thank you for signing up to Windows Central. You will receive a verification email shortly.
There was a problem. Please refresh the page and try again.