Playcast brings Chromecast and AirPlay streaming to Windows 10 phones and PCs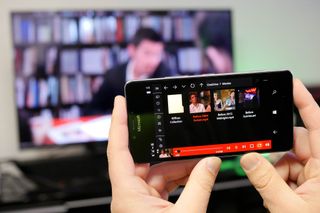 Back in the day, Windows Phone users had an app called Play to from Nokia. The app let you stream media from your phone to any DLNA device, including the Xbox One. Like many things with Windows 10, however, Play to has been sidelined.
Thankfully, developer Webrox (creators of Tubecast has a new app out that will do all of that and more! Playcast is now available for Windows 10 Mobile and Windows 10 for PCs and tablets.
We've been using Playcast for the last 24 hours and are impressed. Check out our hands-on video to see how it works!
Playcast for Windows 10
Reads multimedia files including video, audio, and photo to cast to external devices
Support for Chromecast, Chromecast Audio, Airplay and DLNA protocols (e.g. Xbox One)
Runs as a background task including controlling it with background audio player
OneDrive integration (Google Drive and Dropbox coming in next update)
Playlist support (local only)
Slideshow mode and shuffle
How it works
The app both for Windows 10 Mobile and Windows 10 is a little busy due to some options, but its operation is very straightforward. Browse your local camera roll, music files, videos or movies and begin to play them on your phone through the app.
To cast you just hit the cast button in the lower right-hand area and assuming you are on the same network as your Xbox One or Chomecast device, you can pick it from the list of available options. Choose your desired device to cast to and within moments, it will begin streaming.
It runs in the background
The real big deal here, however, is the background task feature. Let me give you a real-world example that we tried and that works remarkably well: Streaming an HD movie stored on OneDrive through our phone to the TV via a connected Xbox One.
Not only can it do the above streaming task, but you can minimize the app on your phone and continue to use the phone as you normally would without any drawbacks. It didn't even hit battery life too hard. Even better, you can turn your phone's display off and just watch the movie streaming from OneDrive to your phone to your TV. Additionally, you can hit the volume key on your phone and play, pause or skip — just like a traditional remote.
Of course, you can also do just the photos, music, or videos you recorded on your phone too. We had no issues streaming any media. Frankly, we're impressed.
In this sense, Playcast feels more like a native app than some third party workaround. Your device becomes merely a means of transport for media, but like in Continuum, continues to operate as a phone. Speaking of Continuum, Playcast supports that feature as well.
Free trial and price
Playcast comes with a free 7-day unlimited trial where you can try all the features. After that, you can continue to use the app, but streaming is disabled. The app costs $3.99, but that one-time fee unlocks it for Windows 10 (PCs and tablets) and Windows 10 Mobile making it a great value for the functionality it provides.
But hey, don't take my word for it. Go and download the app and you have one week to trial it yourself to see if it meets your needs!
Also, as a side note for those using Tubecast will be going to Windows 10 as a re-written native app in the coming months as more people get the update to their phones. We'll let you know when that happens.
Download Playcast for Windows 10 and Mobile (opens in new tab)
Daniel Rubino is the Executive Editor of Windows Central, head reviewer, podcast co-host, and analyst. He has been covering Microsoft here since 2007, back when this site was called WMExperts (and later Windows Phone Central). His interests include Windows, Microsoft Surface, laptops, next-gen computing, and arguing with people on the internet.
airplay is such a cool feature. Too bad it's not a standard on Windows (phone). Miracast and dlna is just not that great

Why would you think an Apple standard is a standard on a Microsoft device though, and what world are you in that DLNA is not that great?

had airplay, don't like it rather use Chromecast and now Windows wireless display

Don't Windows 10 already have "Connect" option in notification tiles. It does the same thing without an app. On newer devices it enables Continuum and on older devices you just see the exact duplicate of your phone screen.

Sounds like you don't know how to use a computer. DLNA is far from dead, and the only times I've ever had an issue, it was a network issue (which would also kill airplay)

Read and cry. I know, the verge is not realy a Microsoft fan, but i think this is a true story http://www.theverge.com/2013/9/25/4753264/is-the-airplay-killer-already-...

Really dude? Did YOU read the article, or what I said? The article tries to put down DLNA once, it's about Miracast, not DLNA, and they don't even support their argument. Not only that, in order for airplay to become more mainstream it would require a much larger apple adoption rate, which is not going to happen.

It is not a true story, it's another moronic hatchet job courtesy of the verge. The truth is basically every tv supports miracast, and virtually none support airplay - despite what the article claims. The truth is that most new phones (except apple phones) support miracast - despite what the article claims. Basically nothing in the verge article is true, at all.

The entire world to Axmantim: DLNA is not that great. In fact, that's being generous; most of the time it's bloody awful. A bad spec that's been poorly and inconsistantly implemented by many (most?) devices that "support" it.

I think you need to look up proper usage of the colon, as well as the definition of hyperbole.

Really? In what way was the colon improperly used?

http://m.grammarbook.com/punctuation-rules/colons.aspx there you go. It follows none of the rules. Regardless, come to the argument with either something other than your opinion, or why airplay is going to overtake dlna.

Looks to me like it kinda falls into rule 9 and partially rule 7. (in the sense that it's the target of what someone is saying) . I suppose I could have put quotation marks around the "DLNA is not that great" clause...? Would that have offended you less? Wait a minute, you didn't mistake my semicolon in the 2nd sentence for a colon did you?? Be honest now! But back on topic, I think everyone here is giving their opinion aren't they? You're the first person I've ever heard of that has had good experiences with DLNA. My experience (which based on people I've talked to, podcasts I've listened to, and support forums I've read through is pretty consistant) is that DLNA is pretty lousy. Granted, I've not used every single device that implements DLNA. But on devices I have used it with (particularly the PS3), it's been subpar to say the least. In my opinion, it's a clumsy way to navigate files/media, and it's often unreliable. By way of comparison, Airplay is vastly superior. As is Chromecast. I've never used Miracast because I've never owned a device that supports it, but my impression is that it works well also. I would love for there to be a common, non-proprietary standard for this sort of thing - be it Miracast, Airplay, whatever - that actually works well. But part of the problem with an "open standard" is that it can often lead to wildly different experiences.

Miracast is that standard. Chromecast and airplay are restrictive, spying , proprietary nonsense. It's a sad commentary that they have the support of so many.

I need some evidence that Airplay "spies" on people, because I don't believe you! (chromecast sure - it's google right?) Also, while the video part of airplay IS proprietary, the audio part is not. (it's licensed) As for the "sad commentary" bit, I guess I don't know what you mean. Have you ever used airplay? Because it's pretty great. It's ubuiquitous (at least as much as any of those services are), it works, and it's been around for years. (unlike miracast and chromecast) It's available on any Apple product, as well as most AV recievers, and quite a number of standalone speakers. It's simple enough that my parents can use it. (and they are most definitely NOT technical people!) We use it at work for screen mirroring in conference rooms (both at my current job and mylast job). So where exactly is the sad commentary thing? Should we all feel bad for using a good service when there was no alternative? edit: also should have mentioned, Airplay doesn't require me to "configure crap" to get it to work. Can Miracast say that? (honest question here, I've never used it)

Miracast worked out of the box for me. No setup. Cool that on my surface at least you can have the remote screen behave as clone or extension as per normal dual monitors. Not sure if airplay or chromecast do that. Only hassle was audio got out of sync using continuum on phone when casting a movie. (Perry sure continuum uses the miracast protoco)

Grammar ****. You hurt him well OP Posted via the Windows Central App for Android on my Frost Nexus 6P

It's actually a pretty good app. I wish I could cast Netflix from my phone.

kushki - Can already cast Netflix using Miracast without this app, if you haven't tried it. Recent results have been great for me, from my L1520, but it seems like I've had issues with audio lagging behind in the past.
Still love having additional compatibility options

Can you be more specific like the minor detail of what phone you have?

Intel WiDi is the future already integrated into laptops/tablets with 4th gen and on intel processors...Extended display on 'Panos Phone"?

Great app from the developer that bring tubecast to us. Will try it. Tubecast is one of the best youtube app i ever use.

How comes there is no link to download the app. On windows 8.1 it was fine, but since I went to win 10 there are no links to download the app

Ditto question. This app is half finished.

This app is made for 8.1.

You mean you are Half Baked...

They're working on a new app.

Oh dear, some more contestants for the Crypton Factor... click the link...

The link doesn't work in the mobile version; like he says, they haven't been since 8.1. Bone2yard, switch to browser version.

I use Microsoft wireless display to streaming movies and live sports (via Flash Sports) but I cannot minimize the app nor use the phone for others stuff. So being able to close and app and continuing using the phone sounds great like continuum sort of

For Lumia devices there is Lumia Play To, which also works on Windows 10. I have it on my 950 XL.
And in Windows 10 you can also simply play to DLNA devices from Groove and the default video app.

Play TOO has been sidelined. Looks a really neat app, will check it out. Thanks.

nah, app is called 'Play to'

Can I cast from apps? Like Netflix for example

Of course not. That's a media rights issue.

Also, what problem would that solve? If you're casting Netflix to a TV, that means the TV has an internet connection, which means it most likely has a Netflix app. Same thing if you're casting to an Xbox, there is a native Xbox Netflix app.

The ability to well... Cast anything like my girlfriend's galaxy s6 can. It doesn't solve a problem, rather it adds functionality where there wasn't

You say of course not. And follow up by citing that it's a media rights issue. But this app is basically tapping into googles Chromecast which im pretty sure wasn't sanctioned by google to begin with :) Figure if they can find a way around that, they can enable casting from any app on the phone altogether. Not out the realm of possibility. Any who this isn't the droid im looking for. Miracast/continuum will work just fine for my uses

Errr I can either project Netflix from my phone to my TV using Chromecast or via the screen mirroring function Posted via the Windows Central App for Android

I do it with my Android Phone. Chromecast is Google and Android is Google, No wonder you can not do the same with a Windows Phone. Hope windows comes with a similar devices,

Attitude again... Why would that be a rights issue? You're a paying customer, and simply consuming your paid for products on a display device of your own choosing. Like hooking up your phone to an external speaker to listen to music...

Precisely.i was a bit confused at the back lash from me asking a question lol

I don't get it. Whatever I'm playing on my 930 with win 10, I can send to my TV by swiping down and selecting connect. How is this any better, except for the background play?

How? I have a 950 and a smart TV. How do I do this

If your tv supports miracast, which most modern ones do, you just do what the person above said.

from the ACTION CENTRE click on CONNECT and then choose your device.

I personally don't own a tv, but have different devices (Windows, Windows Mobile, Android, iOS). It would have been great if there were only a single standard which worked, but sadly there isn't and neither is the case with cabled video btw (hdmi, dp, thunderbolt, etc). Right now I have a PC and a Chromecast connected to my projector. I would prefer to be able to drop the Chromecast and only use the PC. That way I'd never have to switch away and could run everything through the PC. I have Reflector, but unfortunately it is not very reliable for me. My only concern is whether the app would have to be running, I would prefer for it to be able to run in the background, but probably not, sinc it is a UWA. Another couple of things I'd like to see is support for Miracast (through the API's that already exist in Windows, added to Windows 8.1 in "Update 2") and AllJoyn. Anyway, I'll give it a shot, we shall see.

There is a standard, called Miracast. That Google and Apple don't like to acknowledge it because they have their own proprietary nonsense to push doesn't make it not exist.

... and I completely misread the article! I thought it was about a receiver app, not a player app. In that case, I actually sort of agree with LeFreak. I would find it annoying that I'd have to go and open this every time to airplay or chromecast stuff. It would be way better with native support. I had the same problem with the PlayTo app from Nokia. It would be pretty awesome to have both AirPlay and Chromecast support built in to the OS itself, as well as DLNA, Miracast, AllJoyn and what have you. Honestly, we're never going to land on only one standard and even if we did, there'd be successors to that which would make it succinct.

Doesn't work with my 3 year old Samsung, unfortunately. So for me at least, this brings functionality.

Does this also support Miracast.cannot find it on the store for some odd reason

Only found it via link on here. Won't show up yet when searching in store.

yeah there is an unfortunate bug that doesn't let certain apps show up by searching. Hopefully Microsoft can fix this soon

Even the links are not ok !!!

An addition of Sonos integration for audio streaming would be ace!

Since this is an app playing local and cloud based media, I'm assuming there is no screen mirroring, correct?

Scandalous !! We have to pay for a feature available free on others platforms because it's feeded by Google. BTW, I can notice on Google's dev website that there's no API for Chromecast on Windows. It might be interesting to see how do they do...

At build the windows team announced they had apis for it. Guessing it wasn't with googles blessing

It is truely scandalous we have to pay $4 to stream from our $800 phone to our $2000 TV through our $200 router to our $30 Chromecast/$100 ATV, when other platforms get it for free and save $4. :)

well you already paid way too much for your TV so why not cough up the $4 for this app?

Sorry, i thought the sarcasm in my comment was obvious enough not to put the /s tag.....

Miracast is included for free. Use it.

Can't find it in the store. Denmark here.

Use the direct link : https://www.microsoft.com/fr-fr/store/apps/playcast/9nblggh6d77x

Wowg great application!!!! just tried it. I think its better then Chromecast using my wireless diplay from my 950XL

cant find the app in the store

Use the direct link : https://www.microsoft.com/fr-fr/store/apps/playcast/9nblggh6d77x

read the article and click the link provided

Doesn't work if you're reading it via the app; one has to switch to the browser version. They really should fix this now that W10 is official...

Ssshhh it's still in beta remember. Posted via the Windows Central App for Android on my Frost Nexus 6P

What's the point of this if you can't steam apps? Seems a very limited app if all you can do is steam files you have somehow moved onto your phone? Am I missing something?

I think you missed the part where it connects to OneDrive (and soon Google Drive and Dropbox) and streams content from your cloud storage.

Awesome! Just bought a Chromecast for family but can't use it on my L830 unless I'm using Tubecast. I'll try this out.

Oh wow I think I'm going to buy this app.

I just downloaded it and says trial runs until Jan 6 2016. After that, I'll pay for it just like I did for Tubecast (way back in WP8)

Would it work with Roku (Miracast)?

My guess it that it should.

I was wondering when Webrox was going to decouple their hard won, wonderful casting work from Tubecast... Great job!

Decent first release, but I'll stick with ICast, which allows scrubbing and also has volume controls and mute. It's made by the highly underrated Atef Shehata, who also makes the excellent Flash Sports app. On the downside, it doesn't run in the background, losing the stream if you go to check an email or send a text, and it also can't stream from the cloud. Also, Lumia Play to is still in the W10M store, and still works fine, as it always did. It hasn't been updated in ages, but it's not really in need of one, if you're just looking for a simple DLNA streaming app.

Just downloaded this and tried syncing it to my Xbox for music. What's great is, if you own a Band 2 you can still use the music controls to skip and pause tracks. Really neat if you're wandering around the living room, leave your phone on charge and still want to skip tracks. I've yet to see how it works for videos.

Just tried it with videos too and it works the same way. It allows you to pause and skip video.

Some how this playcast doesn't stream videos on my Sony TV. It says it can't play this video even recorded videos from this phone can't be streamed. Anyone have the same problem? With Lumia play to works fine. I'm using L950.

I've had similar problems on Tubecast on my girlfriend's Bravia TV. Does Tubecast work for you?

I tried to stream music to a Denon receiver (DLNA) but it does not work....The song does not start. As soon as I switch to the tablet it starts playing.

Can I use continuum thru it

Awesome app I was just waiting for something like this...i have chrome cast at home and would love to see my phone stuff in my t.v...showing living images to my friends... Nice job developer

It's so awesome that I cant find it in the app store no matter how I enter it's name......no hang on a minute.....is it only available in the spoilt septic tank land? yeah that must be it....

Click the link on this article. Windows store has problems too search some apps

Lumia Play to https://www.windowscentral.com/e?link=https%3A%2F%2Fclick.linksynergy.co... Still in the store, but no background. Installed on my Lumia 950XL fine.

Its a shame that we have to pay to get the same experience while other OS have it natively. Anyway thanks to webrox(and ryken apps) for putting Microsoft to shame.

Windows supports Miracast natively.

Yes it does but it is pain in the ass to configure and in the current condition it is barely usable.

Hide in the background is a $4 dollar feature + Continuum ooof...

To use miracast on win 10 phones
Connect tv
Start continuum app on the phone
Hit ...
Display
In display drop down change to connected tv
Scroll to bottom--- advanced display options
Select project... Proceed to Netfix or office or whatever

Still can't find a way to cast from 1box

Its not available in my Store, why? I have 950XL and store is nit showing Playcast when I search it.

I'm imagining Tubecast new design that is derived from this app's design , that'll be gorgeous!

Not usable with Spotify. I would like to listen music with Spotify (as many other as well :) and stream music to stereos via Airport. Works from my iPhone. Why not from Windows 10?

Best app I ever seen !!!!!!!!!!!!!!!!

Where this falls short it in it's ability to cast Internet media. This is where airplay does a good job. Also, what happens if the phone locks?

I've searched for the app in the Store but can't find it. I'm in the Australian market.

Pathetic that this app can connect to my Xbox o e but I can't just swipe down, hit connect, and send stuff to it with my Lumia 1520 running DP.

lol typed in playcast on my windows 10 phone on 1st jan 2016 and it doesnt even come up with the app in search, i tried play on its own and still no sign of this app on my 930 with latest build, Is it just my phone or is anyone else seeing this?

You will need to load this site in your phone browser or copy the link to your phone. I emailed it from my pc.

Just tried to look this up in the store.. Not listed.
Tried to click on the link to take me to the store
App. Won't open...

I thought Chromecast offloaded everything to the Chromecast device so that nothing had to be let running in the foreground or background of the android phone? If so, then this is a step forward, but not as good as Chromecast native.
Windows Central Newsletter
Get the best of Windows Central in in your inbox, every day!
Thank you for signing up to Windows Central. You will receive a verification email shortly.
There was a problem. Please refresh the page and try again.